true
Some 4500 pastors were invited to an advance screening of The Passion of The Christ at Willow Creek Community Church in January. The screening was sponsored by Outreach Marketing, which billed the film as an effective evangelistic tool. Each pastor received a promotional kit suggesting ways they can use the film as part of their church's outreach efforts.
We asked some of them for their reactions to the film. The pastors we interviewed were:
Jeff Ahlgrim, executive pastor, Heartland Community Church, Normal, IL
Rob Bugh, senior pastor, Wheaton Bible Church, Wheaton, IL
Frank DeLuce, solo pastor, Unity United Presbyterian, Pittsburgh, PA
Mo Hodge, senior pastor, The Bridge Community Church, Decatur, IN
Steven Usry, lead pastor, Harvest Point UMC, McDonough, GA
Do you think the film deserves its R rating?
Bugh: "Yes. There will be church people who will question endorsing R-rated movies, but my response is, 'Look, we don't endorse R-rated movies, nor should we. But this movie is an exception because the crucifixion was an R-rated event.'"
DeLuce: "Yes, because it is very graphic in the violence related to the crucifixion, but this film shows what is necessary."
Usry: "I would compare it to watching the horrors of a torture take place on the screen. I will not let my oldest child (9) watch this film, and I will strongly persuade parents within my congregation to go watch the film first before letting their teenagers view it. They can make the judgment themselves."
What were your overall observations of the film?
Usry: "The best movie I have ever seen. It was graphic and faithfully stayed with the Gospel texts. The neck of my shirt was soaked with tears during the scourging, and I felt like a softball was lodged in the back of my throat as the movie concluded. The nearest feeling that I can compare it to was an altar call experience with God—a heart-pounding, barely breathing, intense moment with God."
DeLuce: "To see the suffering endured by our Lord was an experience that I am not yet able to put into words. I know that serving Holy Communion will take on an expanded meaning for me."
Ahlgrim: "The way the story is told, the visual experience it provides and the thought it provokes was extremely powerful. I thought the use of flashbacks was very effective in telling the story."
Hodge: "In one word: brutal. It was a very intense movie and left me with strong feelings that range from sorrow and anger to gratitude and joy. I will never forget it!"
Bugh: "The movie was very sobering. I gained a renewed appreciation for the enormity of the brutality and suffering Jesus experienced when he died for me."
What was your favorite part of the film?
Hodge: "The development of Jesus' connection to his mother."
Usry: "Mel Gibson's use of Mary, the mother of Jesus. I know Mel is Catholic and Mary means a great deal to many Catholic people, but she was wonderfully portrayed and I was convicted during the movie by her presence. I realized that I had slighted Mary too much in my theological views by pushing her to the edge of visibility. In an unconscious effort to counter the reverence many Catholics have for Mary, I believe Protestants probably fail to give Mary and her relationship with Jesus due diligence. As I watched the movie and especially those scenes with Mary and Jesus, I thought, Jesus must have loved his mother so much—and I should love her too! She was a vessel used of God and she deserves our honor."
Ahlgrim: "The subplot of Mary, Jesus' mother's experience of the Passion. Those scenes brought Christ's suffering down to a very real and basic human level."
Many are saying the film is anti-Semitic. What do you think?
DeLuce: "My wife of 45 years is Jewish (now a Christian), so I am sensitive to anti-Semitism. But I did not find this film to be exploiting or contributing to a wave of anti-Semitism. In fact, I have invited some Jewish friends to view the film with us, and have no reservations about doing so. Admittedly, Caiaphas does not look good, but he wasn't. He had an agenda and that becomes obvious in the film. But it does not portray Jews in a negative light. In fact, in the part where Simon is helping Jesus carry his cross, the Roman soldier calls Simon a "Jew" in a derogatory way, which shows the anti-Semitism of the Romans more than anything else. The film left me with more distaste for the Romans than for the Jews as a people. Certainly mob rule took control, but that shouldn't be understood as a racial thing. The film made it clear that Jesus himself was a Jew—a Jew who was being crucified at the hands of a Roman (Pilate) occupier who was more worried about his political career than anything else."
Ahlgrim: "I did not see any scenes that went beyond historical or biblical records that involved Jewish religious leaders, or people who seemed intentionally overplayed or exaggerated to make the movie an anti-Jewish statement. To portray WWII Nazi leaders as misguided and cruel does not mean all German people are to be condemned. So neither does it follow that portraying Jewish or Roman religious or political leaders of Jesus' day that way makes all Jewish or Italian people evil."
Bugh: "I do not think the film is anti-Semitic. Jewish leaders' hostility toward Jesus is a matter of historical record, like racism among certain political leaders in the '40s, '50s, and '60s. But the hero of the film is a Jew, as are his closest followers. If anything, the movie is anti-Roman Empire, because far more movie time is given to show the barbaric cruelty of the Roman soldiers. But the net is that the movie graphically depicts the evilness of the human heart."
What do you think of the film's evangelistic potential, and what are your church's plans?
Bugh: "I think the film has significant evangelistic potential. We will encourage our people to use it as a 'bringer' event and provide them material to help them address how God wants us to respond to the cross."
Hodge: "We are asking everyone to see it with a seeking friend. I am so thankful to have this incredible tool in reaching more people for Christ."
Ahlgrim: "Like many evangelistic tools, this opportunity requires people to take advantage of the doors that will open to them when they use the film to expose others to the life and message of Jesus. The film raises the issues. All we have to do is be there to talk about them."
Usry: "Mr. Gibson has planted a seed—his faith in cinematic power—and now the church is mobilizing to reach the harvest that will result from that seed."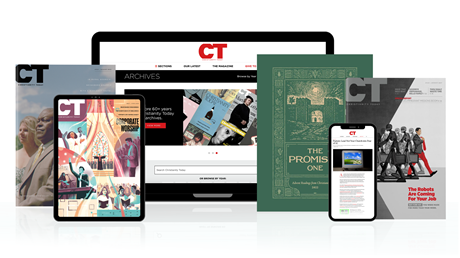 Annual & Monthly subscriptions available.
Print & Digital Issues of CT magazine
Complete access to every article on ChristianityToday.com
Unlimited access to 65+ years of CT's online archives
Member-only special issues
Subscribe
'The Crucifixion Was an R-rated Event'
'The Crucifixion Was an R-rated Event'