Texas Girl Scout group breaks relationship with Planned Parenthood after cookie boycott
Who says prolife boycotts (or, to coin a word, a girlscott) don't work? This week, in response to a Girl Scout Cookie boycott organized by Pro-Life Waco, the Bluebonnet Council of Girl Scouts withdrew its cosponsorship of sex education programs with Planned Parenthood.
Council executive director Beth Vivio said the relationship was severed because it was perceived as an endorsement of abortion.
"Our policies basically state that we do not take a position on issues like abortion," she told the Waco Tribune-Herald. "We feel these are private matters that need to be discussed or determined by each family."
John Pisciotta, director of Pro-Life Waco and an associate professor of economics at Baylor University, is pleased, but is concerned with other areas of partnership between the council and Planned Parenthood.
Pisciotta is no wild-eyed fanatic, and, fortunately, the media hasn't been able to portray him as such. The Ft. Worth Star.-Telegram quoted him saying, "I don't take pleasure in upsetting families and upsetting little girls. That is a downside of this. But it did get the conversation going."
Even more interesting a quote in an earlier Tribune-Herald story.
"I'm hearing that Girl Scout cookie sales may hit an all-time high," he said before the council made its decision to withdraw its sponsorship. "I'm happy about that. I hope they double it from last year. … In our boycott, the financial impact is nil. Our whole goal is education. We want everyone to know about this multifaceted entanglement between the Girl Scouts and Planned Parenthood. Many people are mad about this."
And now Planned Parenthood is mad. "I'm sick to think that an organization as illustrious as the Girl Scouts would make a decision based on one person's political agenda," said Pam Smallwood, executive director of Planned Parenthood of Central Texas.
Planned Parenthood's education director, Pat Stone, had perhaps the most revealing comment. "This foisted an adult conversation on a bunch of little innocent girls," she told the Star-Telegram. "It's making them think of things they shouldn't have to worry about."
What was it again that the Girl Scouts had partnered with Planned Parenthood on in the first place? Oh yeah: sex education—which for Planned Parenthood includes discussion of abortion.
Speaking of "things they shouldn't have to worry about"
On a related scouting note, today and next Friday the Supreme Court will discuss whether to review Boy Scouts of America v. Wyman, and address the issue of whether states can deny the Boy Scouts access to facilities or other benefits simply because of its stance on homosexuality.
"This case is really the tip of the iceberg—a relentless attack on the Boy Scouts for the sin of teaching virtues to boys," lawyer George Davidson, who represents the Boy Scouts, is quoted as saying in a Legal Times article.
Indeed, Boy Scouts faced financial pressure from United Way branches in two states to repudiate its policy on homosexual behavior. The United Way of Ulster County, New York, said it would pull its funds. The United Way of Central Ohio adopted a policy that will probably mean the end of funds next year.
Meanwhile, the Boy Scouts are accusing San Diego city officials of harassment. "Boy Scouts volunteers have been singled out for 'thousands of dollars of parking tickets' and videotaped by city rangers, and Scouts have been prevented from using adjacent parkland to eat lunch or work on projects," a spokeswoman told the San Diego Union-Tribune. The Scouts are in the midst of a lawsuit against the city, which was launched when city officials caved to the ACLU and canceled its park lease to the Scouts.
More articles
More on life ethics:
Unborn Victims of Violence Act:
House passes unborn victims legislation | The House voted Thursday to treat attacks on a pregnant woman as separate crimes against both her and the fetus she is carrying. Critics say it would undermine abortion rights by giving fetuses new federal legal status (Associated Press)


House confers legal protection on fetuses | The House approved a measure on Thursday that would make it a separate offense to harm the fetus while committing a violent crime against a pregnant woman, overcoming objections that the legislation was intended to undermine abortion rights (

The New York Times

)


House passes bill for unborn victims | The House yesterday approved for the third time legislation legally recognizing two victims when a pregnant woman and her unborn child are injured or killed in a crime — a bill that has notable public support and that is now in the hands of the Senate this election year (

The Washington Times

)


Catholic church abuse report:
Statistics from priest sex abuse survey | Key statistics from a survey on U.S. Roman Catholic priest sex abuse being issued Friday by the church, as reported by the Yakima (Wash.) Diocese (Associated Press)


More on clergy abuse:
Baylor sports:
Sloan controversy:
More education:
Locke v. Davey:
Other religious discrimination lawsuits:
Salvation Army may get discrimination suit | The New York Civil Liberties Union is expected to file a federal lawsuit in Manhattan today accusing the Salvation Army of religious discrimination (

Newsday

, New York)


Suit claims group's staff is pressured on religion | Eighteen former and current employees from the social services arm of the Salvation Army sued the organization in federal court yesterday, accusing it of imposing a religious veil over secular, publicly financed activities like caring for foster children and counseling young people with AIDS (

The New York Times

)


U. of Oklahoma sued for religious discrimination | Two students claim school's refusal to fund Christian newspaper restricts their First Amendment rights (Associated Press)


Religious freedom:
Lawsuit against City Mission dismissed | The lawsuit, filed in October 2003, stems from the investigation into allegations that the City Mission pushed Christian beliefs on its tenants (

The Herald-Dispatch

, Huntington, W.V.)


Missionary found dead in Botswana, reportedly murdered
Brazilian missionary found dead in Mozambique | Doraci Edinger, a member of the Evangelical Lutheran church, had been in Mozambique, a former Portuguese colony, since 1998 (SAPA, South Africa)


Missionary 'murdered' in Moz | A Brazilian missionary has been found dead in a town in northern Mozambique where four Roman Catholic nuns have received death threats after alleging an organ trafficking network was operating in the area, Portuguese state radio reported on Thursday (AFP)


Radical Hindus scamming Brits?
UK charities scam linked to Sangh Parivar | A report to be released in the House of Lords in London today provides alarming evidence linking UK-based charities to Sangh Parivar groups in India (

The Tribune

, India)


RSS hits out at charges of misusing donations | The Rashtriya Swayamsevak Sangh Friday termed as a sinister conspiracy an allegation that it had misused charity funds collected for the 2001 Gujarat earthquake and threatened legal action (

IANS

, India)


'Anti-Muslim' trial in Australia:
Crime:
Religion and politics:
Judge Pryor | Appointment gives appeals court a principled voice (Editorial,

The Birmingham News

, Ala.)


Ten Commandments and Roy Moore:
Cash for prayer:
Kenya acts on 'cash for prayers' | A Kenyan bishop embroiled in a row over money with Nairobi city council has been ordered to refund the money by the Anglican church (BBC)


Njonjo calls for Njoka's defrocking | A former Constitutional Affairs minister Charles Njonjo yesterday called for the defrocking of cash-for-prayers bishop Peter Njoka over the Sh1.7 million payment saga (

The Nation

, Nairobi, Kenya)


It's not enough for Njoka to repay cash | Because Bishop Njoka has been tainted, Archbishop Nzimbi must do something to assure members of St Stephen's church that their bishop still has the moral authority to minister (Francis Ayieko,

The Nation

, Nairobi, Kenya)


Missionaries flee Haiti:
Pastor killed in Iraq:
Missions & ministry:
Pentagon to probe anti-malaria drug | Pentagon health officials also said they no longer would use Lariam in Iraq because the risk of malaria was slight compared with the risk of the drug (UPI)


Group brings together all Christians | Noble Crawford, director of a Fort Worth youth mentoring program called Hope Farm, has lunch once a month with Tarrant Net, a diverse community of Christians who, like himself, are committed to unity (

Ft. Worth Star-Telegram

, Tex.)


How many believers?
Nigeria leads in religious belief | A survey of people's religious beliefs carried out in 10 countries this year suggests that Nigeria is the most religious nation in the world (BBC)


How religion defines America | Unlike some other Western countries, the United States remains an overwhelmingly religious society (Richard Land, BBC)


More Lutherans in world count | The world total of Lutherans reached just under 66 million at the end of 2003, a net increase of 570,000 since 2001, the Lutheran World Federation reported (

Chicago Tribune

)


Lent:
Church life:
Anglicanism:
Catholicism:
History:
Church's ancient Lambeth library faces cuts | One of the country's oldest libraries, which has on display the gloves Charles I wore to his execution, faces cuts as part of Church of England reforms (

The Daily Telegraph

, London)


Call for Gospels island return | The fight to give the Lindisfarne Gospels a permanent home in the North East of England will be debated in the House of Commons next week (BBC)


'There is no running away in here' | The attraction of monastic life for 21st-century men and women suggests to me something age-old and archetypal at work in the human psyche (Meaghan Delahunt,

Scotland on Sunday

)


Why one world was not enough for the missionary zealots of Rome | Loved or loathed, the Jesuits have, since their founding in 1540, needled "the certainties and hierarchies of the Catholic Church". Jonathan Wright's ambitious account spans the whole five-and-a-half centuries of their history (

Scotland on Sunday

)


Art:
Books:
Reagan scribe highlights faith | "Ronald Reagan's faith has been woefully neglected," said Paul Kengor at a Heritage Foundation conference yesterday (

The Washington Times

)


Onwards Christian soldiers | John Adamson reviews The First Crusade by Thomas Asbridge (

The Daily Telegraph

, London)


Da Vinci Code:
Culture:
Reflected virtue | Materialism has dulled our senses to anything that does not produce pleasure (Cal Thomas,

The Washington Times

)


It's a sin | Pop's greats are expected to behave badly - but not all of them survive the scandal (

The Guardian

, London)


Religion and journalism:
Blessed by the Times | Inside one of the newsroom deals to go soft on the man in the red robe (

LA Weekly

)


When Miller met Root | Jonathan Miller felt "appalled" by the BBC's approach to religion and ashamed of having played a part in it (

The Guardian

, London)


Beyond belief | Travel the world asking people about God? Jeremy Vine thought the BBC was joking - until he got 10,000 answers (

The Guardian

, London)


Christian media:
Religion in the News: Christian television's moment? | Evangelical Protestant broadcasters see something more in Janet Jackson's Super Bowl flash than exposed flesh and bad taste — namely, the opportunity to market themselves as a wholesome alternative to mainstream television (Associated Press)


Indecency overshadows growing abuse of God's name | Even the church groups worried about four-letter words have said surprisingly little about a three-letter word, once allowed only in carefully reverent contexts but now regularly exploited: "God" (Associated Press)


Music:
EMI Christian lays off 27 staffers in restructure | EMI Christian Music Group, home to such artists as Steven Curtis Chapman, Stacie Orrico and Newsboys, is laying off almost 10% of its staff as part of a company-wide restructuring, Billboard has learned (Billboard/Reuters)


Sixpence calls it quits | No news for what's next for lead singer Leigh Nash and guitarist/principal songwriter Matt Slocum (Christian Music Today)


Forgive and forgive | Amy Grant knows it's the simple things that count (

The Kansas City Star

)


Christian TV station bid:
Other stories of interest:
Body of Macedonian president recovered | Searchers on Friday located the wreckage of a plane crash that killed Macedonia's president and eight other people and were clearing a path through a mine field to reach the bodies, the Macedonian government said (Associated Press)


Report: Slavery alive and well in Florida | Modern-day slavery is alive and well in Florida, the head of a human rights center said Tuesday as it released a report on people forced to work as prostitutes, farmworkers and maids across the state (Associated Press)


Passion reviews:
Passion theologians:
Popular Jesus:
All that blood | How Mel Gibson's depiction of Christ differs from others (Stephen Prothero,

The Wall Street Journal

)


Christ not almighty | Gibson rehumanizes Jesus in

The Passion of the Christ

(

OC Weekly

, Ca.)


Ecce Homo? | The new celluloid Jesus doesn't seem real (Sian Gibby, Slate)


Passion marketing:
Media are patsies for 'Passion' promotion | Helping Hollywood sell tickets should not be a role journalists play so willingly and so agreeably (Brian Lambert,

Pioneer Press

, St. Paul, Minn.)


Jewelry maker sells out 'Passion' wares | Mel Gibson's "The Passion of the Christ" not only has people debating the last hours of Jesus' life, but also running out to buy such souvenirs as crucifixes, lapel pins and cards tied to the film's promotion (Associated Press)


Pain principle | How Mel Gibson sold late-medieval Catholicism to Sun Belt Protestants (Paula Fredriksen,

The New Republic

)


Anti-Semitism:
Israel and The Passion:
Israel's chief rabbi mulls 'The Passion' | chief Israeli rabbi urged the Pope to restate a key church decision from the 1960s that reversed the doctrine that Jews were behind the crucifixion of Jesus, saying he fears Mel Gibson's film "The Passion of the Christ" could revive such beliefs (Associated Press)


'Passion' absent from Israeli theaters | In the land where the events dramatized in "The Passion of the Christ" were played out 2 millennia ago, it is unlikely that the controversial film will attract mass audiences of Israelis, local film observers say (

The Washington Times

)


Passion violence:
Passion profit:
More on The Passion:
Gay marriage:
Marriage:
People have a right to change the laws | The clergy do not make marriages. They conduct weddings (Edward Frost,

The Atlanta Journal-Constitution

)


Marriage and democracy | Bush didn't start this "culture war," and voters should be the ones to settle it (Editorial,

The Wall Street Journal

)


New fuel for the culture wars | The proposed constitutional ban on gay marriage adds thorny legal and political questions to a troublesome moral debate (

The Economist

)


Religion and gay marriage:
Gay marriage and politics:
GOP activists launch recall campaign of California attorney general over gay marriage issue | A pair of conservative Republicans who helped organize last year's gubernatorial recall election said Tuesday that they will try to remove California Attorney General Bill Lockyer from office for failing to enforce the state's ban on same-sex marriage (Associated Press)


Candidates attack gay marriage amendment | The leading Democratic presidential contenders grappled with the hot-button issue of gay marriage tonight during the early part of a debate held only a few days before voters in California and nine other states cast their ballots in Super Tuesday primaries (

Los Angeles Times

)


Gay marriage and law:
Legal confusion over gay marriage | Who is, and who isn't, wed is subject of great debate (

The Washington Post

)


Gay marriage issue heads to court | California Attorney General Bill Lockyer is planning to ask the court Friday whether San Francisco's issuing of same-sex marriage licenses violates state law, which designates marriage as only between heterosexual couples (Associated Press)


Lesbian ex-couple fight for custody | Egg donor contends genes, nurture trump waiver of rights (

San Francisco Chronicle

)


Sexual ethics:
Carnival guru fired after condom-themed parade | A Rio de Janeiro samba school on Wednesday sacked its Carnival artistic director whose pro-condom parade had upset the Catholic church and whose Kama Sutra float had been censored as too steamy even for Rio's annual Bacchanalia (Reuters)


Wedding virgins on verge of extinction | Only 3 percent of people are virgins on their wedding night, according to a survey that reveals modern couples are adopting a pragmatic approach to marriage (

The Times

, London, subscription required)


Related Elsewhere:
Suggest links and stories by sending e-mail to weblog@christianitytoday.com
Check out Books & Culture's weblog, Content & Context.
See our past Weblog updates:
February 26 | 25b | 25a | 24 | 23
February 20 | 19 | 18 | 17 | 16
February 13 | 11 | 10 | 9
February 6 | 5 | 4 | 3 | 2
January 30 | 29 | 28 | 27 | 26
January 23 | 22 | 21 | 20 | 19
January 16 | 15 | 14 | 13 | 12
and more, back to November 1999
Weblog
Launched in 1999, Christianity Today's Weblog was not just one of the first religion-oriented weblogs, but one of the first published by a media organization. (Hence its rather bland title.) Mostly compiled by then-online editor Ted Olsen, Weblog rounded up religion news and opinion pieces from publications around the world. As Christianity Today's website grew, it launched other blogs. Olsen took on management responsibilities, and the Weblog feature as such was mothballed. But CT's efforts to round up important news and opinion from around the web continues, especially on our Gleanings feature.
Ted Olsen is Christianity Today's executive editor. He wrote the magazine's Weblog—a collection of news and opinion articles from mainstream news sources around the world—from 1999 to 2006. In 2004, the magazine launched Weblog in Print, which looks for unexpected connections and trends in articles appearing in the mainstream press. The column was later renamed "Tidings" and ran until 2007.
Previous Weblog Columns: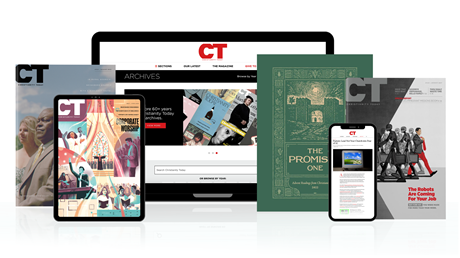 Annual & Monthly subscriptions available.
Print & Digital Issues of CT magazine
Complete access to every article on ChristianityToday.com
Unlimited access to 65+ years of CT's online archives
Member-only special issues
Subscribe
A Boycott That Worked
A Boycott That Worked