true
"First your parents tell you to have hopes and dreams, then they move you to New Jersey. It makes no sense."
It's hard not to appreciate the predicament of Lola Cep, the Manhattan-born and bred drama queen who's spilling her guts in Disney's latest offering for tween girls, Confessions of a Teenage Drama Queen. Lindsay Lohan, of recent Freaky Friday fame, plays the flamboyant Lola, a teenager chafing against her family's move from the Big Apple to the "cultural wasteland" of suburban New Jersey.
A quick survey of the plot goes like this: Nice girl Lola moves to New Jersey, where she picks up both a best friend, Ella, and an archenemy, Carla, within the first five minutes at her new high school. Lola and Ella bond over their mutual devotion to fictional rock band Sid Arthur, while Lola and Carla trade barbs and fight for the lead in the school play. When Sid Arthur announces it's splitting up after one last farewell concert in NYC, all three girls are desperate to go. Wackiness ensues, dreams come true—and we still have the big play coming up. The big play, by the way, is a modern adaptation of Pygmalion titled "Eliza Rocks"—and I have to admit that it does.
Director Sara Sugarman employs some creative devices to capture the fantasy world of our drama queen, and the movie frequently lapses into a quasi-animated state as Lola dreams about her future of fame and love. We're also treated to an animated sequence when Lola makes up a story about her father's death (via pizza delivery truck no less) in order to explain why her mom is single. When her very-much-alive father shows up later in the movie, Lola's lie threatens to destroy everything she so desperately wants—friendship and credit for being at the Sid Arthur concert after-party.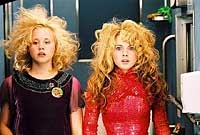 As Lola's conscience, Ella, played by Alison Pill, is excellent. Pill is perfect in the role of the uptight good girl who seems to be flinching her way through life. Lying matters to Ella in a way that doesn't seem to matter to Lola. And while Ella does learn a few things from Lola about making life what you want it to be rather than just taking it as it comes, Lola is just as influenced by Ella to accept who she is—and to put the kibosh on the lies.
Carol Kane turns in an inspired performance as the drama director Miss Baggoli, and is the source of much comic relief. And Adam Garcia provides a surprisingly sobering performance as an alcoholic rock star struggling with the demands of stardom. As the lead singer for Sid Arthur, he's also the object of Lola's affection—and the recipient of her wake-up call that sends him to rehab.
Unfortunately, the rest of the supporting cast is painfully underdeveloped. Carla appears from nowhere to pick on Lola for no obvious reason. Sam goes from a bashful introduction to best guy pal in the blink of an eye, again, for no obvious reason.
The premise of Confessions of a Teenage Drama Queen is interesting enough. Who among us hasn't known a drama queen or two in our lifetime? The main problem is that the plot is treated like a necessary evil, only good for advancing from one music video-style montage to another. There's the air guitar montage, the desperately trying on clothes to find the right outfit montage (yes, there are a lot of short skirts and low-slung jeans in the movie), the getting ready for the concert in the train montage, the dance-off montage (question: what are a bunch of kids who can't even drive yet doing in a nightclub?), the school play montage and so on. The overall effect is that of a high-school fantasyland filled with easily-identified good (Lola and Co.) and evil (Carla and Co.), cool clothes, quirky-but-lovable teachers, nightclubs, cute boys, and parties in SoHo with rock stars—all set to a really great soundtrack. That's enough to keep me invested for about 30 minutes—not an hour and 30 minutes.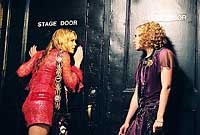 It's hard to seriously criticize Confessions without either sounding like a world-class killjoy or a frightfully dull intellectual. At the risk of both, I ask the question: Does this movie—and others like it aimed at tweens, idealizing glamour and fame and fast-paced lives—instill in teens a skewed barometer for what's really important? Or is it important that children be allowed to feed their imaginations with all kinds of fantasies—including those involving rock stars?
As it is, I suspect that only the 13-and-under set is really going to buy into the Confessions vision of teenage-hood. Most actual teenagers have already noted the startling lack of opportunities for air-guitar montages. The question is: If you're a parent, do you want your tween to buy in? And if you're a teen, are you buying it?
Talk About It
Discussion starters
Ella's parents didn't like Lola because they didn't approve of her single mother. It wasn't until they thought Lola's father was dead that they accepted her. What do you think about Ella's parents and their attitudes? About Lola's willingness to lie to be accepted?


Did you find Lola's drama queen antics endearing or annoying?


Why do you think Carla was so mean to Lola? Do we all have a "Carla side" to our personalities?


The basic premise is all about seeking popularity? What does the Bible say about the pursuit of popularity? (See Philippians 2:1-11 and James 2:1-13.)


The Family Corner
For parents to consider
Tight, low slung jeans and short skirts abound, accentuating the almost sultry hip-shaking during some dance scenes. Lola seems to have no problem "embellishing" or otherwise distorting the truth, though this is addressed later on in the movie. Stu, the rock star object of Lola's affection, is a drunk who Lola inspires to get into rehab. The movie never address why Lola's parents don't live together.
What Other Critics Are Saying
compiled by Jeffrey Overstreet
from Film Forum, 02/26/04
Actress Lindsay Lohan (Freaky Friday) plays Mary, a teenager prone to exaggeration and melodrama, in Confessions of a Teenage Drama Queen. In Mary's way of living life, everything from her wardrobe to her past is material for embellishment. But when her family leaves the sights and sounds of New York City for suburban New Jersey, she has to make an impression in a new school. Soon, she's competing with the most popular girl in the class, Carla (Megan Fox), for the lead role in a school production of Pygmalion.
"The film deals with the pressures teen girls face concerning clothes, music, and trying to fit in—but very superficially," says Phil Boatwright (Movie Reporter). "This hasn't the depth of Ghost World or the intensity of Thirteen. Indeed, Disney Studios is copying itself, for it has the same look and feel of it's own Lizzie McGuire." He also notes that this fifteen-year-old and her friends seem to appear a bit too … uh … mature. "And both the camera and the wardrobe department were bent on accentuating these girls' burgeoning adulthood."
Michael Elliott (Movie Parables) says, "Lohan … plays Lola with energy to spare. It is a performance that will no doubt appeal to the preteens and 'tweenies' in the audience but may grow tiresome for everyone else. Being in the presence of a drama queen may be amusing at first but it gets old very quickly."
He describes the film as "mild … by today's standards," and notes that "wrong behavior is punished, parents are shown as being concerned and caring for their children, and lessons are learned by those who need to learn them."
David DiCerto (Catholic News Service) writes, "Lohan's effervescent elan makes the formulaic ride enjoyable. [Confessions] examines the pressures many teens experience in trying to gain acceptance from their peers. The film tries to counterbalance such conformist tendencies by encouraging a healthy respect for what makes each person unique, and by imparting the dare-to-be-different message that peer approval should never come at the cost of losing one's self-identity."
Bob Waliszewski (Plugged In) has reservations about Lola's tendency toward reckless invention. He appreciates some of the lessons learned. "Since her story tackles subjects like teenage insecurity, self-esteem, friendship, jealousy, honesty and alcoholism without embracing the vices of vulgarity, violence and sex, mothers (and dads) who decide their teen girls (just try to get guys to go!) need to see this drama queen preen will certainly be able to turn a trip to the theater into an opportunity to discuss deeper issues."
Nicole LeBlanc (Christian Spotlight) says, "Somehow I left this movie thinking that only the surface of character development and plot had been scratched. The slapstick comedy and humor were sometimes overplayed and just not funny." She's also displeased with its message: "Lola's worldly desires may seem selfish and childish at times, but they are the center of the whole film and are not rebuked."
Mainstream critics consider this confession very dismaying indeed.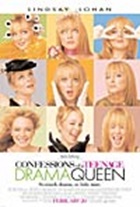 Browse All Movie Reviews By: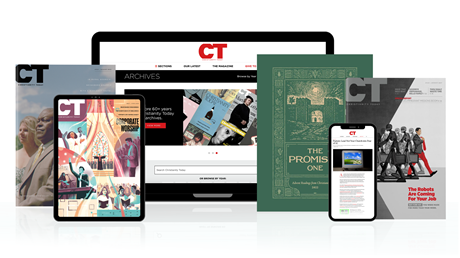 Annual & Monthly subscriptions available.
Print & Digital Issues of CT magazine
Complete access to every article on ChristianityToday.com
Unlimited access to 65+ years of CT's online archives
Member-only special issues
Subscribe
Confessions of a Teenage Drama Queen
Confessions of a Teenage Drama Queen