Sacked Survivor pastor: I didn't steal!
Christianity Today is frequently asked to cover more "Christians in the media," especially those in the midst of their 15 minutes of fame. In the last few years, not a few writers have pitched us stories on the Christians of reality TV. We've noted a few of these folks in the past, and now one of them is back in the news.
Unless you're Clay Aiken, being a reality TV contestants rarely means fame and fortune. But for John Raymond, life has been especially difficult since Survivor: Thailand. See, you probably didn't even remember John Raymond. He was "Pastor John," who lasted all of three days on the 2002 show before being the first one kicked off the island. (CT interviewed him shortly thereafter.)
It's hardly a surprise that Raymond didn't make the upcoming Survivor All-Stars series, which starts Sunday after the Super Bowl. "John was one of those exceptions—he was the 'first-off' who you hate to see go," Survivor host Jeff Probst told the New Orleans Times-Picayune. "You knew he was going to be a great character because he had such strong opinions about life. But you only have 18 slots, and he didn't have enough time on the show to have an impact or be memorable enough for people to instantly 'get' him."
Too bad: Perhaps Raymond could have used the work. It turns out that he was fired last May as executive pastor of The Harvest, a 2,700-member Assembly of God church in Slidell, Louisiana. (That's a pretty big church for the denomination: the average is 131 members.)
Now Raymond is suing the church—not for firing him, but for the reasons given for the dismissal. According to the suit, as reported by the Times-Picayune, Elder Michael Dunn told church member Ronald Boelter that Raymond was fired for stealing, and that "the locks on the church had to be changed before Pastor Raymond was fired, because The Harvest did not know what Pastor Raymond would steal next."
Raymond says the accusation is "preposterous," and said the reason that Senior Pastor Doug McAllister gave for his firing was that Raymond was late in turning in his sermon notes. The real reason for his sacking, Raymond says, is that he and McAllister have a long history of tension.
Tension, indeed. "I never had access to the money any more than [anyone else] did," Raymond told the newspaper. "I'm not good at deception. That's why I got voted off Survivor in the first round. Doug should have gone on the show instead of me. He would have won the million-dollar prize."
Raymond, who has since started New Horizon Christian Fellowship and runs a business selling red, white, and blue cross necklaces, told the Times-Picayunelast year that the reasons given for his leaving were "totally ridiculous." "I think Doug didn't like the fact that I was getting some media attention," he said of his childhood friend. "I think [Survivor] might've gotten him jealous."
Boelter, the church member named in the suit, says pastor McAllister had told the congregation that Raymond wasn't sacked for "illegal or immoral" actions.
McAllister isn't talking (he earlier said the reason Raymond was let go "was job-performance based"), and elder Dunn isn't answering questions. "Even though John's suing, we are friends," Dunn told the paper. "It's probably something that should stay between us. … The church has tried to keep all of this within the church, which is where it should be."
That view has changed, Dunn later told the local paper, the Slidell Sentry-News. "There is no comment," he said. "I wish I could give you more, but our position now is that this is going to be handled in the courts."
More articles
Persecution:
Money and business:
Marriage:
Marriage and politicians | Would we be talking now about a federal marriage amendment — a public policy response to a perceived crisis in public policy — if the relevant private institutions hadn't so frequently gone AWOL when challenged to show why marriage was rightly a sacred proposition? (William Murchison,

The Washington Times

)


A marriage health advisory | The marriage initiative could justly be supported by anyone who favors limited government, stronger families, and reducing poverty. (Eve Tushnet,

The American Spectator

)


Marriage and the moon: a curious union | State of the Union address is wedding-veiled endorsement of right wing's anti-same-sex marriage amendment (Bill Berkowitz, WorkingForChange.com)


Sex, marriage, and family:
Religion and politics:
Ten Commandments:
Crime:
Reverend upset by sign vandalism | There's growing controversy after someone defaced a sign at a well-known west Nashville Episcopal church (WTVF, Nashville, video)


SEC shuts down Fla. investment firm | In three years, Ware Enterprises and Investments Inc. attracted $16.5 million from more than 600 investors, primarily targeting blacks and Christians with ads that quoted the Bible and made religious references, the SEC said in a complaint (Associated Press)


Miramar man accused of defrauding church | Barry R. Young, pastor at a North Dade church and a chaplain with the Miramar Police Department, is suspected of stealing up to $70,000 in church donations (

The Miami Herald

)


Social justice:
Games and gambling:
Missions & ministry:
Southern Baptists leaving Baptist World Alliance:
Baptists' attempt to branch off criticized | Baptists around the world, including Texas moderates, are deploring a move by conservatives in the Southern Baptist Convention to withdraw from an almost century-long membership in the Baptist World Alliance (

Ft. Worth Star-Telegram

)


Baptists end talk short of decision | Moderate Baptists left Greensboro after a two-day meeting still struggling with their future with the Baptist State Convention of North Carolina and its conservative leadership but ready to explore relationships with other religious groups and churches (

News & Record

, Greensboro, N.C.)


Alliance leaders reach out to conservative Baptists | The hopes of the Rev. Billy Kim that the singing of his Korean Children's Choir might "soften the hearts" of Southern Baptist conservative leaders and lead them to change their minds about seceding from the Baptist World Alliance was only partially realized this week (

Ft. Worth Star-Telegram

)


Anglicanism:
Church life:
Land disputes:
Orthodox church in Cuba:
Orthodox church opens in Cuba | For decades, Cuba's small Greek and Russian Orthodox communities have conducted their religious services at Catholic churches, office buildings and private homes, never finding a permanent sanctuary (Vanessa Bauzá,

The Orlando Sentinel

)


Lewis vs. Freud:
Great minds square off in virtual debate over God | For more than 25 years, Dr. Armand Nicholi has taught a popular course at Harvard University in which students deconstruct the lives and arguments of Sigmund Freud, one of the 20th century's chief spokesmen for atheism, and C.S. Lewis, who came to faith at age 31 (

San Jose Mercury News

, Calif.)


Earlier: The Dour Analyst and the Joyous Christian | In the realm of mental balance and personal peace, Sigmund Freud had nothing on C. S. Lewis (

Christianity Today

, Apr., 19, 2002)


Also: Two Cultural Giants | Both Sigmund Freud and C. S. Lewis were emotionally wounded as boys and struggled with depression as men. But a worldview can make a tremendous difference (

Christianity Today

, Apr., 19, 2002)


Education:
Religious schools in Scotland:
Abuse:
Catholicism:
Related Elsewhere:
Suggest links and stories by sending e-mail to weblog@christianitytoday.com
Check out Books & Culture's weblog, Content & Context.
See our past Weblog updates:
January 28 | 27 | 26
January 23 | 22 | 21 | 20 | 19
January 16 | 15 | 14 | 13 | 12
January 9 | 8 | 7 | 6 | 5
January 2 | December 31 | 30 | 29
December 26 | 23 | 22
December 19 | 18 | 17 | 16 | 15
and more, back to November 1999
Weblog
Launched in 1999, Christianity Today's Weblog was not just one of the first religion-oriented weblogs, but one of the first published by a media organization. (Hence its rather bland title.) Mostly compiled by then-online editor Ted Olsen, Weblog rounded up religion news and opinion pieces from publications around the world. As Christianity Today's website grew, it launched other blogs. Olsen took on management responsibilities, and the Weblog feature as such was mothballed. But CT's efforts to round up important news and opinion from around the web continues, especially on our Gleanings feature.
Ted Olsen is Christianity Today's executive editor. He wrote the magazine's Weblog—a collection of news and opinion articles from mainstream news sources around the world—from 1999 to 2006. In 2004, the magazine launched Weblog in Print, which looks for unexpected connections and trends in articles appearing in the mainstream press. The column was later renamed "Tidings" and ran until 2007.
Previous Weblog Columns: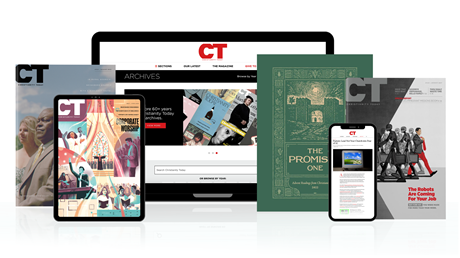 Subscribe to Christianity Today and get access to this article plus 65+ years of archives.
Home delivery of CT magazine
Complete access to articles on ChristianityToday.com
Over 120 years of magazine archives plus full access to all of CT's online archives
Subscribe Now
Survivor's 'Pastor John' Sues Church Over Firing Words
Survivor's 'Pastor John' Sues Church Over Firing ...