true
Controversy gave box-office success and cultural clout to Mel Gibson and The Passion of The Christ. Now Michael Moore is hoping it will do the same for Fahrenheit 9/11, his heavily sarcastic, rather entertaining, and somewhat incoherent screed against the presidency of George W. Bush. In this film, Moore, who has made a career out of stalking corporate executives and ambushing conservative celebrities like Charlton Heston, focuses his political indignation and his weakness for the cheap laugh on the White House, and he certainly finds ample material. There is very little here that anyone who has followed the politics of the past four years would consider new or revealing; for the most part, Moore's film is a merry, occasionally sentimental summary of every anti-Bush opinion column ever written.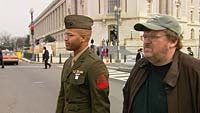 It all begins with a flashback to the election of 2000, when, as Moore would have it, the big three networks and the Democratic Party all folded under the withering glare of Fox News and allowed Bush to snatch the presidency away from Al Gore. Moore glides past the possibility that there may have been genuine confusion on election night, and he omits any reference to the legal fight that Gore did put up. What's more, he never even attempts to explore why not one senator joined certain congresspeople in protesting the alleged disenfranchisement of black voters in Florida. If curiosity is an essential characteristic of a good documentary—or any other film, for that matter—then it is notably lacking here. Moore is much less interested in plumbing the ambiguities and ironies of American political life than in doing whatever it takes to manipulate his audience's sympathies.
Indeed, despite the occasional intriguing revelation—such as the fact that one of Bush's buddies in the National Guard, one James R. Bath, went on to be a financial advisor for the bin Laden family—the most striking thing about Fahrenheit 9/11 is not what Moore puts into the film, but what he leaves out. For example, in a montage mocking the various useless countries that joined the "coalition of the willing," such as Iceland and Morocco, Moore never mentions England or Australia. Moore also gives his viewers the impression that Iraq was a happy paradise in which children flew kites and dictators danced with their people, until that awful day when the Americans attacked; he never acknowledges the hundreds of thousands of civilians that human rights groups say were killed under Saddam Hussein's regime, nor does he address Hussein's sponsorship of terrorism in Israel or his sheltering of a key figure in the first World Trade Center attack in 1993. In fact, Moore seems to want his audience to think that Hussein posed no threat whatsoever, and in one of his more astoundingly bizarre insinuations, Moore suggests Bush attacked Iraq as a favor to his Saudi friends—but if this is so, then why did Saudi Arabia oppose the war?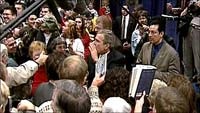 With some justification, Moore criticizes the Bush administration for sending "mixed messages" to the American people—orange terror alerts one day, assurances that it's okay to keep on shopping the next—but Moore sends out some of his own, too. After telling us, in effect, that the Democrats bear some of the blame for letting Bush rise to power, Moore then interviews wounded troops who, in a scene that has had some audience members cheering, tell him they will be switching their votes to the Democratic Party. (Come to think of it, Moore neglects to mention that he, too, may have been complicit in Gore's defeat—and Bush's victory—since he threw his considerable weight behind Ralph Nader.) In another scene, Moore dwells on the unsettling fact that some soldiers feel a "rush" when they listen to heavy metal and go into bloodthirsty combat, but then he ends the film on an "up with soldiers" note.
Moore has often played the race card and pandered to other demographics whenever it suits his agenda—what Canadian can forget how lovely Toronto's "slums" looked in Bowling for Columbine? Now he plucks religious strings, too. One scene focuses on an Iraqi woman who asks where God is after her house is bombed, while other scenes focus on an American woman who wears a cross, prays to Jesus, and sends a Bible to her son, who dies fighting in Iraq. Given the way he slaps together nearly every anti-Bush argument on the books, no matter how mutually contradictory they might be, it is interesting that Moore avoids the theory, popular in some circles, that born-again theology has taken over the White House. Moore is certainly not above indulging in gratuitous caricatures (as evidenced by his performance as a perverted Christian in Nora Ephron's Lucky Numbers) but within this film's rhetoric, he seems to think faith is on his side. That's progress of a sort, I guess.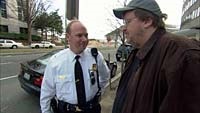 In some ways, Fahrenheit 9/11 is the least egocentric of Moore's films to date—there are fewer of those famous publicity stunts in which Moore himself is the star of his own show—yet he still cannot help interrupting his interviewees and stealing their punchlines. Some have complained that his films cannot be "documentaries" because they are not "objective," but pure objectivity is impossible and perhaps even undesirable; every film reflects some sort of perspective, and there is something to be said for films that take a clear side on any given issue.
The problem with Fahrenheit 9/11 is not that it is one-sided, per se; it is that Moore barely acknowledges there even is another side. The problem is not that he fails to give the other side equal time or equal validity; it is that he shows virtually no interest in what that other side might be, and in how he might best deal with it. Inevitably, this weakens Moore's own arguments—or it would, if he was all that concerned about making any. Moore's appeal is more emotional and visceral than intellectual; in his own way, Moore is a fearmonger, and preying on the ignorance of his audience just as he accuses Bush of doing.
Talk About It
Discussion starters
What is the connection between faith and politics? Some people say politics is the art of compromise—do you agree? Is political compromise possible if one is committed to one's faith?


How should Christians engage in debate, whether over political or spiritual matters? How much space should we gave to alternative points of view? How much effort should we put into understanding another side to any given issue? Is "propaganda" ever justified, and if so, when, and why?


Who is responsible for a soldier's actions? The soldier, or people higher up the chain of command? How much responsibility does a person have for his own actions after he has sworn to obey his orders? Is it possible to go into a combat zone, knowing you will kill people, while still somehow being "moral" about it?
The Family Corner
For parents to consider
Fahrenheit 9/11 is rated R for "some violent and disturbing images, and for language." Some characters use profane language and listen to profanity-laden music, and the film includes images of combat wounds, public beheadings, and humiliated prisoners.
What Other Critics Are Saying
compiled by Jeffrey Overstreet
from Film Forum, 07/01/04
Michael Moore's Fahrenheit 9/11set a box office record for a documentary, out-grossing Moore's own Oscar-winning Bowling for Columbine in its very first weekend.
It also started the biggest movie-related debate since tempers flared over Mel Gibson's The Passion of The Christ. Some are even challenging Moore's definition of "documentary," saying the content of this film amounts to nothing more than anti-George Bush propaganda.
Article continues below
While some of Moore's information is factual (some would say all of it, some would say very little), many religious press critics take issue with what he leaves out, and even more are upset about the tone with which Moore delivers his diatribe. Much of Moore's visual presentation consists of quotes taken out of context and embarrassing video footage of the President caught in awkward moments.
Yet, despite the controversies, some industry analysts are already speculating that Fahrenheit 9/11 stands a good chance of earning an Oscar nomination—not just for Best Documentary, but maybe even Best Picture.
My review is at Looking Closer.
Peter T. Chattaway (Christianity Today Movies) says, "The problem with Fahrenheit 9/11 is not that it is one-sided, per se; it is that Moore barely acknowledges there even is another side. The problem is not that he fails to give the other side equal time or equal validity; it is that he shows virtually no interest in what that other side might be, and in how he might best deal with it. Inevitably, this weakens Moore's own arguments—or it would, if he was all that concerned about making any. Moore's appeal is more emotional and visceral than intellectual; in his own way, Moore is a fearmonger, and preying on the ignorance of his audience just as he accuses Bush of doing."
Tom Neven (Plugged In) says, "[Moore] weaves a self-contradictory web of half-connections, coincidences and sinister music to imply, among other things, that (take a deep breath) the war in Afghanistan was not a retaliatory attack for that country's harboring of Osama bin Laden and al-Qaeda but because the Unocal Oil Company, which just happens to have headquarters in Texas, the same state where George W. Bush was governor, wanted to build a natural gas pipeline from the Caspian Sea to the Persian Gulf, so the U.S. had to first conquer Afghanistan before moving on to Iraq to facilitate this profit-making venture (whew!). What he doesn't reveal is that Unocal pulled out of that deal before 9/11 ever happened. He also doesn't tell us that the bin Laden family denounced and disowned black sheep Osama. (Sure, we can be suspicious of those claims, too, but Moore never gives us that chance.)"
J. Robert Parks (Looking Closer) says, "It provides the unusual combination of being both entertaining and thought-provoking. But it also feels like a missed opportunity, with too many digressions and an over-reliance on funny musical interludes. The problem with Fahrenheit 9/11 is that it finds conspiracies in every nook and cranny of the Bush administration. Some of those conspiracies are flimsy at best. These conspiratorial digressions detract from what should be the real meat of the film—the Bush administration's persistent and outrageous lies regarding Iraq and national security."
Article continues below
"Moore raises important points that need to be part of the political discussion," writes Michael Elliott (Movie Parables). "There are issues raised that need to be addressed and questions asked that should be answered. But let us not make the mistake of being emotionally manipulated into accepting his accusations blindly. Moore has made an effective piece of propaganda. It can't be mindlessly dismissed but neither should it be mindlessly embraced."
"Fahrenheit 9/11 is by turns outrageous, inflammatory, extremely emotional, at times compelling and occasionally quite funny," says David DiCerto (Catholic News Service). But he concludes it is "unabashedly biased in its inflammatory assertions. In mounting such a one-sided ad hominem attack, director Moore walks a perilous line between investigative journalism and partisan propaganda. And, though artfully packaged and engagingly entertaining, as a political polemic the case made by Moore ultimately falls short of convincing."
Mainstream critics are divided over the film. Some embrace it as visionary, while others—even some who admit they don't like George W. Bush—find Moore's argument shoddy and arrogant.
from Film Forum, 07/08/04
Michael Moore's film Fahrenheit 9/11 continues to draw intense discussion and debate among critics, journalists, politicians, and moviegoers this week.
In the religious press, opinions continued to vary. Dick Staub (Culture Watch) calls it "a terribly executed, one-sided, emotional slop of half-truths and innuendo, and takes its place among similar products on the right—we should seek the truth, but truth seekers know, it is difficult to find."
Denny Wayman and Hal Conklin (Cinema in Focus) give it three stars. "Like a prosecuting attorney who cunningly weaves the 'facts' of the case together in order to 'win his case' rather than present both sides to find out the truth, Moore's case is a masterpiece of partisan documentary skill. Presenting a case which Moore himself acknowledges reflects his own beliefs and biases, his case against President George W. Bush seems right until one looks more closely at the 'facts' which are left out and the statements which are removed from their original context."
Article continues below
Chris Monroe (Christian Spotlight) says, "Moore presents the information at a pretty rapid pace and doesn't really allow the audience time to think them over. He uses facts, but also exaggerates them, and relies heavily on conjecture. If you already agree with his ideas, then it will clearly be entertaining and affirming. If you don't know the details already, don't expect an objective presentation from his spin on them. This film is presented entertainingly, but more than anything incites animosity and contempt for our President."
from Film Forum, 07/15/04
Andrew Coffin (World) has rather strong feelings about Michael Moore's latest film. "Fahrenheit 9/11 … is a disgusting, pathetic piece of propaganda without the slightest shred of integrity. This doesn't mean that there are no reasonable arguments to be made against the war in Iraq, in its timing, execution, or justifications, or certain aspects of U.S. response to 9/11. On the contrary, reasonable criticism—criticism worth debating, anyway—has come from both the left and the right. But none of it is to be found in this unbalanced (in every sense of the word) screed."
Copyright © 2004 Christianity Today. Click for reprint information.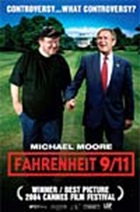 Browse All Movie Reviews By: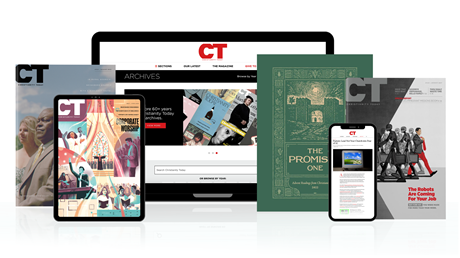 Annual & Monthly subscriptions available.
Print & Digital Issues of CT magazine
Complete access to every article on ChristianityToday.com
Unlimited access to 65+ years of CT's online archives
Member-only special issues
Subscribe
Fahrenheit 9/11
Fahrenheit 9/11