true
I must confess, I've never watched one of Ronald Reagan's movies beginning to end. I caught the last half of Knute Rockne All American on TV one night—including the famous "win just one for the Gipper" line—but the former President's recent death will have many of us seeking out some of his old films for the first time.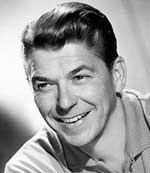 But the man made 59 movies, so where does one even begin? I started with the Internet Movie Database, where its 18 million-plus users rate films. In other words, I went looking for fan favorites, not necessarily critics' favorites. (As it turns out, the fans like pretty much the same ones the critics like.)
One observation before I get to the list: You would think that the man who would ultimately be the Leader of the Free World might have also been at least a leading man in Hollywood. And sometimes, he was—but many of those movies were busts.
Reagan's greatest strength, according to a recent article in Entertainment Weekly, was as a supporting actor, which required him to be "sturdy and dependable." As EW noted, Reagan might've been best in roles that helped other actors shine. And come to think of it, as President, he made those around him—in the Oval Office, in Washington, across the nation and, indeed, around the world—better. The end of the Cold War—and the fall of communism—is proof enough of that. May he rest in peace.
So, based on what movie fans are saying, here are five Ronald Reagan films worth checking out: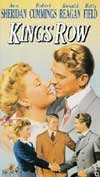 1. Kings Row (1942)
In what critics say is his finest performance, Reagan plays Drake McHugh in this Golden Era tragedy based on Henry Bellaman's controversial, best-selling epic novel about cruelty and mental instability in small-town America. Reagan and Ann Sheridan—as Randy Monaghan, the girl from the wrong side of the tracks—face numerous tragedies at home while WWII rages on overseas. One of those tragic events (we won't give it away) prompts Drake to say, "Where's the rest of me?"—which ended up being the title of Reagan's 1965 autobiography.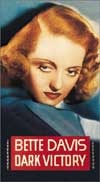 2. Dark Victory (1939)
Bette Davis is the star of the show, playing a flighty socialite (yes, there were flighty socialites long before Paris Hilton) who almost dies in a horse jumping accident. The handsome doctor—no, not Reagan, but George Brent—discovers a terminal brain disease, but they fall in love and get married anyway. So where does Reagan come into the picture? As a socialite himself—and friend to Davis's character—who likes to booze it up. Wanna see the future Prez slur his speech? Here's the place.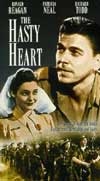 3. The Hasty Heart (1949)
In this tear-jerker of a wartime hospital drama, Reagan plays Yank, a soldier with malaria. The film is set in a M.A.S.H. unit in Burma at the end of the war. A Scottish soldier, Corporal Lachlan MacLachlan (played by Richard Todd), is recovering from surgery while other soldiers begin to pack up and go home. But MacLachlan must remain behind "for observation," because he's dying, but doesn't know it. A nurse, and several of his war buddies, are asked to stay behind to make him as comfortable as possible, but he wants no part of it and is anxious to go home.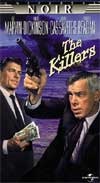 4. The Killers (1964)
Reagan's final film, based on an Ernest Hemingway short story, was originally made for television, but the gang-life drama was deemed too violent for TV and thus released as a feature film. It was also the first—and last—time Reagan would play a crook (he even slaps Angie Dickinson around). Reagan later said, "I did (the role), but had an awful feeling." He would never be the Bad Guy again.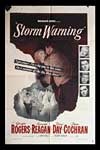 5. Storm Warning (1951)
A grim Ku Klux Klan drama featuring Ginger Rogers as a New York model named Marsha who goes South to visit her sister Lucy (Doris Day)—whose husband turns out to be a Klan thug, killer, and rapist. After Marsha witnesses a KKK murder, she helps the prosecuting attorney (Reagan) unravel the scandal and bring the bad guys to justice.
Five more Dutch treats worth checking out:
•

Knute Rockne All American

(1940)—everybody's gotta watch this one for the Gipper
•

The Voice of the Turtle

(1947)—Reagan's Sgt. Bill Page in this wartime comedy based in NYC
•

Desperate Journey

(1942)—Reagan and Errol Flynn in another war yarn—behind enemy lines
•

Brother Rat

(1938)—a zany comedy where Reagan woos Jane Wyman (his future wife)
•

Bedtime for Bonzo

(1951)—Reagan, a chimp and plenty of shenanigans; what's not to like?
Turner Classic Movies has scheduled an all-day salute to Reagan for Thursday, June 10. The network will run 15 straight Reagan films, including Kings Row, beginning at 8 a.m.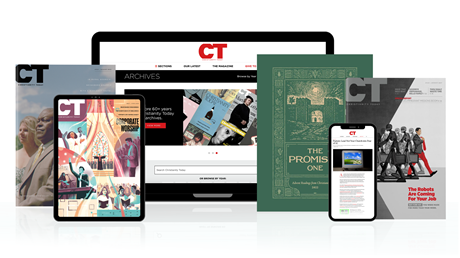 Subscribe to Christianity Today and get access to this article plus 65+ years of archives.
Home delivery of CT magazine
Complete access to articles on ChristianityToday.com
Over 120 years of magazine archives plus full access to all of CT's online archives
Subscribe Now
Winners from the Gipper
Winners from the Gipper