true
Even before Mel Gibson grabbed hearts and headlines with The Passion of The Christ, Christians were finding a new fascination with the spiritual significance they're encountering at the multiplex. Every month sees a new film-and-faith book hit the shelves, film clips are showing up in Sunday sermons like never before, and believers gather in study groups where the VCR and DVD player are almost as important to the proceedings as Bible or concordance. Jesus "spake not except in parables," and the spiritual impact of story didn't end with Christ.
The folks at Arts & Faith, an online discussion group comprised of film critics—including Christianity Today Movies critics Jeffrey Overstreet, Peter T. Chattaway and myself—and other movie buffs have been carrying on a lively conversation about spirituality and film for years. Recently, the participants forged a terrifically diverse and intriguing list of 100 Spiritually Significant Films—an incomparable resource for anyone interested in exploring transcendent themes in the movies.

During our voting process, two films clearly rose to the top, tying for first place: Dekalog, a series of ten one-hour films created by Poland's Krzysztof Kieslowski, dealing indirectly with the Ten Commandments, and Robert Duvall's personal vision film, The Apostle. Arts & Faith had an in-depth discussion of Dekalog, a highly artistic and ethically complex series; in fact, the A&F board got started with a discussion of another series of films by Kieslowski, the Three Colors trilogy, which also found its way into the top 100.

The Apostle was written, directed and personally financed by Duvall, who also plays the title character, a troubled Southern evangelist who is not only a deeply flawed human being, but also a penitent man with an extraordinary drive to share the gospel. Another extraordinary performance by Duvall also found its way quickly onto the list: Tender Mercies, writer Horton Foote's masterpiece of understatement about the faith journey of a recovering alcoholic.
Other films that were among the A&F favorites included P.T. Anderson's multi-character masterpiece Magnolia and Pier Paolo Pasolini's The Gospel According to St. Matthew, a sparse and poverty-stricken account of Christ's life considered by most Jesus movie aficionados to be the greatest of its kind. The Passion of The Christ also made the list, as did the surprisingly rich The Miracle Maker (an animated life of Christ), Zeffirelli's Jesus of Nazareth miniseries, the more controversial Jesus of Montreal and The Last Temptation of Christ, and the not-quite-Jesus-film from the Monty Python gang, Life of Brian.

The unflinching portrayal of spiritually lost characters in Magnolia may scandalize some believers, but there's no denying it's one of the most often cited favorites among Christian film buffs, with its wonderfully human (and profoundly admirable) Christian cop, its intricate moral and relational complications, and its undeniable acts of divine intervention. Punch-Drunk Love, a less obviously religious film by the same director, also finds its way onto the list, a prime example of a story without explicit religious elements which nonetheless holds great appeal for Christian viewers, with its grace-filled portrait of damaged human beings yearning toward redemptive love.
Another relative no-brainer for the A&F list was the exquisite Babette's Feast, the story of a cook who spends all she has to bless her employers—and their entire village—with a remarkable feast that reawakens their spirits like the sacrificial fragrance of the jar of perfume poured out over Christ's feet.
Rounding out the films which topped our voting are Dead Man Walking, the emotionally devastating portrait of Sister Helen Prejean's compassion for a death row prisoner; Breaking the Waves, a highly controversial story of sacrificial love from Lars von Trier (whose recent Dogville is also featured on the list); Crimes & Misdemeanors, the deeply moral Woody Allen film; Diary of a Country Priest, an artistically demanding film often considered the crowning achievement of the masterful Catholic director Robert Bresson; and The Mission, the widely-admired and heart-rending story of two men who choose different ways of serving Christ on a South American Jesuit mission in the 18th century. Robert Bolt, screenwriter for The Mission, is also responsible for another film on the list, A Man for All Seasons.

The director with the most films on the list is Andrei Tarkovsky, Russia's great Cold War director whose Christian faith not only found subtextual expression in his movies but also placed him in constant struggle with Soviet authorities. Some consider Andrei Rublev the ultimate statement on the place of the Christian artist in a fallen world; The Sacrifice and The Mirror may be the most obscure and difficult pieces on this list, and the science fiction films Stalker and Solaris some of the most unusual, but all are acknowledged masterpieces.
Australian director Peter Weir placed four films in the Top 100. Fearless is about a man whose life is transformed when he miraculously survives death in a terrible airplane crash; Witness is the story of a Philadelphia cop whose violent life is called into question when he takes refuge among the Amish; and The Truman Show is Jim Carrey's hit about a man whose entire life is filmed and broadcast on television. The Year of Living Dangerously is less well-known than the others, but may be the most spiritually significant Weir film of them all, with Linda Hunt's Oscar-nominated portrayal of outsider Billy Kwan giving us one of the most extraordinary Christians ever portrayed in film, obsessed with John the Baptist's question, "What then shall we do?"
The list also includes a number of hidden treasures, such as Close-Up, an Iranian quasi-documentary which begins oddly and simply but finishes by undermining our preconceptions about justice and mercy, truth and deception, restitution and reconciliation in this Muslim country; from Finland, The Man Without a Past, a droll character study with surprising spiritual resonance; Not of This World, the all-but-unknown story of a dry cleaner and a nun who find an abandoned baby in a public park somewhere in Rome; Belgium's The Son, an utterly riveting film in which almost nothing happens, but everything that does occur carries immense tension and emotional significance; and the indescribably strange Songs from the Second Floor, a surreal film with odd echoes of Ecclesiastes, and unforgettable images of yet another sacrifice of Christ in a garbage dump.

And then there are the "usual suspects," recent films whose spirituality may be blatant or hidden, but which seem always to come up when Christians talk about film: the Lord of the Rings trilogy, which renders the profoundly Christian truths of J.R.R. Tolkien's fantasy masterpiece in one of the most widely-seen films of all time; The Matrix, the spiritual film for many who came to faith at the end of the twentieth century, which may read better as a parable of spiritual rebirth than as a Christ-figure allegory; Chariots of Fire, the story of missionary and Olympian Eric Lidell, and one of the first films to portray an evangelical Christian in a positive light; Shadowlands, the definitive portrait of C. S. Lewis and his relationship with Joy Davidman, a relationship which reshaped his theology through love and suffering; American Beauty with its highly unorthodox affirmation of the divine love that banishes fear; Stephen King's story of faithfulness and friendship, The Shawshank Redemption; and M Night Shyamalan's brilliant meditation on mortality and forgiveness in the guise of a ghost story, The Sixth Sense, and his even more popular (if more artistically flawed) creatures-from-outer-space fright flick Signs, which is actually about a priest who must come to terms with grief and doubt; and Wings of Desire, the poetically evocative film Wim Wenders made as he came to faith, a vision of angels who long to do more than look into the lives of human beings.

There are classic art films like Bresson's Au Hasard Balthazar, Dreyer's Ordet, as well as a sprinkling of Rossellini, Bergman, Fellini and Kurosawa. But there are also wonderful surprises, from comedies like the delightful Groundhog Day (which seems suddenly to be touted everywhere as one of the great spiritual films of all time) to extremely dark and disturbing material like Bad Lieutenant or The Addiction. Lesser-known documentaries like Stevie or Hell House are extremely apt choices for this list, films which may not be widely known but which have been championed at the Arts & Faith board for a long time. Films like 13 Conversations About One Thing or Waking Life offer great fodder for moral and theological musings and discussion, while The Big Kahuna or Amadeus engage directly with explicitly Christian themes like vocation, evangelism and the blessing of God.
In a time when nearly the entire history of cinema is available through the web or at your local cinemaniac video store, and when so much of the cultural dialogue seems to center around the movies, a list like this provides a great starting place for an incredibly rich journey that combines entertainment and eternity for those with ears to hear and eyes to see.
The A&F Top 100
The 2004 Arts & Faith Top100 Spiritually Significant Films are listed (with its year of release and the name of the director) in alphabetical order below. You can also find the list at the A&F website, where you can learn more about the films and join in on the discussion.
13 Conversations About One Thing, 2001, Jill Sprecher
2001: A Space Odyssey, 1968, Stanley Kubrick
The Addiction, 1995, Abel Ferrara
Amadeus, 1984, Milos Forman
American Beauty, 1999, Sam Mendes
Andrei Rublev, 1969, Andrei Tarkovsky
The Apostle, 1997, Robert Duvall
Au Hasard Balthazar, 1966, Robert Bresson
Babettes Gæstebud ("Babette's Feast"), 1987, Gabriel Axel
Bad Lieutenant, 1987, Abel Ferrara
Bad ma ra khahad bord ("The Wind Will Carry Us"), 1999, Abbas Kiarostami
The Big Kahuna, 1999, John Swanbeck
Blade Runner, 1982, Ridley Scott
Breaking The Waves, 1996, Lars von Trier
Changing Lanes, 2002, Roger Michell
Chariots of Fire, 1981, Hugh Hudson
Code inconnu ("Code Unknown"), 2000, Michael Haneke
Crimes And Misdemeanors, 1989, Woody Allen
Days of Heaven, 1978, Terrence Malick
Dead Man Walking, 1995, Tim Robbins
Dekalog ("The Decalogue"), 1987, Krzysztof Kieslowski
Dersu Uzala, 1975, Akira Kurosawa
Dogma, 1999, Kevin Smith
Dogville, 2003, Lars von Trier
La Dolce vita, 1960, Federico Fellini
The Elephant Man, 1980, David Lynch
Eternal Sunshine of the Spotless Mind, 2004, Michel Gondry
Fearless, 1993, Peter Weir
Fight Club, 1999, David Fincher
Le Fils ("The Son"), 2002, Jean-Pierre & Luc Dardenne
Fuori dal mondo ("Not of This World"), 1999, Giuseppe Piccioni
Grand Canyon, 1991, Lawrence Kasdan
Groundhog Day, 1993, Harold Ramis
Hell House, 2001, George Ratliff
Henry V, 1989, Kenneth Branagh
Der Himmel über Berlin ("Wings of Desire"), 1987, Wim Wenders
Ikiru ("To Live"), 1952, Akira Kurosawa
It's A Wonderful Life, 1946, Frank Capra
Jean de Florette, Manon des sources, 1986, Claude Berri
Jésus De Montréal ("Jesus of Montreal"), 1989, Denys Arcand
Jesus Of Nazareth, 1977, Franco Zeffirelli
Le Journal D'un Curé De Campagne ("The Diary of a Country Priest"), 1951, Robert Bresson
Ladri di biciclette ("The Bicycle Thief"), 1948, Vittorio De Sica
The Last Days of Disco, 1998, Whit Stillman
The Last Temptation Of Christ, 1988, Martin Scorsese
Life of Brian, 1979, Terry Jones
The Lord of the Rings: The Fellowship of the Ring, The Two Towers, The Return of the King, 2001-2003, Peter Jackson
Ma nuit chez Maud ("My Night At Maud's"), 1969, Eric Rohmer
Magnolia, 1999, Paul Thomas Anderson
A Man For All Seasons, 1966, Fred Zinnemann
The Matrix, 1999, Andy & Larry Wachowski
Mies vailla menneisyyttä ("The Man Without A Past"), 2002, Aki Kaurismaki
The Miracle Maker, 2000, Derek W. Hayes & Stanislav Sokolov
The Mission, 1986, Roland Joffé
Nema-ye Nazdik ("Close-Up"), 1990, Abbas Kiarostami
The Night Of The Hunter, 1955, Charles Laughton
Offret—Sacrificatio ("The Sacrifice"), 1986, Andrei Tarkovsky
On The Waterfront, 1954, Elia Kazan
Ordet ("The Word"), 1955, Carl Theodor Dreyer
La Passion De Jeanne D'arc ("The Passion of Joan of Arc"), 1928, C. Dreyer
The Passion Of The Christ, 2004, Mel Gibson
Peter and Paul, 1981, Robert Day
Ponette, 1996, Jacques Doillon
The Prince Of Egypt, 1998, Brenda Chapman, Steve Hickner, Simon Wells
La Promesse, 1996, Jean-Pierre & Luc Dardenne
Punch-Drunk Love, 2002, P.T. Anderson
Roma, città aperta ("Open City"), 1945, Roberto Rossellini
Sansho Dayu ("Sansho the Bailiff"), 1954, Kenji Mizoguchi
Schindler's List, 1993, Steven Spielberg
Secrets & Lies, 1996, Mike Leigh
Shadowlands, 1993, Richard Attenborough
The Shawshank Redemption, 1994, Frank Darabont
Signs, 2002, M. Night Shyamalan
The Sixth Sense, 1999, M. Night Shyamalan
Det Sjunde Inseglet ("The Seventh Seal"), 1957, Ingmar Bergman
Smultronstället ("Wild Strawberries"), 1957, Ingmar Bergman
Solyaris ("Solaris"), 1972, Andrei Tarkovsky
Stalker, 1979, Andrei Tarkovsky
Star Wars, The Empire Strikes Back, Return of the Jedi, 1977, 1980, 1983, George Lucas, Irvin Kershner, Richard Marquand
Stevie, 2002, Steve James
The Straight Story, 1999, David Lynch
Sunrise: A Song of Two Humans, 1927, F.W. Murnau
Sånger från andra våningen ("Songs From the Second Floor"), 2000, Roy Andersson
The Sweet Hereafter, 1997, Atom Egoyan
Tender Mercies, 1983, Bruce Beresford
Trois coulers: Bleu, Trzy kolory: Bialy, Trois coulers: Rouge ("Three Colors: Blue, White, Red"), 1993, 1994, 1994, Krzysztof Kieslowski
Tokyo Monogatari ("Tokyo Story"), 1953, Yasujiro Ozu
The Truman Show, 1998, Peter Weir
Unforgiven, 1992, Clint Eastwood
Il Vangelo Secondo Matteo ("The Gospel According to Matthew"), 1964, Pier Paolo Pasolini
Vanya on 42nd Street, 1994, Louis Malle
Le Vent souffle où il veut ("A Man Escaped"), 1956, Robert Bresson
La Vita è bella ("Life is Beautiful"), 1997, Roberto Benigni
Vredens dag ("Day of Wrath"), 1943, Carl Theodor Dreyer
Waking Life, 2001, Richard Linklater
Werckmeister Harmonies, 2000, Béla Tarr
Witness, 1985, Peter Weir
The Year Of Living Dangerously, 1982, Peter Weir
Yi yi ("Yi Yi: A One and a Two"), 2000, Edward Yang
Zerkalo ("The Mirror"), 1975, Andrei Tarkovsky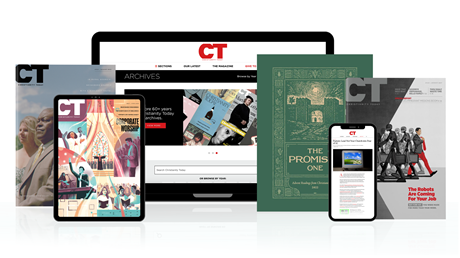 Subscribe to Christianity Today and get access to this article plus 65+ years of archives.
Home delivery of CT magazine
Complete access to articles on ChristianityToday.com
Over 120 years of magazine archives plus full access to all of CT's online archives
Subscribe Now
Moving Pictures
Moving Pictures