Bishop Roderick Caesar, 53, thinks he was 17 or 18 when a friend confessed, "I am in the life," meaning he was homosexual. Caesar sat with his friend and prayed. "I told him I would be his friend until the day he died. I also told him I would pray that he would not find happiness."
Caesar, pastor of Bethel Gospel Tabernacle in Jamaica, Queens, helped organize a rally against gay marriage at City Hall on March 29 with the 400-church City Covenant Coalition, led by Puerto Rican-Italian Joseph Mattera. Earlier, on March 14, more than 8,000 Hispanic evangelicals converged in the Bronx for the nation's largest rally to date against gay marriage. One of the speakers was a white Assemblies of God pastor.
In New York City and elsewhere, African American and Hispanic pastors are facing off against a large homosexual-rights contingent over the issue of gay marriage. For Christian leaders steeped in personal compassion, the confrontation is full of anguish, fear, and anger.
When the Supreme Judicial Court in Massachusetts ordered gay marriage to become state law this month, local black and Hispanic clergy associations quickly joined in protest (CT, April, p. 90). A month later, African American pastors, organized by the Los Angeles- based Coalition on Urban Renewal and Education (CURE), and in association with the Family Research Council, came from across the country to support their beleaguered colleagues.
"This is a line in the sand for black churches across the nation," said CURE founder Star Parker.
The Alliance for Marriage (AFM), which advocates a constitutional amendment to protect marriage, released a poll on March 4 showing that 63 percent of Hispanics and 62 percent of African Americans support an amendment defining marriage as between a man and a woman. AFM has broad support among minorities. "Concern for stronger families trumps jobs," said founder Matt Daniels. "It trumps the environment for all voter groups."
Ruben Diaz Sr. of the Bronx had two brothers who were homosexual. As a pastor in the Church of God (Cleveland, Tenn.) and overseer of more than 100 Pentecostal churches, he knew many other church leaders who had seen members drifting from broken families into drugs, homosexuality, and death.
Ten years ago, Diaz, a Democrat, complained that city support for the Gay Games was taking funding from poor families. His comments drew a torrent of abuse from activists.
"They hit me with a pitcher of water," Diaz said. "They called me 'homophobe,' 'preacher of hate.' I received threatening letters. Publicly, that issue forced me to commit."
Now a state senator, Diaz organized hundreds of Bronx Hispanic churches for the March 14 rally on the steps of the state supreme court. "We are praying, singing, and denouncing gay marriages," he told those attending. "I can be expelled from the [Democratic] Party for what I am saying, but none of that counts before the Lord."
Matthew Dowd, chief strategist for the Bush campaign, said the minority vote could make a difference. Other Republican strategists say that the push for homosexual marriage will split some Hispanic voters from the Democrats, while keeping socially conservative African American Democrats home on Election Day.
For Caesar, the issue is not about politics. He cannot forget when his friend came back to the church from out of "the life." "He walked in and told me that one day he woke up and realized that his lifestyle is not his destiny." The pastor said that since his friend wasn't legally entangled in a gay marriage, "he never looked back."
Related Elsewhere:
Christianity Today's past coverage of the gay marriage debate includes:
Amending Marriage | Christians in Massachusetts are playing catch-up to protect the age-old institution. (March 22, 2004)
Civil Unions: Would a Marriage by any Other Name Be the Same? | Some theologically conservative Christians support civil unions and remain opposed to same-sex marriage. (March 08, 2004)
Why Gay Marriage Would Be Harmful | Institutionalizing homosexual marriage would be bad for marriage, bad for children, and bad for society. (Feb. 19, 2004)
Let No Law Put Asunder | A constitutional amendment defending marriage is worth the effort. (Jan. 26, 2004)
Massachusetts Court Backs Gay Marriage | Christians say gay activists will overturn marriage laws (Dec. 10, 2003)
'A Man and a Woman' | Activists say the Federal Marriage Amendment will be the defining issue in the next election. (Nov. 24, 2003)
The Next Sexual Revolution | By practicing what it preaches on marriage, the church could transform society. (Aug. 27, 2003)
The Marriage Battle Begins | Profamily and gay activists agree: Texas decision sets significant precedent. (Aug. 11, 2003)
Canada Backs Gay Marriages | Conservatives say decision could put pressure on dissenting churches. (July 16, 2003)
Marriage in the Dock | Massachusetts case on gay marriage could set off chain reaction. (April 25, 2003)
Christian Conservatives Split on Federal Marriage Amendment | Law would protect marriage from courts, but legislatures could still extend marital benefits to same-sex unions. (July 20, 2002)
Article continues below
Defining Marriage | Conservatives advocate amendment to preserve traditional matrimony. (October 1, 2001)
No Balm in Denver | Episcopalians defer debate over same-sex blessings for another three years. (July 17, 2001)
Marriage Laws Embroil Legislatures | New Englanders push for domestic-partner benefits. (April 26, 2001)
Presbyterians Propose Ban on Same-Sex Ceremonies | Change to church constitution, which passes by only 17 votes, now goes to presbyteries. (July 5, 2001)
Sticking With the Status Quo | United Methodists reject gay marriage, ordination. (May 15, 2000)
Presbyterians Vote Down Ban on Same-Sex Unions | Opponents say vague wording led to defeat. (March 29, 2001)
States Consider Laws on Same-Sex Unions California to vote on 'limit on marriage' in March (Jan. 10, 1999)
Have something to add about this? See something we missed? Share your feedback here.
Our digital archives are a work in progress. Let us know if corrections need to be made.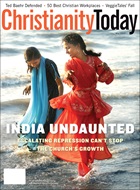 This article is from the May 2004 issue.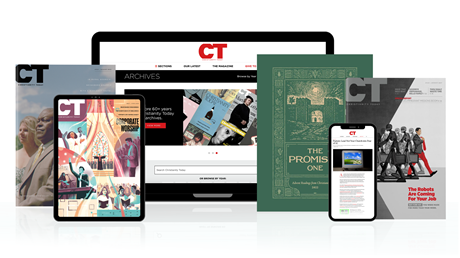 Annual & Monthly subscriptions available.
Print & Digital Issues of CT magazine
Complete access to every article on ChristianityToday.com
Unlimited access to 65+ years of CT's online archives
Member-only special issues
Subscribe
Rainbow Coalitions
Rainbow Coalitions