If congress shall make no law respecting an establishment of religion, or prohibiting the free exercise thereof, then understanding what religion is becomes very important. Tragically, judges are engaged in linguistic gerrymandering by redefining religion in ways that threaten the traditional understanding of our right to free exercise of religion.
A March decision from the California Supreme Court is the starkest example. Even though Catholic Charities opposes contraception, the court said, it isn't exempt from a state law requiring businesses to pay for employees' artificial birth control because the church-affiliated social service organization isn't a religious employer. Here's how a California law defines religious employers: "Those organizations for which the inculcation of religious values is the sole purpose of the entity, that primarily employ only adherents of their own faith tradition, that primarily serve only people who share their religious tenets, and that qualify as nonprofit organizations."
Since Catholic Charities hires and serves non-Catholics, and because its evangelism is indirect rather than direct, it can't be a religious employer, the court majority said.
"This is such a crabbed and restrictive view of religion that it would define the ministry of Jesus Christ as a secular activity," wrote Justice Janice Rogers Brown, the sole dissenting judge in the case (her nomination to a federal judgeship, by the way, is stalled in the Senate). "Here we are dealing with an intentional, purposeful intrusion into a religious organization's expression of its religious tenets and sense of mission. The government is not accidentally or incidentally interfering with religious practice; it is doing so willfully by making a judgment about what is or is not religious. This is precisely the sort of behavior that has been condemned in every other context."
Not absolutely every other context, however. A similar dispute is brewing in New York. The Salvation Army—a Christian denomination, no less—has been sued for religious discrimination for "injecting religion into the workplace" (see "Out in the Cold," p. 17). Also, in San Diego, the Boy Scouts have had their longtime lease of public parkland revoked. U.S. District Court Judge Napoleon Jones ruled that the Scouts' organizational tenet of belief in God (and, he suggested, their policy against gay scoutmasters) makes them a "religious" organization—so a city lease would be an unconstitutional "establishment of religion." So, Catholic Charities isn't religious, but the Boy Scouts of America is? The only consistency in both rulings is conformity to the tenets of the sexual Left.
This trend isn't restricted to California and New York courts. The U.S. Supreme Court is also muddying the waters by supporting discrimination in Washington state's Promise Scholarship Program. Students who receive the scholarships may attend any accredited college in the state, even a religious one. They may even choose any major they wish, including theology. There's just one catch: Don't major in theology at a school that teaches it "to induce religious faith"—in other words, the American Center for Law and Justice argued, "from the point of view of actually believing what is being taught."
In recent years, the Supreme Court has repeatedly affirmed neutrality and fair treatment as the standards for assessing whether discrimination exists. But not this time.
"Washington's program imposes neither criminal nor civil sanctions on any type of religious service or rite," Chief Justice William H. Rehnquist wrote for the five-member majority. "It neither denies to ministers the right to participate in community political affairs, nor requires students to choose between their religious beliefs and receiving a government benefit. The State has merely chosen not to fund a distinct category of instruction."
That reflects an awfully narrow view of religion, responded Justice Antonin Scalia, in his dissent with Justice Clarence Thomas. "Let there be no doubt: This case is about discrimination against a religious minority," he wrote. "Most citizens of this country identify themselves as professing some religious belief, but the State's policy poses no obstacle to practitioners of only a tepid, civic version of faith. Those the statutory exclusion actually affects—those whose belief in their religion is so strong that they dedicate their study and their lives to its ministry—are a far narrower set. … In an era when the court is so quick to come to the aid of other disfavored groups, its indifference in this case, which involves a form of discrimination to which the Constitution actually speaks, is exceptional."
Scalia's dissent highlights a common thread in all of these cases: Antagonism to a religion that goes beyond private belief. Such animus is evident in our culture's frequent refrains of "I'm spiritual but not religious" and "Christianity is a relationship, not a religion." Both sayings connect to our hatred of religious hypocrisy. But a living Christian faith is greater than one's feelings or a "Jesus and me" emphasis that neglects the Second Great Commandment.
The state would have smiled approvingly if Catholic Charities and the Salvation Army had preached only to the choir. If the Boy Scouts were brave, trustworthy, and irreverent, they would still have their lease.
But biblically aware Christians cannot live by private faith alone.
We know what religion is. God himself has told us, through the apostle James: "Pure and undefiled religion before God and the Father is this: To visit orphans and widows in their trouble, and to keep oneself unspotted from the world."
Related Elsewhere:
Christianity Today articles referred to in this article include:
Charity Defies California Law on Contraception | Court to decide if state can require Catholic ministries to pay for birth control. (June 25, 2002)
Weblog: California Supreme Court Orders Catholic Charities to Pay for Birth Control (March 02, 2004)
Out in the Cold? | Salvation Army sued for asking employees to support its mission (May 2004)
Scholarship Wars | Supreme Court says states can deny public funds to some religious students. (March 17, 2004)
Locke vs. Davey Won't Hinder Voucher Expansion, Say Legal Experts | Religious institutions must be included in federally funded programs. (March 17, 2004)
Have something to add about this? See something we missed? Share your feedback here.
Our digital archives are a work in progress. Let us know if corrections need to be made.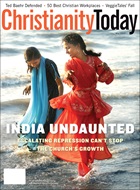 This article is from the May 2004 issue.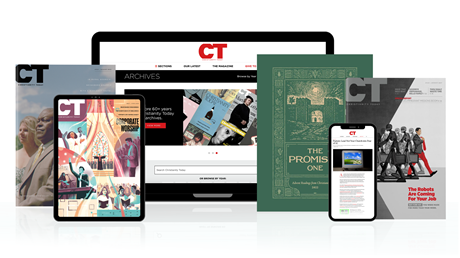 Subscribe to Christianity Today and get access to this article plus 65+ years of archives.
Home delivery of CT magazine
Complete access to articles on ChristianityToday.com
Over 120 years of magazine archives plus full access to all of CT's online archives
Subscribe Now
Blessed Are the Lukewarm
Blessed Are the Lukewarm