It has become a cliché for Christians to ask, What would Jesus do? But as we close out one of the nastiest campaigns in memory, it might be timelier to ask, For whom would Jesus vote? Many Christians think they at least know for whom the Lord would not vote, based on one issue.
In September, Illinois Republican Senate candidate Alan Keyes stated that Jesus would not vote for rising star Democrat Barack Obama, his opponent, because of Obama's earlier vote in the state Senate against a bill requiring doctors to provide medical care to infants born alive after attempted abortions. James I. Lamb, executive director of the pro-life group Lutherans For Life, also thinks he knows. "A candidate who favors abortion should be disqualified from receiving a Christian's vote," Lamb says. "A vote for a pro-abortion candidate implicates the voter in the destruction of children created by God and for whom Jesus died."
Over the summer, Cardinal Joseph Ratzinger, who heads the Vatican's Congregation for the Doctrine of the Faith, gave such single-issue thinking more nuance. In a memo to Cardinal Theodore McCarrick of Washington, D.C. (McCarrick leads a task force on Catholic politicians), Ratzinger said Catholics may vote for a politician who supports abortion rights if (1) abortion is not the reason for their vote, and (2) they have "proportionate reasons" (in other words, if the candidate's positions on other issues outweigh his or her stand on abortion).
But how do you measure whether a candidate's good on other issues outweighs his or her bad on the question of human life? As Archbishop Raymond Burke of St. Louis said in reaction to the memo, "What is a proportionate reason to justify favoring the taking of an innocent, defenseless human life?" Obviously, no amount of praiseworthy policies on the environment, terrorism, or the economy can atone for the loss of a single human life made in God's image—let alone for the 44 million unborn taken from us since 1973.
However, a vote for a candidate who supports abortion rights does not necessarily translate into more abortions. In some cases, voting for a pro-choice politician may be morally acceptable (especially if the pro-life opponent is otherwise incompetent). Of course, Christians should not vote for abortion ideologues—who reflexively and actively support the destruction of innocent human life at every turn and for every reason—and then claim ignorance.
This summer the National Association of Evangelicals (NAE) released a thoughtful draft document titled "For the Health of the Nation: An Evangelical Call to Civic Responsibility." It encourages evangelicals of all political stripes to work together not just for the sanctity of human life, but also for religious freedom, family life, the poor, peacemaking, and creation care. While sanctity-of-life issues will always be of vital interest to Christians, today's context demands that believers engage a broad spectrum of issues.
We continue to believe the classic Christian teaching that abortion is the wrongful taking of innocent human life and a grave sin. We also recognize that many Americans view abortion as sometimes the lesser of two evils, and a complete ban is politically impossible right now. Unfortunately, public opinion tolerating this evil has been remarkably consistent since Roe v. Wade. Last year, 57 percent of Americans said abortion should be legal only under certain circumstances (compared with 54 percent in 1975)—such as to save the life of the mother (88 percent) or to end an unwanted pregnancy (42 percent). Former President Bill Clinton, who apparently never met an abortion restriction he liked, nevertheless captured public sentiment when he said abortion should be "safe, legal, and rare."
As President Bush has said, to make abortion nonexistent, we first need to build a culture of life. Part of that effort surely means educating and making alliances with open-minded pro-choice politicians (those who exist) to work toward reasonable compromise measures, such as parental notification, a ban on partial-birth abortions, funding for ultrasound machines, and waiting periods.
That's the real world of politics. We must make hard choices about using our scarce resources of time and money.
By thinking in terms of single issues, we marginalize ourselves, whether we are Republicans or Democrats, pro-life or pro-choice. A better approach is to think of dominant issues. For most Christians seeking to honor God with their votes, the sanctity of human life is a given. Because of Scripture's clarity on the dignity of human beings, abortion, euthanasia, embryonic stem-cell research, and like issues should be prime concerns for all of us.
But we can't stop there. Jesus is Lord of all. As the NAE statement says, "While individual persons and organizations may rightly concentrate on one or two issues, faithful evangelical civic engagement must champion a biblically balanced agenda."
The dark side of single-issue politics is that it has forced evangelicals to become ever more shrill and ever less imaginative. Dominant-issue politics shows greater promise in addressing our society amid all the pressing issues our society faces, including terrorism, economic justice, church-state relations, gay marriage, embryonic stem-cell research, and so on.
Abortion is a monstrous tragedy for the nation, but our Christian commitment to a culture of life does not permit us the luxury of abandoning other important issues. While single-mindedness in following Christ is always wise, single-issue voting may not be.
Related Elsewhere:
More Christianity Today articles on from our Election 2004 Hot Topic includes:
The Values-Driven Voter | The values bandwagon is being pulled apart. Which way is more scriptural?—A Christianity Today editorial (August 27, 2004)
A Question of Faith | Top Democrats have much work ahead to convince voters of their religious sincerity.—A Christianity Today editorial (March 03, 2004)
The Politics of Communion | Church leaders who admonish politicians on moral issues are doing their jobs. —A Christianity Today editorial (May 26, 2004)
Bush Calls for 'Culture Change' | In interview, President says new era of responsibility should replace 'feel-good.' (May 28, 2004)
Weblog: John Kerry—Bush and I Have the 'Same Position' on Gay Marriage | Kerry characterized the difference between him and the President as a matter of energizing religious voters. (Oct. 08, 2004)
Wooing the Faithful | President Bush needs evangelicals more than ever, but it's unclear how badly they want him for another four years. (Sept. 28, 2004)
John Kerry's Open Mind | The candidate has roots in liberal Catholicism, establishment Protestantism, and secular idealism. (Sept. 27, 2004)
Not Far from the Brahmin Tree | Kerry's morals have been shaped by an old Protestant establishment. (Sept. 27, 2004)
Weblog: RNC Tells Voters that Liberals Will Ban Bible | West Virginia voters have received a mailing, apparently from the Republican National Committee, warning that liberals will ban the Bible if they're elected in November. (Sept. 20, 2004)
Weblog: The Most Religious Kerry Speech Ever | Now the Democratic candidate can't stop talking about faith. (Sept. 15, 2004)
Weblog: 'A Calling From Beyond the Stars' | Bush's acceptance speech (Sept. 03, 2004)
Weblog: 'God Is Not Indifferent to America' | Zell Miller's speech was the convention's most direct in saying that Americans should vote for Bush because of his religion. (Sept. 02, 2004)
Article continues below
Weblog: Is the Republican Convention More Secular Than the Democratic One Was? | Too much religion speak at the convention? Too little? (Sept. 01, 2004)
Weblog: Silencing Democrats' Religious Speakers | Democrats' senior adviser for religious outreach quits amid "under God" controversy (Aug. 05, 2004)
Weblog: Kerry Touts His Sleeveless Faith | Plus: Mugabe's demand for church support, Economist predicts a new golden age of giving, new claims about the Dead Sea Scrolls, and other stories from online sources around the world. (July 30, 2004)
Weblog: Boston or Bust | Plus: Vonette Bright, a homeschool lawsuit, and a dearth of other religion stories from online sources around the world. (July 29, 2004)
Weblog: Worshiping an 'Awesome God' at the Democratic National Convention | Plus: Amish in the City premieres tonight, challenging Sri Lanka's anti-conversion bill, Christians accused of bad motives in Sudan activism, and other stories from online sources around the world. (July 28, 2004)
Religion at the Democratic National Convention | Plus: Who's talking religion at the Democratic National Convention, council vows to keep praying in Jesus' name, and other stories from online sources around the world. (second item) (July 27, 2004)
Weblog: Why Kerry Is Sincere When He Says He Believes Life Begins at Conception | Plus: AmeriCorps loses suit on Catholic school placements, U.K. considers new religious hate law, Portland's Catholic archdiocese declares bankruptcy, and other stories from online sources around the world. (July 07, 2004)
Weblog: What John Edwards Believes | John Kerry's Methodist running mate oversees his church's urban ministries, but can he win evangelicals' votes? (July 06, 2004)
Weblog: Bush Wants Church Support, Opponents Cry Foul | Plus: Taliban kills Christian in Afghanistan, court rejects judge's ruling in lesbian custody case, and more articles from online sources around the world. (July 02, 2004)
Weblog: Kerry Told to Speak Up, Shut Up About Religion | Plus: British government debates spanking, Pope laments EU Constitution, and other sources from online sources around the world. (June 22, 2004)
Weblog: Bush Campaign Seeks 'Friendly Congregations' | Plus: Canadian Anglicans put off vote on gay marriages, George Beverly Shea leaves hospital after heart attack, Eisenhower's 'crusade' omitted, and other stories from online sources around the world. (June 03, 2004)
Bishop Bans Pro-choice Voters From Communion | Votes may be considered sin if cast for politicians who support abortions. (May 14, 2004)
Article continues below
Weblog: Catholic Life Group to Spend $500,000 Denouncing Kerry-friendly Bishops | Plus: Southern Baptists propose public school boycott, more on the possible Methodist church spilt, death toll rises in Nigeria, faith in China, and more articles from online sources around the world. (May 07, 2004)
Weblog: Kerry's Religion Is Today's Big Politics Story | Plus: Partial-birth abortion ban goes to court three times today, remembering Rwanda's genocide, Moscow bans Jehovah's Witnesses, and other stories from online sources around the world. (March 29, 2004)
'Swing Evangelicals' | Democrats seek to show that they also have faith-based values. (Jan. 09, 2004)
The Southern Baptist Convention has voter guides at its ivotevalues site.
For Roman Catholics there's the United States Conference of Catholic Bishops guide, which has been countered by the Voter's Guide for Serious Catholics.
More of faith and politics is available on our Politics & Law page.
Have something to add about this? See something we missed? Share your feedback here.
Our digital archives are a work in progress. Let us know if corrections need to be made.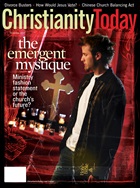 This article is from the November 2004 issue.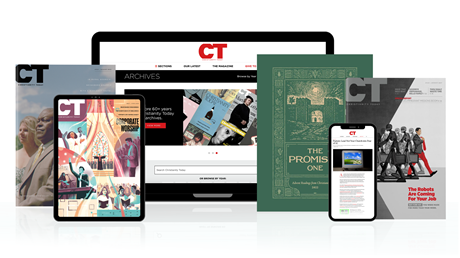 Annual & Monthly subscriptions available.
Print & Digital Issues of CT magazine
Complete access to every article on ChristianityToday.com
Unlimited access to 65+ years of CT's online archives
Member-only special issues
Subscribe
For Whom Would Jesus Vote?
For Whom Would Jesus Vote?