Now that the west appears mired in a long conflict with Islamic terrorism, I hear comments like this from skeptics: "Religion leads to irrational violence. Nazism came out of Germany, one of the most Christian countries in Europe. The worst genocide in Africa took place in Rwanda, the most Christianized country on the continent. Now Muslim fanatics are showing once again the true face of religion."
Meanwhile, Muslim leaders complain that the United States and Israel are trying to pound Arab countries into submission, just as the Christian nations of France, England, and Germany did a century ago. In the so-called clash of civilizations, one big loser is genuine faith: Neither Western military power nor Islamic terrorism offers much to attract a watching world.
Perhaps our day calls for a new kind of ecumenical movement: not of doctrine, nor even of religious unity, but one that builds on what Jews, Christians, and Muslims hold in common, for the sake of mutual survival. Rabbi Abraham Joshua Heschel first issued the call in 1966, in a speech delivered to a group of Christian and Jewish educators. His words apply presciently to our day as the world divides increasingly along religious lines.
Heschel, a Polish rabbi deported by the Nazis, later taught at a Jewish seminary in the United States. Evangelicals widely admire his book The Prophets. He delivered the speech "What We Might Do Together" at the height of the Cold War and in the midst of the '60s turmoil. Heschel said:
The striking feature of our age is not the presence of anxiety, but the inadequacy of anxiety, the insufficient awareness of what is at stake in the human situation. … The cardinal problem is not the survival of religion, but the survival of man. What is required is a continuous effort to overcome hardness of heart, callousness, and above all to inspire the world with the biblical image of man, not to forget that man without God is a torso, to prevent the dehumanization of man. For the opposite of human is not the animal. The opposite of the human is the demonic.
As Heschel pointed out, Jews and Christians (and I would add Muslims) share the belief that this world with its history belongs not to us but to God. We disagree over important doctrines, but are united "in our being accountable to God, our being objects of God's concern, precious in his eyes."
Indeed, Jews, Christians, and Muslims have much in common: They honor the authority of Moses and the Hebrew prophets; they believe in the Creator, the God of Abraham; they want to fulfill God's commands of justice and mercy; they see life as sacred. All three acknowledge that we must oppose evil with a holiness that begins with a proper humility before a sovereign God.
A lieutenant in the French army, Christian de Chergé, assigned to Algeria during a violent uprising in 1959, found he could talk about God more freely among Muslims there than he could back in France, where such talk made people uncomfortable. As a Muslim policeman named Mohammed told him, "We never see French soldiers praying. You say you believe in God. How can you not pray if you believe in God?"
Later, as the lieutenant was walking with Mohammed, rebels surrounded them. Mohammed placed himself in front of the rifles aimed at Christian's chest, insisting that the soldier was a godly man and a friend of Muslims. The rebels withdrew without harming the Frenchman, but the next day Mohammed was found with his throat slit.
Lieutenant de Chergé ultimately resigned his commission and joined a Trappist community in remote Algeria. The monks ministered to the sick, gave refuge to the poor, and spent most of their time in prayer, thus creating an oasis of Christian faith in a land mostly hostile to it.
Ultimately, the terrorists had their way. In 1996, seven monks, including de Chergé, were taken away, held hostage for two months, then beheaded. This brutal incident, however, became a tipping point in the war of Islamic radicals against Algeria's government—a war that had cost perhaps 100,000 lives—by turning the majority of Algerians against the radicals. Mainstream Muslims called for an end to the violence. Today the monks are honored as martyrs throughout Algeria.
Even more recently, we have seen Protestant missionaries martyred in places like Lebanon, Iraq, Pakistan, and Yemen. "There are no final proofs for the existence of God," Rabbi Heschel said in his 1966 speech. "There are only witnesses." And the most convincing witnesses follow Abraham in looking beyond this violent world to a "city with foundations, whose architect and builder is God."
Related Elsewhere:
Abraham Heschel's book, The Prophets, is available from Christianbook.com and other book retailers.
Previous Yancey columns for Christianity Today include:
Forgetting God | Why decadence drives out discipline. (Aug. 30, 2004)
Discreet and Dynamic | Why, with no apparent resources, Chinese churches thrive. (June 28, 2004)
Article continues below
Doubting the Doomsayers | Thank God not everything they say is true. (April 30, 2004)
Cry, The Beloved Continent | Don't let AIDS steal African children's future. (March 04, 2004)
The Colonizers | The best preachers have challenged earth to become more like heaven. (Jan. 16, 2004)
The Leprosy Doctor | Paul Brand showed how to serve others sacrificially and emerge with joy. (Oct. 23, 2003)
Going It Alone | We should take heed when much of the world says it distrusts us. (July 2, 2003)
God of the Maggies | In broken sinners, Jesus saw not their past but their future. (April 25, 2003)
Perestroika of the Spirit | In Russia, the vocabulary of faith needs interpreters. (March 5, 2003)
Jesus' Sword | Longing for peace in tumultuous times. (Jan. 7, 2002)
Guilt Good and Bad | The early warning signs. (Nov. 11, 2002)
God's Funeral | What will keep faith from nearly disappearing in America? (Sept. 3, 2002)
Sheepish | Feeling autonomous and proud? Then ponder the lives of sheep. (July 2, 2002)
Servant in Chief | Jimmy Carter's journey from the White House to building houses.(May 28, 2002)
Why Do They Hate Us? | How to turn the Baywatch syndrome into the Jesus syndrome. (March 27, 2002)
Honest Church Marketing | We enhance our 'image' by offering the world a realistic picture of faith. (October 24, 2001)
Compassion Confusion | We should serve the needy even when it has bad political consequences. (August 28, 2001)
Yancey's Where is God When it Hurts, Special Edition, Soul Survivor: How My Faith Survived the Church, and his latest book, Rumors of Another World, are available on Christianbook.com.
Have something to add about this? See something we missed? Share your feedback here.
Philip Yancey
Philip Yancey is editor at large of Christianity Today and cochair of the editorial board for Books and Culture. Yancey's most recent book is What Good Is God?: In Search of a Faith That Matters. His other books include Prayer (2006), Rumors of Another World (2003), Reaching for the Invisible God (2000), The Bible Jesus Read (1999), What's So Amazing About Grace? (1998), The Jesus I Never Knew (1995), Where is God When It Hurts (1990), and many others. His Christianity Today column ran from 1985 to 2009.
Previous Philip Yancey Columns:
Our digital archives are a work in progress. Let us know if corrections need to be made.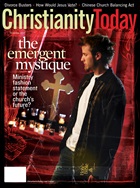 This article is from the November 2004 issue.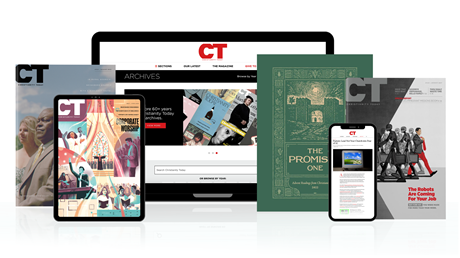 Annual & Monthly subscriptions available.
Print & Digital Issues of CT magazine
Complete access to every article on ChristianityToday.com
Unlimited access to 65+ years of CT's online archives
Member-only special issues
Subscribe
Hope for Abraham's Sons
Hope for Abraham's Sons