WASHINGTON—Forget Iraq. Forget terrorism. Forget the economy. The biggest factor shaping people's votes Tuesday (Nov. 2) was the mother of all sleeper issues—"moral values."
In nationwide exit polls, one in five voters said moral values were the most important issue in casting their votes, outpacing every other major topic. Those "values" voters overwhelmingly went for President Bush over Sen. John Kerry, 79 percent to 18 percent.
The stronger-than-expected role of moral values signals that the nation's values agenda is likely to be dominated by "social morality" concerns for abortion, gay marriage, and stem-cell research—issues vital to Bush's base. The election also marks a defeat for progressive groups who tried to cast "social justice" concerns of poverty, war, and the environment as moral issues.
Either way, Jim Wallis, a self-described progressive evangelical, said neither blue states nor red states should try to claim a corner on the values market.
"The right wants to say these are the only moral values, the left wants to say only our issues are moral values," said Wallis, convener of the Washington-based Call to Renewal anti-poverty group. "The truth is there are moral values across the spectrum."
Just how did values become so important, especially in a race dominated by terrorist threats at home and abroad? Wallis faulted the Democrats for a self-inflicted wound on abortion. Kerry's party alienated values-driven voters who could have been wooed by his domestic policies but could not stomach his party's ardent support of abortion rights.
In Ohio, for example, where moral values ranked second (behind the economy), Kerry lost among Catholics 55 percent to 44 percent, which may have been enough to swing the crucial state into Bush's column. Wallis said a "more sensible, reasonable and centrist" policy on abortion could have helped Kerry, especially within his own church.
"There are millions of votes at stake in that Democratic mistake," he said.
Conservatives, meanwhile, say the winning formula was a simple one. Bush's embrace of socially conservative values rallied his evangelical base, who turned out in record force for him at the polls.
Part of what got them there, at least in some states, were constitutional amendments to ban gay marriage. Voters who did not favor legal recognition for gay couples broke for Bush by a 2-1 ratio.
"I can tell you this," said Tony Perkins, president of the Washington-based Family Research Council, a conservative group. "It was the values voter that ushered the president down the aisle for a second term."
Values voters were not sequestered in Bush's solid red states. Ohio was narrowly propelled into Bush's column by the 85 percent of voters who ranked values as the second-most important issue. In Iowa, a sought-after swing state, 87 percent of values voters went for Bush. And in Wisconsin, where Kerry eeked out a close win, 82 percent of those whose decision was guided by moral values voted for President Bush.
One reason why values may have emerged as so important is because pollsters did not survey the topic four years ago. John Green, an expert on religion and politics at the University of Akron, said "moral values" can mean different things to different voters. But typically, "When ordinary people think of morality, they think of traditional sexual morality. … They don't think of social justice."
To be sure, other factors such as record-breaking voter registration and anti-war sentiment drew voters to the polls. But if values-oriented voters dominated the pack, Bush had a clear advantage because many of those values are reinforced when those same voters pack churches on Sunday mornings.
According to the exit polls, Bush won handily among frequent church-goers, and pulled even with Kerry among people who attend once a month or less. Bush drew 60 percent of weekly attenders, compared to Kerry's 39 percent, while Kerry led Bush among non-church-goers, 64 percent to 34 percent.
Bush drew 75 percent of white evangelicals, 58 percent of Protestants and 24 percent of Jews, a slight rise from 2000. Kerry had 41 percent of Protestants and 76 percent of Jews. The exit polls, conducted by Edison Media Research and Mitofsky International for major media organizations, did not include Muslim voters.
Among the coveted Catholic vote, Bush held a slight edge nationally over Kerry, 51 percent to 48 percent. Richard Land, president of the Southern Baptists' Ethics and Religious Liberty Commission, said Kerry's arms-length relationship with his church came back to haunt him.
"Kerry said, `I will have a secular government, I will not allow my Catholic values to interfere with my public policy,"' Land said. "The president said, `I'm a man of faith and my faith will impact my public policy' and … the American people took Bush's vision over Kerry's."
While Bush's values agenda seems mostly clear cut, the thornier question is what lies ahead for two groups who struggled to employ religious language to shape the values debate—Democrats and religious progressives.
Green, for one, said the challenge for Kerry's party is to develop a language of faith that appeals to values-minded voters. "One of the lessons to the Democratic Party—they need to explore the social justice issues and their connections to faith," Green said.
Wallis, who pushed Kerry to talk more openly about how his faith affects his policies, said it came as "too little, too late." He also said the Democrats need to confront their own inner demons.
"The secular fundamentalism of the left is as much a problem as the religious fundamentalism of the right," he said.
Adelle M. Banks, Itir Yakar and Wangui Njuguna contributed to this report.
Related Elsewhere:
Other Christianity Today articles on Election 2004 include:
Weblog: 'Moral Values' Carry Bush to Victory | Moral issues bigger priority for voters than economy, terrorism, or war in Iraq. Nearly a quarter of voters identify themselves as "evangelical/born-again." (Nov. 03, 2004)
Weblog Bonus: 'Bush Gets Mandate for Theocracy' | Early online punditry: Religious conservatives are in control of the country (Nov. 03, 2004)
Religious Leaders Frustrated that Poverty Goes Unnoticed in Election | "The least of these" are the least discussed this campaign season. (Nov. 01, 2004)
The Values-Driven Voter | The values bandwagon is being pulled apart. Which way is more scriptural?—A Christianity Today editorial (August 27, 2004)
A Question of Faith | Top Democrats have much work ahead to convince voters of their religious sincerity.—A Christianity Today editorial (March 03, 2004)
The Politics of Communion | Church leaders who admonish politicians on moral issues are doing their jobs. —A Christianity Today editorial (May 26, 2004)
Bush Calls for 'Culture Change' | In interview, President says new era of responsibility should replace 'feel-good.' (May 28, 2004)
Weblog: John Kerry—Bush and I Have the 'Same Position' on Gay Marriage | Kerry characterized the difference between him and the President as a matter of energizing religious voters. (Oct. 08, 2004)
Wooing the Faithful | President Bush needs evangelicals more than ever, but it's unclear how badly they want him for another four years. (Sept. 28, 2004)
John Kerry's Open Mind | The candidate has roots in liberal Catholicism, establishment Protestantism, and secular idealism. (Sept. 27, 2004)
Not Far from the Brahmin Tree | Kerry's morals have been shaped by an old Protestant establishment. (Sept. 27, 2004)
Article continues below
Weblog: RNC Tells Voters that Liberals Will Ban Bible | West Virginia voters have received a mailing, apparently from the Republican National Committee, warning that liberals will ban the Bible if they're elected in November. (Sept. 20, 2004)
Weblog: The Most Religious Kerry Speech Ever | Now the Democratic candidate can't stop talking about faith. (Sept. 15, 2004)
Weblog: 'A Calling From Beyond the Stars' | Bush's acceptance speech (Sept. 03, 2004)
Weblog: 'God Is Not Indifferent to America' | Zell Miller's speech was the convention's most direct in saying that Americans should vote for Bush because of his religion. (Sept. 02, 2004)
Weblog: Is the Republican Convention More Secular Than the Democratic One Was? | Too much religion speak at the convention? Too little? (Sept. 01, 2004)
Weblog: Silencing Democrats' Religious Speakers | Democrats' senior adviser for religious outreach quits amid "under God" controversy (Aug. 05, 2004)
Weblog: Kerry Touts His Sleeveless Faith | Plus: Mugabe's demand for church support, Economist predicts a new golden age of giving, new claims about the Dead Sea Scrolls, and other stories from online sources around the world. (July 30, 2004)
Weblog: Boston or Bust | Plus: Vonette Bright, a homeschool lawsuit, and a dearth of other religion stories from online sources around the world. (July 29, 2004)
Weblog: Worshiping an 'Awesome God' at the Democratic National Convention | Plus: Amish in the City premieres tonight, challenging Sri Lanka's anti-conversion bill, Christians accused of bad motives in Sudan activism, and other stories from online sources around the world. (July 28, 2004)
Religion at the Democratic National Convention | Plus: Who's talking religion at the Democratic National Convention, council vows to keep praying in Jesus' name, and other stories from online sources around the world. (second item) (July 27, 2004)
Weblog: Why Kerry Is Sincere When He Says He Believes Life Begins at Conception | Plus: AmeriCorps loses suit on Catholic school placements, U.K. considers new religious hate law, Portland's Catholic archdiocese declares bankruptcy, and other stories from online sources around the world. (July 07, 2004)
Weblog: What John Edwards Believes | John Kerry's Methodist running mate oversees his church's urban ministries, but can he win evangelicals' votes? (July 06, 2004)
Weblog: Bush Wants Church Support, Opponents Cry Foul | Plus: Taliban kills Christian in Afghanistan, court rejects judge's ruling in lesbian custody case, and more articles from online sources around the world. (July 02, 2004)
Article continues below
Weblog: Kerry Told to Speak Up, Shut Up About Religion | Plus: British government debates spanking, Pope laments EU Constitution, and other sources from online sources around the world. (June 22, 2004)
Weblog: Bush Campaign Seeks 'Friendly Congregations' | Plus: Canadian Anglicans put off vote on gay marriages, George Beverly Shea leaves hospital after heart attack, Eisenhower's 'crusade' omitted, and other stories from online sources around the world. (June 03, 2004)
Bishop Bans Pro-choice Voters From Communion | Votes may be considered sin if cast for politicians who support abortions. (May 14, 2004)
Weblog: Catholic Life Group to Spend $500,000 Denouncing Kerry-friendly Bishops | Plus: Southern Baptists propose public school boycott, more on the possible Methodist church spilt, death toll rises in Nigeria, faith in China, and more articles from online sources around the world. (May 07, 2004)
Weblog: Kerry's Religion Is Today's Big Politics Story | Plus: Partial-birth abortion ban goes to court three times today, remembering Rwanda's genocide, Moscow bans Jehovah's Witnesses, and other stories from online sources around the world. (March 29, 2004)
'Swing Evangelicals' | Democrats seek to show that they also have faith-based values. (Jan. 09, 2004)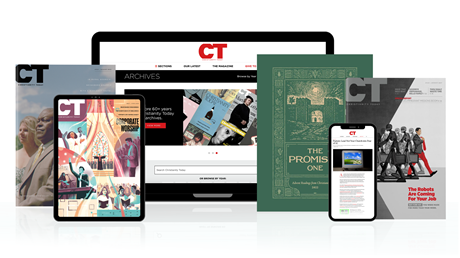 Annual & Monthly subscriptions available.
Print & Digital Issues of CT magazine
Complete access to every article on ChristianityToday.com
Unlimited access to 65+ years of CT's online archives
Member-only special issues
Subscribe
'Moral Values' Tops Voters' Concerns—But What Does It Mean?
'Moral Values' Tops Voters' Concerns—But What Does It Mean?