Billy Graham returns to Los Angeles
Billy Graham returns to Los Angeles
"If you don't remember a thing I said tonight, I hope you remember that God loves you," evangelist and Christianity Today founder Billy Graham told a crowd of 45,000 last night at the Rose Bowl in Pasadena, California.
About 2,500 of the attendees came forward at the invitation to respond to the message, which was classic Graham.
While Graham's ministry had one of its earliest energizing moments in Los Angeles 55 years ago, this is actually his ninth crusade in the city — and his 416th worldwide. After that many crusades (he's back to calling them "crusades," by the way), it's hard to find the news in a Graham meeting. Newspapers try hard — here's the Los Angeles Times, Pasadena Star-News, Associated Press, Chicago Tribune, Ventura County Star, and Press-Enterprise—but the story has always been the same: Graham's sermons are simple, relevant, and direct. Thousands respond. And lately, a key part of the story is that he's getting older.
But it's a story that's still worth hearing with every telling. God's word is proclaimed. People respond. And one of the world's greatest evangelists of all time keeps preaching, knowing that his work has eternal value.
"That's a great thing," he said last night. "To go home and know your sins have been forgiven."
More articles
Arlen Specter:
Specter effectively wins Senate judiciary chair | He has the support of fellow Republicans on the committee (Reuters)
Santorum keeps low profile with Specter | While home state concerns prodded Rick Santorum to help Arlen Specter, a moderate who supports abortion rights, his own budding national constituency of conservatives pulled angrily in the other direction (Associated Press)
Judiciary panel backs Specter | GOP senators elicit pledge not to block antiabortion judges (The Washington Post)
GOP colleagues rule for Specter | The senator is endorsed for judiciary post despite conservative outrage. He vows not to hinder Bush (Los Angeles Times)
Dobson wary of Specter's ascension | Focus on the Family Action founder declares the senator will be "held to his word" (Press release, Focus on the Family Action)
Specter wins judiciary chairmanship | Liberal Republican weathers the controversy over his challenge to President Bush on pro-life judges, to the displeasure of family advocates (CitizenLink, Focus on the Family)
Specter defanged | He gets to be chairman, but on conservative terms (John Tabin, The American Spectator)
Specter nails enough votes to be judiciary panel chief | With unanimous support from his Republican colleagues on the committee, the Pennsylvania senator issued a formal statement yesterday vowing not to "use a litmus test to deny confirmation to pro-life nominees." (The Washington Times)
Judiciary panel backing Specter as its chairman | Senator Arlen Specter was under attack by some conservatives as too liberal to lead the Senate Judiciary Committee (The New York Times)
Religion & politics:
Faith-based White House | A former Bush speechwriter praises the president, but two ministry leaders say the Faith-Based Initiative is leaving their charities out (World)
Beware the 'moral values' extremists | We no longer have just a geographical Bible Belt. It has now grown to become a Bible corset, a region that would constrain politicians with religious dogma to codify particular ideology into restrictive laws (Bessy Reyna, The Hartford Courant, Conn.)
Ministers press for moral shift in politics | They focus on crime, housing, education (The Times-Picayune, New Orleans)
Earthly rewards for the Christian voter | Has the Christian right really so little to show for its self-sacrifice? (Katha Pollitt, The Nation)
Identity politics: Is a Christian or Kurd 'a Turk'? | An advisory council report that calls on Turkey to broaden its official definition of minorities and to embrace multiculturalism is stirring a bitter public debate here about national identity (The Christian Science Monitor)
Old-time religion is good enough for some | The fusion of religion and politics is gathering pace in Australia and the US after the election triumphs of John Howard and George W. Bush. But the extent of the trend and its implications for both countries are the subject of increasingly bitter debate on both sides of the Pacific. (The Australian)
Divorce data hits below the Bible belt | I make no judgment about divorces, having endured one or two myself. I take note only of the hypocrisy of the self-righteous, who now dominate the ruling American political and cultural right wing (John Brummett, Times Record, Fort Smith, Ark.)
Morally correct | How evangelicals embraced victimhood. (Peter Beinart, The New Republic)
The political agenda of the US religious right | Give me Paul's charity, any time, in preference to fundamentalist faith and intolerance (Patrick Van Rensburg, Mmegi, Botswana)
Using the Bible to support the wrong cause | Today's Christians who oppose homosexuality are akin to generations of similar Christians who found in the Bible strong arguments to support slavery, scorn Jews, demean women and, for good measure, condemn liquor (Steve Gushee, Palm Beach Post, Fla.)
Robertson urges support for Jewish faithful, Israel | Christians must embrace the Jewish faithful and the state of Israel as a fulfillment of biblical prophecy, televangelist Pat Robertson told a gathering Thursday night (Ft. Worth Star-Telegram, Tex.)
Kerry too slow to woo Catholics, activist says | Leader of Catholics for Kerry says he was frustrated by the senator's reluctance (The Toledo Blade, Oh.)
New Abu Snan mayor says his Christianity is a problem | Naim Musa's appointment generated a wave of protest in the town, especially among the Druze (Haaretz, Tel Aviv)
Religion is a delicate assignment | The belief systems of conservative Christians and the editorial process are in many ways at odds (Mark McGuire, Times Union, Albany, N.Y.)
Same-sex marriage:
For gay marriage ruling, quiet anniversary | The first anniversary of the court decision sanctioning gay marriage in Massachusetts was marked with little fanfare Thursday, but both sides in the controversy said it was simply the calm before a renewed political and legal storm (Associated Press)
Religion Today: Where COGIC stands | Like other evangelical Christians, leaders of the Church of God in Christ want to limit abortion and bar same-sex marriage. But that doesn't mean the predominantly black Pentecostal denomination considers itself part of the "religious right" or supporters of the Republican Party (Associated Press)
Gay-marriage backers, opponents vow fights | On the anniversary of the historic ruling that granted gays and lesbians the right to marry in Massachusetts, supporters and opponents vowed yesterday to carry on their fights into the coming year and held events across the state to mark the occasion (The Boston Globe)
A year later, Mass. stands alone on gay marriages | Just weeks before the first anniversary of the legalization of same-sex unions in the Bay State, 11 states overwhelmingly approved bans on the practice (The Providence Journal, R.I.)
Pastors group protests same-sex marriage ban | Religious liberty at stake, they say (The Arizona Republic)
Marriage & the family:
Chileans take advantage of new divorce law | But avalanche of petitions many predicted did not occur (Associated Press)
Smacking ban 'will be unworkable' | New smacking laws may prove unworkable as doctors will not want, or will be unable, to give evidence when parents are prosecuted, an expert has warned (BBC, video)
Church & state:
ACLU threatens to file lawsuit over abstinence program | Despite settlement, Web site cites God (The Times-Picayune, New Orleans, La.)
America passes the religious test | Moral crusades are part of American life, but its religiosity is no threat to freedom (James Q. Wilson, The Times, London)
Rutherford takes on many freedom causes | Institute involved in high-profile cases (The News Journal, Wilmington, Del.)
Elaborating on church-state separation | Jefferson couldn't have made the forefathers' intent more clear (Kathy Bailey, The Orlando Sentinel)
War & terrorism:
Pope says religion must not be misused | Pope John Paul II received Muslim, Orthodox Christian and Jewish religious leaders from Azerbaijan, calling their visit Thursday a symbol of tolerance and declaring that religion must never be used for violent aims (Associated Press)
Western media misinforming about Iraq, says Kirkuk prelate | Chaldean archbishop sees hope in elections (Zenit.org)
Missing homages spur rumors on N. Korean | Deified leader may be shedding cult status (The Washington Post)
Four killed, houses razed as youths react to clergymen's death | The death of two Catholic priests last week through a motor accident in Akamkpa council area in Cross River State, has triggered the killing of four people and burning of houses by youths in the area (Vanguard, Nigeria)
Islam in Holland:
Van Gogh's killing reveals anger at Islam | Two weeks after the brutal slaying of filmmaker Theo van Gogh, many Dutch are saying their normally staid society has been transformed just as the United States was altered by the September 11 attacks (The Washington Times)
Furore over fundamentalism | Plans to tackle extremism in Holland on the table (Radio Netherlands)
Pakistan church bomber arrested:
Church attack accused arrested | Anti-terrorism personnel have arrested Osama Nazir, one of the most wanted operatives of the banned Khudamul Islam (formerly known as Jaish-e-Muhammad) and allegedly involved in an attack on an Islamabad church, from Faisalabad (Daily Times, Pakistan)
Militant arrested from Faisalabad | An intelligence official in Lahore said on Thursday the authorities had captured Osama Nazir, a member of the outlawed Jaish-e-Muhammad, for planning a grenade attack on a church in Islamabad two years ago (Hi Pakistan)
Suspected mastermind held in Pakistan (Associated Press)
Sudan:
Sudan foes sign peace pledge at security council | Sudan's government and its southern rebel foes signed a pledge at the U.N. Security Council Friday to end Africa's longest running civil war by December 31 (Reuters)
Sudan, rebels agree to end civil war | Rebel officials and the Sudanese government committed themselves Friday to ending the 21-year civil war in southern Sudan before January, signing an agreement at a special meeting of the U.N. Security Council in Africa (Associated Press)
Sudan officials, rebels pledge to sign peace accord by year's end | U.N. Security Council, in Kenya to witness the two sides' commitment, is to OK an aid package (Los Angeles Times)
Q&A: Peace in Sudan | The Sudan government and rebels from the south have pledged to finalise by the end of this year a peace deal to end 21 years of fighting (BBC)
Abortion:
Abortion rights said to be at a crossroads | Mont. ex-legislator takes NARAL helm (The Washington Post)
Pregnant again at 15 | Melissa Smith's mother, Maureen, said her 15-year-old daughter, earlier the center of a national abortion controversy, was desperate to "replace the child she lost" in April, and had become "hell-bent" on conceiving again (The Telegraph, London)
Infiltrator: I was an abortion protestor! | Outside a Planned Parenthood clinic with Unborn Jesus and the Grim Reaper (Harmon Leon, SF Weekly)
Suit over women's center is filed | Protesters say judge's ruling not being followed by Allentown (The Morning Call, Allentown, Pa.)
Abortion activist resigns from board | Attorney Pamela Hayes resigned from the National Review Board for the Protection of Children, an agency of the U.S. Conference of Catholic Bishops, after disclosing in the Register a life of bold abortion-rights activism (National Catholic Register)
State's supreme court rules against abortion protester | The Maine Supreme Judicial Court unanimously affirmed on Monday the assault conviction of an abortion protester. The decision came a week after Terence Hughes, 66, of Orono ended his Sunday "prayer vigils" outside St. John's Catholic Church in Bangor (Bangor Daily News, Me.)
Health & Life ethics:
Birth-control shot gets black box warning | Depo-Provera, an injectable contraceptive, will come with a special warning that links prolonged use of the drug with bone density loss, the government said Wednesday (Associated Press)
Embryos and stem cells | Is it now only religious conservatives who consider embryos to be "potential babies''? (Dennis Poust, The New York Times)
U.N. abandons idea of anti-cloning treaty | U.N. diplomats abandoned contentious efforts to draft a treaty that would outlaw human cloning and will likely settle for a weaker declaration that won't seek a comprehensive ban, officials said (Associated Press)
Embryo adoptions raise legal questions | When science creates life, what to do with the unwanted? (ABC News)
Stem-cell bill turned down | Narrow defeat follows emotional debate in Illinois Senate (Chicago Tribune)
Sexual ethics:
Senate hears testimony on porn addiction | Comparing pornography to heroin, researchers on Thursday called on Congress to finance studies on "porn addiction" and launch a public health campaign about the dangers (Associated Press)
Sex classes concern new board member | A new Montgomery County Board of Education member said yesterday he does not want the public school system to become a pioneer in sex education by teaching students that homosexual couples are families (The Washington Times)
Darwin & creation:
Was Darwin right or not? | Our science classrooms are failing if they're not giving students a solid understanding of what Darwin actually said (Randy Scholfield, The Wichita Eagle, Kan.)
Third of Americans say evidence has supported Darwin's evolution theory | Almost half of Americans believe God created humans 10,000 years ago (Gallup News Service)
Education:
Claims of Air Force Academy religious slant nothing new | Air Force Academy cadets have sought solace from perceived religious bias at the school for a dozen years but haven't officially complained about the pro-Christian atmosphere for fear of reprisal, members of a local group say (Colorado Springs Gazette)
Also: AFA chief targets religious bias | There may be no atheists in foxholes, but how about Muslims or Jews? (Jim Spencer, Denver Post)
A vow of poverty | The president of Holy Family University has increased annual fund raising to more than $10-million, but she has never gotten a paycheck. Sister Francesca Onley does not begrudge other presidents their salaries: "I think they deserve every dollar they get." (Chronicle of Higher Education, sub. req'd.)
State board rejects textbooks | The Alabama Board of Education on Thursday rejected for use in state classrooms two sociology textbooks opposed by the conservative Alabama Eagle Forum (The Birmingham News, Ala.)
When most of your school is gay | Are pupils at the world's first "gay" state school victims of segregation or symbols of progressive thinking? (BBC, audio)
The grinch who stole 'Messiah' | The school district in South Orange and Maplewood, N.J., has banned students from performing music related to any religious holiday — defeating the purpose of the schools' traditional "holiday concerts" (Dawn Eden, New York Post)
Homeschooling:
Power center driven by religion to reshape nation | Home School Legal Defense Association has taken on the appearance of a political party in its own right, with an evangelical Christian mission to shape the American culture and change the face of government, the news media and international affairs (Akron Beacon Journal, Oh.)
A diverse but united national network mobilizes against regulations at all levels | Twenty years ago, home schoolers were in hiding. Today, home schooling is legal nationwide (Akron Beacon Journal, Oh.)
A means of hiding | Home-schooling freedoms help parents who abduct children (Akron Beacon Journal, Oh.)
Church life:
Church, neighbors plead to planners | Commission mediates as two sides continue to argue expansion (Daily Pilot, Newport Beach, Ca.)
Focusing on common ground | Local religious leaders to have ecumenical service on the topic of Thanksgiving (News-Press, Glendale, Ca.)
Safety rules put historic church into retreat | The church where the 19th century novelist Elizabeth Gaskell was married has barred parishioners from some of its pews for fear of being sued for damages (The Telegraph, London)
Dispute over female priest goes to court | The dispute over the ordainment of Botswana's first female priest by the Dutch Reformed Church is now going to court (Mmegi, Botswana)
O.C. clergy take concerns to Washington | They discuss issues on the minds of people back home (The Orange County Register)
Religion news in brief | Canadian Anglican diocese votes to authorize same-sex blessings; Disgruntled Canadian Protestant ministers want to unionize; Republican Catholics in Congress reach an all-time high; National Council of Churches issues postelection appeal; and other stories (Associated Press)
Missions & ministry:
Area ministry extends invitation to Christ | than 300 people were spiritually energized and physically fed Thursday as Marching for Jesus Ministries hosted its eighth annual Thanksgiving Celebration at Magnolia Springs Assembly of God in Hurley (The Mississippi Press, Pascagoula)
American missionary 'conquers' eastern Tibet | Julian Gearing reviews Douglas A Wissing's Pioneer in Tibet (Asia Times)
Ministry makes families whole | A Chosen Home encourages parents to adopt children in need -- especially those from other countries (The Charlotte Observer, N.C.)
Catholicism:
Catholic Church adjusts to minority status in Europe | Now that it is often treated like a maligned minority, the Roman Catholic Church in Western Europe has decided to start acting like one too (Reuters)
Christian group awaits Catholics with open arms | Years ago, the idea of Catholics conducting any type of joint service or alliance with mainline Protestant and Orthodox Christians was unthinkable. All that changed this week when U.S. Roman Catholic bishops joined Christian Churches Together in the U.S.A., forming the broadest Christian group in the land. (The Saginaw News, Mi.)
Catholic bishops approve national adult catechism | In hope of reaching young adults who have left the Catholic church, the U.S. bishops have written and approved the first official national catechism for adults (Pittsburgh Post-Gazette)
Behind a wall, nuns live their passion | Here in the garden of Gethsemane, scene of Christ's passion, a handful of nuns live in an enclosed monastery, plunged in an existence far removed from the tensions of the teeming city just outside their convent walls (The Australian)
U.S. bishops define policies | Santa Fe archbishop says communion concern settled (Albuquerque Tribune, N.M.)
Seminary could have Catholics flocking to Detroit | Even as he plans to close Catholic churches in Detroit, Cardinal Adam Maida announced Wednesday that he has netted an internationally sought-after gem to help ensure a bright future for his 23-acre seminary on the city's west side (Detroit Free Press)
Religion & spirituality:
Religion's eternal life | Religion didn't die. It persists as humanity's oldest, noblest attempt to endow human life with meaning (Jonathan Sachs, Los Angeles Times)
Biblical Christianity answers needs of the human heart better than atheism ever will | Is atheism in decline, its influence diminishing? A current publication suggests this impression. Is it accurate? (Michael A. Littlejohn, Asheville Citizen-Times, N.C.)
Taking the Bible to extremes | It seems there are those among us who are actually eager to bring about the end of the world as we know it (D. Allan Kerr, Seacoast Online, Mass.)
How to get to heaven? Part 3 | NBC13's Mike Royer explores questions of faith (WVTM, Birmingham, Ala.)
How to get to heaven? Part 4 (WVTM, Birmingham, Ala.)
Television & film:
They call it Chrismukkah | "The O.C." launches a new interfaith religious movement (Jonathan Eig, The Wall Street Journal)
Compass: Guy Sebastian's church | Australian Idol has a lot to answer for. It invented Guy Sebastian, thereby boosting the ratings of evangelistic fundamentalism, if not mediocre warbling (The Sydney Morning Herald)
'Passion' vs. 'Fahrenheit' | Given Mr. Bush's recount-free victory, what are the chances now that either "The Passion" or "Fahrenheit" will see major Oscar gold? (The Washington Times)
Censoring Private Ryan:
Bono's new casualty: 'Private Ryan' | In the new era, merely the threat that the FCC might punish a TV station or a network is all that's needed to push them onto the slippery slope of self-censorship. (Frank Rich, The New York Times)
Is Hollywood embracing morality? | The moral maze of American television is under scrutiny following the recent refusal by some TV stations to screen Oscar-winning film Saving Private Ryan (BBC)
Art:
Are Democrats painted into a corner? Not yet | The National Endowment for the Arts is a perfect target in the culture wars (Jonathan Chait, Los Angeles Times)
Worship without words | A small but deft offering of art from a huge continent of people and beliefs (The State, Columbia, S.C.)
Music:
Gaither Homecoming returns to city | Gaither concerts in Alabama really are homecomings (The Birmingham News, Ala.)
Forget cultural claptrap, Geldof says | Live Aid song is aimed at Westerners' pockets (Cape Times, South Africa)
Christmas:
Santa lovers lash out at priest | Yes, Virginia, there really is no Santa Claus. That's what a priest at St. Pius X School told students as young as 5 during morning Mass on Wednesday, a revelation that is causing a furor among parents who claim the priest overstepped his boundaries by speaking so frankly about the much-loved Christmas figure (Pasadena Star-News, Ca.)
We must think of God as a therapist, says Williams | People who are wrapped up in their own world should let God be their therapist, the Archbishop of Canterbury says in his Christmas message (The Times, London)
Claws out to stop Christmas in kinders | Santa, tinsel, and nativity scenes have been outlawed in some Melbourne kindergartens and childcare centres this Christmas (The Australian)
Investing:
Social security cuts may be worse for Christians | the basic plan from his Social Security commission called for cutting benefits, but allowing workers the option to offset some of the cuts by investing a portion of their Social Security taxes in the stock market. Ironically, this plan is likely to be especially harsh towards the conservative Christians whose votes were so crucial for Mr. Bush's re-election. (Dean Baker, Topeka Capital Journal)
Has social investing lost its way? | A host of SRI mutual-fund managers are fuming in the wake of a scathing report on their industry (The Christian Science Monitor)
Fraudsters in pastors' clothing | Check-stealing fraudsters are now pretending to be Christian pastors in an attempt to fleece unsuspecting businesses of thousands of rands (Cape Argus, Cape Town, South Africa)
People:
Jim Carrey: 'Life is too beautiful' | "I'm a Buddhist, I'm a Muslim, I'm a Christian. I'm whatever you want me to be … it all comes down to the same thing" (60 Minutes)
Defender of the faith | In 1921, The Rev. James E. Coyle was killed after marrying the daughter of a Protestant minister to a Puerto Rican Catholic (The Birmingham News, Ala.)
Losing faith all around | George Carlin gave up on religion. Belief in his fellow humans might be the next thing to go (Los Angeles Times)
Big farewell for patriarch | Hundreds of descendants turn out for Amish man's funeral. Relatives of Yost T. Hostetler, 97, recall hard worker's stories from his favorite chair (Akron Beacon Journal, Oh.)
Congregational pastor known for liberal activism will retire | Jim White, senior pastor for First Congregational Church-United Church of Christ downtown, has been one of the community's best-known spiritual leaders for more than 15 years (Colorado Springs Gazette)
Eugene Florence is 100 — and still preaching | Few who devote their lives to service are able to serve so long (The Dallas Morning News)
Ailing cleric is man on mission | At 69, founder of O.C. mega-church turns to huge outreach effort in Korea (The Orange County Register, Ca.)
One man's 'love of the Bible' that impacted generations | Three hundred years ago, Matthew Henry began his world famous commentary on the Bible. Last weekend the congregation at the Matthew Henry Church in Blacon celebrated his achievements. (Chester Chronicle, England)
Birmingham church bomber dies:
Bobby Frank Cherry, 74, Klansman in bombing, dies | 1963 church bombing, one of the most shocking cases of the civil rights era, killed four black girls in Birmingham, Ala. (The New York Times)
Convicted church bomber dies in prison | Bobby Frank Cherry, convicted of killing four black girls in a racially motivated bombing of a Birmingham church in 1963, died Thursday in prison. (Associated Press)
Birmingham bomber Bobby Frank Cherry dies in prison at 74 (The Washington Post)
Cherry dies in prison | Convicted Sixteenth Street Baptist Church bomber Bobby Frank Cherry died in prison Thursday after a long bout with cancer (The Birmingham News, Ala.)
Related Elsewhere:
Suggest links and stories by sending e-mail to weblog@christianitytoday.com
Check out Books & Culture's weekly weblog, Content & Context.
See our past Weblog updates:
November 18 | 17 | 16
November 12 | 11 | 10
November 5 | 3b | 3a | 2 | 1
October 29 | 28 | 27 | 26 | 25
October 22 | 21b | 21a | 18b | 18a
October 15 | 13 | 12 | 11
October 8 | 7 | 6 | 5 | 4
Weblog
Launched in 1999, Christianity Today's Weblog was not just one of the first religion-oriented weblogs, but one of the first published by a media organization. (Hence its rather bland title.) Mostly compiled by then-online editor Ted Olsen, Weblog rounded up religion news and opinion pieces from publications around the world. As Christianity Today's website grew, it launched other blogs. Olsen took on management responsibilities, and the Weblog feature as such was mothballed. But CT's efforts to round up important news and opinion from around the web continues, especially on our Gleanings feature.
Ted Olsen is Christianity Today's executive editor. He wrote the magazine's Weblog—a collection of news and opinion articles from mainstream news sources around the world—from 1999 to 2006. In 2004, the magazine launched Weblog in Print, which looks for unexpected connections and trends in articles appearing in the mainstream press. The column was later renamed "Tidings" and ran until 2007.
Previous Weblog Columns: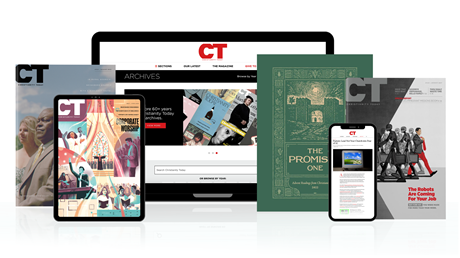 Annual & Monthly subscriptions available.
Print & Digital Issues of CT magazine
Complete access to every article on ChristianityToday.com
Unlimited access to 65+ years of CT's online archives
Member-only special issues
Subscribe
Billy's Back in L.A.
Billy's Back in L.A.