true
Whether or not Pierce Brosnan has been the best James Bond since Sean Connery, there is one thing he does have in common with his cinematic forebear, and that is a rather iffy taste in scripts. When he isn't appearing in stale romantic–comedy piffle like the recent Laws of Attraction, Brosnan has tended to play either real–life men fighting noble causes in obscure, mediocre films like Evelyn and Grey Owl, or he has given in to typecasting and played dodgier versions of his Bond persona, such as the sleazy, embezzling spy in The Tailor of Panama or the classy, refined art thief in The Thomas Crown Affair. Granted, all of these films have had their pleasures—many of them due to Brosnan's own easy, roguish charm and self–deprecating sense of humor—but the films themselves have been a mixed bag at best, and his newest, After the Sunset, is one of his lamer efforts.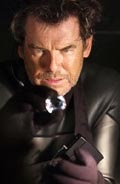 It doesn't help that this new flick feels at times like it was cobbled together from pieces of Brosnan's other films. Once again, he plays a professional thief, whose name this time is Max Burdett, and whose field of expertise this time is jewelry; and once again, he gets to do fancy high–tech things such as operating a car by remote control; and once again, he spends most of the movie near a tropical beach, and the fact that it is Salma Hayek and not, say, Halle Berry with whom he makes sandy love as the waves roll by is just an accident of casting. Some things are admittedly different this time, though. Max Burdett is committed to his partner, Lola Cirillo (Hayek)—unlike Bond, he's a one–woman kind of guy—and the two of them have officially retired from the thieving life. What's more, Lola is eager to make their partnership permanent, and so she urges Max to write his wedding vows.
But then comes temptation, as Max receives a visit from Stan Lloyd (Woody Harrelson), the FBI agent who used to be Max's nemesis. Despite wounding Max on his last heist, Stan let the thieves slip through his fingers, and he fell out of favor with his bosses at the Bureau as a result. Looking for a way to restore his name, Stan has tracked Max down to the Bahamas, and he tells Max he doesn't believe the couple's retirement is genuine. It turns out a cruise ship bearing a famous diamond is about to dock at that island, and the diamond in question is the only specimen that Max has not yet stolen from a particular collection. Stan is convinced Max moved to that island to start planning a way to complete his set, and although Max insists he had no idea the diamond was on its way, it is clear that he finds domestic life a little dull, and the prospect of one more heist somewhat appealing.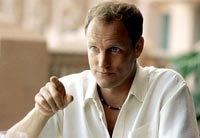 That's the set–up—a retired pro is called back to his line of work, a criminal isn't entirely satisfied with "normal" life—and it's a classic premise that has been worked into many kinds of films. But director Brett Ratner, who made comedies like the Rush Hour movies before he got all serious with the schmaltzy holiday flick The Family Man and the Hannibal Lecter prequel Red Dragon, can't quite find the right tone for his newest project.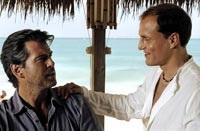 On one level, After the Sunset tries to be one of those trendy con–artist flicks that pulls the rug out from under us in the final reel; the fact that this film will have such an ending is telegraphed early on when Max tells Stan the plot of Alfred Hitchcock's To Catch a Thief, and Stan replies, "I don't like those twist endings." But this twist, when it comes, is no big deal, and the film offers no other payoff worth mentioning. On another level, this film goes through the motions of a typical heist movie, with scenes of people cutting security–camera feeds and maneuvering around laser beams and crawling through vents; but it begins to stretch credulity well past the breaking point when, say, the masked person does a hasty emergency tightrope walk off the cruise ship and down toward the dock, without once losing his or her balance.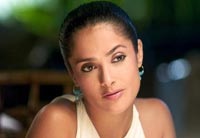 Then there are the moments where the film, written by Paul Zbyszewski (TV's The Weakest Link) and Craig Rosenberg (Hotel de Love), aims for pure laughs, some of which hit the mark—especially when Max looks for ways to embarrass Stan and foil his schemes—and others of which are just too silly for words, such as the way Stan not only shoots a shark but actually tells the shark it has the right to remain silent. Brosnan also evidently enjoys subverting his macho image by playing up the homo–erotic subtext to his scenes with Harrelson—Stan is, after all, trying to "seduce" Max into committing one more crime so that he can catch him red–handed—but while there is definite potential in the film's suggestion that Max is "cheating" on Lola by going against her wishes, this running gag ends up a tad contrived.
Add to this a few undercooked side characters—including a gangster (Don Cheadle) who claims half–heartedly that he does what he does for the little people, and a no–nonsense cop (28 Days Later's Naomie Harris) who inexplicably falls for the bumbling Stan—plus the fact that we are given little reason to care about the relationship between Max and Lola, beyond the fact that she is really sexy and he doesn't seem to mind. With so little invested in the characters, and a plot that doesn't make much sense, and some wildly uneven shifts in tone, After the Sunset is the sort of movie that may not find its ideal audience until channel–surfing insomniacs discover it late some evening, long, long after sunset indeed.
Talk About It
Discussion starters
What do you make of the way Max handles temptation? Is there anything he should have done differently? Is it possible to resist the temptation to commit old sins when there has been no repentance for the sins already committed?
What about Lola's efforts to distract Max from his temptation? What do these two characters have in common, now that they no longer steal jewels together? What are they lacking in their relationship?
How does the film manipulate our sympathies towards the characters? Before they retired, Lola was a thief just as much as Max was—do you think better of her, because she is content to stay retired, whereas Max is still itching for one last job?
The Family Corner
For parents to consider
After the Sunset is rated PG–13 for sexuality, violence and language. Lola is filmed in various states of partial dress and undress—not quite enough for an R rating, apparently, but close—and there are various references to pre–marital and extra–marital sex. A gangster surrounds himself with unsavory characters. A few bullets are fired, but there's only a little blood, and one or two fatalities.
What Other Critics Are Saying
compiled by Jeffrey Overstreet
from Film Forum, 11/18/04
Films like The Thomas Crown Affair, Ocean's Eleven, and The Italian Job have brought heist movie to new heights of popularity, and this holiday season looks to continue the trend. After the Sunset follows hard on the heels of Criminal and precedes Ocean's Twelve by just a few weeks. In doing so, it reminds us that Criminal was pretty good, and makes us hope that Ocean's Twelve is better. Film critics are calling Pierce Brosnan's new thriller less–than–thrilling, derivative, and disposable.
Peter T. Chattaway (Christianity Today Movies) says, "It's a classic premise that has been worked into many kinds of films. But [the director] … can't quite find the right tone for his newest project. With so little invested in the characters, and a plot that doesn't make much sense, and some wildly uneven shifts in tone, After the Sunset is the sort of movie that may not find its ideal audience until channel–surfing insomniacs discover it late some evening, long, long after sunset indeed."
Article continues below
Adam R. Holz (Plugged In) says it "deviates little from Brosnan's time–tested (and bankable) stereotype. At times I almost felt is if I was watching a racy Remington Steele reunion show, in which the main character had gone bad." He adds, "[It] reminded me of a similar film … 1999's Entrapment. Both films left me wondering if it's possible to tell these kinds of stories without such demeaning, objectifying portrayals of women."
David DiCerto (Catholic News Service) admits it "has its strengths," and he praises the chemistry of Brosnan and Harrelson. But he says the script keeps "detouring into subplots that go nowhere. In the final analysis … After the Sunset filches freely from past heist flicks (double–dealings, deftly choreographed capers, etc.) without ever really contributing anything new or innovative to the genre."
Evan D. Baltz (Christian Spotlight) says, "None of the characters seem fully developed. True to genre, the criminals are generally the rooting interest. I think this time around I was rooting for a better script. Enjoying a real sunset is probably a better option."
But Michael Elliott (Movie Parables) notes, "For all its faults, it has a mindless entertainment value that no critic can take away." (Is "mindlessness" really a "value"?)
The heist gets foiled by mainstream critics as well.
from Film Forum, 11/24/04
Denny Wayman (Cinema in Focus) says, "The glorification of the criminal and immoral life, with few consequences and no guilt, is a fantasy created by filmmakers who deceive us. The truth that the fear, pain, guilt and consequences of a criminal life degrade us is a message this film ignores."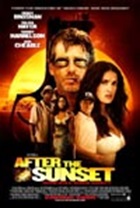 Browse All Movie Reviews By: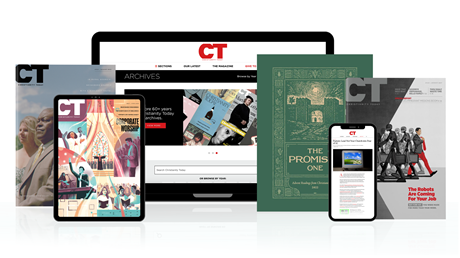 Annual & Monthly subscriptions available.
Print & Digital Issues of CT magazine
Complete access to every article on ChristianityToday.com
Unlimited access to 65+ years of CT's online archives
Member-only special issues
Subscribe
After the Sunset
After the Sunset