Evangelist Billy Graham concluded four nights of preaching at a crusade in Kansas City, Sunday, October 10.
The 85-year-old preacher, having recovered from two surgeries, spoke each evening at Arrowhead Stadium to an audience that totaled almost 155,000 over the four days, crusade officials said.
Both Graham and his eldest son, fellow evangelist Franklin Graham, linked their religious messages to contemporary issues.
"There is a great move on in this country to take prayer out of the schools, take God out of the Pledge of Allegiance, and take down the Ten Commandments," Billy Graham said from the platform. "As a nation it seems we are turning away from God. But Jesus Christ is coming back, and that is the future of this world."
On Friday, Franklin Graham compared the crusade's efforts to the presidential debate the same evening between President Bush and Sen. John Kerry in St. Louis.
"But in Kansas City it is not a debate, it is a battle for your soul," the younger Graham said.
Billy Graham had surgeries earlier this year following two serious falls. He preached from a specially constructed pulpit where he was allowed to stand and then sit for portions of his sermon, said A. Larry Ross, the evangelist's spokesman.
Conspicuously absent from the crusade was soloist George Beverly Shea, who, for the last six decades of domestic crusades, has sung before the elder Graham spoke. Shea, who suffered a mild heart attack in May, followed doctor's orders and stayed home.
"I had some ticker trouble in May, and the heart people say it takes a good six months … for a football player to get over something like that," Shea said in a phone interview with Religion News Service.
At age 95, Shea was advised that he should sit on his back-porch rocking chair rather than appear at Graham's side. The physician's ruling marks the first time since 1947 that the singer has had to miss a domestic crusade. He has been a fixture singing solos and joining the choir for such gospel standards as "How Great Thou Art" and his own composition, "I'd Rather Have Jesus."
"It's the doctor's decision," Shea said. "I asked Mr. Graham, `Do you take the doctor's advice?' He said, 'Yes, I do.'"
Both Shea and Graham hope the man's deep singing voice will return to the crusade stage at the Rose Bowl in Pasadena, California, which runs November 18 to 21.
"We'll ask again," Shea said of a forthcoming consultation with his doctor.
But he's more hopeful about participating in the recently announced plans for a Graham crusade at New York's Madison Square Garden in June 2005.
"I trust I can," he said.
Shea said he was pleased to hear the 4,000-member choir at the Kansas City crusade sang "Softly and Tenderly Jesus is Calling" on the first night at the point when he would usually sing.
"That thrills me to hear that," he said. "I love that song."
The choir members were part of a total of 18,000 volunteers from five states who supported the crusade. The overall volunteer corps represented 1,200 churches and 84 denominations.
Shea was stricken with a mild heart attack on May 26, the day before he was planning to head to England for a celebration of the 50th anniversary of Graham's first crusade in London. At the time, he spent seven days in the same hospital where Graham was being treated for a fractured pelvis.
But Shea, who was visited by Graham a couple of weeks before the Kansas City crusade, said he was encouraged about his colleague's health.
"He's taking care of himself beautifully," he said of Graham.
William B. Moore, the co-chairman of the Graham evangelistic event that came to Philadelphia in 1992, said Shea has long been an institution at Graham's crusades.
"George Beverly Shea is really just a delightful Christian man and a fixture in the Graham crusades," said Moore, pastor of Tenth Memorial Baptist Church in Philadelphia.
"He was, with his music, with his commitment that really came through his music … the flavoring of the crusade."
Related Elsewhere:
The Billy Graham Evangelistic Association also has a story about the crusade.
The Kansas City Star's coverage includes:
Graham departs with message of love for the heartland | It was a farewell for Billy Graham and the heart of America as the evangelist culminated his four-day crusade Sunday at Arrowhead Stadium. (Mon, Oct. 11, 2004)
Graham crusade reaches out to teens | Saturday evening was geared toward teenagers, but people of all ages gathered to hear the 85-year-old evangelist preach his message of salvation through Jesus Christ. (Sun, Oct. 10, 2004)
Pleasant weather improves attendance at crusade | Many people who were deterred the first night because of the weather made their first appearance Friday at Arrowhead Stadium to hear the famous evangelist. (Sat, Oct. 09, 2004)
The faithful, troubled gather to hear Graham | And as soon as Graham walked to the podium, the rain stopped. For three minutes the audience stood and applauded, not for the weather, but for Graham. (Fri, Oct. 08, 2004)
Graham's message 'hasn't changed' | When Billy Graham kicks off his four-day Heart of America Crusade at Arrowhead Stadium tonight, he will be preaching for the first time in more than a year. (Thu, Oct. 07, 2004)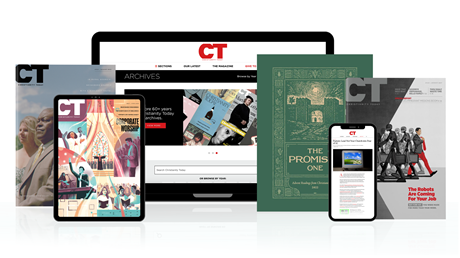 Annual & Monthly subscriptions available.
Print & Digital Issues of CT magazine
Complete access to every article on ChristianityToday.com
Unlimited access to 65+ years of CT's online archives
Member-only special issues
Subscribe
Billy Graham Preaches Through Four-Night Crusade in Kansas City
Billy Graham Preaches Through Four-Night Crusade in Kansas City