true
Many martial arts fans have seen Zhang Yimou's masterful epic Hero on import DVDs over the past two years. But that didn't stop moviegoers from giving the film an enthusiastic reception this week as it opened on big screens in America at last. Miramax put the film in more than 2000 theaters and inherited the box office crown, earning more than $18 million for their gamble, almost twice what experts had predicted. That's an incredible feat for a subtitled film.
But Hero's most remarkable achievement may be the way it is scoring with both audiences and with critics, including those from the religious press. Last week, Film Forum featured two reviews, both giving the film top marks. This week, the raves continue.
Carole McDonnell (The Film Forum) raves, "Hero is a martial arts film for those who hate martial arts films. It's a pretty art film for those who hate pretty art films. And if you have not seen it, please see it now." She adds, "In Hero, we have the uniting of a kingdom through love and self-sacrifice. Destiny, devotion, agony, and fellowship are all beautifully depicted. And shouldn't an audience be treated to the beautiful … especially when the true ugly horrors of war are depicted so realistic every day in the media?"
J. Alan Speer (The Phantom Tollbooth) raves, "Hero's ocular delights cannot be overstated. Every page of my notes is littered with 'wow' from top to bottom."
Speer also provides an in-depth look at the genre, and then examines Hero's place it. "It is an unrivaled spectacle that effectively spoils us for anything future iterations the genre may offer," he says. "Hero stands at the apex of the art, as every individual shot could probably be framed and mounted. We've finally got a Kung Fu film that transcends its own genre to become the best of all possible worlds. If there is a more enthralling motion picture to come out in this or most any year, this writer hasn't seen it."
Tom Neven and Bob Smithouser (Plugged In) combine their efforts for this review: "This is a stunningly beautiful movie with jaw-dropping photography and dazzling martial arts choreography. It has the complexity of Akira Kurosawa's Rashomon and the spectacular cinematography of his Ran. Perhaps director Zhang Yimou is taking up the mantle left by the Japanese master when he died in 1998. Zhang has a wonderful eye for color and symbolism. [The film] introduces mature, morally complex themes Western audiences aren't often challenged to consider. We're left to ponder whether the end justifies the means in some cases. It is a complex story where mixed motives run headlong into notions of honor and vengeance."
Josh Hurst (Reveal) gives it an "A": "Underneath the swagger and the thrilling fight scenes, there lies a rich and rewarding exploration of moral and philosophical issues. Simply put, Hero is one of the most delightfully and joyfully stylish films ever made. Hero's bold, bright colors are its masterstroke … the movie's brilliant hues make it mesmerizing and entirely unforgettable."
Steven D. Greydanus (Decent Films) gives it an A-minus: "Watching Hero, I'm acutely aware that this is neither my world or my worldview, and the film is not moving to me in the way that The Passion is. Crouching Tiger, too, was emotionally far more resonant than Hero. Yet my admiration for its cinematic achievement is as great, and I am profoundly grateful for this breathtakingly beautiful glimpse into another world."
J. Robert Parks (The Phantom Tollbooth) voices some misgivings. "Maybe my expectations were too high—the film has been the subject of feverish Internet speculation for months—but Hero doesn't quite deliver on its potential." But he also joins the others in praising Zhang's visual spectacle: "Working with Chris Doyle, one of the finest cinematographers in the world, Zhang achieves a purity of color rarely seen in movies. Doyle also has a way with widescreen compositions that brings out the majesty of space."
The raves of mainstream critics are piling up here.
In 2001, director Mira Nair delivered Monsoon Wedding, which critics said was a better "wedding" film than My Big Fat Greek Wedding. It showed up on several critics' ten-best lists for that year.
Now, Nair is back with an adaptation of William Makepeace Thackeray's Vanity Fair, with Reese Witherspoon in the lead role. The film opened on Wednesday this week, and thus only a few religious press reviews were published in time for inclusion in this column.
Steven D. Greydanus (Decent Films) calls it "An honorable failure. Nair's warm humanism is a poor match for Thackeray's borderline misanthropic tendencies, and in her hands the novel without a hero becomes a film about a heroine, with Becky eclipsing her literary costar Amelia. Thackeray said he wanted the end of his novel to leave readers dissatisfied and unhappy. Ironically, Nair's very inability to embrace this goal may be precisely why she achieves it … though in a way not to her credit or the film's."
But Harry Forbes (Catholic News Service) says this is "one of the most satisfying" adaptations of the story. "This production is beautiful to look at. There's a whole gallery of fine performances by a stellar British cast … but it's the captivating Witherspoon, seemingly on screen almost every minute, who rivets your attention. Nair gives the story the epic sweep it deserves. Julian Fellowes … has written an intelligent screenplay in collaboration with Matthew Faulk and Mark Skeet, underscoring the theme: Who among us who achieves our desires is truly content?"
More religious press reviews will be posted in next week's column. Mainstream critics are turning in mixed reviews here.
"Zero" is just about right. Very few critics found things to applaud after viewing Suspect Zero.
This not-so-thrilling thriller follows the efforts of a powerful, mysterious man named O'Ryan (Ben Kingsley) to help an FBI agent (Paycheck's Aaron Eckhardt) and his ex-partner (The Matrix's Carrie-Anne Moss) track a serial killer. Despite the participation of Oscar-winner Kingsley, this film won't be winning any awards. Director E. Elias Merhige's mix of Minority Report, The Silence of the Lambs, and Se7en proved to be a bad idea, and it barely reached the box office top ten for the weekend.
Russ Breimeier (Christianity Today Movies) gave it just a half star, noting that "the storytelling is too choppy and confusing to make any sense of [the movie]. It's more interested in being creepy for the sake of creepiness, often moving at a twitchy snail's pace with long lingering shots and odd camera angles. But rather than feel fear or suspense, the audience is more likely to be bored out of its mind."
Tom Neven (Plugged In) writes, "Ever since the box office success of Silence of the Lambs and Seven, lots of directors have tried to pull off the stylishly photographed crime thriller. Merhige tries so hard he falls down. The result is little more than a cliché factory."
David DiCerto (Catholic News Service) calls it a "relentlessly dreary and generic thriller … muddled and morose. [It] follows a predictable cat-and-mouse formula … culminating in a, yawn, shocking revelation. Though earnest in intent and stylishly crafted, the film's to-catch-a-killer-you-have-to-think-like-one premise is, by now, getting quite old."
Annabelle Robertson (Crosswalk) says, "It is creepy, but when you start to think about it, everything falls apart."
Brian Godawa, screenwriter of To End All Wars and author of Hollywood Worldviews, argues in his blog (Godawa.com) that Suspect Zero arrives at "a good conclusion that evil is real and it lives on. We're not heroes vanquishing evil like gods, we are humans struggling with it and always will." But he agrees with others that "it never quite entered the supreme quality realm of Se7en or Silence of the Lambs, which are the obvious goals of the film."
Mainstream critics are giving the film scores near zero.
Anacondas
: The hunt for good reviews fails
Where Adaptation turned orchid-hunting into a metaphor for pursing our dreams, Anacondas: The Hunt for the Blood Orchid turns it into a cheap narrative device to draw some stupid people into the jungle where they end up fighting for their lives against giant snakes. Director Dwight Little's film follows scientists as they explore Borneo in search of a rare flower that reportedly has the powers to counteract the aging process. But instead of finding the fountain of youth, they meet a premature demise.
We're left with one burning question: Who really wanted a sequel to Anaconda anyway?
Bob Waliszewski (Plugged In) tells us that the movie "gushes vulgarity, abuses the Lord's name, and makes a joke out of sex. Oh, and one more thing: In real life anacondas don't gulp down 6-foot-4-inch humans like frogs down flies."
Michael Elliott (Movie Parables) writes, "Overall, it's a B-movie with a B-movie cast with no aspirations to be anything but that."
David DiCerto (Catholic News Service) says it's "an atrocious action thriller. Made sillier by the fact that anacondas are not indigenous to Borneo … Little's sequel manages to squeeze out a few cheap screams but, for the most part, the cheesy dialogue is scarier than the hokey computer-animated constrictors and the best acting is done by a rhesus monkey."
"There are some heroic acts and characters," says Lori Souder (Christian Spotlight), "but in my mind, not nearly enough to make this movie worth watching."
Want to see some more negative reviews? Here are some mainstream press responses.
"The race is close between Super Babies, Catwoman, and Yu-Gi-Oh! for the worst film of 2004," reports Douglas Downs (Christian Spotlight).
Indeed, Super Babies: Baby Geniuses 2, this week's second unnecessary, unrequested sequel, is drawing some of the worst reviews of the year. It's about babies who conspire to stop an evil villain from using his spy-satellites to control the minds of the world population.
Michael Elliott (Movie Parables) says, "There are good films. There are bad films. Then, there are the headscratchers—films that are so fundamentally bad we cannot but help wondering how or why they ever got made in the first place. It is in this latter category that Super Babies: Baby Geniuses 2 belongs."
Adam R. Holz (Plugged In) says it's "dreadful … [a] disaster on too many levels to count. I've often heard Philippians 4:8 quoted in the context of media discernment as it relates to content. But I wonder if we don't need to apply it to a movie such as Super Babies as well. It's not impure and offensive in the way, say, Kill Bill is, but surely its absolute mediocrity is anything but excellent or praiseworthy."
So far, Rotten Tomatoes can't find a mainstream critic who approves of the film.
More reviews of
The Passion of The Christ

DVD

, Exorcist: The Beginning

,

Open Water

and much more

For information about the DVD release of The Passion of the Christ, read Mark Moring's article at Christianity Today Movies. He reports, "It's pretty much exactly as we saw it in theaters—no frills, no bonus coverage, no director's commentary, no behind-the-scenes stories or interviews—virtually no DVD extras whatsoever, other than the option of Spanish subtitles."

And don't miss Steven D. Greydanus's in-depth examination of "The Catholic Meaning of The Passion of the Christ" at Decent Films.

Meanwhile, here are new reviews of other titles Film Forum has covered in previous weeks:

Open Water: Tom Neven (Plugged In) says it "taps into everyone's primal fear of being at the mercy of creatures whose only instinct is to kill and eat, as well as being completely at the mercy of nature's whims." He files a complaint about "the director's deliberate use of nudity" and "the gush of foul language and profanity throughout this film."

Andrew Coffin (World) writes, "To the film's credit, it relies on surprisingly few monster-in-the-closet moments. The bare-bones approach the filmmakers take to the story, including the grainy digital photography, feels refreshingly anti-Hollywood. What does diminish [the] experience is the odd, out-of-place nudity and occasional bad language."

Recommending the film, Brian Godawa (Godawa.com) calls it "the scariest movie I have seen since Blair Witch Project. Why? Because it is based on a true story and has that same documentary style realism to it. Any movie that makes you think of yourself in the situation depicted and forces you to re-evaluate your own life and the value of what you are spending your time and energies on is a valuable tool for the conscience. Open Water does this for me. It's a brilliant low budget high concept film with a profound underlying premise that it is only in the face of the jaws of death that we wake up to the precious treasure of life."

Exorcist: The Beginning: Andrew Coffin (World) says, "This prequel goes purely for shock value, relying on nearly pornographic violence and disgusting special effects. Combine this with unconvincing computer-generated images and an incomprehensible plot and, well, you've got yourself a film in need of an exorcism itself."

Brian Godawa (Godawa.com) blogs that the original was "the scariest movie ever made" because "it was more realistic. That movie broke through to many materialists and atheists in a way this movie never will. They should stop with the sequels already. This one just wasn't as realistically scary. Why? Because the unseen is scarier than the seen."

She Hate Me: David DiCerto (Catholic News Service) says it's "a disjointed and didactic drama. Spike Lee never really decides which story he wants to tell, cramming his potluck plot with a logjam of hot-button topics—including white-collar crime, corporate greed, sexual politics, Watergate and racism—while suggesting a radically unconventional redefining of family and sexual identity."

Without a Paddle: Marcus Yoars (Plugged In) says it "could've been a light-hearted comedy about mountain trip mishaps. Instead, it becomes a mishap. And a dangerous one at that. It gets 'lost in the woods' starting with the very first scene, bludgeoning families with profanities and vulgarities, and a barrage of sexual—and homosexual—references."

The Corporation: Cliff Vaughn (EthicsDaily) says, "It will be more difficult to catch a screening of The Corporation than, say, Alien vs. Predator, but embrace the challenge if you want to see the world in which you live with a fresh set of eyes. So much more than a hatchet job on corporations, The Corporation asks tough questions regarding the nature of the institution as well as the nature of those who run them. While the 'bad apples' of corporate America may make for interesting snippets on the nightly news, this documentary sizes up the tree itself—roots and all."

The Story of the Weeping Camel: Denny Wayman and Hal Conklin (Cinema in Focus) say, "It is difficult to imagine all that has been lost as we have moved from the quiet depth of agrarian life, but it is clear that the relationships between family members and between humans and their animals has been injured by the change to modern life. It is a lesson the 'weeping camel' helps us remember."

De-Lovely: Denny Wayman and Hal Conklin (Cinema in Focus) write, "The sad duplicity and failings of Cole Porter's personal life might knock him off of some people's pedestals, but in the pain of his struggles he reveals the depth of his inspiration. You may leave the theater sobered, but whistling a great tune!"

Garden State: Steven Isaac (Plugged In) says the movie "turns the corner from being a positive reminder about the value of a life well-lived into a short-sighted, spiritually dead rant about how the only thing in life that means anything is what's happening right now. Justifiably or not, New Jersey is infamous for its polluted beaches and toxic landfills. Garden State just adds to the litter."

Next week: Mel Gibson is the producer of a new film: Paparazzi. What do critics think? Plus, more reviews of Vanity Fair, and reviews of Wicker Park and The Cookout.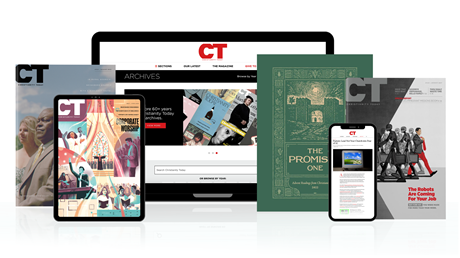 Subscribe to Christianity Today and get access to this article plus 65+ years of archives.
Home delivery of CT magazine
Complete access to articles on ChristianityToday.com
Over 120 years of magazine archives plus full access to all of CT's online archives
Subscribe Now
Hero Draws High Praise
Hero Draws High Praise