The Institute on Religion and Democracy has released a report that all but accuses mainline churches of being anti-Semitic. The argument is this: Of all the human rights criticisms given by mainline churches and groups such as the United Methodist Church, the Evangelical Lutheran Church in America, the Episcopal Church, and the Presbyterian Church (U.S.A.), along with the National Council of Churches and World Council of Churches, only 31 percent of 197 statements were directed at countries other than the United States or Israel. Criticism of Israel amounted to 37 percent while statements leveled at the United States totaled 31 percent.
In addition, only 19 percent of criticisms were directed at nations considered to be "not free" according to Freedom House. IRD says, "Many of the countries rated lowest by Freedom House—such as China, North Korea, and Saudi Arabia—were not criticized even once. Of the fifteen worst human rights abusers listed by Freedom House, only five received any criticism during the four years studied."
In a statement about the report, IRD President Diane Knippers said, "An extreme focus on Israel, while ignoring major human rights violators, seriously distorts the churches' message on universal human rights. We cannot find a rational explanation for the imbalance. We are forced to ask: Is there an anti-Jewish animus, conscious or unconscious, that drives this drumbeat of criticism against the world's only Jewish state?"
Most recently, the Presbyterian Church (U.S.A.) voted "to start a process of a phased and selective divestment" from companies doing business in Israel and the occupied territories, such as Caterpillar. Church leaders are currently meeting with Jewish leaders to discuss the resolution. Another PCUSA resolution called for Israel to halt construction on its West Bank security wall.
According to The New York Times, "Jewish leaders say they were stunned by what they saw as the one-sided language and focus of the resolutions, particularly the fact that only Israel was singled out for economic sanctions. 'Our people were deeply appalled by the message,'" said Rabbi Eric Yoffie, president of the Union for Reform Judaism. Yoffie said he did not thing the amount divested would be significant.
The Times continues, "Interfaith dialogue between Jews and American Protestants has waned over the last few years, in great part because of tension over Israel's policies, said Dr. Antonios Kireopoulos, assistant general secretary for international affairs at the National Council of Churches."
It is more than tension over policies driving mainline Protestant criticism of Israel, says IRD, which accuses mainline churches of pushing a Leftist secular agenda and works to reform those churches. "That excessive criticism, paired with the fact that none of the churches or groups that we studied criticized human rights violations by the Palestinian Authority or other neighboring governments, certainly raises concerns about a prejudiced double standard," said Erik Nelson, an IRD staffer who was the primary researcher for the report.
In response, the NCC says the IRD report is "fatally flawed." In a press release not yet available on their website, the NCC says, "The report assumes that all that the National Council of Churches USA does or says about human rights gets reported out in resolutions and news releases. It ignores the NCC's sound, comprehensive policy base on human rights."
The NCC also accuses the IRD report of bias. "The ideologically conservative IRD cannot claim to have produced an objective report, having among other things used another ideologically conservative group, Freedom House, as its barometer on human rights."
Freedom House's table of freedom ratings, however are not ideologically driven. Countries such as China, North Korea, and Saudi Arabia, which IRD reports are not criticized by mainline churches, are widely regarded as human rights violators and are mentioned by other human rights groups such as Amnesty International. Calling the report "fatally flawed" because Freedom House is used as a standard does not address the fact that these countries are known for human rights violations and have received no formal NCC criticism.
The NCC statement is most condemning of IRD's accusations of anti-Semitism:
The most unfortunate part of the IRD's report is its apparent attempt to hurt Jewish-Christian relations by quite blatantly planting seeds of suspicion that the mainline churches are anti-Semitic. The IRD wrongly and dangerously equates any criticism of the government of Israel and its policies with anti-Semitism.
The NCC seeks justice for all people in the Middle East. It is working for justice in the land where our Savior walked and where our Christian brothers and sisters, along with Jews and Muslims, are crying out for justice. The NCC grieves all loss of life, including Palestinians and Israelis, and has said so.
Yet, the statement doesn't respond to IRD's main critique, "Given the dramatic unwillingness of the mainline churches to criticize states around Israel for their human rights abuses—not only the connections to worldwide terrorism, but also the oppression and brutality toward their own people—it is not unreasonable to ask whether anti-Jewish animus may play some role in the churches' skewed human rights advocacy."
IRD's report suggests one way to understand the mainline rationale. Comparing mainline reaction to Cold War era Communist human rights abuses, the report cites former World Council of Churches president Konrad Raiser. He regretted that the WCC did not act more forthrightly regarding human rights violations in Communist countries. "In place of prophetic protest, the ecumenical movement concentrated on bridge-building and cooperation," he said.
Now that militant Islam is the new communism, IRD suggests the "bridge-building and cooperation" approach to addressing human rights abuses should not be repeated.
More articles:
Jews & Christians:
Christian revival is dividing Jews | A plan by the group - led by Bill McCartney, founder of Promise Keepers, a Christian men's organization - to stage an event in Indian Wells in December is drawing a rift and stirring mixed feelings among members of the local Jewish community. (Press-Enterprise, Calif.)
Presbyterians and Jews to meet on Mideast | Leaders of the Presbyterian Church U.S.A. and the country's largest Jewish groups are meeting in New York today to discuss a rift touched off by resolutions that the church adopted this summer regarding the Israeli-Palestinian conflict, most notably one that calls for selective divestment in companies doing business in Israel and the occupied territories. (The New York Times)
Clash at Jerusalem's Church of the Holy Sepulcher:
Dozens hurt as clerics clash in Jerusalem church | Fistfights broke out on Monday at Jerusalem's Church of the Holy Sepulchre between Christian sects that jealously guard their hold on sections of the shrine built on the traditional site of Jesus's crucifixion. (Reuters)
Greek Orthodox, Franciscan priests brawl over opening of door in Jerusalem basilica | Greek Orthodox and Franciscan priests got into a fist fight Monday at the Church of the Holy Sepulcher, Christianity's holiest shrine, after arguing over whether a door in the basilica should be closed during a procession. (Associated Press)
Priests in Punch-Up at Christianity's Holiest Shrine | Rival priests got into a fight in the Church of the Holy Sepulchre, Christianity's holiest shrine in Jerusalem, after arguing over whether a door in the basilica should be closed during a procession. (The Scotsman, UK)
Priests arrested after Jerusalem church brawl | Rival priests got into a fight in the Church of the Holy Sepulchre, Christianity's holiest shrine in Jerusalem, after arguing over whether a door in the basilica should be closed during a procession. (Ireland Online, Ireland)
Punch-up at tomb of Jesus | Fistfights broke out yesterday between Christians gathered on the site of the crucifixion and burial of Jesus Christ. (The Guardian, UK)
Priests scuffle at Holy Sepulchre | Dozens of people have been injured in a fist fight between feuding priests at one of Christianity's holiest shrines. (ABC Online, Australia)
Jerusalem clerics in punch-up row | Roman Catholic and Orthodox clerics have exchanged blows inside Jerusalem's Church of the Holy Sepulchre, one of Christianity's holiest sites. (BBC)
Religious freedom:
Israel may limit worshippers in Jerusalem | Israel said Sunday it may limit the number of Muslim worshippers at a disputed Jerusalem religious site during the upcoming Muslim holy month because part of the biblical-era complex might collapse. A Jordanian expert said there is no such danger. (Associated Press)
The persecuted, in chains | In jails and prisons across the United States, thousands of people are detained who have never been accused of crimes. The guards treat them like criminals, and the criminals they bunk with often abuse them. They are held for months, sometimes even years, but unlike the criminals, they do not know when their sentences will end. They receive this treatment because they are foreigners who arrived in the United States saying that they were fleeing persecution at home. (Editorial, The New York Times)
'He feels their pain' | Virginia representative gets praise and criticism for human-rights efforts (Times-Dispatch, Richmond, VA)
Swiss fear Muslim majority, cap immigration:
Swiss reject laws to help migrants after far-right campaign | Nearly a year after the far-right Swiss People's Party topped the polls in a general election, voters have again endorsed its anti-immigration stance. Predicting that Muslims would outnumber Christians within 20 years, it claimed that "Muslims place their religion above our laws". (Independent, UK)
Analysis: Swiss close ranks | Switzerland has begun to analyse the reasons for Sunday's rejection of laws which would have made it easier for young foreigners - many of them born and raised in Switzerland - to become Swiss. (BBC)
Travel to Israel:
New route to success | Detoured by terror, war and disease, agency finds way to promote travel. Dehoney Travel has spent years guiding Christians around the globe, but that hasn't kept the company from struggling to find its way recently. (The Courier-Journal, Louisville, KY)
Christian Embassy hosts 4,000 visitors at 25th anniversary feast gathering | Despite four years of political unrest, travel advisories and a prolonged slump in tourism to Israel, over 4,000 Christians from more than 80 nations will arrive in Jerusalem over the next week to take part in the 25th 'Silver Anniversary' Christian celebration of the Feast of Tabernacles, sponsored by the International Christian Embassy Jerusalem. They will pump at least $10 million into the local economy, accounting for over 15,000 hotel room nights, a boost for the Jerusalem tourism industry. (Arutz Sheva, Israel)
African governments support Christian pilgrims to Israel:
Govt promises support for Christian pilgrims | Bauchi State government has assured the national officials of Nigeria Christians Pilgrims committee that it would continue to support and ensure increase in the number of people to be sponsored for this year's Christian Pilgrimage to Jerusalem. (This Day, Nigeria)
Govt promises support for Christian pilgrims | Bauchi State government has assured the national officials of Nigeria Christians Pilgrims committee that it would continue to support and ensure increase in the number of people to be sponsored for this year's Christian Pilgrimage to Jerusalem. (This Day, Lagos)
Sudan:
Islamists reject Sudan deal | Sudan's Islamist opposition party says it will stick by its jailed leader Hassan al-Turabi, accused of plotting a coup after Friday prayers last week. (BBC)
UN refugee head makes Darfur plea | The UN refugee head has urged all sides in the Darfur conflict to work for a solution, amid reports of new militia movements in the region. (BBC)
Darfur misery has complex roots | The border region between Chad and Sudan must be one of the harshest and most remote environments on earth. (BBC)
Rage finds an outlet in Sudan's rebel camps | In the Sudan Liberation Army's camps, there is no talk of peace. Young men from Darfur's shattered villages have come to find an outlet for their rage. (The Guardian, UK)
Lubbers set for new Darfur talks | UN refugee commissioner Ruud Lubbers is due to meet top Sudanese officials on Tuesday to discuss what the UN calls the world's worst humanitarian crisis. (BBC)
Darfur and Crusaders | An American friend asked me what I meant when I claimed in a previous article (Double Talk, Double Standards) that Evangelists collect billions to support Christian revolts in the Muslim world. I gave him three examples: East Timor, South Sudan and Darfur. He seemed to recognize the first two but not the last. I had to explain: (Arab News)
Danforth lobbies U.N. to push Sudan to end genocide | As Bush's special envoy, Danforth helped broker a cease-fire in the long-running civil war between the Arab and Muslim dominated government in Khartoum and rebels in the south, most of them Christians or animists. Now he's trying to salvage the north-south peace process while at the same time pressing Khartoum to stop militia attacks on Darfur villages that have displaced some 1.3 million people. (St. Louis Post-Dispatch)
Church life:
For a dollar, buy a snack, build a church | If there was a faster way to raise $400,000 than by selling Puerto Rican snacks called alcapurrias from a narrow alley in the Bronx, the Missionary Christian Church couldn't come up with it. (The New York Times)
Churches resume services, give thanks | As members of a West Fairview Lutheran church arrived for services last Sunday, they stared at the swollen Susquehanna River, which had overflowed its banks and nearly covered a stop sign a block away on Front Street. Downstream in New Cumberland, a Methodist church canceled services that morning. The church lies in a flood area blocked off by the borough, and many members were cut off by floodwater that had closed the bridge that links the borough with Fairview Twp. (The Patriot-News, Penn.)
Pastor may be gone, but faith goes on | Life and faith go on at Calvary Church, three Sundays after its senior pastor resigned amid the revelation he had plagiarized sermons. (Charlotte Observer, N.C.)
Between a saint and a sinner in Laguna, Brazil | Brazil never felt more like Spain or Italy. At the present time in Brazil, evangelical Protestantism is making deep inroads into Catholicism. Everybody seems excited and amused. A local man tells a miraculous story about a sixty year-old retired teacher who had rather suddenly gotten married. "The real miracle was that she was a virgin." (Brazzil, Brazil)
N.E. churches take a southern direction | Sheffield Federated Church is an austere place. It has high-backed wooden pews and not so much as a spire for ornamentation. Its parishioners are a stern bunch with an aversion to verbal flourishes and emotional outpourings. Pastor Tim Pittman is part of a wave of Southern Baptists transforming New England religious redoubts. In towns across northern New England, they have arrived to minister to churches without pastors in places where dwindling congregations has meant shrunken church funds. (Boston Globe)
United Methodist Church:
Bishop committed to her 400 churches and her bike | Confronting a growing decline in membership, Mary Ann Swenson uses pedal power to help reach out to United Methodists. (Los Angeles Times)
Methodists welcome female bishop | First woman to hold high position in large denomination in S.C. delivers her first sermon (The State, SC)
S.C. United Methodists welcome first female bishop | The Rev. Mary Virginia Taylor has become South Carolina's first female Methodist bishop. (Associated Press)
Woman to lead United Methodists | Taylor makes history as first female bishop in S.C. (Knight Ridder)
Gays protest ex-gay's sermon:
Church's stance on gays is hit | An Oak Park congregation's services against same-sex marriage draw 2 sets of protests (Chicago Tribune)
Oak Park sermon will attract sit-in | Gay group's protest is welcome, say leaders of Calvary Memorial Church (Chicago Tribune)
Antigay church service draws protest in Illinois | Chanting "Shame!" and "House of hate!" protesters rallied outside the Calvary Memorial Church in the Chicago suburb of Oak Park on Sunday, where "ex-gay" activist Stephen Bennett spoke about his former life as a gay man before he got married and had two children. (The Advocate, gay magazine)
Same-sex marriage:
Flash point for black churches gay marriage issue may benefit GOP | The national debate over same-sex marriage has become a lightning rod in Bay Area black churches, where ministers engaged in programs to strengthen African American families are torn between faith, politics and practical realities. (San Francisco Chronicle)
Ohio churches hope marriage ban prods voters to polls | The Rev. David Forbes was still dressed in pulpit attire after performing a wedding Saturday afternoon at the Columbus Christian Center. But now, as he talked in his study at this largely African-American evangelical church, Forbes was concerned with a different aspect of marriage: the constitutional amendment on the Ohio ballot in November to ban gay unions. "When same-sex marriage became an issue," he said, "that really began to mobilize people in my coalition." (Walter Shapiro, USA Today)
Nine states vying in gay 'marriage' legalization race | In the nine-way race to become the second U.S. state to legalize same-sex "marriage," New Jersey, Oregon and Washington state appear to be in the lead, lawyers and activists say. (The Washington Times)
Foes of gay marriage see blow to amendment hopes | The effort to bring a constitutional amendment banning gay marriage to voters in November 2006 suffered a major setback yesterday with departure of House Speaker Thomas M. Finneran and the elevation of Salvatore F. DiMasi, whose arrival is expected to shift the Massachusetts legislative agenda to the left on social issues such as gay rights, abortion, and stem cell research. (Boston Globe)
Dobson urges BR crowd to fight same-sex marriage | Focus on the Family founder James Dobson spoke in Baton Rouge on Monday, telling a crowd at the half-full Baton Rouge River Center to vote, call legislators and to be an active force in the Nov. 2 election. (Baton Rouge Advocate, LA)
Voters in 10 of 11 states are seen as likely to pass bans of same-sex marriages | With the recent passage of two state ballot measures banning same-sex marriage, opinion polls and advocates on both sides of the debate say similar initiatives are likely to be approved in as many as 10 other states in November, leading advocates of such marriages to pour money and manpower into a last stand in Oregon. (The New York Times)
Christians use gay marriage to seek voters | Christian conservatives are casting a wider net this year in their search for likely voters - especially conservative ones - by asking people on the phone how they feel about same-sex marriage as well as their views on abortion, a standard question in previous election cycles. (Associated Press)
Same-sex marriage battle in Oregon:
Same-sex marriage opposed by slight majority, poll finds | A slight majority of Washington voters oppose gay marriage, according to a poll conducted for The Columbian and three other newspapers. (The Columbian, Wash.)
Gay marriage backers focus on Ore. battle | The state of Oregon has emerged as a key battleground in the fight over same-sex marriage, as gay rights advocates join forces with other liberal groups to defeat a referendum that would enshrine marriage in the state constitution as the union of a man and a woman. (Boston Globe)
Spanish Catholic Church opposes same-sex marriage:
Spain Church blasts gay marriage | The Roman Catholic Church has attacked the Spanish government's plans to introduce gay marriage, comparing them to releasing a virus into society. (BBC)
Spanish church slams gay marriage plan | The Catholic Church blasted the government's plans to legalize gay marriage, saying Monday it would be like releasing a "virus" into Spanish society. (Associated Press)
Iraqi Christians:
Iraq Christians flee bombs and head to Syria | Attacks on purveyors of alcohol and music had already rattled Iraq's tiny Christian community, but last month's bombing of churches shattered the hope some still had of staying to help rebuild their country. (Reuters)
Nine workers killed in Baghdad, six were Chaldean Christians | Iraqi bishop says objective is to impede reconstruction (Zenit News Agency, Italy)
Militants burn four alcohol stores in Iraq | Militants set fire to four shops selling alcohol north of Baghdad, witnesses and police said on Tuesday. Islamic militants have targeted alcohol vendors, who are usually Christian, across the country since the fall of Saddam Hussein last year. (Reuters)
Thousands of fearful Christians fleeing Iraq | Lawlessness and rising Islamic fundamentalism are sending refugees to Jordan and Syria (Religion News Service)
Iraq's persecuted Christians | Members of one of Iraq's minority faiths face new repressions and discrimination after the fall of Saddam's regime (Time)
Books:
Apostle to the Gentiles | The search for the historical Paul, for obvious reasons, has never been as pressing or controversial as the search for the historical Jesus. Yet Paul's letters are the oldest documents in the New Testament, and at times -- especially during the Protestant Reformation -- the only Jesus who seemed to matter was the figure fashioned by Paul, Christianity's first and most influential theologian. (The New York Times)
'Joy comes in the morning': People of the Word | The promise of the Talmud, Jonathan Rosen asserted in his quirky but moving meditation ''The Talmud and the Internet,'' ''is that it isn't a book -- it's a sort of drift net for catching God.''(The New York Times)
The peculiar institution | Every movement that seeks to change society faces two great tasks. The first is to discredit the old order. The second is to offer a new one. Without the assurance of a new order, the debate becomes a choice between order and chaos, and order wins. This is the challenge now facing the gay marriage movement. (The New York Times)
Welcome stranger | Liberal discovers friends in a fundamentalist church (Houston Chronicle)
Overflowing the banks: It can be a good thing | Idea that early Christianity was a diverse phenomenon is fundamentally sound (Charlotte Observer, N.C.)
Former Bishop indicted on rape charges, won't face trial:
DA won't prosecute bishop accused of rape | Former Springfield Bishop Thomas Dupre won't have to answer to charges in Massachusetts that he molested two boys in the 1970s, but the legal problems for the one-time Roman Catholic leader -- the first bishop to face criminal charges in the sex abuse scandal -- haven't disappeared. (Associated Press)
Bishop is indicted in sex abuse case but won't be prosecuted | Thomas Dupre, former Roman Catholic bishop of Springfield, Mass., was charged with two counts of child rape in an indictment unsealed Monday, but only hours later the district attorney said a statute of limitations would keep him from prosecuting. (The New York Times)
Mass. bishop charged with rape; no trial planned | A grand jury indicted Bishop Thomas L. Dupre, the former head of the Springfield, Mass., Roman Catholic diocese, on two counts of child rape, but he will not be prosecuted because the statute of limitations on the case has expired, a county district attorney said Monday. (Washington Post)
US bishop sex abuse case dropped | Prosecutors have dropped a case against a former Massachusetts bishop, Thomas Dupre, hours after he was charged with raping two children in the 1970s. (BBC)
Related Elsewhere:
Suggest links and stories by sending e-mail to weblog@christianitytoday.com
Check out Books & Culture's weekly weblog, Content & Context.
See our past Weblog updates:
September 27
September 24 | 23 | 22 | 21 | 20
September 17 | 16 | 15 | 13
September 10 | 9 | 8 | 7
September 3 | 2 | 1 | August 31 | 30
August 27 | 26 | 24 | 23
and more, back to November 1999
Weblog
Launched in 1999, Christianity Today's Weblog was not just one of the first religion-oriented weblogs, but one of the first published by a media organization. (Hence its rather bland title.) Mostly compiled by then-online editor Ted Olsen, Weblog rounded up religion news and opinion pieces from publications around the world. As Christianity Today's website grew, it launched other blogs. Olsen took on management responsibilities, and the Weblog feature as such was mothballed. But CT's efforts to round up important news and opinion from around the web continues, especially on our Gleanings feature.
Ted Olsen is Christianity Today's executive editor. He wrote the magazine's Weblog—a collection of news and opinion articles from mainstream news sources around the world—from 1999 to 2006. In 2004, the magazine launched Weblog in Print, which looks for unexpected connections and trends in articles appearing in the mainstream press. The column was later renamed "Tidings" and ran until 2007.
Previous Weblog Columns: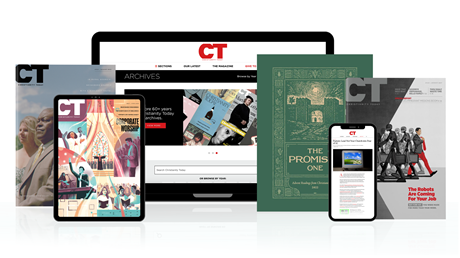 Subscribe to Christianity Today and get access to this article plus 65+ years of archives.
Home delivery of CT magazine
Complete access to articles on ChristianityToday.com
Over 120 years of magazine archives plus full access to all of CT's online archives
Subscribe Now
Are Mainline Churches Anti-Semitic?
Are Mainline Churches Anti-Semitic?