Weblog: House Fails to Pass Marriage Amendment
Britain's Terri Schiavo : Parents fight doctors to keep their baby alive. The Vatican outsources prayers. Plus: Billy Graham plans NY mission, Spain to allow same-sex marriages, reviews of Woman, Thou Art Loosed, and more articles from online sources around the world.
Compiled by Rob Moll
It's the battle of the perceptions now that the Federal Marriage Amendment has failed to pass both the Senate and the House of Representatives. Was yesterday's vote the beginning of the end for the marriage amendment, or was it the end of the beginning? According to supporters of the amendment, the "battle for marriage" is just getting underway, and yesterday's vote was only a way of putting representatives on the record.
"The vote by the G.O.P.-controlled House was 227 to 186 in favor of writing the same-sex marriage ban into the Constitution, 49 short of the two-thirds majority needed to approve an amendment and send it to the states for ratification," writes The Washington Post.
Yesterday, the Family Research Council called the vote a "roll-call vote on the future of marriage." (They have not yet responded to the final vote.) The American Center for Law and Justice's chief counsel Jay Sekulow said the vote "is an important first step toward protecting the institution of marriage." Sekulow said, "No one expected the marriage amendment to garner two-thirds approval in the House on the first vote. But this majority vote in favor of the amendment sets the stage for this amendment to return to the House in the next Congress."
The Alliance for Marriage also said the vote was a "first step." Matt Daniels, president of the Alliance for Marriage said, "We introduced our marriage amendment in both the House and Senate in order to let the people decide the future of marriage—and our amendment will continue to gain ground so long as activists continue to strike down our marriage laws in court."
"The people will see how their elected representatives stand on marriage," said Rep. Marilyn Musgrave, a Colorado Republican who sponsored the amendment, reports The Washington Times. "This is just the start of what I see to be a long process."
"We are profoundly disappointed by the news that the House of Representatives has rejected a constitutional amendment to preserve the institution of marriage," James Dobson said. "It is our hope that America will carefully note the names of the Congressmen who pandered to the homosexual lobby and took the easy way out on this issue of unprecedented importance."
Two British Christians fight doctors to keep their baby alive
Charlotte Wyatt was born when her mother was 26 weeks pregnant. In the 11 months since her birth, she has never left the hospital, she is fed through a tube, she does not respond to sound or touch, and she cannot see. Wyatt needs a constant supply of oxygen to stay alive. Doctors say "her quality of life is both terrible and permanent." Therefore, Wyatt's doctors say, she should be allowed to die.
A court is scheduled to determine whether to put Wyatt on a ventilator if she stops breathing. Wyatt has chronic lung disease and will likely need intervention again.
Does John Kerry support outsourcing prayers?
The Ig Noble Prizes were announced last night, and the Vatican was awarded the economics prize for outsourcing prayers to India. It seems there aren't enough American priests to celebrate Mass for special intentions. Intentions are "requests for services such as those to remember deceased relatives and thanksgiving prayers," says The New York Times. American, Canadian, and European churches are now outsourcing their prayers to India. John Kerry, who has been critical of George W. Bush and companies that send jobs overseas, has so far declined to comment on his own church's outsourcing. Maybe we'll have to wait for the third debate on domestic issues.
More Articles:
Religion & politics:
Teddy Roosevelt quote on Christianity in courthouse to be covered:
Church & state:
Church life:
Missions & ministry:
Catholicism:
Spain to allow same-sex marriage:
Austrian bishop resigns after child porn scandal:
Jews & Christians:
Religious freedom:
Attacks on Christians in India:
Pope meets Pakistan's president:
Other religions:
War & terrorism:
Sudan:
Judge to decide on Charlotte Wyatt's life:
Life ethics:
History:
Woman, Thou Art Loosed:
Books:
Other articles of interest:
Related Elsewhere:
Suggest links and stories by sending e-mail to weblog@christianitytoday.com
Check out Books & Culture's weekly weblog, Content & Context.
See our past Weblog updates:
September 30 | 29 | 28 | 27
September 24 | 23 | 22 | 21 | 20
September 17 | 16 | 15 | 13
September 10 | 9 | 8 | 7
September 3 | 2 | 1 | August 31 | 30
August 27 | 26 | 24 | 23
and more, back to November 1999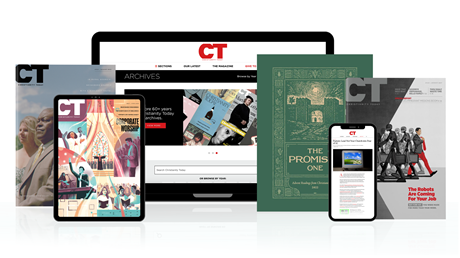 Subscribe to Christianity Today and get access to this article plus 65+ years of archives.
Home delivery of CT magazine
Complete access to articles on ChristianityToday.com
Over 120 years of magazine archives plus full access to all of CT's online archives
Subscribe Now
House Fails to Pass Marriage Amendment
House Fails to Pass Marriage Amendment