true
Well, they sure blowed 'em up good in XXX: State of the Union. And they pimped many rides; in fact, one main character is played by Xzibit, the rapper and host of MTV's Pimp My Ride. XXX is a car-nut's fantasy. The characters sneak about the Capitol in a chameleon GTO with a trick body kit, a Shelby Mustang, and an array of Humvees and Explorers. All have fancy wheels, loud exhausts and tinted windows. The police and intelligence organizations seem not to notice.
In trying to describe this non-stop action extravaganza, I'm reminded of a college newspaper reviewer who declared a James Bond film "too unrealistic to be believed." But that's exactly the point, isn't it? In its defense, XXX has few aspirations to provide believable dialogue or character arc. Plot is almost entirely ignored. The improbable action scenes make Spider-Man seem like everyday reality.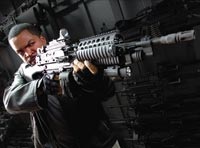 In this second installment of the XXX franchise, Samuel L. Jackson reprises his role as NSA super-agent Augustus Gibbons. He discovers a nefarious plot within the National Security Agency to overthrow the government. Given the grave threat to the President's administration and his very life, Gibbons must find an operative worthy of the XXX title. Somebody has to save the nation! Think of the suave 007, with his understated British aplomb replaced by a streetwise special forces commando. The stodgy weapons officer, Q, has been replaced by Zeke (Xzibit), a gangster who steals and pimps out high-end cars "from the same neighborhood as the White House!"
Gibbons finds his man in prison. Darius Stone (Ice Cube) has been languishing in a cell for nine years, having been betrayed and railroaded by political chicanery. He's not in a patriotic mood, but the chance to get out of prison, shoot guns and create mayhem is too much to resist.
In the tradition of the Bond girls, the women in this film are three dimensional, and two of those dimensions are silicon-enhanced. Charley Mayweather (Sunny Mabrey) is a femme fatale, the hot babe who may or may not be the enemy. Lola (Nona Gaye) is a carjacker with a heart of gold. The rest are eye-candy, strutting about in skimpy costumes and wearing sultry looks. They wear spike heels and short skirts. They rarely get to talk.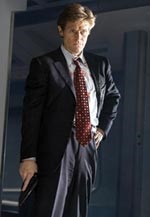 Among XXX's memorable contributions to the action genre is a tank battle on the hangar deck of an aircraft carrier—a sister ship of the one I served on in Vietnam. But where we were prohibited from smoking on deck (lest we ignite the fuel and ordnance), Ice Cube's Darius uses a battle tank to wipe out his adversaries, with no apparent ill effects to the ship. Guns blaze, rockets fly, and Darius is able to maneuver his tank with incredible grace, dodging rockets by sheer force of his excellent driving skills.
The retired USS Hornet stands in for a modern nuclear flattop, which appears to be anchored somewhere in the Potomac River, ready to mount an assault on the Capitol. It seems a bit of a stretch that such a gargantuan ship could navigate the Potomac. Somebody might notice such a non-stealth battle plan, but then again, this is an action movie.
XXX features some amazing stunts, but much of the action is computer generated and comes across like a video game, a la "Grand Theft Auto." The bad guys, led by the renegade Secretary of Defense (Willem Dafoe), make their getaway in The Presidential Bullet Train, which is able to race along DC's commuter rails at 200 mph while Darius gives chase in a hot Mustang. Of course, there are no railroad crossings to worry about, or trains coming the other way. And where the bullet train is bulleting to is anybody's guess.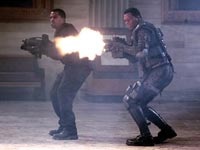 Director Lee Tamahori is no stranger to the action genre, having directed the Bond film, Die Another Day. The New Zealander's first feature was the hard-edged Once Were Warriors, which dealt with marginalized urban Maori. Once Were Warriors was a film with a deep social conscience and truly compelling characters. Then Tamahori moved to Hollywood. He's making a lot more money these days, but his promise as a director of meaningful films has taken a dive. That said, he propels the action along at a breakneck pace, jumping from one explosion to the next with reckless abandon. Guns blaze and the Capitol building gets trashed.
Although XXX is a throwaway in terms of cinematic accomplishment, it does aspire to be a mainstream action movie with a primarily African-American cast. If white guys like Bruce Willis and the Governor of California can play action characters, why not black men? Unfortunately, XXX remains firmly rooted in insulting stereotypes. When Darius finds that he cannot trust the NSA, he turns to the ghetto for backup. He recruits an army of car thieves. The problem of facing down elite troops in tanks, with a ragged gang of thugs driving blinged-out SUVs and four-wheeler pickups, is daunting. The solution: let's commandeer a tank. "If it got wheels, we can jack it!" proclaims Zeke.
Given that the main audience for gangsta rap is suburban white teenagers, the ghetto/gangster approach may draw large mainstream audiences. The problem with this cheap substitution for fully developed characters is that the suburban wannabes will continue to believe that to be black is to be outside the law.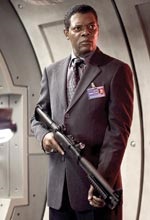 XXX is the type of exploitation rubbish that filmmaker Spike Lee dismisses as a modern minstrel show, where black actors play to white stereotypes. Portraying black men as gangsters and carjackers is not, in itself, wrong. After all, such people do exist. But sadly, they are grotesquely over-represented in movies. In XXX, they are the movie. In a world where black customers are watched closely by department store security and black drivers are pulled over by police in disproportionate numbers, the last thing America needs is more images of black men as thugs. And one can't help but wonder why Samuel L. Jackson, one of our best actors today, would stoop to sign on for this stinker.
XXX is no more or less ridiculous than Sahara, in which a Confederate ironclad warship is discovered in the desert. But at least Sahara diverted our attention from its idiotic plot with lush scenes of sun-bleached plains and shifting sand dunes. XXX is no fun to look at. The characters are unengaging at best, and insulting at worst. What could have been high irony comes across as a nihilistic video game.
Talk About It
Discussion starters
How feasible is it that a renegade cabinet member could mobilize a coup against the president?


Why does the film portray the black protagonists as gangsters and thieves? To what extent does this film perpetuate racial and sexist stereotypes?


What is the moral center of the film? What motivates the characters to do what they do?
The Family Corner
For parents to consider
XXX is rated PG-13 for violence and some profanity. Its characters are amoral and stereotyped; African-Americans are stereotyped as gangsta thugs. This film will do nothing for young viewers who are being taught to develop a morality-based worldview.
What Other Critics Are Saying
compiled by Jeffrey Overstreet
from Film Forum, 05/05/05
First of all, XXX: State of the Union is lacking the charismatic star of the original XXX installment—Vin Diesel. In his place is Ice Cube, a talented but far less compelling big screen star.
Second, this action-packed sequel doesn't just defy plausibility … it may actually hurt your brain with its lunacy.
And third, critics are wincing when they see such formidable actors as Samuel L. Jackson and Willem Dafoe wasted on such material.
Article continues below
Stefan Ulstein (Christianity Today Movies) says, "XXX is no more or less ridiculous than Sahara, in which a Confederate ironclad warship is discovered in the desert. But at least Sahara diverted our attention from its idiotic plot with lush scenes of sun-bleached plains and shifting sand dunes. XXX is no fun to look at. The characters are unengaging at best, and insulting at worst. What could have been high irony comes across as a nihilistic video game."
David DiCerto (Catholic News Service) calls it "odiously overwrought. It is a pity that director Lee Tamahori, whose career started off so promisingly with his brutal but emotionally riveting debut film, Once Were Warriors, should find himself enmeshed in such smash-and-crash fare. Though packed with slickly edited, if utterly ridiculous, action sequences, the testosterone-revved but plot-deficient sequel is twice as violent, twice as tedious and twice as pointless as the original."
Adam R. Holz (Plugged In) writes, "Sequence after sequence strained my credulity." He adds that the violence and profanity "combined with obligatory cleavage shots had me ready to write this state of union on XXX2 long before the final explosion."
Michael Elliott (Movie Parables) says, "This film is for people who like their movies explosive, loud and dumb."
Mainstream critics agree. One wrote, "This flashy atrocity, clearly a lost cause from the first five minutes, offers viewers no option but to assume crash position and brace themselves for the worst."
Copyright © 2005 Christianity Today. Click for reprint information.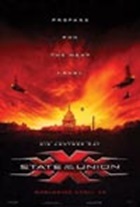 Browse All Movie Reviews By: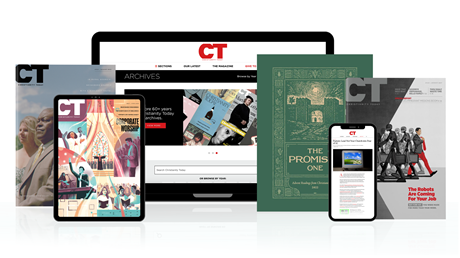 Subscribe to Christianity Today and get access to this article plus 65+ years of archives.
Home delivery of CT magazine
Complete access to articles on ChristianityToday.com
Over 120 years of magazine archives plus full access to all of CT's online archives
Subscribe Now
XXX: State of the Union
XXX: State of the Union