A third-century critic of Christianity named Celsus mocked Christians because they were divided into competing sects. He was referring mainly to the divisions between Gnostic and orthodox Christians. The great defender of Christianity, Origen, wondered what was Celsus' problem. These divisions were not over "small and trivial things," he argued, but about "the most important matters," and thus, as any philosopher would agree, a mark of intellectual seriousness.
Origen's point seems lost today as many observers criticize the breakup of a number of venerable denominations. The latest statistics for the Episcopal Church (USA) show a loss of 100 members per day in 2003—and this before the major defections following the 2003 General Convention that made a bishop of a man who had left his wife and children for a gay lover. We would not place our bets against a worldwide fissure in Anglicanism, the third-largest Christian body on the planet.
Similar defections are now occurring in the American Baptist Church and the United Church of Christ. As with the Anglicans, the core issues are biblical authority, salvation, sanctification, and church discipline, with the presenting issue being the increasing acceptance of homosexual behavior. In some regions, homosexual behavior is openly affirmed; in others, it is quietly tolerated but never disciplined, even if church law forbids it.
Nothing in John 17 nor the rest of Scripture suggests that oneness demands institutionalized unity.
Some argue that leaving a church body is always the greater sin. They point to the lamentable, historical fact that many church splits have been over "small and trivial things." But surely the authority of Scripture, the meaning of salvation, and the integrity of the church are not small and trivial.
"But it's premature," they reply. "You've got to give reform a chance." In some instances, like the Episcopal Church (USA), reform has been attempted for 40 years—and things have only gotten worse. Theological and moral apostasy is so entrenched in some places that many have concluded it is a fool's errand to seek to unseat it. Intellectual seriousness, they say, demands an honest appraisal of the situation.
"But look at Jesus' prayer in John 17," some say, "and how urgently he prays that his disciples will be one." Indeed, that is the reason we should lament even the most justifiable of church splits. But nothing in John 17 nor the rest of Scripture suggests that oneness demands institutionalized unity, certainly not where unity of belief is lacking.
The paradox today is that biblically minded Congregationalists, Baptists, Episcopalians, Methodists, and Roman Catholics experience more genuine unity across organizational boundaries than they do within their own traditions. Many fail to recognize that Christ's prayer for unity is indeed being answered, though the shape of that unity is not what we had imagined.
This is not to deny that in the long run, we should seek greater unity among the faithful. What that unity looks like this side of the kingdom may be subject to debate, but the goal should not be. We continue to applaud reformers in troubled denominations where there is clearly cause for hope. For example, United Methodist courts recently upheld orthodox practice (see "Deciding for Orthodoxy," p. 20). But given the crisis of some situations, we do not feel a one-style ecumenism fits all.
Finally, if there has to be a split over "the most important matters," can both parties agree not to impugn motives or practice character assassination? And can they settle their property differences out of court—or even display uncommon generosity in simply giving to him who asks, as Jesus commands (Luke 6:30)?
This would not only be a mark of intellectual seriousness, but also of genuine Christian charity.
Related Elsewhere:
An earlier CT editorial made a similar point.
No-Fault Division? | It may be time for mainline churches to consider an amicable divorce. (July 1, 2004)
CT has also reported extensively on the possible Anglican breakup, as well as similar issues in the American Baptists, the UCC, the United Methodist Church, the Evangelical Lutheran Church in America, and the Presbyterian Church (USA).
CT Executive Editor Timothy George recently discussed evangelical ecumenism in Is Christ Divided?
For more articles on related denominational disputes, see Christianity Today's Church Life, and Sexuality and Gender archives.
Have something to add about this? See something we missed? Share your feedback here.
Our digital archives are a work in progress. Let us know if corrections need to be made.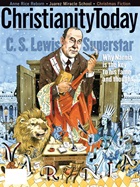 This article is from the December 2005 issue.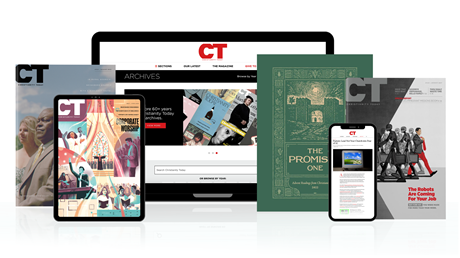 Subscribe to Christianity Today and get access to this article plus 65+ years of archives.
Home delivery of CT magazine
Complete access to articles on ChristianityToday.com
Over 120 years of magazine archives plus full access to all of CT's online archives
Subscribe Now
Intelligent Church Redesign
Intelligent Church Redesign