It must have sounded like a suitably edgy title: Repenting of Religion. Why on earth, the slightly shocked reader is supposed to ask, of all the things to be repentant about, should we repent of religion?
Because, Gregory Boyd explains, springing the trap, religion is all about "getting life from the rightness of our behavior," a fatally delusive sense of self-satisfaction sustained by perpetually judging others and finding them wanting.
Such judgment, Boyd argues—based on his Bonhoeffer-influenced reading of Genesis—is in fact the primal sin from which all other sins derive.
Yet most evangelical churches, the senior pastor of Woodland Hills Church in St. Paul, Minnesota, writes, utterly fail to recognize this; indeed, their very identity depends on sinful, self-righteous judgment. And while evangelicals are particularly egregious in this regard, the whole church stands indicted: "What we shall find is that, as has been the case with almost all religions throughout history, the Christian religion has to a significant extent become the defender of and promoter of the Fall rather than the proclaimer of the Good News that alone can free us from the Fall."
And again, this is the verdict Boyd renders on "large segments of the body of Christ": "Tragically, they promote the essence of the Fall as though it were salvation." The remedy, as Boyd's subtitle indicates, is to turn from judgment to unconditional love: "The only conclusion about other people that God allows us and commands us to embrace is the one given to us on Calvary: People have unsurpassable worth because Jesus died for them."
It is the business of "each believer" to "focus on his or her own relationship with God. Rather than being concerned with whether others are walking in faith, we each should be concerned with whether we ourselves are walking in faith." (There is a place for "appropriate judgment," Boyd allows, but only among disciples who are in "intimate contexts in which people have invited one another into their lives—contexts such as the small house churches all first-century Christians participated in"—where it takes the form of "discernment and loving feedback.")
So far does the policy of nonintervention extend, Boyd tells us, "the church must always remember that it has no business confronting people outside the covenant community, even leaders of other religious groups who are leading people astray." After all, Jesus "did not confront religious leaders in other cultures and religions; his concern was only with religious leaders who were thwarting God's will within God's covenant community at that time."
Perhaps these quotations from Boyd's book will suggest what a strange brew it is, a book riven by self-contradictions and flawed by a hermeneutic so naïve it beggars belief. Railing against judgment, Boyd issues sweeping judgments against the church throughout its entire history—judgments that rest almost entirely on sheer assertion.
In evangelical churches, Boyd claims, "the sins we declare ourselves to be against are invariably selected to not target ourselves." Really? In the church where my wife and I are members, Faith Evangelical Covenant Church in Wheaton, Illinois—as in all the churches we have regularly attended—the sins our pastor warns us against are as mundane and deadly as those illuminated in The Screwtape Letters.
Boyd caricatures the evangelical response to homosexuality, quite sure in his judgment that what motivates evangelicals on this issue is simply a sinful desire to feel morally superior. He refuses to extend to them the understanding he chastises them for failing to extend to others, understanding that comes only when we "get on the inside of their stories."
Mocking other Christians for their "system" of evaluating and ranking sins, he himself establishes a hierarchy that collapses all sin into the sin of "judgment," the defining sin of "religion." Murder? Rape? Child abuse? Promiscuity—both heterosexual and homosexual—leading to the death of millions from aids? The will to power that turns an entire nation into the plaything of a dictator?
Ah, but in Boyd's accounting, the "most damaging and destructive variety of the forbidden fruit is its religious variety." To acknowledge the temptations of self-righteousness (a subject hardly foreign to evangelicals who hear a sermon every week) is a necessity; to make that the very definition of sin is a bizarre distortion.
And yet the animating impulse of this book is powerfully winsome: a beautiful vision of the Christian life that Boyd sketches at the outset, in which we are called to "dance the eternal dance of the Trinity, to participate in and glorify this unsurpassably loving fellowship."
This deeply Trinitarian sense of the overwhelming splendor and joy of divine love, this exuberant truth, is no abstraction, no vaporous sentiment; it is, as Boyd says, the ultimate reality.
Hence "God's goal is that humans, when filled with God's unsurpassable love and eternal life, would replicate God on an individual level and overflow with love back to God, to themselves, and to their neighbors." Except for that word replicate, which doesn't seem quite right, I want to say amen. How this glorious vision can be squared with much of the book that follows, I'm not sure. Maybe I am reading with blind spots of which I'm unaware. But even though I am clumsy, even though Gregory Boyd and I may be stepping on each other's toes, I am dancing too.
John Wilson is editor of Books & Culture.
Related Elsewhere:
Repenting of Religion is available from Christianbook.com and other book retailers.
More about Gregory A. Boyd and his other books is available from his website.
More reviews and interviews are available from our Book page, as well as our 2004 Book Awards page.
Have something to add about this? See something we missed? Share your feedback here.
Our digital archives are a work in progress. Let us know if corrections need to be made.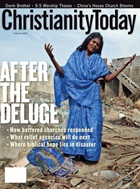 This article is from the February 2005 issue.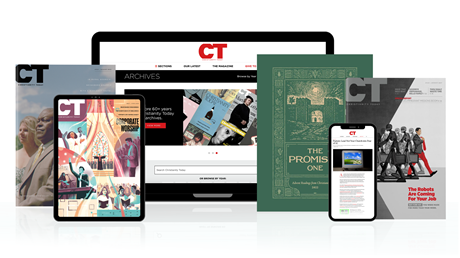 Subscribe to Christianity Today and get access to this article plus 65+ years of archives.
Home delivery of CT magazine
Complete access to articles on ChristianityToday.com
Over 120 years of magazine archives plus full access to all of CT's online archives
Subscribe Now
All You Need Is Unconditional Love
All You Need Is Unconditional Love