Sister Maria Philo, wearing a green surgical mask, is busy tending to the poor, injured fisher folk who until the day after Christmas plied the shallow waters off Nagapattinam for prawn and other fish. This city of 200,000, adjacent to the again—placid Bay of Bengal, has turned into an open-air morgue.
As Sister Maria moves purposefully amid the rubble, the odor of decaying flesh and the choking smoke of pyres from mass burials and cremations prompt nausea. Christian volunteers and pastors bury all the dead. Government workers have refused to touch the badly decaying corpses. Before the bodies are disposed of, pastors take their pictures, to be used later to identify them.
Sister Maria struggles to convey how she copes. "I couldn't pray for two to three days. Now, slowly, I am beginning to accept God's will."
No Escape for Indian Believers
The tsunamis following the massive December 26 earthquake off distant Indonesia's coast hit some areas of South Asia harder than others. In southeastern Tamil Nadu state, rotten corpses continue to surface, and hundreds of people are still missing. With the death toll in India surpassing 10,000, Tamil Nadu has 7,707 dead officially, of which 6,000 were in Nagapattinam, famous for the Shrine Basilica of Our Lady of Good Health in Vailankanni. Locals say the true figure is much higher.
As you enter Nagapattinam in the early morning, you will see masked health workers sprinkling disinfectants from tin boxes on the roadsides. Hundreds of homeless people sit on the roads all day long.
Local Christians, many of them Catholics, did not escape the mindless fury of the tsunamis.
Eight miles away from the shrine, the 3,800-member Church of Our Lady of Lourdes lost 36 members—33 of them children. Two nuns visiting the church also died. Several more fisher-folk church members are missing. Many of the area fishermen belong to the country's despised Dalits.
About 175 children were buried in a single pit in Kanikkamatha Church, in the nearby Kolachel area. Though exact numbers are not available, Father Gomes said that 70 percent of those affected in the region are Christians. Christians constitute the majority of fishermen here.
Another 300 Christians were reported killed while attending a religious service in Tamil Nadu's Kottar area. Nagapattinam's Saint Peter's Church lost 10 of its 250 members, with three others missing.
At the Shrine Basilica of Our Lady of Good Health in Vailankanni, more than 800 people—there to celebrate Christmas, including 400 Christian pilgrims and many local Christian fishermen—died.
A few steps from the grisly scene on the shore, church rector P. Xavier sits in his office, recounting the horror. One floor down, hundreds of frantic people comb through 400 photos of the dead the church has displayed, hoping they will not see the face of a missing loved one.
Father Xavier struggles to keep his anger in check. "The bodies kept floating and rotting on the beach for three days, and no official came despite our repeated requests," Xavier tells CT. "The villagers had died or fled the area in fear. So we pastors and church volunteers buried 600 bodies in three days.
"Some of the corpses were so decayed that, if you tried to lift them, the limbs would come off. So we had to bury about 200 on the beach itself. We hired nine bulldozers to dig graves. … Many bodies were mutilated beyond recognition."
Shocked Christians gathered to pray and light candles for the victims' souls. Xavier notes "constant questioning" among priests and laity about how a good God can allow such a calamity. At the same time, many share tales of survival. Father A. Xavier of Our Lady of Lourdes says when a church family saw the wave sweeping ashore, members started praying. Like the angel of death in Egypt, the water passed by without entering their house, and all were spared.
One pastor says it will take time to recuperate from the shock. "The unbelievable may have happened, but we can't live in hopelessness. Christian faith should help."
"The tsunami can't shake our faith," he adds. "It has to be deepened. Nothing can take God from us. … One day the dead will rise in their glorious bodies. God is merciful."
A special prayer for the victims is being held throughout the day in the shrine. But, says the Rev. Benjamin of Saint Peter's Church in Nagapattinam, "We have no time for prayers; we have to rush to help. How can I pray when the poor fishermen in my church area are starving? Service is the best form of prayer in such times. I think we escaped to serve the people. It's God's plan."
More than 1,500 trawlers and 800 other boats of the fishing community were destroyed, taking with them the only means of income for thousands of area residents. Economic losses are just the beginning of pain for survivors.
Amul Dass, 40, is a poor Christian fisherman. Sitting stunned opposite a local church, in donated clothes, he has lost his daughter and his home. Dass is now living with 300 other families in the Church of Our Lady of Lourdes.
"I am ruined," he chokes, talking more to himself than to a reporter. "My 5-year-old daughter, Mary, is dead. My house is gone. I am lost. I don't know when I will be able to have a job and a home to take care of my wife and three children."
Arockiaraj Raphel, another fisherman, is angry with the authorities.
"The clothes I am wearing were given by the church," Raphel tells CT. "My sister's child died in the sea. I have no boat, money, or work. But I am not angry with God. God has helped me all the time in my life. God is great. It was a natural disaster, and God is not to be blamed."
'To Live as We Preach'
Elsewhere in India, early fears that the waves wiped out several unreached tribes in the Nicobar and Andaman Islands appear to be unfounded. Indian authorities discovered that one people group is alive and well when a government helicopter seeking to learn about its welfare came under arrow fire. Officials believe the Sentinelese, Onge, Shompen, Great Adamanese, and Jarawa peoples are all safe. "They have survived nature's fury," a coast-guard leader said.
In an e-mail update, Jacob Samuel of the Evangelical Social Action Forum in hard-hit Kerala state said that government and Christian agencies are trying to provide services to thousands of people living in relief camps. "We sense a great need for counseling people who have lost their loved ones or their belongings," Samuel said. "Many of them are in shock and are unable to accept what has happened."
In Sri Lanka, nearly 5 percent of the island nation's 20 million people have been displaced. The National Christian Evangelical Alliance of Sri Lanka (nceasl) says the needs are overwhelming.
Based in the southern inland center of Kandy, Lanka Bible College is helping coordinate a local relief effort while directing teams to affected families and churches across the nation.
"Some church buildings and mission training centers have been damaged," staffer Mihirukshi Perera says. "Several believers have lost their children. Many believers have lost their homes and all belongings. Many of our students have gone with their local church relief teams to the affected areas." Lanka Bible College—with 450 students—is Sri Lanka's largest evangelical seminary.
The disaster has started to bring Christian and non-Christian together in Sri Lanka, where Buddhist nationalists have been attempting to restrict Christian conversions. Ajith Fernando, national director of Youth for Christ, says the organization has sent ministry teams to the east, north, and south to provide help and assess long-term needs.
Fernando said Tamil Tiger rebel leaders gave some Christian groups permission to bring supplies to the northern city of Mullaitivu, where the initial death toll estimate was 9,700.
Fernando said YFC's efforts were "a drop in the bucket" compared with the work of the nceasl, the Lanka Evangelical Alliance Development Service, and World Vision.
Fernando tells CT, "One encouraging thing is that churches and parachurch groups like YFC and Focus (InterVarsity), who have people but not much in funds, have given people to the relief agencies to do their work. This is a good sign of cooperation."
In Indonesia, where an estimated 100,000 people died, Christians met in Jakarta within days and quickly organized relief and reconstruction efforts. Selma Kurnnia, a writer for KiTa, a Christian magazine, tells CT that Christians are praying against criminals who are targeting orphans. "There are hundreds of little children who lost their family members and parents," said Kurnnia, who lives in Tangerang, West Java. "Many of them are injured. In Aceh, some bad people kidnapped some children and sold them."
Ron Vander Griend, vice president of ministry and executive director of church planting for the Bible League, tells CT the Christians of Java and southern Sumatra are well positioned with indigenous nongovernmental organizations. Vander Griend notes the presence of many strong churches in that region, with many Bible study leaders trained by the Bible League.
However, he says there were only two churches in Banda Aceh, where waves devastated the population, and both were destroyed. Persecution by militant Muslims had already driven out most of the Christians in the last several years.
Vander Griend says non-Christians in South Asia are starting to ask whether the tsunami is part of God's judgment. "It is coming up," Vander Griend says. "It also brings on a sense of mortality and raises questions about a sense of meaning."
Fernando says Christians in Sri Lanka are struggling to understand the why of the disaster. "Some are saying that this is God's judgment because Christians were persecuted," he said in an online update. "But the waves came when churches were meeting for worship on Sunday. I know that one church in the east lost all but three of those who had come for worship, and another lost all but one—the pastor who managed to cling to something. I keep hearing of more and more wonderful Christians who have died."
Back in India, Sunil Sardar, a Christian activist with Citizens for Justice and Peace, sees hope amid the calamity. "We should turn this tragedy to a blessing for the Dalit fishermen by connecting them to the church and improving their lives," Sardar tells CT. "God has given us an opportunity to serve them and improve their lot for the times to come."
At the beach in Nagapattinam, corpses continue to surface and to be burned in the sweltering afternoon heat. With sweat dripping down her face, Sister Maria continues making her rounds without complaint. Before returning to her task, Sister Maria says, "I think it's a God-sent opportunity for us to serve and try to live as we preach."
Manpreet Singh is a journalist living in India. Additional reporting for this piece was done by Paul Gallagher in Melbourne, Australia, and senior associate news editor Stan Guthrie.
Related Elsewhere:
Our full coverage of the Indian Ocean tsunami includes:
Indonesian Christians in NYC Gather Money, Pray for Spiritual Healing | Church thankful that few friends and family were in worst-hit areas. (Jan. 03, 2005)
Church Building and Its Members Reported Swept to Sea | Horrific and hopeful stories emerging from Sri Lankan Christians. (Jan. 03, 2005)
Sri Lanka Bible College Aiding Victims, Churches | More than 30,000 of island nation's 20 million people dead. (Jan. 03, 2005)
India's Christians Prominent in Casualties and Aid | Velankanni basilica, Christian fishermen among hardest hit. (Dec. 30, 2004)
Disaster Prompts 'Neighborly Love' | The director of Youth for Christ in Sri Lanka meets Christian survivors straining to deliver aid to victims despite their own losses. (Dec. 30, 2004)
Tsunami Survivors Desperate for Aid | Christian groups worldwide mobilize massive relief effort to South Asia. (Dec. 29, 2004)
Other tsunami weblogs include articles on theodicy:
Tsunami Weblog: Combining the Gospel with Aid | Plus: Tensions increase between Muslim militants and aid workers; Christian, Hindu groups fighting to help; Churches giving aid; more theodicy debates; and more articles from online sources around the world. (Jan. 11, 2005)
Tsunami Weblog: UNICEF Confirms the Kidnapping of Tsunami Orphans | Plus: Ake Green condemns Phelps's attacks on gay Swedes, tax deduction deadline extended for tsunami donations, Muslim radicals provide relief, and other stories from online sources around the world. (Jan. 07, 2005)
Article continues below
Tsunami Weblog: S. Korea Worries Christian Relief Groups May Face Terror Attacks | Plus: Where was God in the disaster? Churches giving aid, and orphaned children kidnapped. (Jan. 06, 2005)
Tsunami Weblog: The World Seeks Meaning | Is God to blame for the tragedy? Plus: the recent tsunami updates, ministry amid the wreckage, and Christians give $millions in relief. (Jan. 05, 2005)
Tsunami Blog: World Vision's $50 Million Goal | Plus: Commanding the wave to stop in Jesus' name, missing sponsorship kids, and other stories of faith and works in the wake of tragedy. (Jan. 05, 2005)
Have something to add about this? See something we missed? Share your feedback here.
Our digital archives are a work in progress. Let us know if corrections need to be made.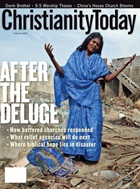 This article is from the February 2005 issue.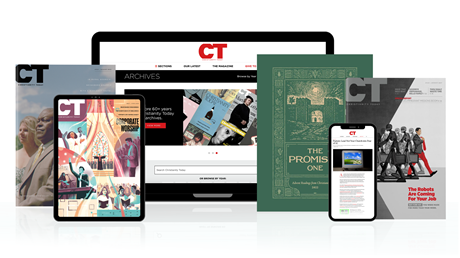 Subscribe to Christianity Today and get access to this article plus 65+ years of archives.
Home delivery of CT magazine
Complete access to articles on ChristianityToday.com
Over 120 years of magazine archives plus full access to all of CT's online archives
Subscribe Now
Bent but Not Broken
Bent but Not Broken