true
It's New Year's Eve. A Detroit police precinct is closing down—only a couple of cops remain on duty there while the staff clean out their desks. The weather outside is frightful. And thus the stage is set for trouble … which arrives in the form of a bus transporting prisoners. When the prisoners are locked into holding cells to wait out the storm, the precinct is besieged by killers bent on gunning down everyone inside—cops and crooks alike.
This remake of John Carpenter's 1976 thriller Assault on Precinct 13 strays from the details of the original in many ways. Instead of a black cop pushing back against prejudice, we have Jake Roenick (Ethan Hawke), a white cop with a therapist (Maria Bello). Instead of sparse, sharp-edged dialogue, there's relentless profanity and crass innuendoes. And as our heroes get out the heavy artillery to defend themselves from the invasion, the villains they use for target practice aren't street gang members … they're cops.
Director Jean-Pierre Richet, formerly a rap music producer, makes his first prominent American movie into an unremarkable, even dismaying, event—just another generically hyperviolent and overbearing genre flick. Instead of improving on Carpenter's film, he's only succeeded in making it a wearying assault on the eyes, ears, and intelligence.
My full review is at Christianity Today Movies.
Tom Neven (Plugged In) says, "The audience is encouraged to root for a bad guy who's fighting badder guys. The sense that bad character and bad actions aren't mitigated by later 'good' behavior is completely missing. And that leads to a final disappointing development." It ends, he says, with "a plot twist that will assault audiences' moral worldview every bit as much as the film's out-of-control vulgarity and violence."
Harry Forbes (Catholic News Service) says the movie "has its share of suspenseful moments, but the bloodshed and violence seem unnecessarily explicit, and the improbable story calls for major suspension of disbelief. For an action film the attention to characterization and good performances make this several cuts above the usual mindless mayhem movie."
Michael Elliott (Movie Parables) says it's "peopled by stereotypes instead of fully drawn characters. The cast is actually better than the material and as a result the movie reaches the level of effective B-level entertainment."
Mainstream critics are divided over whether to rate it as an above-average or below-average action thriller.
Critics retitle Are We There Yet?: "Is It Over Yet?"
Nick (Ice Cube) is bringing his girlfriend's kids from Portland to Vancouver for New Year's Eve. A simple enough premise. But there's a problem—the kids aren't fond of their mom's boyfriends, and their New Year's resolution is to make the trip miserable for him.
Sound like a winner? At the box office, yes. With critics, absolutely not. In fact, mainstream critics are giving this a 90% disapproval rating at Rotten Tomatoes. Religious press critics agree.
Peter T. Chattaway (Christianity Today Movies) says, "Are We There Yet? is more interested in crass humor than in creating remotely believable characters that we might actually care about. Sometimes the gags just seem inappropriate for a 'family film.' But it isn't all innuendo, slapstick humor and physical abuse. Suffice to say the film, short as it is, has so much padding … that parents may well spend the last few reels checking their watches and itching to ask their children, 'Is it over yet?'"
David DiCerto (Catholic News Service) comes up with the same punchline. "Buried somewhere beneath the potty jokes is a sincere message about the importance of family and parenthood, but by the time it surfaces the question being asked is not 'Are we there yet?' but 'Is it over yet?'"
Want to hear a variation on the same theme? Tom Neven (Plugged In) calls it "an utterly disappointing live-action cartoon that will have everyone asking 'are we done yet?' well before the credits roll."
More reviews of recent releases
Million Dollar Baby:Christopher Lyon (Plugged In) calls Clint Eastwood's new movie "one of the best-crafted films of the year. Eastwood again excels at not letting moviemaking get in the way of storytelling." But he also concludes that it's "a deeply troubling film. Even if we can get past the images of women beating and getting beaten by each other, the film forces on us a much more dangerous message."
Annabelle Robertson (Crosswalk) says it's "not a movie for children, nor is it appropriate for even mature teens, who have yet to develop the emotional filters necessary to analyze a film with such a strong emotional pull.Adults, on the other hand, will be able to glean truth in the edges of this narrative, particularly the desolation and increased isolation that ultimately befalls the characters, as a result of their choices. Hopefully, the film will also be used as an excellent discussion topic with those of differing opinions."
Hotel Rwanda:Andrew Coffin (World) says, "The violence in the film is horrific, and the film should be rated R due to several instances of strong, bad language and images of death that will be with audiences long after the movie ends—but that's not to suggest that Hotel Rwanda is to be avoided. The genocide in Rwanda left more than 800,000 dead, and Mr. Rusesabagina's story of courage is a convicting yet uplifting entry point for Western audiences into the tragedy."
Steven Isaac (Plugged In) says, "Without resorting to melodrama for even a second, the result of [the director's] efforts stirs an anger and grief that goes far beyond mere empathy. The horror faced and the terror felt by Tutsi and Hutu innocents are palpaple. And the onscreen plea is crystal: When atrocities are being committed in far-flung, sometimes forgotten regions of the world, the West should not ignore them. By no means is Hotel Rwanda a film children should see. But for the millions of adults and teens who decide to take it in, it's my prayer that they will hold on to those feelings of rage and sorrow much longer than Jack thinks they will."
Coach Carter:Harry Forbes (Catholic News Service) says the film is "reasonably absorbing, and Jackson gives a compellingly tough and unsentimental performance. Though some parents may feel it's important for inner-city kids to see this inspiring story with its message extolling academic achievement and teamwork, be warned that there's a good deal of crude language … [and an] abortion subplot with its questionable moral implications."
Mavin Olasky (World) says that unlike Hoosiers, this film is "planted in today's urban culture rather than 1950s rural Indiana, which means it realistically includes bad language and dirty dancing, as well as scenes with drug dealing (including a murder) and others with sexual overtones. All that, plus an abortion subplot that takes a wrong turn and the absence of a Christian witness, will lead some parents to just say no. Others, however, will welcome a film with so much emphasis on education, hard work, and discipline."
Kinsey:Steven D. Greydanus (Decent Films) says, "One of the film's most important lines comes in the following rationale by Kinsey of his work: 'One of the aims of science is to simplify. The only way to study sex with any scientific accuracy is to strip away everything but the physiological.' As a methodological approach to what can and can't be measured in human behavior, this might be a defensible assessment. But Kinsey and his colleagues didn't just try to 'strip away everything but the physiological' analytically, but actually. They tried to live as if sex were nothing but physiological, and their published arguments assume the same point of view. How utterly wearying."
House of Flying Daggers:Josh Hurst (Reveal) writes, "Regardless of what you think about the film's morality, there's no denying that, technically, the movie is astonishing. Like Hero, it is an overwhelming achievement in cinematography, an unforgettable feast of color and light. And nobody films a fight sequence like Yimou does; indeed, House of Flying Daggers' kung fu confrontations are so beautifully choreographed that they often feel more like dances. Whatever you call 'em, they completely outshine comparable scenes in The Matrix, or in just about any other martial arts movie, for that matter."
Next week: Robert DeNiro in Hide and Seek.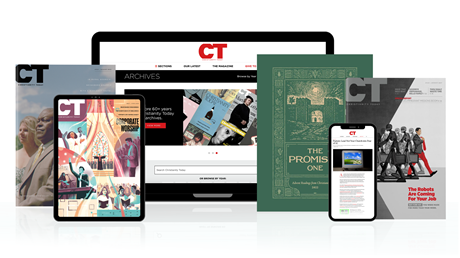 Subscribe to Christianity Today and get access to this article plus 65+ years of archives.
Home delivery of CT magazine
Complete access to articles on ChristianityToday.com
Over 120 years of magazine archives plus full access to all of CT's online archives
Subscribe Now
Critics Assaulted by Precinct 13
Critics Assaulted by Precinct 13