Tim Roemer, who announced his candidacy for the Democratic National Committee chair last week, criticized others in his party for not allowing pro-lifers into leadership positions. "Don't put my arms behind me. Give me a chance to talk about my values. And don't litmus-test me," Roemer, a former congressman from Indiana, told a group in St. Louis over the weekend.
Several in his party criticized Roemer's opposition to abortion. Kate Michelman, former president of NARAL Pro-Choice America, said she will spend her time fighting Roemer's campaign. "I will also urge DNC members to make an unequivocal statement that choice is both a fundamental value of the Democratic Party and an essential component of our winning message."
Somehow, Michelman seems to be unaware that most Americans don't find abortion to be any kind of value. And her pro-abortion message has done little to help Democrats win lately.
In fact, The New York Times is reporting that the Democrats are desperate enough to call on an evangelical for help. Jim Wallis, who recently talked with House Democrats about how to dispel their secular image, is experiencing a sudden popularity in the Democratic Party. But it's not because the party's pro-abortion, secular stance has given them a "winning message." Wallis says, "The Democratic Party has increasingly had a problem as being perceived as secular fundamentalists."
They gave more time to religion during that meeting than any other issue, Wallis told The Washington Post. "Democrats should welcome a moral values conversation," Wallis said. "As an evangelical Christian, I find 3,000 verses in the Bible about the poor."
The Times says Wallis "urged the Democrats to look for middle ground on the social issues most troubling to religious traditionalists, like obscenity and abortion. Whatever their stance on abortion rights, he argued, Democrats need to treat its occurrence as a moral problem and propose ways to reduce it."
Such an approach would be a seismic shift in a party whose supporters flaunt abortion as something good in itself. Though the story notes that Wallis's politics are not quite in step with the evangelical mainstream (Richard Land calls him "a left-wing evangelical"), Wallis could help the party to stop calling abortion "a fundamental value," a term that mocks "moral values" voters, often derided as "fundamentalists."
Roemer's candidacy and Wallis's assistance are hopeful signs that in future debates about abortion, stem cells, abstinence, or other ethical issues, politicians don't fall into stale, euphemistic pot-shots. "A woman's right to choose," as Michelman calls abortion, is not really about choice, but about the taking of innocent life. With or without Roemer as Democratic Party chair, Christians can pray that the fundamental value of life will prick the consciences of politicians on both sides of the aisle.
More Articles
Religion & politics:
Brownback on GOP presidential radar | As Bush's second term begins, speculation surrounds Kansas senator (Knight Ridder)
Groups gather to fight Bush's faith initiatives | Forty to 60 humanists, atheists, nontheists, secular Jews and ethical culturalists began an emergency summit yesterday at a Dupont Circle hotel to discuss strategy over how to fight President Bush's faith-based initiatives planned for his second term. (Washington Times)
Swing state | Along the highway, looming over busloads of retirees headed south to music mecca Branson, is Kay Allen's megaplex of a church, a striking sight amid low-slung strip malls. After her small church closed last year, Allen joined more than 5,000 Pentecostal Christians at the sleek quarters of James River Assembly. (Portland Press Herald, Maine)
Bush on God | Quotes from the President. (St. Petersburg Times, Fla.)
King's Legacy: Black church re-emerges as a pivotal force | As we celebrate the anniversary of Dr. King's birth, the black church is again particularly pivotal. Why? The black church stands as one of the few institutions that can speak both to left and right. (Dallas Morning News)
We're a nation of religious illiterates | The sociologist Peter Berger once remarked that if India is the most religious country in the world and Sweden the least, then the United States is a nation of Indians ruled by Swedes. Not anymore. With a Jesus lover in the Oval Office and a faith-based party in control of both houses of Congress, the United States is undeniably a nation of believers ruled by the same. (Stephen Prothero, Los Angeles Times via Tallahassee Democrat)
O come, all ye faithful | Those Dems are getting religion. On Wednesday, the very liberal Sen. Edward M. Kennedy (D-Mass.) went to the National Press Club and proclaimed the need for Democrats to talk more about values and said it was useful that a Democratic candidate "talked about God." (Washington Post)
Supporter of abortion rights is choice for Republican job | Ken Mehlman, chairman of the Republican National Committee, has asked an Ohio Republican who supports some abortion rights to be his co-chairman, stirring the ire of social conservatives. (New York Times)
The man who puts words in the President's mouth defends his style | Michael Gerson, President Bush's 40-year-old speechwriter, had a mild heart attack in mid-December that put him in intensive care for two days. The timing could not have been worse for Mr. Gerson: it was the height of speechwriting season, and Mr. Bush's second Inaugural Address and 2005 State of the Union address were menacingly close. (New York Times)
Judge allows prayer at inauguration:
Judge refuses to ban prayer at swearing-in | Ruling says Bush may invite ministers to speak despite church-state divide (Washington Post)
Judge denies bid to block inaugural prayer | An atheist who tried to remove "under God" from the Pledge of Allegiance lost a bid Friday to bar the saying of a Christian prayer at President Bush's inauguration. (Associated Press)
Religious hatred cited in murder of New Jersey Coptic couple:
Mourners link religious feud to 4 slayings | Two days after an Egyptian immigrant family was found bound and stabbed to death in their Jersey City home, hundreds of mourners gathered at the family's church yesterday, many chanting for justice and decrying the killings as a crime of religious hatred. The case has taken on a life of its own, threatening to localize a centuries-old schism between Egyptian Muslims and Coptic Christians. (New York Times)
Relatives sadly arrange funeral for slain family | Relatives of a slain Coptic Orthodox family on Sunday prepared for funeral and burial services as authorities continued to investigate the brutal killings (The Record and Herald News, N.J.)
Coptic Christians and Muslims in U.S. distrust each other | In Egypt, they lived as a Christian religious minority in a predominately Muslim country. That, along with economic troubles in Egypt, is what led many Coptic Christians to immigrate over the last 40 years to the United States, where several hundred thousand now live, mostly in New Jersey, New York and California. (Newhouse News Service)
Religious link to N.J. slayings? | No arrests had been made yesterday in the killings of Hossam Armanious, 47, his wife, Amal Garas, 37, and their two daughters. The four were found bound and gagged with their throats slashed early Friday. (Philadelphia Daily News)
Thieving butchers | Robbery emerged as a possible motive yesterday in the grisly slaying of a devout Jersey City family, though authorities have not ruled out the theory that they were targeted for their religious beliefs, officials said. (New York Post)
Police key on robbery as motive in slayings | Empty wallet, handbag found in Jersey City home (Star-Ledger, N.J.)
Investigation continues into slaying of family of four | Authorities continued to investigate the brutal slayings of a couple and their two children, as a family member in Egypt called for revenge in the mysterious deaths. (Associated Press)
Slaying of 4 may be tied to religious extremism | Islamic extremists may have murdered four members of a Coptic Orthodox family found bound, gagged and with their throats slit on Friday in their Jersey City home, a law-enforcement official familiar with the case said. (The Record and Herald News, N.J.)
Internet chat dispute may be behind slaying of N.J. family | No arrests had been made Sunday in the killings of 47-year-old Hossam Armanious, his 37-year-old wife, Amal Garas, and their two daughters. The four were found bound and gagged with their throats slashed early Friday. (Associated Press)
Related Elsewhere:
Suggest links and stories by sending e-mail to weblog@christianitytoday.com
Check out Books & Culture's weekly weblog, Content & Context.
Last week's tsunami blog:
January 11 | 7 | 6 | 5 | 4
See our past Weblog updates:
January 14 | 13 | 12
January 7 | 6 | 5 | 4
December 23 | 22 | 21
December 17 | 14b | 14a
December 10 | 9 | 7 | 6
December 3 | 2 | 1
November 24 | 23 | 22
November 19 | 18 | 17 | 16
November 12 | 11 | 10
Weblog
Launched in 1999, Christianity Today's Weblog was not just one of the first religion-oriented weblogs, but one of the first published by a media organization. (Hence its rather bland title.) Mostly compiled by then-online editor Ted Olsen, Weblog rounded up religion news and opinion pieces from publications around the world. As Christianity Today's website grew, it launched other blogs. Olsen took on management responsibilities, and the Weblog feature as such was mothballed. But CT's efforts to round up important news and opinion from around the web continues, especially on our Gleanings feature.
Ted Olsen is Christianity Today's executive editor. He wrote the magazine's Weblog—a collection of news and opinion articles from mainstream news sources around the world—from 1999 to 2006. In 2004, the magazine launched Weblog in Print, which looks for unexpected connections and trends in articles appearing in the mainstream press. The column was later renamed "Tidings" and ran until 2007.
Previous Weblog Columns: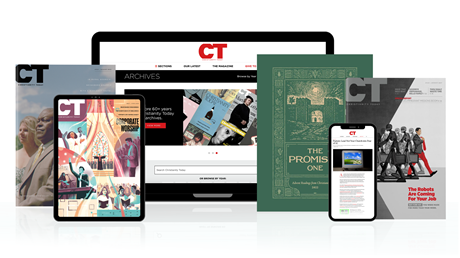 Annual & Monthly subscriptions available.
Print & Digital Issues of CT magazine
Complete access to every article on ChristianityToday.com
Unlimited access to 65+ years of CT's online archives
Member-only special issues
Subscribe
Abortion Litmus Tests and Fundamental Values
Abortion Litmus Tests and Fundamental Values