The craziest Christmas ban
There were so many odd stories last month about Christmas in the public square that it might be hard to find one as emblematic. Denver's debates over substituting "Merry Christmas" with "Happy Holidays" on the capitol lawn and excluding a church's float from the Parade of Lights were probably the biggest controversy, but they certainly weren't the wackiest. Comparatively speaking, it was pretty boring—Denver Mayor John Hickenlooper backed off the sign change plan, and the church float will return next year.
No, the oddest December Dilemma story of the year has to be the case of seventh-grader Bryan Lafond. It's hardly precedent-setting, and doesn't have much broad applicability, but it sure is odd. The student at Hampton Academy Junior High went to his holiday "dress-up dance" in a Santa Claus costume, but Principal Fred Muscara wouldn't let him in.
"It was a holiday party. It was not a Christmas party," Muscara explained. "There is a separation of church and state. We have a lot of students that go to Hampton Academy Junior High that have different religions. We have to be sensitive to that."
The Lafonds are tired of the publicity the incident has brought, but the controversy continues. Not over separation of church and state, but over safety—a school shouldn't just boot a 12-year-old out into the cold darkness outside just because he's wearing red.
As for the church-state angle, Leslie Lafond notes, "He didn't go as Baby Jesus." But even if he had, the school would have been violating the First Amendment if it kicked him out for wearing it out of fear that he'd offend non-Christian students. As Clinton Education Secretary Richard Riley told educators in a 1998 letter, "Students generally have no Federal right to be exempted from religiously-neutral and generally applicable school dress rules based on their religious beliefs or practices; however, schools may not single out religious attire in general, or attire of a particular religion, for prohibition or regulation. Students may display religious messages on items of clothing to the same extent that they are permitted to display other comparable messages. Religious messages may not be singled out for suppression, but rather are subject to the same rules as generally apply to comparable messages."
It's worth noting, however, that if Lafond had gone as the baby Jesus, it probably wouldn't have been non-Christians he would have had to worry about offending.
Note
All tsunami-related stories are being covered in a separate weblog this week.
More articles
Education:
Bethune-Cookman College goddess statue deemed inappropriate | The pink and green Alpha Kappa Alpha statue which stood outside White Hall for 31 years has been removed because of its exposed breast (Daytona News-Journal, Fla.)
Dover teachers may present evolution alternative | Biology teachers in the Dover Area School District may begin reading a four-paragraph statement offering an alternative to the theory of evolution, since attorneys for parents who objected to the policy decided not to seek a restraining order by yesterday's deadline (The Patriot-News, Harrisburg, Pa.)
U.S. school district defends evolution teaching plan | A Pennsylvania school district on Wednesday rejected charges that plans to include references to an alternative to Darwin's theory of evolution in high school biology classes would be illegal (Reuters)
Critic says Albuquerque Public Schools kids get false sex-ed information | A nonprofit group giving "abstinence-only" workshops in Albuquerque schools is spreading false information and its curriculum threatens the health of students, a school board member said Wednesday (The Albuquerque Journal, N.M.)
Their idea of a university | America's religious colleges are growing in popularity and quality. (Charlotte Allen, The Wall Street Journal. Linked yesterday, but here's the free version.)
The return of Michael Newdow:
Atheist joins others to sue over Pledge | An atheist who sued because he did not want his young daughter exposed to the words "under God" in the Pledge of Allegiance has filed another lawsuit — this time with other parents (Associated Press)
Newdow refiles Pledge case, attempts to halt inaugural prayers | New suit attempts to prevent members of the clergy from praying at President Bush's inauguration (Religion News Service)
Politics:
Bush gets a new voice for second term | Michael Gerson, the chief speechwriter during the president's first term, is expected to be replaced by William McGurn of The Wall Street Journal. How will the change impact the White House message? (Newsweek)
Earlier: Bush chief speechwriter has coronary procedure (Reuters)
State lawmakers grapple with money issues | Forty-three of the nation's state legislatures return to work this month, grappling with issues of money and morality as some new faces join the ranks of lawmakers (Associated Press)
Business lobby to get behind judicial bids | An industry group's plan to spend millions promoting conservative nominees brings a new dimension to the divisive confirmation battles (Los Angeles Times)
Not your Grandma's religious right | Don't be shocked or awed, but the Christian right isn't satisfied merely running the government (Bill Berkowitz, WorkingForChange.com)
Faith-based programs at what price? | Federal money doesn't come without strings (Editorial, The Joplin Globe, Mo.)
Law:
Let there be a lighted cross, court says | Judge rules shrine in Pepperell legal (The Boston Globe)
Why not just let the truth speak for itself? | Vilification disputes do not have to end in court. There's another way (Moira Rayner, The Age, Melbourne, Australia)
War and terror:
Critics plan to protest as bombed-bus tours | Pro-Israel group says display decries terror (San Francisco Chronicle)
Ariz. court to hear letter threat case | The Arizona Supreme Court said Wednesday it will decide whether a newspaper can be sued for publishing a letter suggesting that American soldiers in Iraq respond to attacks by killing Muslims at nearby mosques (Associated Press)
Faith eases pain of separation | Church "adopts" soldiers (The Intelligencer, Doylestown, Pa.)
Torturing the image of God | In every shriek of those in unbearable pain, in every crazed nightmare of those who are denied sleep for days and weeks at a time, in every muffled moan of those plunged under water for minutes at a time, trying not to breathe lest they drown, God is broken. God is defiled (Arthur Waskow, Philadelphia Daily News)
Life ethics:
To abort or not? | The debate over whether a woman in whatever circumstances has the right to abort or not has been raging in other parts of the world and Africa, but Botswana seems to have been left behind. In Botswana, the subject is taboo (Mmegi, Botswana)
Family-planning group says policy a threat | A family-planning group asked a federal judge Wednesday to block a law it claimed could limit access to abortions by putting at risk billions of dollars in family-planning aid to state and local agencies (Associated Press)
New Calif. stem cell agency under fire | California's new stem cell agency is generating a lot of talk — and it's not all about the ethics of human embryonic research (Associated Press)
Stem cell bill tops agenda as Legislature convenes | Travaglini vows push on research (The Boston Globe)
Abuse:
Tenn. diocese to report sex abuse charges | The Roman Catholic Diocese of Memphis has agreed to report all past and future allegations of sexual abuse against priests and other clergy that involve minors, officials said (Associated Press)
Congregant was jailed for 1980s sex assault | A Dracut man, arrested by Methuen police for allegedly sexually assaulting the 9-year-old son of a fellow church member, served time in prison for sexual assault on a child in the early 1980s in Maine, law enforcement officials said yesterday (The Boston Globe)
Abuse suit targets former school leader | Accuser mistaken, priest's lawyer says (The Boston Globe)
Church sex scandals' heavy legacy | The agreement of a Roman Catholic diocese to pay $100m (£53m) in compensation to victims of sex abuse takes the Church in America past another milestone in the settlement of its long drawn out scandal (BBC)
Law firm readies sex-abuse suits | A Washington law firm that demanded a year ago today the Catholic Archdiocese of Washington settle accounts relating to clergy sexual abuse hopes to file claims within the next few months on behalf of 20 victims (The Washington Times)
As Catholics face scandal, history holds lesson of hope | Take a look at our Christian and Catholic history: Scandals abound (John Kerns, The Oregonian)
Youth minister, wife charged in sex abuse case | A former Darlington Methodist church youth minister and his wife have been arrested in connection with a sexual abuse case in Horry County (Associated Press)
Priest on trial leads prayers | He's warned about court hallway scene (Detroit Free Press)
Church life:
Fire leaves church in ruins for fourth time | The oldest Anglican church in Japan, one of Yokohama's foremost tourist attractions, has been razed in an arson attack by one of its own parishioners. It is, however, merely the latest disaster to befall one of the country's most unlucky, but most resolute landmarks (The Times, London)
Parishioners feeling betrayed | Eric Bergman may soon become Scranton's first married Roman Catholic priest, but some of his former Episcopal parishioners say they feel betrayed and deceived by his actions (Scranton Tribune, Pa.)
Serving the flock at large | For 130 years, congregants have flocked to Myrtle Baptist Church (The Boston Globe)
Archdiocese puts 4 parishes on market | The Archdiocese of Boston put four more shuttered parishes up for sale yesterday -- two in Boston, one in Winchester, and another in Lowell -- adding to the 16 other parish properties expected to be sold in the coming months (The Boston Globe)
Pentecost Chiefs deplore church disciplinary measure | In a meeting last month at the Chapius area, high Chiefs from Pentecost who are also part of the Anglican community have strongly condemned the process by which the Dioceses of Vanuatu (DOV) took to terminate one of its employees (Port Vila Presse, Vanuatu)
Entertainment:
NBC books 'Daniel' pilot | Network has given a cast-contingent pickup to a darkly comedic one-hour drama pilot about an Episcopalian minister and father. He finds himself conversing with a hip, modern Jesus who helps navigate family problems, church politics and even his nagging reliance on prescription painkillers (Reuters)
Stone surprised by poor response to epic | Oliver Stone said the commercial failure of "Alexander" in the United States could be linked to "a raging fundamentalism in morality" (Associated Press)
Is it holy hip-hop time? | Christian rappers long to go mainstream (Philadelphia Daily News)
BBC defends decision to air profane Springer show | The BBC has defended its decision to air "Jerry Springer-The Opera" uncut, despite outrage over a libretto peppered with more than 3,000 swear words (Reuters)
Also: 'Odious' show must be banned | An "odious" West End show should be banned from television screens, a Midland MP has demanded. (Evening Mail, Birmingham, England)
Epiphany and Christmas:
For many Latinos, a day fit for kings | Christians celebrate Epiphany today with gifts, family, cake (The Dallas Morning News)
Orthodox Christians in valley prepare for Christmas | Serbian, Russian, and some Ukrainian Orthodox still use Julian calendar (Pittsburgh Post-Gazette)
Other stories of interest:
Father Damian's sainthood in jeopardy | Investigation to focus on cancer patient's prayers (KITV, Honolulu)
Help wanted on the religion beat | A veteran religion reporter argues that bad hires — or no hires — are diminishing coverage (Julia Duin, Poynter Online)
The thin commandments | Faith-based fitness means you can have your cake and genuflect, too (New Haven Advocate, Conn.)
Unscrolling the Commandments | If Alabamians got excited about former Chief Justice Roy Moore's granite monument of the Ten Commandments, imagine how they'll react when the world's oldest known copy of the Ten Commandments arrives in Alabama for display (The Birmingham News, Ala.)
Related Elsewhere:
Suggest links and stories by sending e-mail to weblog@christianitytoday.com
Check out Books & Culture's weekly weblog, Content & Context.
See our past Weblog updates:
January 5 | 4
December 23 | 22 | 21
December 17 | 14b | 14a
December 10 | 9 | 7 | 6
December 3 | 2 | 1
November 24 | 23 | 22
November 19 | 18 | 17 | 16
November 12 | 11 | 10
Weblog
Launched in 1999, Christianity Today's Weblog was not just one of the first religion-oriented weblogs, but one of the first published by a media organization. (Hence its rather bland title.) Mostly compiled by then-online editor Ted Olsen, Weblog rounded up religion news and opinion pieces from publications around the world. As Christianity Today's website grew, it launched other blogs. Olsen took on management responsibilities, and the Weblog feature as such was mothballed. But CT's efforts to round up important news and opinion from around the web continues, especially on our Gleanings feature.
Ted Olsen is Christianity Today's executive editor. He wrote the magazine's Weblog—a collection of news and opinion articles from mainstream news sources around the world—from 1999 to 2006. In 2004, the magazine launched Weblog in Print, which looks for unexpected connections and trends in articles appearing in the mainstream press. The column was later renamed "Tidings" and ran until 2007.
Previous Weblog Columns: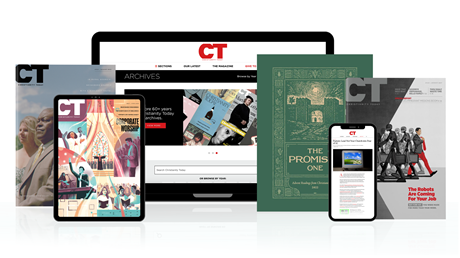 Annual & Monthly subscriptions available.
Print & Digital Issues of CT magazine
Complete access to every article on ChristianityToday.com
Unlimited access to 65+ years of CT's online archives
Member-only special issues
Subscribe
December Dilemma Award Winner
December Dilemma Award Winner