true
"All things change/never rest, never sure/what is worth fighting on for/all things change/never rest, never sure/what is worth hangin' on for/you might be there/God knows"
—from "All Things Change"
On what's technically his solo debut (unless you count his one-album, post-Smashing Pumpkins diversion with Zwan), Billy Corgan has a surprise for longtime fans—a shortage of rage (but still plenty of his trademark whine). TheFutureEmbrace is, according to Corgan, "an album of hope" representing his "desire to make music to stand and to fight for."
Welcome to the kinder, even (possibly) gentler world of Billy Corgan, the solo artist. This certainly isn't the same guy who in his mid-'90s Smashing Pumpkins heyday declared with a snarl "Despite all my rage I'm still just a rat in a cage" on what's now one of the most iconic tracks of the grunge era. Instead, he's painting an inward, more revealing picture of a life ripe with biblical imagery and (gasp) a more sunny, mature worldview.
Corgan's new way of looking at things begins not with the music itself, but with the album's artwork. Instead of using heavy make-up to cover the wine-stained scars on his arm and hand in previous photo shoots, he now ditches the foundation and frills for a look at the real Corgan, flaws and all. Along those same get-to-the-core-of-the-"real"-artist lines, he continues this introspective jaunt on his official website, reflecting on his Pumpkins past, telling his life story, and tying those experiences to the present—giving fans a greater understanding of where he's coming from with TheFutureEmbrace.
In a recent cover story in Paste Magazine, Corgan was more revealing—spiritually speaking. He told Paste, "I was raised a Christian, but I wouldn't call myself a Christian now." Yet his perspective has clearly changed, something he chalks up to the next logical step of life: "I think when I was younger it was easier to focus on the negative, nihilist vision. . . . This is sort of picking up on the other half of the body, which is God and white light. I saw somebody wrote online that 'he's found Jesus,' but no, I didn't find Jesus. He's been there the whole time."
Despite the more hopeful view, it's unlikely you'll hear Corgan's music on Christian radio anytime soon; he's not ready to raise the "Christian" banner. "My version, of course, is not this flag-waving, let's all get on the Jesus train and ride out of hell. I'm not that kind of guy. It's an embrace that life is good, worth living and yeah, it's not easy, but there are more pluses than minuses."
Sonically speaking, TheFutureEmbrace also lacks the angst of previous offerings, starting with an absence of the guitars that used to almost viciously drive the message home. On TheFutureEmbrace, Corgan employs the synth sounds of musical heroes like The Cure and New Order that shined through the Pumpkins' later work on Adore. In fact, The Cure's Robert Smith makes a cameo on Corgan's cover of the Bee Gees' "To Love Somebody," an unexpected curve ball in the set list. Yet, that addition fits well with Corgan's repertoire and reputation of keeping people guessing.
And with the recent success of no-longer-under-the-radar rockers like The Killers and The Bravery, TheFutureEmbrace would fit right in with today's musical climate—that is, if it weren't for the almost total absence of hooks. But that lack of musical gimmicks really allows the lyrics to shine, as in the sparse closing strains of "Strayz": "You know I'm true/wasn't born to follow/you know I'm true/wasn't born to follow/you stay with me/you stay with me when I go/you know I'm true/wasn't born to follow."
While it's not completely clear whom Corgan is referencing here, one can certainly venture an educated guess. And he clearly refers to God in the confessional, even optimistically charged opening track, "All Things Change," cited above.
Corgan recently told his hometown newspaper, The Chicago Tribune, that he "wants his band back" and has "made plans to renew and revive the Smashing Pumpkins." It'll be interesting to see if his spiritual journey and optimistic resolve weave their way into the post-grunge installment. But no matter what happens, one thing is for sure: There won't likely be a sequel for Melon Collie and the Infinite Sadness. Indeed, all things do change.
Unless specified clearly, we are not implying whether this artist is or is not a Christian. The views expressed are simply the author's. For a more complete description of our Glimpses of God articles, click here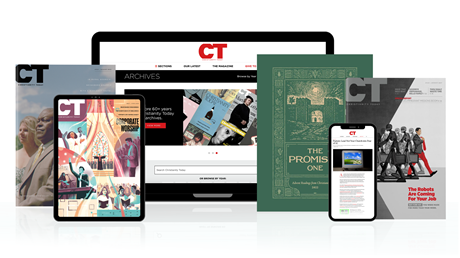 Subscribe to Christianity Today and get access to this article plus 65+ years of archives.
Home delivery of CT magazine
Complete access to articles on ChristianityToday.com
Over 120 years of magazine archives plus full access to all of CT's online archives
Subscribe Now
TheFutureEmbrace
TheFutureEmbrace