Kurt Ver Beek, assistant professor of sociology and third-world development at Calvin College in Grand Rapids, Michigan, recently published a study that questioned whether short-term missionaries and those served by such missionaries experienced long-term life changes from such missions. We summarized that study and asked Ver Beek to discuss his work further with Robert Priest, associate professor of mission and intercultural studies at Trinity Evangelical Divinity School in Deerfield, Illinois. At the end of the discussion, Ver Beek and Priest will take readers' questions, which may be submitted via e-mail.
Day One | Day Two | DayThree | Day Four | Questions
Dear Kurt,
I agree that we have too easily accepted claims about the benefits of short-term missions (STM), and that research has sometimes failed to support such claims. But I see the implications differently than you do. I remain convinced, for example, that if young people are taken out of their wealthy suburban settings to work in the slums of Tijuana, this encounter creates tremendous potential for reconsidering one's fundamental assumptions and values.
But the encounter, by itself, does not guarantee the desired results. Rather than assume the benefit comes through the sheer fact of an STM trip, the positive results come through a merger of the experiential and the pedagogical. If a person encounters cultural difference for two weeks, without anyone helping them to understand the culture concept and grasp the inner meaning, value, and coherence of another culture, they are more likely to ethnocentrically judge the other culture than to understand and appreciate it. But if an interpreter of the culture guides the encounter and frames the cultural dimensions of it, then the positive growth in cultural understanding may surpass what can be accomplished in a classroom at home.
If intercultural understanding is one of our goals, then I don't think it is only what we do after the trip that matters. What happens before and during the trip are pivotal. As I mentioned, I think I have initial data pointing in this direction. I believe there is an enormous amount to be learned through research about better and worse ways of doing STM. But what we reliably know about STM through good research is remarkably limited.
If people are simply spending vacation money on such trips, I'm not inclined to be critical of naïve understandings. But if people are appropriating the tax-deductible resources of a giving church on behalf of "missions," then I would push for a higher threshold of accountability. If I understand you correctly, when we raise money for STM in the name of missions, then we had better not end up justifying STM purely in terms of the benefits of STM to the short-term missionary or the sending church. Yet, as you point out, nearly all research on STM has attempted to justify STM on the basis of what they do in the lives of the participants.
When I was a youth pastor in 1982, the annual youth event involved a retreat at a beach. At one level the shift to a youth trip involving service (even if still sometimes includes a beach) must be viewed positively. A more ambiguous benefit of such a shift involves funding. If the annual youth event is now "mission"—the youth pastor is not limited to the youth budget, parental contributions, or carwashes for the difficult-to-fund annual event. Youth pastors could appropriate the funding apparatus developed by career missionaries (prayer letters, soliciting support for mission from others, etc.) as the means to fund the annual event designed to spiritually benefit one's own youth.
A case could be made that many American congregations and youth ministry programs have discovered a way to fund programs that benefit their own congregations' memberships much more consistently than those they ostensibly serve (while in the process making the challenge of funding the career missionary enterprise more difficult). It raises uncomfortable questions about whose interests are truly being served when the rhetoric justifying the funding of STM stresses results in the lives of those being served, while virtually all research by STM leaders has focused on the benefits to the short-term missionaries and their congregations.
We must follow your example and exhortation to redirect our attention to the results of STM on receiving communities. Perhaps next time around we can focus on this.
Back to you,
Robert
* * *
Dear Robert,
Thanks for your thoughtful response. I think you are right. What happens before and during the trip is important; but the argument I want to make more strongly is that if we want to see the experience of STM translate into significant changes in participant's lifestyles afterward—then follow-up is the key to making that happen. I also like your idea that it matters where the money for STMs is coming from. If it is from individuals' vacation funds or their travel budgets, I would also hold the results to a different standard than if the participants are taking a part of their tithe or what their family, friends, or church would have given to long-term missions to fund a one-week trip to Kenya. Good things to think about.
Now I would like to turn our attention to the impact of STMs on the communities where the groups are going to serve. I would like to make a few points, and you can respond.
I think it is disturbing that nearly all of the research on STM focuses on the North Americans. I know of no guidebooks to prepare communities for receiving short-term missionaries, but there are dozens to prepare North Americans who go on such trips. Discussion of STM (including ours so far) often focus on the North Americans. During a STM trip, the groups often meet regularly before the experience to prepare and plan, they meet each night to evaluate the day's work, and they carry out a full evaluation at the end. The communities ministered to often have little or no such experiences. Why do you think this is?
In my research, I compared families in Honduras whose homes were built by STM groups to families whose homes were built by local Christian organizations in Honduras. The new homeowners in both groups were almost unanimously very happy and motivated, felt closer to God, and felt more secure in general, regardless of who built their home. The effect of having homes built by short-term mission groups versus Honduran builders seemed to have no noteworthy impact on Honduran families or communities—either positive or negative. What did have a large impact on their spiritual life, motivation, or loan repayment was the two to three years of good or not so good work done by the local organization, not the one- or two-week visit by a short-term missionary. As a result it seems to me that if we want to see long-lasting change in communities we should invest most of our limited resources in high-quality, longer-term work and often to work done by local Christians.
That said, I recognize that occasionally a single event/encounter in our lives can make a large impact. And while we are called to be good stewards of the resources God has given us, it is dangerous to overly monetarize life experiences. When we asked Honduran families which they would choose—a STM group coming to build one house or that the group would send the money they were going to spend on the trip and so could build 10 houses—the families had a hard time choosing. They value the relationships, enjoyed meeting new people, and were often encouraged and motivated by the group's visit (though about 80 percent of those surveyed said they had not stayed in contact with the communities). We cannot put a price tag on relationships. But I think that just like for North Americans, the Hondurans' motivation and excitement after a visit is difficult to translate into long-lasting and life-changing change unless there is intentional and proper follow-up that encourages them and holds them accountable. So while I do think a one-week STM experience may sow seeds of change in both North Americans and Hondurans, in the end we all need follow-up to turn our good intentions into long-lasting change and actions. What do you think?
Kurt
Related Elsewhere:
See our earlier coverage of Ver Beek's work, "Study Questions Whether Short-Term Missions Make a Difference."
Ver Beek's study, along with a PowerPoint synopsis and bibliography, are available at his Calvin College site.
Ver Beek presented his paper at the 2005 missiology conference at Trinity Evangelical Divinity School in Deerfield, Illinois.
Earlier parts in this series include:
Who Gets 'Socially Rich' from Short-Term Missions? | How communities feel about themselves after receiving a group may be more important than the number of latrines dug or homes built. (July 8, 2005)
Mission Trips or Exotic Youth Outings? | Not everything in your church's missions budget may be about missions. (July 7, 2005)
Do Short-term Missions Change Anyone? | Or do one week's good intentions fall flat without a concerted effort to follow through? (July 6, 2005)
Are Short-Term Missions Good Stewardship? | More than 2 million teens go on such trips ever year, and giving may exceed that given to long-term missionaries. But is short-term ministry built to last? (July 5, 2005)
Study Questions Whether Short-Term Missions Make a Difference | Missionaries don't keep giving after they return; hosts prefer money to guests, Calvin sociologist finds. (June 20, 2005)
STEM Int'l has more information on short-term missions, including missions opportunities. The ministry will launch Mission Maker Magazine in late September.
Peterson's "Maximum Impact Short Term Missions," "Is Short-Term Mission Really Worth the Time and Money?" and "Can Short-Term Mission Really Create Long-Term Missionaries" can be purchased at the STEM International site.
Earlier Christianity Today coverage of short-term missions includes:
Agencies Announce Short-Term Missions Standards | Similar codes have been established in Great Britain and Canada. (Sep. 30, 2003)
McMissions | Short-termers have their place, but not at the expense of career missionaries. A Christianity Today editorial by Miriam Adeney (Nov. 11, 1996)
See also Marshall Allen's October 2001 article for FaithWorks magazine, "Mission tourism?"
This American Life, a public radio show, spent a week with the youth group from Covenant Presbyterian Church in Chicago as they took a missions trip to West Virginia.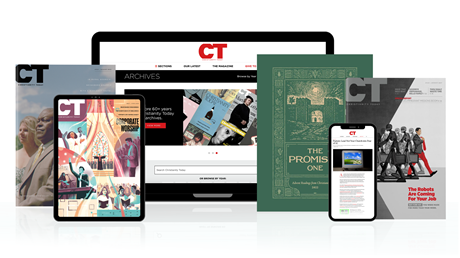 Annual & Monthly subscriptions available.
Print & Digital Issues of CT magazine
Complete access to every article on ChristianityToday.com
Unlimited access to 65+ years of CT's online archives
Member-only special issues
Subscribe
Mission Trips or Exotic Youth Outings?
Mission Trips or Exotic Youth Outings?