true
Despite what you may see in the advertising, this is not your father's Walt Disney; they only distribute the film. But many are calling 64-year-old Hayao Miyazaki the "Japanese Disney," and for good reason. His movies are acclaimed by critics and audiences alike—some have become the top grossing films in his own country while also delighting audiences all over the world. In 2002, he earned the Oscar for Best Animated Feature with Spirited Away, continuing to make great strides in broadening the appreciation for Japanese anime through dense storytelling and occasionally breathtaking animation.
Released in Japan last November, Howl's Moving Castle is already another international blockbuster. But instead of drawing upon Eastern mythology and folklore, this one is based on a popular 1986 children's book written by fantasy author Diana Wynne Jones (who studied at St. Anne's College in Oxford, attending lectures by C. S. Lewis and J. R. R. Tolkien). A modern-day fairy tale very much in the same spirit of Grimm's fairy tales and Beauty and the Beast, some have called this a precursor to Harry Potter.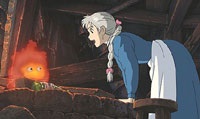 The story centers around Sophie Hatter (voiced by Emily Mortimer of Dear Frankie), the eldest daughter who has taken up the family trade of hat design (naturally), resigned to the idea that happiness and excitement will never be part of her life. Which seems hard to believe considering she lives in such a picturesque European-styled town by the sea—and with reports of the titular castle roaming the countryside. Howl, the keeper of the castle, is rumored to be a vicious wizard that woos beautiful young maidens, only to literally steal their hearts. Sophie begins to wonder otherwise when one day after work she's literally swept off her feet by the dashing young wizard (Christian Bale of Batman Begins).
Unfortunately for our heroine, the Witch of the Waste (Lauren Bacall), out of apparent jealousy, turns Sophie into an old woman (Jean Simmons), who goes off into the wilderness to find the sorceress and reverse the curse. Along the way, she encounters an enchanted scarecrow and Howl's castle, an imaginative blend of metal, brick, and wood that clamors over the landscape like a magical 19th-century Imperial Walker from Star Wars.
There, Sophie meets Calcifer (Billy Crystal), the feisty fire demon that powers and operates the castle, his fate mysteriously intertwined with Howl's. She also befriends Howl's young apprentice Markl and decides to serve as the wizard's cleaning lady. Howl, meanwhile, is caught between two warring factions that desire to use wizards to destroy the other side. He prefers to remain free and neutral, not because he's a pacifist, but because he's something of a selfish coward. It soon becomes clear that Sophie's not the only one in need of rescue from curses and other plots.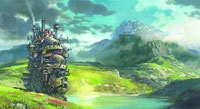 Fans of the book may notice that Miyazaki's film makes significant alterations to the plot. The royal wizard Suliman, Howl's magical mentor, is now a woman (Blythe Danner) and perhaps a little more sinister. Then there's the war subplot, absent from the book's central story, though giving the film some additional dramatic backdrop and tension.
Miyazaki makes the story his own, especially through the visuals, setting the world in a strange blend of fairy tales and early 20th century technology. Yes, there are castles, kingdoms, and magically adept characters. Howl's home has a magical doorway that serves as a portal to multiple times and places. Curses are cast, appearances are altered, and some can magically breeze through the sky. But there are also steam-powered cars, ships, and factories. Simply constructed aircraft straight out of Jules Verne whiz across the sky, including giant airships that resemble those in Flash Gordon or Sky Captain. The combination of the Euro setting, the retro machinery, and a missing prince that starts the war echoes the period that led to World War I, though the aerial bombings in the film also evoke WWII's attacks on London and Tokyo. Like his previous films, Miyazaki delights in immersing his audiences in fantasy, showing us things we've never seen before.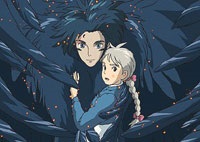 Or haven't we? A girl finds herself at peril with a grotesquely large witch. She takes a job cleaning a magical building and finds a magical portal to other dimensions. The girl falls for a magical young man able to transform himself into a flying creature. Cursed characters are transformed into other creatures, seeking to restore themselves. Every one of these elements was present in Spirited Away.
Also like Spirited Away and most English-dubbed Japanese anime, the characters are sometimes voiced awkwardly. Because the animation is paramount, English-speaking actors are required to deliver their lines at the same pace as the original Japanese. That results in some occasionally stilted dialogue and delivery, though English-language director Pete Docter (formerly of Pixar Animation) does a fair job of making the characters fun while preserving the original film's story and vision.
Perhaps the greatest frustration is how abruptly the story wraps up in the last few minutes. Miyazaki has fun playing with the nature of Sophie's curse throughout the film—at times she appears as a young woman with grey hair. By the end, it's not entirely clear whether she reverts to her younger self at night, or when emotions rise, or something else. The same is true of Howl and Calcifer. Multiple viewings might help with this, but after investing in the complexities of the story and characters for nearly two hours, a clear explanation at the end would have been preferable to oversimplification. Miyazaki expects audiences to come away with questions that they can answer on their own, and that can be equally refreshing and frustrating. It's hard to discern what's accidentally left out, what's intentional, and thus what we're supposed to interpret as clues.
That's not to say that Howl's isn't a crowd-pleaser. This is generally a charming fairy tale filled with wonder and emotion. It's a curiously romantic film too, considering that at times we're witnessing romantic exchanges between a young birdman and a bossy old woman—not much stranger than the beauty that falls for the hairy beast or the frog. There's also some great humor, particularly in Crystal's cute portrayal of the living flame Calcifer, one of the more imaginative characters in recent children's fiction. A wheezy old dog is also played for laughs, as is the scene when Sophie begins to clean the castle and Markl panics over changes to his room like any other young boy.
Hard to say what some Christians will make of the magical elements in the plot. There's a brief offhand reference to "spirits of darkness," but most of the demons are really frog princes—people cursed by another's magic. The exception is Calcifer, though here, the term "fire demon" seems more a type of creature than some servant of Satan. Like Harry Potter and The Lord of the Rings, the wizards and witches don't seem to be practicing incantational magic, though there are some ancient runes to work some spells. It's all treated more like a fantasy on the order of Star Wars or The Chronicles of Narnia. (Also, is it just me, or does Sophie offer something like a prayer toward the film's end? And if so, to whom?)
Looking past such semantics, this is a delightfully fanciful movie with engaging storytelling, visual wonders, and such worthwhile themes as contrasting wisdom and perspective with age, or the responsibility that comes with having a human heart (and soul). There's a place for silly CGI cartoons laced with sophomoric humor and pop culture references, but Howl's Moving Castle also makes a strong case for mature, complex tales told through beautiful hand-drawn animation.
Talk About It
Discussion starters
In the character of Sophie, we meet someone who learns to mature by having old age thrust upon her. How does this movie contrast and characterize youth with adulthood? What does it say about how perspective changes as we grow older?


The strongest theme in this movie seems to be the responsibility of a heart and the "heavy burden" associated with it. What does the Bible have to say about the human heart? What are some of its strengths and some of its weaknesses? Since we are unable to magically keep our passions and emotions in check, how are we expected to?


Which characters act wisely and which act foolishly? Are maturity and wisdom mutually exclusive or inherently related? How do matters of the heart pertain to these traits?


Are Madam Suliman's intentions good or evil? How does her relationship to Howl and explanation of his origins resemble God's relationships to us? (Consider Jesus' parable of the talents in Matthew 25.)


The Family Corner
For parents to consider
Though Howl's Moving Castle is rated PG in part for "brief mild language," I didn't even notice it. It's the "frightening images" that could prove too intense for young children. Really, this film is simply too mature and confusing for little kids, especially if they're still too young to discern that magical creatures and spells don't represent the realities of a Christian worldview. The book is recommended for the sixth grade reading level, which seems a good age minimum for this film as well. And adults will enjoy it too.
Copyright © 2005 Christianity Today. Click for reprint information.
What Other Critics Are Saying
compiled by Jeffrey Overstreet
from Film Forum, 06/16/05
"Hayao who?"
That's what a lot of moviegoers exclaimed when Hayao Miyazaki's Spirited Away won the 2003 Oscar for Best Animated Feature. But for animation buffs and Miyazaki fans worldwide, it was a moment to exclaim, "It's about time!"
Now, Miyazaki has another feather to put in the cap of his legendary career: Howl's Moving Castle, distributed in the U.S. by Disney after becoming a box office record-breaker in Japan. The movie is sure to surprise, delight, and challenge audiences who are accustomed to oversimplified family entertainment.
Article continues below
While the plot is too complex for me to summarize here, the unforgettable characters are worth mentioning: a curious young girl suffering a curse that advances her age about sixty years; a talkative open flame who needs to be fed regularly; a powerful, winged wizard caught in the midst of a war fraught with air raids; an apprentice wizard who hides behind an extravagant beard; a meddling, frowning, scurrying hound; the most interesting scarecrow since The Wizard of Oz; and the castle itself … which deserves an Oscar for Best Performance By a Building.
And the critics are happy too, even if this film finds the master recycling some of his favorite ideas.
Harry Forbes (Catholic News Service) raves, "Miyazaki's utterly absorbing film— which tops his last masterwork, Spirited Away—works so well on many levels that it can be equally appreciated by children and adults. It imparts clear and admirable messages about abhorring a senseless war, taking a moral stand when you must, having tolerance and respect for the aged, forgiving your adversaries and appreciating life's beauty." He calls the animation "a joy to behold," and praises the film's "avoidance of formula."
Miyazaki's mainstream critics are once again overjoyed, except a few who find that the meandering plot spoils the surprises along the way.
from Film Forum, 06/23/05
I've posted my full review of Hayao Miyazaki's latest animated masterpiece at Looking Closer.
Darrell Manson (Hollywood Jesus) writes that Miyazaki's films "always have a spiritual aspect to them. They may not have a Christian worldview, but they still allow us to consider life that is to be lived in harmony with spiritual reality. … Whenever we are invited in to Miyazaki's beautiful world, we find great beauty and spiritual food."
from Film Forum, 07/14/05
Josh Hurst (Reveal) says it's "as essential and timeless as anything in the Miyazaki canon. … Howl's Moving Castle, like all of Miyazaki's films, is a strong testament to the animator's rich, unrelenting imagination. It's filled with so many bizarre characters, delightful plot twists, and astonishing visuals that it makes George Lucas' enduring fame and Miyazaki's relative North American anonymity seem cruelly unfair."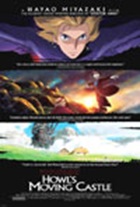 Browse All Movie Reviews By: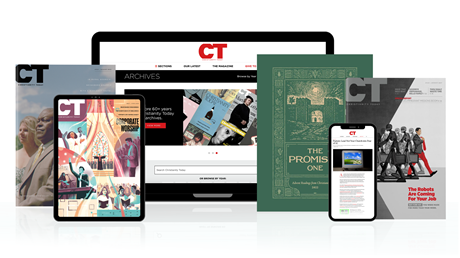 Subscribe to Christianity Today and get access to this article plus 65+ years of archives.
Home delivery of CT magazine
Complete access to articles on ChristianityToday.com
Over 120 years of magazine archives plus full access to all of CT's online archives
Subscribe Now
Howl's Moving Castle
Howl's Moving Castle