true
Christian moviegoers everywhere are waiting for Aslan to appear on the big screen. They don't have long to wait; he's coming to a theater near you on December 9.
Barbara Nicolosi of Act One: Writing for Hollywood, who frequently reviews films on her blog Church of the Masses, saw a somewhat-unfinished cut of The Lion, The Witch and The Wardrobe this week, and posted good news for Narnia fans.
"The movie is lovely," she raves. "The print we saw had some special effects still in stages, but it didn't detract from the stunning vision the movie radiates off the screen. England is musty and dreary. Narnia is a wonderland. The kids are going to love it. They are going to want to walk through that wardrobe with Lucy time after time."
She adds, "But best of all, contrary to Peter Jackson's agenda-aversion manhandling of Tolkien's classic, here, the tone of LW&W is as close to the book as probably could have been achieved. All the lines the Christians are worrying about are in there. All the scenes you want to see are here and lovingly rendered."
But there are still several weeks left before Narnia graces the big screen. If Christian film buffs can't find anything they're interested in for now, perhaps they'll be surprised to learn that a film based on one of Christ's parables is presenting the gospel quite plainly on the big screen this week.
In fact, it's called The Gospel, from director Rob Hardy. It features a rousing soundtrack of gospel music.
Hardy, previously credited as the director of a "sexual thriller" trilogy that "plays like soft-core porn," has much richer material in this PG-rated story about David Taylor (Boris Kodjoe), who turns "prodigal" and becomes a rock star. When his single "Let Me Undress You" makes him famous, he learns that his father (Clifton Powell), an Atlanta preacher, is dying, and must decide what to do about the troubles brewing at the church back home. Can you guess what's coming? That's right—a benefit concert.
LaTonya Taylor (Christianity Today Movies) says this retelling of "The Prodigal Son" is "rife with real-life conflict, careerism, church politics and more than a hint of romance. … All in all, The Gospel is a more-than-fine movie—the kind of movie Christians who like to complain about Hollywood should support, and the kind of film that may also appeal to people who aren't interested in church. There are real, developed characters here, a number of interesting storylines, resolutions that are realistic and faith affirming, and a lot of good music."
Tom Neven (Plugged In) writes, "Pastor Taylor opens a sermon with, 'The God I serve is an awesome God.' This, in turn, is an awesome film. It has been a long time since such a clear presentation of the gospel, in both word and deed, has appeared on the big screen. Best of all, this gospel message is woven into a compelling story of realistic, flawed human beings who know they need God's grace. There's nary a plaster saint in sight, and there's no moral merely tacked onto the end of this story; it's lived throughout.
And the music! Anyone whose toe is not tapping by the end simply can't hear."
Rosemarie Ute Hoffman (Christian Spotlight) says, "Hardy … has done a brilliant job in making art imitate life. He skillfully removes the veil from our eyes as he exposes each layer—the inner-workings of church, the complicated relationships in the midst of church family, the humanness of spiritual leaders, and how they often confuse progression for spotlight."
David DiCerto (Catholic News Service) says, "You wouldn't expect a soulful reimagining of the New Testament prodigal son parable from a filmmaker whose credits include mostly erotic thrillers. But that's what director Rob Hardy has crafted … an elevating, if melodramatic, redemption tale that raises the roof as it lifts your spirit."
But he adds, "From a dramatic standpoint, however, the movie could have used less hand-clapping and more story and character development. Dynamic though they are, the gospel performances begin to feel like padding for an undernourished script."
DiCerto's reservations about the film's artistry is echoed in many mainstream reviews, and the film is being poorly received by most secular publications.
Laura Kern (New York Times) says, "Set against a lively, music-filled African-American church, The Gospel … endeavors to be a powerful tale of faith and forgiveness, but in the end fails to capture even the slightest essence of spirituality and religious belief, or to provide any real insight into its characters' conflicts, desires and motivations."
More mainstream film reviews of the film are posted here.
Wallace & Gromit

get their big-screen break

The Gospel isn't the only new film earning raves from the religious press.

Nick Park, whose beloved claymation characters Wallace and Gromit have won Oscars, has finally fulfilled the dreams of fans by bringing the eccentric inventors to the big screen. And sure enough, Wallace & Gromit: The Curse of the Were-Rabbit is earning rave reviews from almost everyone. It's earning higher praise than even Aardman Animation's previous feature-length film, Chicken Run. And sure enough, Park looks like the frontrunner for this year's Best Animated Feature honors at the Academy Awards.

Peter T. Chattaway (Christianity Today Movies) says it's "full of the British wit and kinetic action-movie thrills that have made Nick Park's cartoons so popular. Puns abound, from the 'dogfight' between two dogs on a moving plane to the titles of books and newspaper articles, and fans of Watership Down—another movie about rabbits—will appreciate the quick reference to that film."

He offers cautions as well, concerning "a fair dose of suggestive humor and innuendo" and "a caricature of the English clergy." But he concludes that it's "still a lot of fun."

Steven D. Greydanus (Decent Films) raves, "Curse of the Were-Rabbit, along with the more mature and genuinely macabre Corpse Bride, represents a creative triumph of artists working in a form of hand-done animation older and clunkier than cel animation, poseable puppets. It's a giddy, soaring success, and a welcome return for two old friends."

David DiCerto (Catholic News Service) says, "Apart from a few 'naughty' jokes that will probably go over the heads of most children, Wallace & Gromit: The Curse of the Were-Rabbit is recommendable family entertainment."

Tom Neven (Plugged In) calls it "another piece of inspired lunacy. [Park] has given us another film chock-full of groan-inducing puns, wacky wordplay and sight-gags galore. … Park's particular genius is telling terrifically funny stories through stop-motion animation. When you consider that each character is moved in tiny increments to match the film's 24-frames-per-second speed, you marvel all the more at Park's skills."

Mainstream film critics rate the film as one of the year's best.
Two for the Money

"a vulgar and muddled mess"

Al Pacino seems capable of two performances. Some are complex, subtle, and engaging (The Merchant of Venice, Insomnia, The Insider, The Godfather II). Some are over-the-top, dominating, and involve a lot of shouting (The Devil's Advocate, Scent of a Woman, Any Given Sunday.)

Two for the Money, starring Pacino, Matthew MacConaughey, and Rene Russo, falls in the latter category. But according to many critics, Pacino's "scene-chewing" performance may be the best thing in the film.

Director D.J. Caruso's film about the obsession and debauchery related to sports betting strikes Russ Breimeier (Christianity Today Movies) as "an ethical parable about the perils of gambling, portraying an incremental descent into sin caused by exploiting the weaknesses of others. But the film is ultimately a vulgar and muddled mess of story ideas from other movies—essentially the story of Wall Street with the setting of Any Given Sunday."

David DiCerto (Catholic News Service) writes, "McConaughey's cockiness and Pacino's histrionics aside, the real problem with the testosterone-juiced movie is that it lacks a likable character … or a strong script. Smart money will go elsewhere."

Adam R. Holz (Plugged In) says, "From a content-oriented perspective, the spread on Two for the Money is far too wide. But it's too bad the filmmakers decided to go to such extremes, because they've done a forceful job (in other ways) of showing the injurious power of addiction. Al Pacino's performance is riveting—and horrifying as you slowly realize just how damaged his character truly is. His insatiable longing for something to fill his emptiness brings him—and those close to him—to the brink of destruction."

Mainstream critics urge viewers to save their money.
Cameron Diaz shines in
Shoes
Cameron Diaz is earning the best reviews of her career for her performance in director Curtis Hanson's In Her Shoes, and Hanson continues to inspire admiration for his versatility.
Diaz plays Maggie, whose relationship with her sister Rose (Toni Colette of The Sixth Sense) breaks down due to their drastically different lifestyles. Banished from her sister's home, Maggie drives to Florida and becomes reacquainted with their estranged grandmother (Shirley MacLaine). Increasingly emotional developments ensue.
"I see you sitting there, taking out the box labeled 'chick flick,' poised to toss this one in," says Lisa Ann Cockrel (Christianity Today Movies). "But before you do that, remember that Hanson's most recent movies include 8 Mile, Wonder Boys, and LA Confidential. Add producer Ridley Scott … to the mix, and it's not the kind of pedigree one would expect to produce an estrogen-driven hug-fest. And indeed, while the story is about relationships between women, the narrative is a study of family dynamics that's worthy of attention whether you're a chick into flicks or not."
Harry Forbes (Catholic News Service) says, "The underlying bond between these two very different sisters is affecting. … If the Jewish milieu isn't entirely convincing, director Curtis Hanson's unabashedly sentimental film … eventually imparts good messages about family and forgiveness, with a morally sound, feel-good conclusion. Chick flick or not, men should have no trouble responding to the very human elements of the story."
Christian Hamaker (Crosswalk) notes "a standout performance from Cameron Diaz," and concludes that the film's resolution is "enough to break down the defenses of the most hardened viewer, leaving a warm glow after the film's chilly start."
Christopher Lyon (Plugged In) says, "In Her Shoes is a chick flick in the best and worst senses of that shorthand. It's a movie about relationships in which the characters talk and talk and talk. Significant moments involve those characters learning to accept themselves, learning to trust each other, and, you know, 'growing.' Removing all doubt, it's a story about sisters that involves betrayal, the death of a significant loved one and, well, shoes! But, of course, not all chick flicks are created equal. This one is definitely a mixed bag both artistically and in the messages it delivers."
He says the "big messages" are "positive," but there are also misleading perspectives on sex.
Mainstream critics are mostly positive about the film.
Still
Waiting…

for a good review

A crass comedy about food service, Waiting… is being pelted with rotten tomatoes from all manner of film critics this week.

The promotional materials describe it as "a hilarious comedy about frustrated waiters, stingy tippers and dicey food" and "a hysterical, behind-the-scenes look at the restaurant industry, and an affectionate ode to those lost, and thoroughly unproductive, days of youth."

Christian critics think differently. David DiCerto (Catholic News Service) calls it "an unappetizing and unfunny menu of trashy sex jokes and gross sight gags."

Marcus Yoars (Plugged In) says, "As far as accurately portraying the grimy underbelly of the food industry, Waiting…. hits the nail on the head. … But absolutely none of that makes this plot-less, pointless, puerile and profane movie worthwhile. Scores of even mediocre movies have captured the tone of a culture or topic with remarkable precision while avoiding the deep-sea dive this film takes into extreme vulgarity and tastelessness."
Dear Wendy

satirizes love affair with guns

Director Lars Von Trier stirred up controversy amongst Christian film critics last year for his bold, minimalist drama called Dogville. They seemed to either love it or hate it. This year, the sequel called Manderlay is earning mixed reviews at film festivals, but it has yet to screen for most critics.

Meanwhile, Von Trier's script for a film called Dear Wendy has been directed by Thomas Vinterberg, the acclaimed filmmaker who made The Celebration. Filmed in Denmark, Dear Wendy tells the story of a small American mining town, in which a miner's son (Jamie Bell of Billy Elliott) forms a club called The Dandies, a group of kids obsessed with their handguns. Like David Cronenberg's current hit A History of Violence, this is all headed toward violence … and a commentary on violence, of course.

Ron Reed (Christianity Today Movies) writes, "Whether you love or hate this movie may depend on whether you feel it's your nose that's being tweaked by the town fools. If you're pretty convinced that guns don't kill people, etc., that your country's more right than wrong and that America's current war 'is really about peace,' you'll likely find this movie by a couple of Europeans facile, as condescending and self-righteous as its misguided central character. On the other hand, if you consider all this Gunfight at the OK Corral stuff a poor way to run a country, Dear Wendy may seem a perfectly appropriate response, gleefully deconstructing our love of power and the dreadful gravitational pull of violence."

Darrel Manson (Hollywood Jesus) says, "It is true that this film can and should be seen as being about more than America. It is not only about us, it is about the way the feeling of power can seduce us into thinking our virtue is enough to restrain us, even if others can't be trusted with such power. … Obviously this film will not be winning any awards from the National Rifle Association. But it may not be accurate to call it anti-gun. What it does is challenge our romantic ideas about guns and our idea that our guns (and other weapons) really give us security. … As with almost all films from von Trier or Vinterberg, Dear Wendy will upset a number of people. Perhaps what makes their films so upsetting is not just their outsider status as they look at American culture, but also that there is truth in what they tell us about ourselves."

Harry Forbes (Catholic News Service) says it's "offbeat, sometimes compelling, but ultimately puzzling. … Vinterberg skillfully shows how these lonely teenagers become enamored of guns and, though never intending to use them for violent means, are swept up in the weapons' mystique and power. It's a highly intriguing premise, with parallels on a global scale, but the picture falls far short of gripping."

Mainstream critics are disillusioned with Vinterberg's work.

More reviews of recent releases

Serenity: Peter Suderman (Relevant) joins last week's parade of rave reviews from Christian critics. He writes, "Serenity works because it doesn't strive to be anything more than it is: a gussied up B-movie that pays tribute to both sci-fi and Western cliché s. Unassuming and unpretentious, it bests blockbusters with three times its budget, all while keeping both its brains and its cool; in fact, you might just call it serene."

A History of Violence: Michael Leary (Image Facts) writes, "The film is as straightfoward as Mystic River in its attempt to actually show us violence in a generational scope. Comparisons to Unforgiven also seem to be helpful; perhaps we could classify this as Cronenberg's 'western.' Tom certainly is the lone 'white hat' going back into a world of outlaws, knowing that he has to be like them to defeat them. Eastwood is heavy handed at the end of Unforgiven with the idea that vengeance can send one straight to the living purgatory of unforgivable sins. And though Tom's actions could be described as self-preservation or the protection of others, the ease with which violence comes to him easily places him within the moral scope of the gunslinger."

Oliver Twist and A History of Violence: Andrew Coffin (World) compares the two films from Polanski and Cronenberg and concludes, "Oliver Twist may seem simplistic in its representations of good and evil, but the fact that they are allowed to exist together on screen—and even in the same character—provides for complexity that powerfully overshadows Mr. Cronenberg's existential muddle."

Oliver Twist: Kenneth R. Morefield (Christian Spotlight) says it's "competently acted and perfunctorily faithful to the plot (if not the spirit) of Dickens's novel. Why, then, does watching it seem like such a chore?" He adds, "It is odd that of all Dickens's novels, Oliver Twist should have the most celebrated and varied theatrical life. Perhaps the story of an orphan eventually escaping poverty resonates with modern beliefs in upward mobility. Narratively, however, Oliver Twist presents several problems."

He goes on to explain that Oliver himself, as the central character, is "more reactant than agent; his changes in fortune are wrought more by what others do to him than by what he does for himself." He also notes that "the film borders on prettifying material that Dickens intended to be difficult and disturbing to look at."
Browse All Movie Reviews By: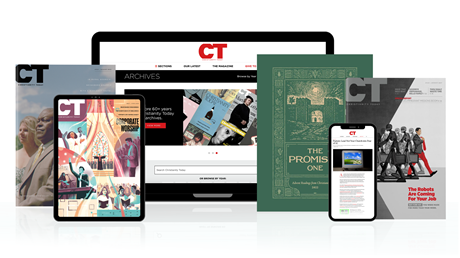 Subscribe to Christianity Today and get access to this article plus 65+ years of archives.
Home delivery of CT magazine
Complete access to articles on ChristianityToday.com
Over 120 years of magazine archives plus full access to all of CT's online archives
Subscribe Now
The Gospel, Gromit, Girls, Gambling, Guns
The Gospel, Gromit, Girls, Gambling, Guns