| | |
| --- | --- |
| | • |
Mark Lomax, in clerical collar, rubber boots and green Vatican City baseball cap, was standing outside his ruined St. Mark Catholic Church in the fetid stink of desolate St. Bernard Parish, when four neighbors spotted him from across the street.
"My God, look who it is!" a jubilant Paul Gremillion called back to his wife and two neighbors. The priest and his church members embraced in the middle of a mud-caked street, sweaty and dirty from foraging in the greasy sludge that coated the floors of their homes.
As usual, tears came quickly. "Oh Father, will we have a church again? Will there be a parish?" one of the women asked, her voice quivering. "We'll see. A lot's going to depend on the government and where they let us rebuild," Lomax said. "But you can be sure of this: Wherever the people are, the church will be there, too. It's just not clear where that's going to be yet."
So it goes around metropolitan New Orleans, in southeast Louisiana and in Texas, where in muddy streets and make-do shelters, in borrowed hotel meeting rooms and even on the Internet, New Orleans pastors have confronted the most basic physical, spiritual and emotional needs of families who have lost all they owned.
"In the last couple of weeks I've done literally everything, from social work and mental health counseling to psychological and spiritual warfare," said the Rev. Charles Southall of First Emanuel Baptist Church. Southall is now displaced in Baton Rouge, tending to a few hundred of his scattered New Orleans flock.
Like them, he lost everything he owned. He delivered his first sermon after the storm in a borrowed pulpit, wearing a suit and shoes donated by his hosts. He is still locating members of his church, scattered from "sea to shining sea." He works with some and worries about the rest. Restful sleep has eluded him since Hurricane Katrina struck Aug. 29, he said.
"The need has grown so exponentially since the storm. It's so intense. I get two or three hours of sleep at a time and then I'm up. There's so much hurt, so much pain."
Yet in the midst of pain is a powerful recompense. Although physically and mentally exhausted and suffering their own material losses, many pastors say they have never felt more needed than in the past month, consoling, explaining, encouraging—or helping their people solve the practical problems of housing, food, and income.
Walter Austin, a Catholic priest and Louisiana National Guard chaplain, worked with nearly 30,000 evacuees in the squalid indignities of the Superdome for five days after the storm. He walked among the crowds in his military camouflage, a chaplain's cross on his black beret and a Bible in his hand.
He introduced himself and showed them how to prepare their military-issued rations. He preached morning Scripture services from atop a generator cart outside the stadium. He spoke from the book of Job, the tormented soul beloved by God. He promised them they were not abandoned.
Often, he said, they asked him to pray with them. "Prayer was such an instrumental part of their lives," he said. "And what they prayed for was not for God to get them out of this, but to comfort them and get them through it."
When, after five days, they began to file, exhausted and bedraggled, onto evacuation buses, many left the line to grasp Austin's hand in thanks. "Some had urine stains on their clothing. Do you understand what they went through?" he said. "But they were coming over to us to say goodbye and to thank us. And it was spontaneous, heartfelt. My being there meant something to them, and that was a real joy."
Said Southall, the displaced pastor of a remnant flock-in-exile: "They need to see the fearless leader. They need to see some human sign that God has not abandoned them when they need him most."
Southall is more than a theologian and counselor. In a time of overwhelming need he has become a housing broker, relief expert and red-tape cutter. Politically active before the storm, Southall has dozens of contacts in public life—people to be called upon to help secure a permit or speed up an application for relief. "You can't preach and teach until you've met their needs," he said.
Lomax has been back to his wrecked St. Mark's four times, each time encountering parishioners.
Officials estimate that every one of the 27,000 homes in St. Bernard will have to be bulldozed. Boats sit on roofs. Cars are upended on their noses, their rear wheels snagged on rooflines. The homes' interiors are a dark, unrecognizable chaos of overturned furniture, foul muck and sometimes poisonous snakes.
"It's always the same," Lomax said. "They burst into tears. They came back for something—anything—but they can't find even the pictures of the kids."
On one recent visit, Lomax retrieved a few personal items—a checkbook, car payment book, pictures of his late father for his 91-year-old mother, who lost everything in the Lakeview neighborhood.
Then he drove slowly up and down the streets lined with what used to be homes. Sometimes he encountered a couple standing empty-handed in front of a house. Sometimes he knew them, sometimes not. He'd stop and chat for a moment. "I'm sorry," he said. "God bless you."
"A priest is available to his people, but the biggest challenge for us today is finding our people," he said. "We're working out of our cars, our homes, our PDAs," said the David Crosby, referring to personal electronic devices that store names and telephone numbers. Crosby spends two to three hours a day on the Internet, reaching out to members of his First Baptist Church of New Orleans as they slowly populate a Web site, logging in with their location, contact information and stories.
In the month since evacuating before Katrina, Crosby said he's slept in 11 bedrooms in four Southern states. He has held prayer services for strangers in motel meeting rooms, evacuation shelters and borrowed churches.
He encourages his scattered flock electronically. "I'm sending out mass e-mails on a regular basis, to give them hope and strength for the journey," he said. "I tell them we're anchored in Christ, not our possessions, and that he will remain faithful to us. He will not abandon us."
Never have they been more challenged, they say. "Their homes are gone, their businesses swamped. They wonder what the future holds," Crosby said.
Bruce Nolan is the religion writer for The Times-Picayune in New Orleans.
Related Elsewhere:
Our full coverage of Katrina is available on our website.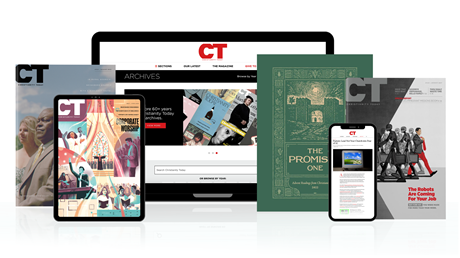 Subscribe to Christianity Today and get access to this article plus 65+ years of archives.
Home delivery of CT magazine
Complete access to articles on ChristianityToday.com
Over 120 years of magazine archives plus full access to all of CT's online archives
Subscribe Now
Weeks After Hurricane, Pastors Become Counselors, Healers, Social Workers
Weeks After Hurricane, Pastors Become Counselors, ...