| | |
| --- | --- |
| | • |
If anti-Americanism was running high in Latin America, disdain for missionaries had soared. Missionaries, one leader said, were Yankee imperialists, "an affront to the indigenous communities and to our national sovereignty." Rumors flew that Bible translators living among remote people groups were mining national resources and spying for the CIA, all under the guise of doing good things for the nation's tribal peoples.
Finally came an ultimatum: The evangelical mission that sends linguists to work among indigenous peoples must leave the country.
But in this case, the leader wasn't Venezuela's President Hugo Chavez, who last week claimed New Tribes Mission (NTM) had committed such abuses and announced his intent to expel them.
The year was 1981. In neighboring Colombia, the Marxist M-19 rebel group cited these among other "reasons" and demanded the exit from Colombia of a Bible translation group unrelated to NTM, the Summer Institute of Linguistics (SIL).
In contrast to the current situation in Venezuela, the M-19 kidnapped SIL translator Chet Bitterman. Six weeks later, Bitterman's body was found draped in one of the guerrilla group's banners in a bus in a parking lot south of Bogota.
On October 12, Chavez spoke at an indigenous gathering marking Columbus Day, which Chavez has renamed "Day of Indigenous Resistance." At the gathering, he demanded that NTM missionaries leave the country, citing a roster of reasons, many of which were similar or identical to the M-19's demands of SIL 24 years ago. The country has also made it difficult for other mission agencies to gain access to the country. In response, the Mormon church has moved its Venezuela missionaries elsewhere.
Both SIL and NTM are evangelical frontier mission groups that translate Scripture into indigenous languages. Both advance literacy among these cultures, and carry out community development, health, and educational projects. Both groups' work is spiritual and developmental, not political. And though SIL has never worked in Venezuela, some news reports on the current NTM crisis have invoked SIL's name, claiming that the two groups are linked and that both have dark, hidden agendas.
Myths about frontier mission groups abound. Among some circles, urban legends about these groups never quite fall out of circulation, every so often resurrecting and recycling with different lives. But some groups and individuals seize on the accusations and view the missionaries with suspicion.
But why?
False accusations
Arthur Lightbody, spokesman for Wycliffe Bible Translators' technical support arm, JAARS, calls it guilt by association. "They see us there, and they see people there with development of resources and think we must be linked," Lightbody said. "It's conjecture because we're working in the same place.
"People don't get why we're there. They don't understand our motivation."
That motivation is fulfilling the Great Commission to make disciples of all nations. To that end, SIL'scalling is to provide Scriptures in the heart languages of people groups that don't have a translation of the Bible.
Anthropologists and others, however, have long resented missionaries' presence among tribal peoples. That's at least in part because of the myth of the noble savage, a worldview popularized by the French philosopher Rousseau. Man, Rousseau held, is good by nature and is only corrupted by civilization and society. It follows, then, that missionaries corrupt the tribal people, ruining their blissful, peaceful, happy lives with notions such as the sinfulness of man and the need for a Savior.
Another reason SIL anthropologist Tom Headland cited was "ethnocide," the idea that missionaries force their own cultures on tribal peoples, destroying indigenous cultures in the process.
Headland summed up the ideological struggle between those for and those against missionaries: "Their opinion is missionaries do more harm than good and should be sent home." In contrast, Headland points to what missionaries do in addition to sharing the gospel, including community development and helping people in need. "My view is that missionaries do more good than harm. (Chavez) is making a big mistake if he sends (NTM missionaries) home."
Headland said that hostility toward missions spread with James Michener's popular novel Hawaii, which vilified missionaries. After the1966 movie, many asked Headland, then ministering in the Philippines, whether he wore a long black coat in the jungle as did the fictional missionaries in the film.
Sam Olson, who heads the Evangelical Council of Venezuela, said that in the 1960s and 1970s, NTM Venezuela was accused of collusion with the CIA and mining and exporting resources. Venezuela's Congress authorized hundreds of hours of on-site investigations that found the charges groundless. "After that, everything calmed down and missionaries continued with the work," Olson said.
Resisting CIA collusion
What hasn't helped Christian missions' images have been scattered cases that came to light in the 1970s where CIA operatives pressured missionaries to share information. U.S. congressional debate arose in 1975 concerning the government's use of clerics, missionaries, and journalists to glean intelligence. In Central America in the 1980s, for example, the CIA approached several missionaries, seeking information about leftist regimes and rebel movements. SIL and NTM have policies forbidding their workers from collusion.
Most other evangelical missions agencies appear to have such policies as well. As a Campus Crusade for Christ missionary in the 1970s, Scott Moreau, Wheaton College professor of intercultural studies and missions, remembers leaders warning in prefield training of the possibility of being approached by the CIA. Crusade leaders told the missionaries to avoid cooperation. The issue surfaced again in 1996 when CIA director John Deutch refused to disavow using missionaries and journalists as informants.
Headland provided CT with 16 instances where SIL responded to allegations of CIA collusion in letters to public officials ranging from Sen. Mark Hatfield to President Ford. SIL founder and director Cameron Townsend wrote Hatfield in a 1975 telegram: "Some of the rumored activities of the CIA in foreign lands are downright criminal. No upright citizen should have anything to do with them, much less 'missionaries' … My organization [is] the Summer Institute of Linguistics … We never meddle in the affairs of other countries."
In 1976, Townsend wrote Ford a letter asking CIA agents to not seek information from U.S. citizens who live abroad and work under contract with those governments or one of their universities, as SIL workers do. He also asked that missionaries be exempted from CIA interrogation. Wycliffe Bible Translators regional director Lester Troyer thanked Hatfield in a January 3, 1976, letter for proposing legislation to block the CIA from using missionaries as informants. On January 23, 1976, Townsend wrote Hatfield, "May I suggest that Congress put an end, at least on an experimental basis, to the meddling of the CIA in the affairs of other independent nations?"
The myth of missionary colonialists
Although both SIL and NTM also minister in Africa and Southeast Asia, anti-missionary sentiment is concentrated in Latin America. It grew in the 1970s and 1980s. At least two popular books alleged SIL involvement in covert activity. "There's a lot of resentment against North American imperialism in different countries of Latin America," Headland said.
In the late 1970s and early 1980s, Ecuador, Peru, and Mexico each moved to boot SIL, citing reasons similar to those Venezuela is now invoking in seeking NTM's expulsion. In the early 1980s, Colombia was moving to expel Bible translators in response to rebel disinformation the public widely believed. In Colombia, for example, the guerrillas claimed missionaries were mining and exporting emeralds, even prompting government divers to search a lake near SIL's headquarters south of Bogota, where SIL allegedly had stashed jewels.
Chet Bitterman's martyrdom, however, proved an opportunity for the public to understand why SIL was there. Bogota's El Tiempo newspaper published Bitterman's Scripture-filled letters that expressed his heart for translating God's Word for those without a Bible in their native language. After the rebels killed Bitterman, who was buried at SIL's Colombia compound, public sentiment favored the mission group, which the government allowed to stay.
In Ecuador, sentiment ran strong against SIL because of what Headland called these "same old, same old" allegations. SIL's Ecuador ministry included medical clinics, schools, and an agronomy program that created varieties of pasture grasses and disease-resistant bananas. In 1981, Ecuador's government asked SIL to leave. By 1982, however, Ecuador's indigenous community had organized marches in support of SIL. Their outcry, along with that of others in the country, moved the government to ask SIL to stay. SIL remained on a scaled-down basis until 1992. Peru and Mexico had similar reversals. Today, SIL's presence in Mexico remains greatly reduced.
Wheaton's Moreau said that unless the United States becomes a "third- or fourth-rate political power, the whole idea of missionary-CIA connections will never die. … The myth of the CIA and the not-ever-completely dead myth of the missionary colonialist working together can empower that type of thinking."
Related Elsewhere:
Earlier reports on the New Tribes expulsion include:
Venezuela Debates New Tribes Mission Expulsion Order | Government officials, others call Chavez decision unconstitutional and harmful. (Oct. 19, 2005)
Venezuela to Expel New Tribes Mission | After additional Robertson comments, President Chavez accuses "imperialist" mission agency of working for CIA. (Oct. 14, 2005)
Some blame the explusion on Pat Robertson's recent comments on Chavez.
The New Tribes Mission website may have more updates over the weekend. Google News will track newspaper reports, but readers who understand Spanish will find Google News's Argentina site more informative.
Christianity Today's earlier coverage of New Tribes Mission includes articles on Martin and Gracia Burnham and the Panama hostages. Christianity Today sister publication Today's Christian recently published missionary daughter Joanna Harris's account of a mission compound invasion in Colombia.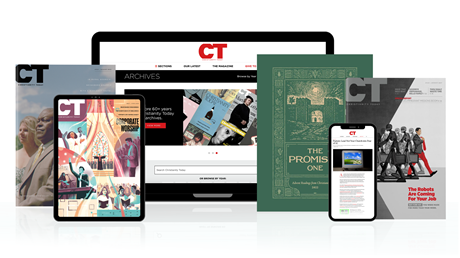 Subscribe to Christianity Today and get access to this article plus 65+ years of archives.
Home delivery of CT magazine
Complete access to articles on ChristianityToday.com
Over 120 years of magazine archives plus full access to all of CT's online archives
Subscribe Now
Why Is Venezuela's Chavez Singling Out New Tribes Mission?
Why Is Venezuela's Chavez Singling Out New Tribes Mission?