true
There's a three-minute sequence toward the end of Doom that could win an award for most faithful cinematic recreation of a video game, if such an award actually existed. It's based on the famed video game from the early '90s of the same name that popularized the "first person shooter," a revolutionary style of entertainment that comes close to virtual reality by immersing the player in a three-dimensional environment. We see through the character's perspective, running down dark futuristic corridors with weapons blazing as monsters leap from the shadows. It's a trip for anyone who grew up loving adrenalized sci-fi action movies like Aliens.
The movie admittedly does a good job faithfully rendering this experience in its brief homage, but it begs the question of why the movie needed to be made. As a fan myself, I found it very much like passively watching the programmed action of the demo—fun to watch on the big screen, yet we've seen it before. And because the sequence is so brief and toward the end of the movie, there needs to be something to keep fans and neophytes engaged to that point. You know, things like plot and action—stuff that fleshes out a game into a memorable cinematic event? It's in this that the remaining 101 minutes of Doom are a complete failure.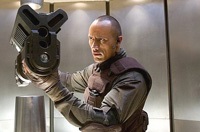 How hard can it be to screw up a movie like this? In the year 2046, something has gone awry at a remote scientific research facility on Mars, so an "elite" team of space marines is sent past the quarantine to investigate and, if necessary, eliminate any threat. That's essentially it—as they said in Aliens, "it's a bug hunt." We're not talking Shakespeare here. Give the audience some intense action, tie it together with a passable story, and attempt to develop the characters a bit. Never mind that this is based on a video game. If they can make an old Disney World ride like Pirates of the Caribbean into a success with even less back-story, then surely they can make this work.
Yet despite the accurate first-person sequence and overall set design, the filmmakers don't remain true to the source material. In the game, a dimensional portal to Hell itself is opened, allowing hordes of demons and imps to overrun the facility. (Immature of me, I admit, but I used to rationalize the game's violence as a form of spiritual warfare, since the battle is waged with Hell's minions, not other humans.) But that would of course require a bigger budget for elaborate sets and CGI effects, so instead, the film reduces the beasties to a genetic experiment gone wrong, transforming people into zombies who eventually mutate into more freakish creatures. Yes, there were zombies in the game, but by making them the focus, it changes Doom from something potentially unique into yet another Resident Evil.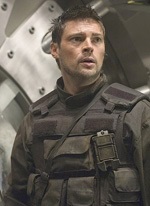 Also, movies as good as Aliens work because they have likeable characters whose safety we fear for as they get knocked off one by one. Doom relies on the thinnest of caricatures with such illuminating nicknames as Duke, Destroyer, Mac, and The Kid—if they weren't wearing all that combat gear, you would probably find government branding for fresh meat. The inexplicably less colorfully named Portman is meant to be the comic relief of the bunch (like Bill Paxton's Hudson in Aliens), but he's such a despicable character, you can't wait for him to meet his demise. Another solider nicknamed Goat represents the token Christian, but he comes off nutty when he starts to self-mutilate his arm after taking the Lord's name in vain.
Our leads are nearly as shallow, succeeding more from their recognizable faces than their acting ability. Sarge (ex-wrestler The Rock) is the intense leader, if you couldn't tell by the name, and he has "Semper Fi" tattooed on his back to prove that he is indeed a marine. Our hero John Grimm (Karl Urban) lives up to his name by wearing a permanent scowl the whole movie, supposedly related to a childhood tragedy from growing up on Mars—he's nicknamed Reaper, and if you don't understand why (Grimm plus Reaper? Get it?), the film actually bothers to explain it. His sister Samantha Grimm (Rosamund Pike) works at the facility as one of the scientists, yet despite her intellect and wasted attempts to explain the story, she's mostly present to wear a blank expression while occasionally screaming.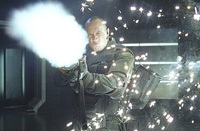 Films like Aliens also succeed because of a carefully staged story, however simple it may be. Doom is more like a series of ideas for a story that never develop. One of the more skittish marines takes some sort of narcotic to calm his nerves, and while it's made a big deal in two scenes, it never becomes relevant. Similar character traits and attempts to develop a story are introduced but immediately forgotten. Even central plot developments are confused. Samantha tells the marines that there are no genetic experiments going on, and then proceeds to show a video of a recent genetic experiment at her company.
But if the action is good, who needs story, right? Alas, the action is equally incomprehensible, not to mention surprisingly minimal. Since everything is in the dark, we never get a very good look at what the marines are shooting at. And though the video game lets you, as a single marine, mow down hundreds of monsters, the eight marines of the film collectively take out a handful. That's perhaps understandable considering that these monsters (like so many in movies) have the power to jam a rifle clip or render a flashlight useless right when they're about to attack. The marines actually spend as much time in the movie shooting corpses to make sure they're dead—if this is what passes for entertainment, I've got a great script involving fish in a barrel.
The movie starts out like preparation for the world's most serious and expensive paint ball tournament, but it ultimately yields little more than wandering around in the dark with flashlights. Call it hyper-predictability—I have never seen a movie with more false scares than this, yet so little payoff with the actual frights or action sequences. And Freud would have had a field day over the film's infatuation with the size of the guns, most notably the game's infamous BFG 3000 (the B and the G stand for Big Gun, so, use your imagination for the rest).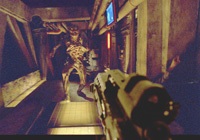 Seems like half of the marines die because of ineptitude. One of them actually buys it after laying his rifle on the floor while sitting in a dark bathroom stall. Another gets involved in a sort of cage match with a creature, and wins, only to fall to his death trying to get out of the pit. And in the film's most unintentionally funny scene, a marine transforming into a zombie literally bludgeons himself to death by throwing himself up against bulletproof glass four or five times; though probably meant as some sort of noble euthanasia, it's more like The Three Stooges.
Doom is a dud because it falls short in every way. Dialogue, action, scares—you name it, the movie botches it. What should have been a straightforward sci-fi horror/action film instead completely relies on its marketing of the game (and The Rock) to draw you in. Because it pretends to be a superior entry in the genre, it disappoints all the more from inflated expectations. It's irritating enough to make you blow off some steam by spending a couple hours gunning down demons.
Talk About It
Discussion starters
The video game Doom is controversial for its violence; the Columbine shooters were reportedly fans of it. Even if it's pretend creature violence, is it inherently wrong to enjoy the game? Do you believe it to be a cause or a symptom of violence in the world today?


Though the film's creatures are genetic mutations, one of the marines considers them demons. Do you believe in the existence of demons? If so, are there literally demonic creatures, or are they manifested in the world in some other way?


Consider the scene where Sam injects her brother with the mysterious chemical. How is her action an example of faith in her brother's inherent goodness? Does this jibe with what we believe as Christians concerning original sin and free will?


The Family Corner
For parents to consider
Doom is rated R for boatloads of bad language and strong violence/gore, including the usual zombie scares, severed body parts, and an autopsy of one of the creatures. The film is not recommended for children, sensitive viewers, or anyone with good cinematic taste.
Copyright © 2005 Christianity Today. Click for reprint information.
What Other Critics Are Saying
compiled by Jeffrey Overstreet
from Film Forum, 10/06/05
Doom is the latest attempt to make a memorable film out of a popular video game. And, like most products of this kind, it's taking a beating from the critics.
The movie follows a brother and sister who meet on Mars, where she's an archaeologist and he's a soldier. As they argue about their differing worldviews, they're drawn into a fight for their lives against some ugly monsters.
Slapping the film with a zero-star rating, Russ Breimeier (Christianity Today Movies) says, "Doom is a dud because it falls short in every way. Dialogue, action, scares—you name it, the movie botches it. … Because it pretends to be a superior entry in the genre, it disappoints all the more from inflated expectations. It's irritating enough to make you blow off some steam by spending a couple hours gunning down demons."
Adam R. Holz (Plugged In) says, "Doom is pretty much exactly what you would expect: clichéd characters marching through an extraordinarily violent story. [The movie] has nothing to recommend it. It will no doubt draw in some of the franchise's die-hard aficionados, but Doom's paint-by-the-numbers story line has already been rehashed so many times that it's simply pointless to revisit it. And when you add in a planet's worth of blood, gore and profanity, Doom is, well … doomed."
Mainstream critics would rather just play the game.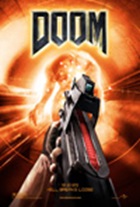 Browse All Movie Reviews By: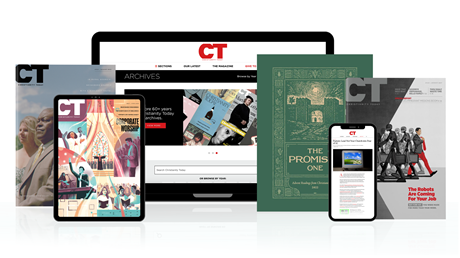 Subscribe to Christianity Today and get access to this article plus 65+ years of archives.
Home delivery of CT magazine
Complete access to articles on ChristianityToday.com
Over 120 years of magazine archives plus full access to all of CT's online archives
Subscribe Now
Doom
Doom