true
For months before the opening of sci-fi thriller Serenity, I've joined about 10 co-workers at least once a week at lunch to follow the trials and exploits, humor and pain of the film's characters. We've picked up a whole new lingo from them, saying things like "shiny" instead of "cool." We've gotten wrapped up in their romances and mysteries. And we've even had boisterous sing-alongs during their theme song.
Sure, it's odd to follow characters of a movie that wasn't even in the theaters yet. But it's probably even more unusual to follow characters of a show cancelled three years ago after less than half a season on the air. Firefly, an hour-long sci-fi Western about an outlaw starship begging and stealing its way through the fringes of space, only lasted 11 episodes before getting cancelled by Fox. Really, the show never had a chance. Badly marketed, inexplicably aired out of order, somewhat inaccessible to many TV viewers ("Wait, it's a western … in space?"), and put in the timeslot-of-death that is Friday primetime, Firefly was an easy kill. Heck, I've been a big fan of the show's mastermind Joss Whedon (creator of Buffy the Vampire Slayer and Angel) for years, and I didn't even watch all 11 episodes.
But then, an odd thing happened on Firefly's way to TV obscurity: The DVD set of all 14 produced episodes came out. Not even that big of a fan, I gave it a second chance: I watched the series from beginning to end (in the right order) more than once and was hooked. I apparently wasn't alone. Sales for the DVDs went through the roof. Word spread on the Internet. Soon, some rabid fans were even having Firefly lunches at work (and leading the subsequent sing-alongs).
So why the interest? Firefly was a cleverly funny and ...
1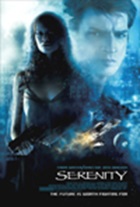 Browse All Movie Reviews By:
Serenity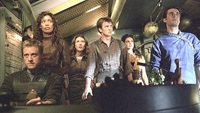 This slideshow is only available for subscribers.
Please log in or subscribe to view the slideshow.