It has been a good week—if you're a Gnostic. Most recently, Gnosticism popularizer Dan Brown won his case. Though if the case had gone the other way, other Gnosticism proponents would have won, too. Meanwhile, newspapers are proclaiming the newly released Gospel of Judas as a "fifth gospel" that truly "gives new insights into the relationship of Jesus and the disciple who betrayed him." Like the "insight" that Jesus and Judas both agreed with third-century Gnosticism a lot more than either agreed with first-century Judaism or orthodox Christianity. One of the best takes on the news is an op-ed in The New York Sun by Bruce Chilton—a member of the highly unorthodox Jesus Seminar.
Then there's word that most Americans hold a lot of Gnostic beliefs, too: 54 percent do not believe that "after you die, your physical body will be resurrected someday." Only 59 percent of "born again" Christians believe it—though the doctrine has always been an important part of orthodox Christianity and is in both the Nicene Creed and the Apostles' Creed.
Maybe Judas was in on the Sea of Galilee hoax that Jesus is now considered to have pulled on the disciples. An article in the Journal of Paleolimnology suggests that Jesus was able to walk on the water because parts of it had iced over. (It's a creative nice idea unless you've actually read the biblical passage.) Other science news this week is mixed: One study says prayer doesn't help you recover from illness (it may even make things worse), while another study says churchgoing helps you live longer. Then there are two news items on the evolution front, both of which are being promoted as serious blows to the anti-Darwinist crowd. The anti-Darwinists aren't convinced.
On further consideration, it seems like probably been a better week for hyperbole, overstatement, and not-quite-getting-it than it has been for Gnosticism.
Since we've been too busy to post Weblog items this week, there are of course dozens of important stories listed below. A few not to miss: Evangelicals discuss the immigration debate. Jack Abramoff tried to convince Sudanese officials that he could get conservative Christians off their backs. Evangelicals are turning their backs on Tom DeLay—and perhaps the Republican Party. John McCain embraces Jerry Falwell, whom he had called an "agent of intolerance" a few years ago. Michael Newdow's anti-Pledge crusade is returning. The Episcopal Church may make a U-turn (or perhaps more of a j-turn) on gay bishops. Afghanistan is on edge after the release of Abdul Rahman. Pakistan is on edge after a spate of church attacks. Alabama is on edge after a fresh church attack, too.
Gospel of Judas | Da Vinci Code | Bible and theology | Jesus walking on water | Churchgoers live longer | Prayer study | Prayer in schools | Religious literature in schools | Education | Christian and Muslims learning together | Evolution | Higher Education | Vagina Monologues at Notre Dame | Pornography | Homosexuality | Anglicanism and homosexuality | San Francisco vs. Catholics | Church and state | Wisconsin suit over donations | Boy Scouts | Tax law | Politics | Religious left | Immigration | Environment | John McCain and Jerry Falwell | Tom DeLay | Jack Abramoff and Ralph Reed | A promotion for Gerry Boykin? | Military | War and terrorism | Persecution | Afghanistan | Pakistan | India | Indonesia | Sudan | Christians United for Israel | China | Pope Benedict XVI | Pope John Paul II | Catholicism | Church life | Church buildings | United Church of Christ | TV, film, and theater | Music | Radio | Books | History | Money and business | Missions & ministry | Mennonites after the storm | Life ethics | Abortion | Premature babies feel pain | AIDS and HIV | Abuse | Crime | Morality | People | Other stories of interest
Bible and theology:
Poll: Most don't believe in body's resurrection | The findings of a new Scripps Howard/Ohio University poll surprised and dismayed some of the nation's top theologians since it seems to put Americans in conflict with both the Nicene Creed and the Apostles' Creed, ancient statements of faith meant to unify Christian belief (Scripps Howard News Service)


'Experience' the Bible | More than 80 black celebrities reading, singing and composing music for The Bible Experience, a new 70-hour Genesis-through-Revelation dramatic audio performance of the Scriptures (USA Today)


Jesus walking on water:
Churchgoers live longer:
Prayer study:
Prayer in schools:
Religious literature in schools:
School board okays religious distribution | The Brunswick County Board of Education on Tuesday night approved 3-2 a the first reading of policy allowing non-school-related "books and periodicals" including religious literature to be made available to high school students (The Brunswick Beacon, Shallotte, N.C.)


Brunswick County schools to allow religious handouts | The Brunswick County school board waved off the threat of legal action Tuesday and voted to allow Bibles and other religious material to be handed out in high schools (Wilmington Star News, N.C.)


Brunswick Bible standoff | Opponents hope to persuade board to change policy on religious books (Wilmington Star News, N.C.)


Education:
Playing to the Puritans | Conclusive proof that youthful dalliances with "Grease" and Arthur Miller will not turn students into lowlife reprobates (Marc Acito, The New York Times)


Schools and religion do mix | When the dangerous work of free Bible give-aways in schools starts making front-page news ahead of the opening of the House of Commons, or any great variety of world issues, it's a pretty clear sign that Canadians have a poor understanding of what the word "secular" means in our country, and how it applies to our schools (Lorna Dueck, The Globe and Mail, Toronto)


Christian and Muslims learning together:
Indian Islamic schools offer lesson in harmony | Tens of thousands of Hindu and Christian students in the state of West Bengal now attending madrasas, considered breeding grounds for religious intolerance and even terrorism in much of Asia (Reuters)


A new faith at Catholic colleges | Several schools attracting Muslims (Inside Higher Ed)


Evolution:
Higher Education:
Vagina Monologues at Notre Dame:
Pornography:
A setback for anti-porn pastors | Their Corona-based ministry wanted to put 'Jesus Loves Porn Stars' on Bible covers. No way, said a publisher (Los Angeles Times)


Activists lament porn's move to mainstream | A cadre of anti-porn activists seeks new tactics to fight an unprecedented deluge of porn which they see as wrecking countless marriages and warping human sexuality (Associated Press)


Homosexuality:
Anglicanism and homosexuality:
Muslims back Orombi | The Muslim community has joined Church of Uganda Archbishop Henry Luke Orombi to condemn former Bishop Christopher Ssenyonjo's pro-gay stance (New Vision, Uganda)


San Francisco vs. Catholics:
Catholic group sues San Francisco over gay adoption remarks | A Catholic civil rights group sued the San Francisco Board of Supervisors for allegedly violating the separation of church and state by criticizing the Roman Catholic Church's position on adoption by gay couples (Associated Press)


Catholics sue supervisors over resolution | Comparing the Board of Supervisors to the Ku Klux Klan, a Catholic group and two city residents filed a lawsuit Tuesday claiming Catholics' constitutional rights were violated when the board passed a strongly worded resolution condemning a church official for prohibiting Catholic Charities adoptions by same-sex couples in the Bay Area (San Francisco Examiner)


Loony S.F. bids adieu to Catholics | The new anti-Catholic resolution of the Board of Supervisors reads like an invitation for all Roman Catholics to leave the city (John Leo, U.S. News & World Report)


Church and state:
Fiji's military commander spots evil in Methodist Church | Fiji's military commander says the country has become a deceitful and corrupt society and evil has found its way into the country's biggest religious body - the Methodist Church (Radio New Zealand)


Judge backs Freemasons' role | A High Court judge said that "Freemasonry is not a religion" and that although members of the order agreed to give "succour" to "brother Masons", they were subject to the "uncompromising and clear" principle that they must pay "due obedience" to the laws of the land (The Times, London)


Wisconsin suit over donations:
Faith groups sue state's donor plan | Religious bias kept them off recipient list, they say (Milwaukee Journal-Sentinel)


Doyle says state should review standards for charity program | Wisconsin Gov. Jim Doyle called for a review Thursday of standards used to determine whether charities can participate in a state-run program allowing employees to automatically donate part of their paychecks (Associated Press)


Religious groups file bias lawsuit | Religious groups claim in a lawsuit against Wisconsin state officials that they are being wrongly excluded from a program that allows state employees to make payroll deductions to charities (Associated Press)


Boy Scouts:
ACLU suit challenges U.S. funding for Jamboree | A civil liberties group is going to court today to try to end the National Boy Scout Jamboree, held every four years at Fort A.P. Hill in Virginia, arguing that the Defense Department's financial support of the event violates the separation of church and state (The Washington Post)


Virginia takes Scouts' side in suit | State Attorney General Robert F. McDonnell is backing the Defense Department's effort to overturn a court ruling that severs financial ties between the military and the Boy Scouts of America (The Washington Times)


Gov't wants Boy Scout ruling overturned | The Defense Department wants to continue supporting the decades-old National Boy Scout Jamboree because preparing a military base for the event trains soldiers how to deal with displaced people, government attorneys said Thursday (Associated Press)


Tax law:
Church group calls IRS unfair on political violations of tax code | Religious leaders accused the agency of ignoring complaints that two large churches in Ohio are engaging in political activities, in violation of the tax code (The New York Times)


Gay marriage debate began frequent meetings by Blackwell, pastors | A group of liberal religious leaders who filed the Jan. 15 complaint planned Thursday to announce a second complaint against Johnson and Parsley, alleging they continue to improperly promote Blackwell's candidacy for governor (Associated Press)


Senate takes a hand in Holy Land tax dispute | Sen. Daniel Webster doesn't want the theme park to pay property taxes (The Orlando Sentinel)


Also: Biblical parks may get tax deal | So far, just one attraction in Orlando would benefit from a Senate bill exempting it from local property taxes (St. Petersburg Times, Fla.)


Politics:
Religious left:
Immigration:
Environment:
Turning up the heat | A surprising consensus is transforming the complex politics of global warming (US News & World Report)


Building green makes sense to churches | As ideas of green building grow in the Northwest, the concepts are also starting to take root within the congregations of churches, temples, and other religious gathering spaces (The Register-Guard, Eugene, Ore.)


Punish, O Lord, those of us who, through our own fault, are ungreen | Friends of the Earth are Elijah's new recruits. Eco-apocalypticism is the new religion (Matthew Parris, The Times, London)


John McCain and Jerry Falwell:
Tom DeLay:
Jack Abramoff and Ralph Reed:
Abramoff offered to aid Sudan, envoy says | The former lobbyist sought millions to help the sanctioned nation clean up its image, the country's ambassador and an ex-associate say (Los Angeles Times)


The devil inside | Falsehoods, fudges and outright lies have defined Ralph Reed's career. Tarnished by the Abramoff scandal, he's betting his political future on the tendency of the religious right to see no evil in its leaders. (Bob Moser, The Nation)


Will Ralph Reed crap out? | The one-time golden boy of the Christian right did the bidding of Abramoff's casino clients. Will the unholy alliance be his undoing? (Michael Scherer, Salon.com)


A promotion for Gerry Boykin?:
Allen's letter touting general stirs up religion, politics | His career apparently stalled after superiors chided him for casting the war on terrorism in religious terms , Army Lt. Gen. William G. "Jerry" Boykin on Tuesday was caught up in a campaign for the U.S. Senate and a budding contest for the 2008 Republican presidential nomination (The Virginian-Pilot, Hampton Roads, Va.)


Allen's controversial choice attacked | Sen. George Allen caught some political flak yesterday for backing a controversial Army general to lead the U.S. Special Operations Command (Richmond Times-Dispatch, Va.)


Senator wants to tap controversial general | Sen. George Allen wants an Army general who drew criticism for church speeches casting the war on terrorism in religious terms to lead the U.S. special operations command (Associated Press)


Military:
Blue-yonder sensitivity | Buffeted by accusations of religious intolerance, the U.S. Air Force Academy turns to preaching respect for all faiths (The Chronicle of Higher Education, sub. req'd.)


Moore joins Navy chaplain in protest | Lt. Gordon James Klingenschmitt disobeyed an order to not appear at his news conference in his Navy uniform (The Birmingham News, Ala.)


War and terrorism:
Italian: Authorities thwart terror attacks | Italian authorities have thwarted planned terrorist attacks against a Bologna church and Milan's subway, the interior minister said Thursday (Associated Press)


Church is melancholy reminder of region's rebellions | A forgotten church on the edge of the notoriously unruly tribal belt of Waziristan serves as a melancholy reminder of the problems facing the Pakistani army in its efforts to hound pro-Taliban forces from the region (The Telegraph, London)


Terrorists or victims? | American law prevents refugees from entering the United States if they provided "material support" to terrorists, even if the support was given under duress (Editorial, The New York Times)


Persecution:
Algeria forbids efforts to convert its Muslims | The new law calls for sentences of five years in prison and a fine of $70 to $140 for those who try to convert Muslims to another religion (Reuters, via The New York Times)


Ancient Christian sect prays for Turkey to join EU | The 20th century was hard on the Syriacs, bringing religious persecution and economic hardship, but some are confident about their future in a democratic Turkey that aims to join the European Union (Reuters)


Christian Association of Nigeria frowns at lawmakers' non-challance to religious crisis | CAN described the silence of the law makers as "worrisome" saying that it was "seriously worried and disturbed over silence of the legislative bodies on the destruction of Christian lives and property in Nigeria" (Vanguard, Nigeria)


Afghanistan:
Afghan clerics threaten trouble over convert | Afghan clerics and their followers threatened violence against the government on Sunday over the release of a Christian convert, saying he had to be brought back from Italy and put on trial (Reuters)


Karzai defends release of convert | Afghan President Hamid Karzai defended the release of a Christian convert on Tuesday, saying the judiciary had acted properly and had not been swayed by the international outcry over the case (Reuters)


Pakistan:
Fifth Pakistan church attacked within two months | Violence is escalating in the country and human rights activists and Christian campaigners are urging the forces of order to guarantee more security to persecuted minorities (AsiaNews.it, Catholic news service)


Christians protest attack on churches | Christians on Sunday protested against the desecration of the Holy Bible and arson attacks on their places of worship in various parts of the country, terming the incidents 'religious terrorism' (Daily Times, Pakistan)


Over 1,500 Christians protest after Bible burned | More than 1,500 Christians protested in Tibba Shomali in Mian Chunnu tehsil against the burning of the Bible and other sacred texts by four Muslims on Tuesday (Daily Times, Pakistan)


India:
Indonesia:
Sudan:
If not peace, then justice | The horrors of Darfur have become the preoccupation of an extraordinary international team of investigators in a plain and quiet Dutch town (The New York Times Magazine)


South Sudanese return home after decade of exile | Despite Garang's death, the return of hundreds of thousands of refugees and displaced people is the strongest symbol that peace has come to the south, where decades of war have left many areas virtually untouched by modern life (Reuters)


Foreign donors turning backs on Darfur—UNICEF | International donors are turning their backs on Sudan's crisis-torn Darfur region, putting at even greater risk the lives of people who are already victims of conflict and banditry, UNICEF said on Wednesday (Reuters)


Christians United for Israel:
Christian pro-Israel lobby gets a boost | Televangelist John Hagee's push to launch a Christian pro-Israel grass-roots lobbying organization received the reluctant blessing of Jewish organizational leaders last week (Forward, Jewish newspaper)


New Christian pro-Israel lobby aims to be stronger than AIPAC | Televangelist John Hagee told Jewish community leaders over the weekend that the 40 million evangelical Christians in the United States support Israel and that he plans to utilize this power to help Israel by launching a Christian pro-Israel lobby (Haaretz, Tel Aviv)


New evangelical group could buck promised West Bank pullouts | Pro-Israel group led by leading evangelist Rev. John Hagee will seek to influence U.S.-Mideast policy (The Jewish Week, New York)


China:
Pope Benedict XVI:
New pope approaches Islam with caution | Pope Benedict XVI has not strayed much from the policies and ideas of his predecessor, John Paul II. But when it comes to Islam, Benedict takes a much less conciliatory approach (Morning Edition, NPR)


Pope Benedict is very much his own man | The Vatican's German-born chief orthodoxy watchdog has hardly acted like the man saddled with the nickname "God's Rottweiler" (Associated Press)


Pope became priest because of Nazis | Pope Benedict XVI said Thursday he became convinced he should become a priest to help confront what he called the "anti-human culture" of the Nazis in his native Germany (Associated Press)


Peres says pope considering Israel visit | Pope Benedict XVI is considering visiting Israel in early 2007, former Israeli Prime Minister Shimon Peres said Thursday after meeting with the pontiff (Associated Press)


Russian Orthodox says Pope should shed more titles | Papal titles such as "vicar of Jesus Christ" or "sovereign pontiff of the universal Church" were "unacceptable, even scandalous" for the Orthodox, Bishop Hilarion Alfeyev said in a statement published this week on his Web site (Reuters)


Catholic Church takes over pope's house | The Roman Catholic Church said Friday it has taken possession of the house where Pope Benedict XVI was born and will open it to the public (Associated Press)


Pope John Paul II:
Catholicism:
Profile: Father Michael Seed | Will the genial 'priest to the stars' draw Tony Blair into the Catholic fold? (The Guardian, London)


O'Malley readies a team of his own | Vatican transfers controversial aide (The Boston Globe)


Also: Erikson hopes to heal archdiocese | Cardinal's choice says he brings fresh perspective (The Boston Globe)


Church life:
Kids get the money, pastor gets the goat | "Why am I willing to kiss a goat?" Pastor John asked the 30 or so worshipers in his tiny white clapboard church in Frederick County on Sunday (The Washington Post)


Dance helps churches get in step with God | It could be a page from the club scene, like any date bar on a Friday night. But judge not according to appearance, as the Good Book says (Seattle Post-Intelligencer)


Star trip | The weird and relentless creep of paganism into the Episcopal Left (Stand Firm)


Church buildings:
United Church of Christ:
Liberal denomination fires salvos at Right | After years of turning the other cheek, the United Church of Christ, among the most liberal of the mainline Protestant denominations, has recently staked out a more pugnacious stance toward the Christian right (The New York Times)


Anti-rejection ad rejected by networks | A United Church of Christ television commercial espousing a theme of welcoming all people, including same-sex couples, has been rejected by all five broadcast television networks — and generated controversy (The Republic, Columbus, Ind.)


Edgy TV ad reaches out to unchurched | With Easter on the horizon, the United Church of Christ is launching ``Ejector Pew,'' a controversial TV ad that local pastor Kevin Smith hopes will cause some people to check out his church in Almaden Valley -- or one like his. (L.A. Chung, San Jose Mercury News, Ca.)


Network censorship can't silence church's campaign | We in the UCC are being treated like Martin Luther King Jr. was treated (Ron Buford, San Jose Mercury News, Ca.)


Ejecting from the church | The venerable United Church of Christ embarks on another silly ad campaign certain to thin its ranks still further (Mark Tooley, The American Spectator)


TV, film, and theater:
Music:
Live-wire Christian Texans return teen-pop's goth-metal favor | A review of Flyleaf's Flyleaf (Village Voice)


Radio:
Who listens to Christian radio? | Recently, I was surprised to discover that not everyone who listens to Christian radio is a Christian (New York Observer)


Work, faith and a simple request | Now that what was intended to remain an internal matter between me and my employer, WXYZ-TV (Channel 7), has become a public spectacle, it is necessary to set the record straight (Frank Turner, Detroit Free Press)


Also: Turner pushing Channel 7 to allow his radio evangelism | Frank Turner's contract to anchor the news at WXYZ-TV (Channel 7) expires at year's end, the station says. And the likelihood he'll continue much beyond that has been clouded by his new Equal Opportunity Commission filing against the station for enforcing its exclusive contract for his broadcast services (Detroit Free Press)


Books:
'Gospel truth' is question for author | Bart Ehrman dissects what he says led to mistakes in the Bible (The Orlando Sentinel)


Lots of C.S. Lewis | Disney's adaptation of The Chronicles of Narnia: The Lion, the Witch and the Wardrobe, in theaters since the holiday season and out on DVD this week, has spawned several new and recent DVDs about all things Narnia (USA Today)


Books offer insights into our faith | CT ethics columnist and book awards judge David Gushee scoops us on our own book awards. What's up with that? (David Gushee, The Jackson Sun, Tenn.)


History:
Exhibit features parts of Dead Sea Scroll | The newly restored scroll segments are on display for the first time (Associated Press)


Christie's halts auction of mosque beams | After word emerged last month that Christie's was going to auction the beams, cathedral officials hired lawyers in London to try to halt the transaction. They welcomed Monday's news from Christie's and said the Roman Catholic Church was the true owner of the beams. (Associated Press)


Great faiths began with a theme: the golden rule | Karen Armstrong, one of the leading British writers on the history of religion, says the golden rule, an elegant concept advanced by sages and prophets from Socrates to Ezekiel, has long been obscured by disputes of "my faith is better than yours" (Los Angeles Times)


Money and business:
Finding my religion | An Internet CEO injects his Mennonite values into the workplace (SFGate, San Francisco)


Missions & ministry:
Mennonites after the storm:
Building on faith in a tornado-hit town | Volunteers converge on China Grove, Tenn., to help fellow Mennonites who choose to rely on the goodwill of believers instead of insurance (Los Angeles Times)


Uninsured Mennonites depend on each other | Hours after the winds died down, a crowd of volunteers — men in plain shirts and suspenders, women in bonnets and ankle-length dresses — arrived in this farming community to help fellow Mennonites whose homes and barns were ravaged by twisters (Associated Press)


Life ethics:
Stem cell, clean air measures signed by Ehrlich | New laws push Maryland into the forefront of the nation on both issues (The Washington Post)


Earlier: Top clerics urge Ehrlich to veto funding bill | Three top Catholic leaders are urging Maryland Gov. Robert L. Ehrlich Jr. to veto legislation allowing for state funding of embryonic stem cell research (The Washington Post)


Abortion:
Indians crack down on gender abortions | After 12 years on the books, a law meant to curb sex-selective abortions gets its first conviction (The Christian Science Monitor)


South Dakotans meant well, but they can't count | The Supreme Court is likely to use the state's abortion ban to entrench Roe v. Wade even more firmly (Joseph Bottum, Beliefnet)


Winning in the Supreme Court isn't the point | South Dakotans' commitment to protecting unborn life offers a teaching moment to other Americans (Stephen G. Peroutka, Beliefnet)


Premature babies feel pain:
AIDS and HIV:
Bush admin. $15B AIDS plan questioned | The Bush administration's $15 billion global AIDS initiative is emphasizing sexual abstinence and fidelity more than Congress intended, and that focus is undermining prevention efforts in poor countries, congressional investigators said Tuesday (Associated Press)


Abstinence, not condoms, is the word in Mozambique | Twenty percent of President Bush's $15 billion, five-year global AIDS program is earmarked for prevention efforts, and a third of all prevention funds, or $1 billion, must be devoted to abstinence-only programs, a shift from previous policy promoting condoms (The Baltimore Sun)


Islam recruited to help Egyptians fight HIV | In Egypt HIV and AIDS happen to other people; namely foreigners, the promiscuous, drug addicts and generally the morally corrupt, who should be avoided in case they infect you with a handshake, cough or unwashed cup. (Reuters)


Abuse:
Catholic leaders fight legislation on suits | States consider easing statutes of limitations (The Washington Post)


Louisville group calls for bishop's removal | A Louisville group of reform-minded Catholics is calling for the resignation of Chicago Cardinal Francis George for allowing a priest to stay in ministry last year after a sexual-abuse allegation (The Courier-Journal, Louisville, Ky.)


Crime:
Church fire in Talladega ruled arson | Arson caused the fire that destroyed Blackberry Lane Community Church, officials announced Wednesday, making it the 11th confirmed church arson in rural Alabama since February (The Birmingham News, Ala.)


'Satanic' teen trio disturbs worshippers | Three Somerset County youths were arrested after disturbing activities at two Boswell churches Sunday (Pittsburgh Post-Gazette)


Also: Teens charged in church disruptions | Three teenagers were charged Tuesday in Somerset County with disrupting services Sunday at All Saints Catholic Church and St. Andrew's Lutheran Church, both in Boswell (Pittsburgh Tribune-Review)


Morality:
Russian church blames liberalism for racist murders | A top Orthodox cleric said on Tuesday tolerance of homosexuality, euthanasia, and abortion was responsible for a moral collapse that had spawned extreme nationalism and racism in Russia (Reuters)


And so the moral of our story is … | History suggests that whatever our moral code is today, it will be decried as censorious tomorrow (Cristina Odone, The Observer, London)


People:
'For the good I have dreamed' | An interview with Frederick Buechner (The Washington Times)


Peace activist Michael McGoldrick dies | Michael McGoldrick, who became a peace activist in Northern Ireland after anti-Catholic extremists killed his son in 1996, died while on a Christian aid mission to Moldova, his parish priest said Tuesday (Associated Press)


Other stories of interest:
Religion news in brief | Christian Churches Together in the USA launches; Catholic, Mormon and Pentecostal churches grow fastest; Nuns raise money through `adoption' program; and other stories (Associated Press)


Suggest links and stories by sending e-mail to weblog@christianitytoday.com
See our past Weblog updates:
March 31 | 30 | 28
March 24 | 24 | 23 | 21
March 17 | 16 | 15
March 10b | 10a | 8
March 3 | 2 | 1
February 24 | 23 | 22 | 21
February 17 | 16 | 15 | 14 | 13
Weblog
Launched in 1999, Christianity Today's Weblog was not just one of the first religion-oriented weblogs, but one of the first published by a media organization. (Hence its rather bland title.) Mostly compiled by then-online editor Ted Olsen, Weblog rounded up religion news and opinion pieces from publications around the world. As Christianity Today's website grew, it launched other blogs. Olsen took on management responsibilities, and the Weblog feature as such was mothballed. But CT's efforts to round up important news and opinion from around the web continues, especially on our Gleanings feature.
Ted Olsen is Christianity Today's executive editor. He wrote the magazine's Weblog—a collection of news and opinion articles from mainstream news sources around the world—from 1999 to 2006. In 2004, the magazine launched Weblog in Print, which looks for unexpected connections and trends in articles appearing in the mainstream press. The column was later renamed "Tidings" and ran until 2007.
Previous Weblog Columns: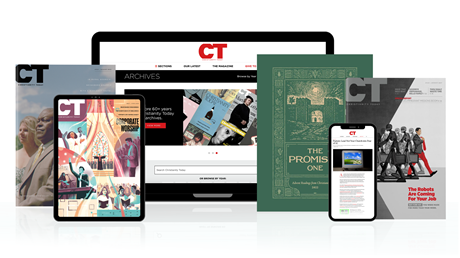 Annual & Monthly subscriptions available.
Print & Digital Issues of CT magazine
Complete access to every article on ChristianityToday.com
Unlimited access to 65+ years of CT's online archives
Member-only special issues
Subscribe
Jesus Didn't Walk on Water, Judas Was a Hero, Evolution 'Proved,' Prayer Doesn't Work ...
Jesus Didn't Walk on Water, Judas Was a Hero, ...