The following article is part of our ongoing effort to provide a variety of Christian perspectives on the Israel-Lebanon conflict.
People were wandering the streets in the lands of the Bible. They were lost and out of place. It was clear they longed to be back in their ancestral homes—homes and land they had occupied since the time of Abraham.
It was Friday, August 11, 2006. I was in Beirut. These wandering people were some of the more than 900,000 displaced men, women, and children from Southern Lebanon fleeing the ravages of war and ending up in Eastern and Northern Beirut for safety.
As this story of the massive dismantling of human lives unfolded, and the entire world held its breath, I was startled to discover one of America's better known preachers speaking mainly about prophecy; not the suffering of people caught in this tragedy: "It is apparent, in light of the rebirth of the State of Israel, that the present day events in the Holy Land may very well serve as a prelude or forerunner to the future Battle of Armageddon and the glorious return of Jesus Christ."
As I watched all this misery, I was reminded that Muslims and Jews are not just objects of biblical prophecy. They are people for whom Christ died. I recalled my early Christian teaching that the ground is level at the foot of the cross. In God's plan, all people are precious; including Christian, Sunni, and Shiite Arabs in Lebanon as well as their Israeli cousins.
"You are all sons of God through faith in Christ Jesus, for all of you who were baptized into Christ have clothed yourselves with Christ. There is neither Jew nor Greek, slave nor free, male nor female, for you are all one in Christ Jesus. If you belong to Christ, then you are Abraham's seed, and heirs according to the promise" (Galatians 3:26-29, NIV).
Seeing the churches of Lebanon take action to alleviate the suffering of some 4,000 wounded in the midst of this crisis was truly inspiring. They are reaching out and taking in their fellow Lebanese regardless of religion or ethnic background. Food, clean water, shelter, and pharmaceuticals are being offered freely. Christian schools and churches are full of these dislocated people. Muslims are experiencing the unconditional love of Christ in action.
One church, not known for having much of this world's goods, is using their own resources to care for 300 displaced people. A youth group is organizing games and music for the children. Lebanese Muslims are sleeping on the floors of churches and Christian schools by the thousands.
Meanwhile back in America, some of the denominations who founded these Lebanese churches in the last century are absorbed with this crisis in the Middle East for another reason: The fulfillment of prophecy. Somehow the death of over a hundred Israelis and more than a thousand Lebanese is not their focus. The real concern seems to be Eschatology, the doctrine of last things.
In the midst of all this pain another well known American preacher stresses politics over the redemptive message of the Gospel: "Geopolitically speaking, we should support Israel because it is the only true democracy in the Middle East. The tiny democracy of Israel is surrounded by feudal states and brutal dictatorships that control vast regions of land and oil resources. The presence of the Israeli Defense Forces brings stability to that part of the world."
Some evangelicals tend to put everything into that "last times" mold instead of reaching out in Christian love to those in harms way. It's like the Arab-American comic who said, "Other ethnic groups get a history month or an awareness month. What do Arabs get? An Orange Alert."
I have news for the American prophecy aficionados: Middle East churches also wait for the Lord's return. However, they are working until he comes—exactly as they were taught by our Lord. I am proud of them. I am embarrassed at the lack of compassion by some Christian leaders. At times, they seem obsessed with their self-serving passion for the second coming of Christ. One person described it as "cheering for devastation."
It is well known that the amount of money from Jewish organizations and certain Christian organizations to the Jewish Relief Fund is very, very, large. Figures of more than $300 million during the first month of the war in Lebanon have been quoted.
If my organization were made aware of any needs in Israel, we would step forward to assist similar groups there as well. But we know that despite the terrible effects of the Katyusha rockets from which Israel has suffered, individual Israeli families are well cared for. People are not going without food.
There are 3.8 million people in Lebanon. Its population is 39 percent Christian. There are far more Christians in Lebanon (over 1.5 million) than in Israel. The churches in Lebanon and in the Holy Land want and need our prayers. Listen to a Lebanese Christian youth worker:
On Monday 15 people from our church gathered in our home to pray, for the leaders, for Lebanon, for ourselves, our feelings, thoughts. Everybody was so blessed that we're getting together again on Thursday. "I love you, O Lord, my strength. The Lord is my rock, my fortress and my deliverer; my God is my rock in whom I take refuge." (Psalm 18: 1,2) So please pray with us:
1. For the leaders, in Lebanon and outside, that they will work for the peace of this country. Sometimes this feels like a wasted prayer, but as people of faith in God we should always have hope;
2. For the many who've lost family members, are wounded, or have lost their jobs. May they turn to God in the distress; may God bring Christian believers in contact with them."
We also need to give practical help as the churches in Lebanon respond to this overwhelming human catastrophe. We can learn from them what we should be doing as we await end times.
The Western church does not have all the answers even if it does have a lot of resources. If we humble ourselves, we can learn from our brothers and sisters in Christ in such difficult places as Lebanon who minister God's word and live out their faith in love.
Leonard Rogers is founder and president of Venture International, a Christian relief and development organization focusing on the Middle East and Central Asia. As with all "Speaking Out" articles, the views expressed do not necessarily represent those of Christianity Today.
Related Elsewhere:
Our full coverage of commentary on the Israel/Lebanon war continues.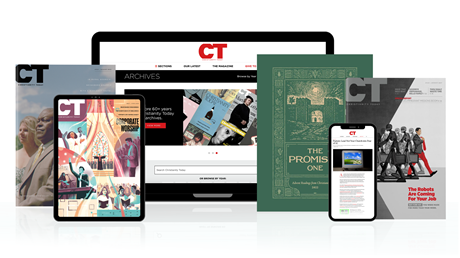 Annual & Monthly subscriptions available.
Print & Digital Issues of CT magazine
Complete access to every article on ChristianityToday.com
Unlimited access to 65+ years of CT's online archives
Member-only special issues
Subscribe
The Fulfillment of Prophecy Right Before Our Eyes
The Fulfillment of Prophecy Right Before Our Eyes