true
For Christians, Christmas is a time to think about Chapter One of the Greatest Story Ever Told. But at the movies, the holiday is usually celebrated with forgettable, frivolous features like the latest episode in the Santa Clause series and heavy-hitting, Oscar-contending dramas like Babel and the upcoming Dreamgirls.
This year, however, thanks to New Line Cinema, director Catherine Hardwicke, and screenwriter Mike Rich, The Nativity Story is surprising holiday moviegoers with a substantial Christmas message. The film takes its subject seriously, adhering closely to the details of the scriptural text and with a remarkable attention to period detail. The film feels authentic in its dusty, simple design, and in the complexion of its cast.
And the biggest surprise of all? This version of The Nativity Story brings the character of Joseph to life. Through a nuanced performance by Oscar Isaac, we're blessed with a detailed portrait of a virtuous man stepping up to accept enormous responsibility. We see his pride shaken as his fiancé e becomes pregnant by a mystery. We see him fearful and dismayed as the community becomes suspicious. We feel his angst as he wonders if he can teach the Son of God anything. And then we sense his fears as he travels with Mary back to his crowded hometown where nobody is willing to help them, and they end up in a stable.
But The Nativity Story is also surprising some Christian critics by just how far short it falls from what it might have been.
I was excited to see a chapter of Christ's story shared without apology or dismaying distortions, and yet I've rarely encountered a version of the story that failed to inspire wonder, excitement, and awe the way this one fails. It all seems so dutiful and responsible and safe that the film never really came to life, never lit up with passion. Despite the attention to detail, almost every scene in The Nativity Story feels rushed. We might have had scenes, but instead we have hurried exchanges. Hardwicke seems to have forgotten that the big screen can be a canvas for visual poetry, for inspiring awe with light and color. She seems to merely document what the actors are doing, without any interest in metaphor or beauty.
When Mike Rich's screenplay shifts from the Bible's language to his own embellishments are abrupt and distracting. Events that should feel momentous and thought-provoking—like the restoration of Zechariah's speech, Elizabeth's rejoicing with Mary, Gabriel's announcement, and the central nativity event in the stable—all arrive and pass so quickly, we hardly have a chance to apprehend the gravity of what is happening.
Perhaps the biggest disappointment is Keisha Castle-Hughes as Mary. The actress, so alive and engaging in Whale Rider, seems trapped in two or three facial expressions here, and her line readings are flat and automatic. When Gabriel arrives, her face fails to communicate anything like fear or fascination. Only Oscar Isaac, as Joseph, manages to communicate more than the screenplay gives him to say. Only he gains a powerful hold on our sympathies. Why these three wise men are called "wise" is anybody's guess. And when we arrive at the nativity itself, it looks far too much like a Hallmark Christmas card; the stable seems to be missing a roof, allowing the Christmas star to spotlight the Christ child.
My full review is at Looking Closer.
Here's what other Christian press film critics are saying:
Peter T. Chattaway (Christianity Today Movies) says the movie's "real hero" is Joseph, who "may be the most attractive embodiment of goodness and self-giving devotion that we have seen in a movie since Sean Astin played Sam in The Lord of the Rings."
He also adds that there's "a tension of sorts in Mike Rich's screenplay, which oscillates between the need to be faithful to the biblical text, on the one hand, and the freedom to create dramatically compelling characters and scenes, on the other. While Rich trims out some of the dialogue that appears in the Bible, the parts that he keeps are presented almost exactly as written, yet these sections of the film—especially the Annunciation and the restoration of speech to Zechariah—feel rushed and anticlimactic, and are never quite woven into the rest of the drama."
He concludes, "For all the talk of 'realism' and 'authenticity' that has surrounded this film, it is still very much a family-friendly Christmas pageant, a Christmas crè che brought to theatrical life."
Steven D. Greydanus (Decent Films) is impressed with scenes that develop "the human dimension of what the terse biblical narratives merely imply … . The tender relationship between young Mary and the older Elizabeth … is touchingly drawn, and the public shame and scandal faced by Mary returning to Nazareth, and by Joseph if he stands by her, is vividly portrayed. … Further enhancing the realism is doubtless the most non-Caucasian cast in Hollywood Bible movie history."
Greydanus is especially impressed with Oscar Isaac's performance as Joseph, saying his "sensitive, compelling performance gives depth and humanity to the relatively obscure figure St. Matthew describes simply as 'a righteous man.'" He says the film's faults "tend to be of omission rather than commission," but predicts it will be a family favorite for years to come.
David DiCerto (Catholic News Service) says "Hollywood finally gets it right with The Nativity Story. It's an] artful, reverent and deeply affecting retelling. … The film's hopeful message should resonate beyond Christian audiences to a world still groaning for peace and good will."
Frederica Matthewes-Green (Frederica.com, originally at Beliefnet), says, "If you thought Hollywood was incapable of approaching Christians without a cattle prod, you'll be shocked at how circumspect this movie is. … There is nothing in this film to offend devout Christians (parents note, however, a PG rating for some glimpses of crucifixion)—but solemnity rolls through it all like molasses."
Matthewes-Green is especially disappointed in Keisha Castle-Hughes as Mary. "[S]he just seems disengaged. Some astounding and even terrifying things are happening to Mary, but Castle-Hughes looks like her mind is somewhere else." But she has higher praise for Oscar Isaac as Joseph and Terry Russof as an insightful shepherd.
Steven Isaac (Plugged In) says, "Straightforward. That's perhaps the best word to describe The Nativity Story. Sweet and respectful work, too. But never grand or ambitious, as fans of biblical epics might wish for. A few too many British-leaning accents, a few too few visual effects and a script that serves its purpose well but doesn't burst into color onscreen all conspire to push the film into that 'just another Bible movie' category. … They almost succeed. But not quite."
Matt Page (Bible Films), calling the film "more good than bad," says, "[D]espite its uniqueness, it can't quite decide what kind of bible film it wants to be. The title suggests a mythic retelling, perhaps aimed at the family, yet the early scenes have a gritty, realistic feel to them. Later on though the film morphs into a sort of road movie. … Then it changes gear yet again once the holy couple reaches Bethlehem. The last remaining vestiges of realism are swiftly ditched and out comes a touch of the Christmas magic. … It's not that there is anything particularly wrong with any of these different styles; it just leads to a very uneven film."
Lisa Rice (Crosswalk) says it's "a movie with everything:drama, action, romance, history, and miracles—a sure bet to edge out the shallow, same old 'pretend-Christmas' offerings."
Michael Brunk (Past the Popcorn) says, "[I]t's not actually a bad movie. It's just not as good as it could have, or perhaps should have, been."
Sister Rose Pacatte, F.S.P. (St. Anthony Messenger) says Mike Rich's script "reaches inside the minds and hearts of the characters and makes them real for us. The Magi provide some comic relief. The story of Jesus' birth is layered with meaning so that the youngest child to the wisest of adults can experience Christmas anew. … This film is certain to be a classic for all Christians, even though the nativity scene … looks as if it was lifted off a Christmas card. A little more subtlety would have been my preference."
Cliff Vaughn (Ethics Daily) says, "[T]he movie's best scenes involve [Mary] and Joseph trying to make sense of their circumstances." He also raves about Isaac's performance as Joseph: "Isaac owns the movie. Saying very little, the Juilliard graduate brilliantly expresses what must surely have been Joseph's doubt, anger and fear. [He] provides Christ-like traits before, during and after the film's manger climax."
Mainstream critics are turning in mixed reviews. At Rotten Tomatoes, an average of 107 reviews comes up with a "rotten" rating of 41 percent (anything less than 60 percent is deemed rotten). But the "Cream of the Crop" reviews—notable critics from North America's top media outlets—are at 58 percent, just shy of the "fresh" rating.
A.O. Scott of The New York Times says the film "sticks to the familiar details of the narrative and dramatizes them with sincerity and good taste. There are no flights of actorly or cinematic bravura—though all of the performances are credible, and some better than that—and very few big, showy, epic gestures. Rather than trying to reinterpret or modernize a well-known, cherished story, the filmmakers have rendered it with a quiet, unassuming professionalism."
But Owen Gleiberman of Entertainment Weekly says, "The movie industry is eager to beckon and serve Christian viewers, yet as long as it thinks of those viewers as another market slice, a demo, it may end up pandering to them with cautious and stultifying reverence. The Nativity Story is a film of tame picture-book sincerity, but that's not the same thing as devotion. The movie is too tepid to feel, or see, the light."
For Your Consideration

worth considering

Christopher Guest and his team of gifted improvisational comedians have been responsible for several of the funniest movies of the last ten years—Waiting for Guffman, Best in Show, and A Mighty Wind.

In each of those films, a colorful group of comical characters participates in a big public exhibition—whether it's a play, a dog show, or a concert. The latest feature, For Your Consideration, is styled like a documentary about an independent film project, which suddenly finds itself earning Oscar buzz.

Frederica Matthewes-Green (Frederica.com, originally in The National Review) says, "Fans of Guest's recent films will find plenty of the same character-based absurdities here. It's hilarious. Right up until the last fifteen minutes. … [I]t's a movie that ends on a down note—even with a flash of cruelty, which leaves a sour taste. Until that point, though, it's consistently funny. Inside Christopher Guest there is a parodist, a musician, an actor, a director, a writer, and a wild card. You never know which one is going to show up."

Mainstream reviewers don't like it as much as Guffman and Best.
Volver

:Raves for Cruz, Almodovar

Penelope Cruz is winning applause from critics around the world for her performance in Volver, the latest film from the celebrated director Pedro Almodovar. Cruz plays Raimunda, a woman who covers up her husband's murder after her daughter kills him in self-defense.

Harry Forbes (Catholic News Service) says, "Volver finds director Pedro Almodovar in masterful form with an engrossing story … . Underneath the melodrama (leavened with some surreal humor) is a perceptive study of women as nurturers … [and how] all of us cope with the ghosts of the past … . Volver is already one of 2006's cinematic gems."

So far, no other Christian press film critics have reviewed the film. Film Forum will offer links to more reviews as they become available.

Mainstream critics are once again cheering for Almodovar.
Van Wilder: the banality of
Taj
One of the front-runners for worst movie of the year, according to critics, is Van Wilder: The Rise of Taj.
This sequel to a crass comedy about hormone-driven college students takes its characters to Camford University in England, where their academic pursuits suffer as they get caught up in sexual escapades. While the conclusion offers a simple sentiment about true love, the film clearly means to entertain with sophomoric "humor" about sex.
Greg Wright (Past the Popcorn) says, "Does The Rise of Taj push the absolute limits of good taste? Or is it of the blander high-school ilk, along the lines of the recent Accepted? The answer—and, interestingly, an answer in which moral watchdogs are probably equally interested—is 'Yes,' to the former. This film is everything an unrated or NC-17 film would like to be without quite actually being one. For some reason that escapes me."
Bob Hoose (Plugged In) says, "The original Van Wilder film had tons of randy humor … and, on the unrated video release … a large-chested woman exposing her breasts. That sophomoric sexual trifecta now makes a return in … The Rise of Taj." He says that the film seems designed to attract "either grown men who hide their faces and sneak in after the lights dim, or hormonally-obsessed teens who aren't supposed to see it in the first place."
David DiCerto (Catholic News Service) says, "[This] is the sophomore installment in the Van Wilder series, and it is indeed sophomoric. … [It's] a witless syllabus of raunchy frat-house humor that depicts college life as little more than an opportunity for sex and booze."
Mainstream critics are disgusted with it.
Turistas

stumble into more "violence porn"

They call this genre "violence porn," because it entertains us with bloody spectacles of human beings subjected to bizarre and obscene forms of torture and dismemberment. This time, moviegoers are packing into theaters to watch a group of tourists being butchered by a bloodthirsty maniac.

Marcus Yoars (Plugged In) calls it a "gratuitously depraved Hostel copycat. It may not be as bad as that benchmark-setting psycho-flick in terms of never-ending graphic sex, violence and gore … but that's only because of the never-ending part. Turistas still 'successfully' bores into your mind and soul with a nauseating, lengthy torture scene that spares no details."

David DiCerto (Catholic News Service) says, "Murky and only mildly suspenseful … this empty exercise in exploitative sex and sadism is held together by a formulaic plot skimpier than the bikinis that dominate the Brazilian female wardrobe. … This is one tourist trap definitely worth avoiding."

Michael Brunk (Past the Popcorn) says, "While it seems to try to combine elements of Hostel and The Descent, it fails miserably. The characters are shallow stereotypes, and I frankly wound up caring so little about them that by the end of the movie I didn't mind who died as long as they got it over with so the credits could roll."

Mainstream critics are encouraging viewers to stay home.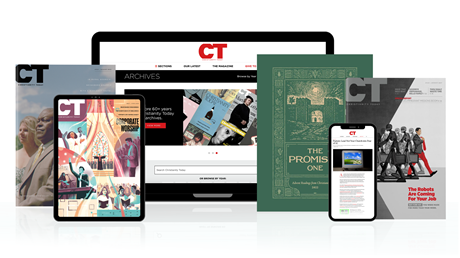 Annual & Monthly subscriptions available.
Print & Digital Issues of CT magazine
Complete access to every article on ChristianityToday.com
Unlimited access to 65+ years of CT's online archives
Member-only special issues
Subscribe
Nativity Story Delights Some, Disappoints Others
Nativity Story Delights Some, Disappoints Others