true
See also today's opposing view, "'The Wrong End of the Spear' | Is Christian passion for purity blinding them to their missionary impulse?"
I have been waiting for a national Christian leader to comment on "End of the Spear" and the casting of Chad Allen in the lead role. Their voices are strangely silent. After all of their build up, that we finally have a movie of our own, they seem to be frozen in indecision or mired in accepting silly arguments for Chad's inclusion.
My deceased wife, Beth Youderian, was Roger Youderian's daughter. Roger was one of those men who died on "Palm Beach" in 1956, at the end of a spear.
Beth and I were strong supporters of the work Mart and Steve have been doing. Beth would have been appalled at this decision and I feel betrayed.
I'm sure Chad is a nice guy, but he wasn't the man for this role. Making the "story the star" and using the best secular means to tell it, sounds like "the end justifies the means." Would the Christian community be ok with doing the "Billy Graham Story" with an atheist pedophile because he had the best audition? Would Franklin Graham, James Dobson, Falwell and the rest, sit silent and just say that it's the story that's important? And why not have secular professionals perform your church music if it enhances the worship of God? If we cannot respond to this firmly, but in love, this is a sad day for the Christian church in the US. This film and it's making have become a parable for the weakness of the American church. How dare we wonder why our divorce and "lives adrift" counts look just like the secular world. We talk one thing, and live something else.
What bothers me is that the story of what happened on the beach wasn't just one man's story. There were five men and five families. I don't mind them taking "artistic liberty" with the way Nate Saint died. Factually, he was probably the first man dead on the beach, speared in the temple. Although Mart knew it was controversial to use Chad, he didn't ask the other families. Why did he take this liberty with our hearts and our heritage?
My mother-in-law, Roger's wife, was in Panama for part of the filming and was never told. She didn't find out until 3 days after the film's release. Apparently everyone else in Panama knew, including the other wives. I can only conclude that this was kept from her because my brother-in-law, Roger's son, has not been a fan of this project. Had they asked both of them, they would have said no. Had I known, I would have said no, for myself and for Beth.
Will blessing come from the movie? Yes. God's plans are bigger than we are. When a pastor living in adultery preaches, do people trust Christ? Yes. Does "fruit" or God's blessing always justify us? No.
So now we have our Christian movie. But I will never buy the DVD, encourage anyone to watch it or consider it a part of my kids heritage. It is for me a symbol of a confused North American church. Many Christian groups will see it. Some will glory in the testimony, others will wish they had found out first that someone who doesn't represent what they want their kids to be, plays the most important part in it. Maybe in four or five more weeks, after the film has made most if its revenue, someone will broaden the "sorry if you feel hurt" line to "we're sorry we made such a selfish, spiritually blind decision." Maybe the "big dogs" will find their voices and utter a protest.
But until then, maybe we can make Hollywood sit up and take notice. We'll show 'em what good Christian entertainment is all about. We'll make 'em notice us Christians. Oh, I think they already have, as we stand here with egg dripping down our faces. We showed 'em.
Related Elsewhere:
Christianity Today's full coverage of End of the Spear includes:
Readers Affirm Decision to Hire Gay Actor | Most Christianity Today Movies readers say End of the Spear's filmmakers were right to honor their commitment once they had offered the lead role to Chad Allen, a homosexual. (Feb. 1, 2006)
Christian Studio Explains Hiring of Gay Actor | The makers of End of the Spear didn't find out about co-star Chad Allen's homosexuality until after they offered him the job, and then they felt obliged to honor the contract. (Jan. 26, 2006)
Reviews: End of the Spear The story has been told in Christian circles for 50 years. In 1956, five missionaries were brutally murdered in the Ecuadorian jungle by members of the Waodani tribe they went to serve. And then something amazing happened; the killers became Christians. (Jan. 20, 2006)
Death Worked Backwards | End of the Spear, a new film about the 1956 missionary martyrs in Ecuador, is similar to the Narnia story in some ways, says Steve Saint, son of one of the murdered men. (Jan. 18, 2006)
The Rest of the Story | Half a century after killing five missionaries, the 'Auca' find themselves on the cutting edge of modern missions. (Jan. 18, 2006)
End of the Spear Big Winner at Heartland | Film about 1956 missionary martyrs in Ecuador wins Film Festival's $50,000 Grand Prize; others also lauded at Crystal Heart Awards Ceremony. (Oct. 17, 2005)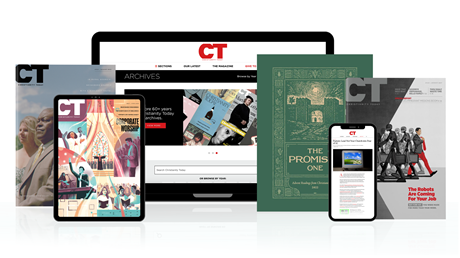 Annual & Monthly subscriptions available.
Print & Digital Issues of CT magazine
Complete access to every article on ChristianityToday.com
Unlimited access to 65+ years of CT's online archives
Member-only special issues
Subscribe
'I Feel Betrayed'
'I Feel Betrayed'