Boston's Park Street Church looks like just another stop on the city's historic Freedom Trail. Tracing the landmarks of the Revolutionary War, Park Street stands between Boston Common and the Granary Burial Ground where the Founding Fathers John Hancock, Paul Revere, and Samuel Adams lie. The nearly 200-year-old church is noted for its 217-foot steeple and for having stored gunpowder in a basement crypt during the War of 1812.
But inside, Park Street is no museum. Nearly half the congregation is made of university students, often from Harvard and M.I.T., and nearly three-quarters of the church is single. Many attended Park Street's Christmas Eve service where they heard a sermon on the meaning of Christmas in response to the city's decision to rename the evergreen standing in the Common a "holiday tree."
Park Street defies the myth that Boston and the rest of New England have shed their religious heritage for a secular society. It also defies the institutional hold that the Catholic church has on America's most Catholic city. In fact, evangelical Christianity is thriving in Boston. During the past 30 years, church growth, fueled by evangelical university groups and immigrant communities, has dramatically outpaced population growth. At the same time, mainline denominations have dwindled and the abuse scandal in the Catholic church has forced the closing of dozens of parishes. Evangelical leaders expect this "quiet revival" not only to continue, but to blossom into another Great Awakening.
Campus revivals
Not since the 17th century has there been so many evangelicals at Harvard University, religious historian and Harvard campus minister Peter J. Gomes told The Boston Globe, in 2003. As Harvard and other elite colleges opened their doors to students outside their traditional ground of eastern aristocracy, Midwestern evangelicals and minority Christians—mostly Asian—began swelling the numbers of the once beleaguered Ivy League campus ministries. Because of the growth of these groups, Daniel Harrell, associate minister at Park Street Church, says university students today make up 40 percent of the congregation.
"These groups are strong and strengthening," Harrell says. Students have helped to plant other Boston churches, and they have made Park Street one of the best places in Boston to meet singles, according to a local magazine. Seventy percent of the congregation is single, Harrell says.
Park Street's Sunday evening service attracts evangelical college students from campuses all over Boston, especially Harvard and M.I.T., and even other parts of New England. The Globe reports that more than 1,000 students attend Park Street's two Sunday evening services. Once pastored by National Association of Evangelicals cofounder Harold Ockenga, Park Street is now one of Boston's premier places to meet singles, according to The Improper Bostonian, a humorous biweekly.
Catholic collapse
The Catholic church is to Boston what evangelicals are to Wheaton or Colorado Springs, says Harrell. The influence of the Catholic church is everywhere from parishes to politics. Harrell says Catholics often did not leave the church because of the abuse scandal, but they were shocked at how the church handled it. "That's what sent people through the roof," he says.
A recent survey found that only one-third of Catholics attend mass weekly. Despite the low attendance, Catholics tend to stick it out with the church they grew up in, Harrell says. At least, they are reluctant to attend church elsewhere.
But many do find themselves at evangelical churches like Park Street. "We get a lot of recovering Catholics," Harrell says.
There is rarely a direct move from the Catholic Church to Park Street, Harrell says. Rather people spend years disenchanted with church before trying out a new one. They are also looking for something more demanding than the church they grew up in.
Minority driven
Though former Catholics and university students have boosted the rolls of evangelical churches, most church growth comes from minority communities. Evangelical students have helped fuel the start of many young churches, Harrell says, but ethnic minorities, usually Asian, Brazilian, and Haitian, start more than half of new churches.
It's actually more than that, says Jeff Bass, executive director of Emmanuel Gospel Center, a Boston ministry that works to build churches in the city. Bass says that Boston's cultural elite of white, affluent professionals who live in loft apartments are the city's least churched demographic. The center's own research, Bass says, shows that 90 percent of all church plants are among minorities.
"This is something we have been documenting for the last 30 years," Bass says. In 1970, the Gospel Center drove through Boston, street by street, to discover why churches were dying. But what they found was startling. The big churches were dying as members stopped attending or left for the suburbs, as Bass expected. But small storefront churches full of minorities were growing. Historically, Boston's church growth always mirrored population growth. From the 1600s through the 1950s, when Boston's population grew, so did the number of churches. And when affluent residents fled to the suburbs, churches closed.
But Bass says they have been witnessing an unprecedented rate of church growth over the last 35 years, while the population has remained steady. In 1970, Bass and his team found 300 churches as they drove throughout Boston. Today, their research has documented 600 churches. "This is the longest sustained period of Christian growth," Bass says. "We call it the 'Quiet Revival.'"
Many of the leaders of these churches are bivocational, says Al Padilla, academic dean for Gordon-Conwell's Center for Urban Ministerial Education. "This has allowed the seminary a unique opportunity," says Padilla. Many pastors are eager for theological education, though time and finances prevent them from receiving a traditional seminary education. Padilla says Gordon-Conwell has had to be creative to find ways for many minority pastors to get a theological education. "You have a vast number desirous of education, but the financial resources are not there," Padilla says.
Training these bivocational pastors has a unique payoff, Padilla says. "These are people whose theology is beginning from scratch." This allows Gordon-Conwell to play a major role in shaping the character of the "quiet revival." "We have contributed a lot more significantly to the life of the church than most seminaries," Padilla says. "What students learn in classes is immediately used on the street."
Many of the immigrant churches are young, aggressively evangelistic, and conservative theologically. Padilla says they are often made up of migrant workers and poor laborers. They are very concerned about how the church should act in the public square, and they are progressive in social and urban issues.
These churches are not confined to Boston. David Midwood is president of Vision New England, an evangelism and discipleship ministry. Midwood attends one of the 40 Spanish-speaking churches in Lawrence, the poorest city in Massachusetts. Midwood says, "The most exciting thing [about the "quiet revival"] is the explosive growth of the multicultural church."
Midwood says he loves experiencing the inclusiveness of the gospel. "If you are really committed to the idea that the gospel brings together ethnic groups, economic levels, if you really believe that's true, it's a big deal. It's such a God thing."
Bass says he not only expects this "quiet revival" to continue, but he looks forward to it gaining momentum. Bass says people often tell him that God sent them to Boston. Churches in Boston have gained a tremendous amount of unity as pastors pray together and evangelize together. "A lot of the groundwork has been laid," Bass says.
"The 'quiet revival' is a precursor to something more major," Bass says. "Another revival is coming, more along the lines of the Great Awakening."
Related Elsewhere:
Christianity Todayearlier covered the growth of student ministries in the Ivy League.
A recent Christianity Today cover story discussed the multi-cultural church.
An excerpt from the book, United by Faith, on multi-cultural churches is available on our site.
Christian History Corner once asked, "Can Anything Good Come Out of New England?" and answered the revival in New England may not be so odd.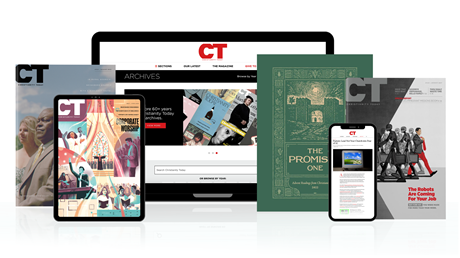 Annual & Monthly subscriptions available.
Print & Digital Issues of CT magazine
Complete access to every article on ChristianityToday.com
Unlimited access to 65+ years of CT's online archives
Member-only special issues
Subscribe
Boston's Quiet Revival
Boston's Quiet Revival