true
Last fall I spent a memorable weekend exploring Annapolis, Maryland with a good friend who recently moved to the historic home of St. John's College. And, oh yeah, in case you didn't notice, the U.S. Naval Academy is next door. We walked down the town's quaint cobblestone streets, had some excellent seafood, and watched boats come and go from our perch at the dock downtown. We also watched midshipmen parade through town in their fall tradition of marching to the football stadium for Saturday's big game, saw men and women in uniform become the center of attention as they picked their way through a crowded bar, and spotted camouflaged Navy trollers patrolling the waters of the Chesapeake Bay. You have to watch carefully or you'll miss them. They are camouflaged after all.
Make no mistake about it; Annapolis is a Navy town (though I should point out that St. John's regularly destroys Navy in their annual croquet match). And since I had such a lovely time there, I had a measure of pleasant anticipation as the lights dimmed for my preview screening of the movie set at the Academy and christened with the town's name. But while I continue to harbor fond memories of Annapolis, it's difficult to find anything to praise about Annapolis.
The narrative coddles its audience by offering stock characters reciting clichéd dialogue ("Man, I have dreams too"), and then has the audacity to ask viewers to do the heavy lifting of filling in the gaps in logic when the characters make head–scratching decisions. (Maybe he decided to go back to his old job because … oh I don't know. I give up.)
The story centers around Jake Huard (James Franco), a guy from the wrong side of the tracks (or water, in this case) who is unexpectedly, ...
1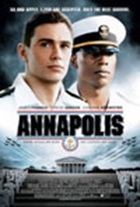 Browse All Movie Reviews By:
Annapolis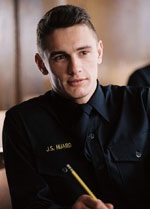 This slideshow is only available for subscribers.
Please log in or subscribe to view the slideshow.