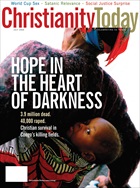 This article is from the July 2006 issue. Subscribers can read all of CT's digital archives.
"It was fish, not spices, that led to the discovery of North America," Brian Fagan writes. Late-medieval Europeans required vast quantities of fish, in part because fish could be readily preserved, but also because the church forbade eating meat on Fridays and on many other days in the church calendar. When a change in climate that spanned the period from 1300 to 1850—the subject of an excellent earlier book by Fagan, The Little Ice Age—forced fishermen in the northern waters to range more widely, they ventured as far as Newfoundland, preparing the way for the European settlement of North America.
That, in a nutshell, is Fagan's argument in Fish on Friday. But it merely provides the cooking pot, as it were, for a rich stew of history, cultural commentary, and piquant curiosities, including a number of recipes.
Fagan's knowledge of religion, alas, is not his strong suit. Even so, his book shows that our understanding of history must ultimately be interdisciplinary, taking into account the complex interplay of factors that are often treated in isolation in separate academic fiefdoms. Church history, the history of technology, economics, geography and the history of climate, anthropology—all these perspectives and more contribute to Fagan's narrative.
Related Elsewhere:
Fish on Friday: Feasting, Fasting, and the Discovery of the New World is available from Amazon.com and other book retailers.
More information is available from Basic Books.
More about author Brian Fagan is available from his website.
1
Friday Night Fish Fry
This slideshow is only available for subscribers.
Please log in or subscribe to view the slideshow.
Friday Night Fish Fry