true
They came from all directions. Skulls and crossbones marked their flags and jackets. They laughed hearty yo-ho-hos. Their buckles were swashed. Their eyes—those eyes not covered with eye patches—flared intensely under the brims of their impressive buccaneer hats. As they approached, snarling and threatening to throw rum bottles at those who got in their way, people scrambled to get out of their path.
And those were just the members of the audience. Fans of the 2003 original Pirates of the Caribbean stormed movie theaters over the weekend in full costume, eager to see the latest adventures of Elizabeth Swann, Will Turner, and that legendary pirate loon, Captain Jack Sparrow.
What they got was an action-packed, laugh-inducing sequel more than two-and-a-half hours long— Pirates of the Caribbean: Dead Man's Chest. In fact, the film's final surprise was greeted with cheers, whistles and applause. Consider their timbers shivered!
In return Disney got a record-breaking weekend—$135.6 million, slamming Spider-Man's record to the ground. (Don't worry—the Webbed Wonder will try and re-take the title next year.)
Many Christian film critics—including myself—were cheering along with the rest of the crowd.
In a year of summer blockbusters that have been disappointing at best, disposable and joyless at worst, Dead Man's Chest arrives like an emergency delivery of fun. Bursting at the seams with adventure, chase scenes, comedy, and monsters so fantastic that Peter Jackson will turn green with envy, it's making this moviegoer shout a hearty yo-ho-hallelujah.
Chest boasts the most spectacular big-screen villain—in presence, design, and personality—since the shadow of Darth Vader first loomed in the smoky corridor of the rebel blockade runner. And who can contend with Johnny Depp, who storms the screen with more confidence and charm than we ever knew was possible? Returning to the role of the irascible, irresponsible, irrepressible Captain Jack Sparrow, Depp gives one of those rare comic performances that should earn him another Oscar nomination. (He received a 2003 nod for Curse of the Black Pearl, but the award went to Sean Penn for Mystic River).
My full rave is at Looking Closer.
Russ Breimeier (Christianity Today Movies) says Dead Man's Chest is "the same sort of fun thrill ride that used to be the norm during the summer movie season," and that the filmmakers "deserve praise for making an old-fashioned popcorn movie that knows how to entertain. Audiences may have been doubtful of the first movie, and perhaps a little skeptical of this one, but you can bet they'll be clamoring for Pirates of the Caribbean: At World's End come May 2007."
He adds a caution: "Like The Empire Strikes Back, this second chapter is considerably darker than its predecessor, though not as much as, say, Indiana Jones and the Temple of Doom."
Steven D. Greydanus (Decent Films) raves that the movie offers "most of what you'd expect: an even more convoluted plot, even more eye-popping special effects and makeup, and an even more powerful supernatural nautical antagonist. … [T]he filmmakers have let their imaginations run wild, taking chances, striving to outdo themselves on every level. It's an approach that can yield self-indulgent, bloated excess—or brilliance." He concludes that this is an example of the latter, calling it "one of the most memorably entertaining popcorn flicks in memory."
David DiCerto (Catholic News Service) says, "For a sequel, the new movie matches—if not tops—the original as first-rate popcorn entertainment with all the right ingredients: action-adventure, spectacle, screwball comedy and a bit of romance."
Taking a different tone, Marcus Yoars (Plugged In) opens fire on Captain Jack's ship. "I never thought the words swashbuckling and tedious could ever describe the same thing, yet that's the rare combination found in [Dead Man's Chest]."
And Christian Hamaker (Crosswalk) says the movie "goes on much too long, then makes no effort to provide a satisfying ending." He adds that it "includes heavy doses of the macabre that will leave some viewers more disgusted than amused." But he concludes that the film "has a cartoonish quality that leavens even its darkest moments, and it includes a couple of bang-up sequences that remind us of how summer-movie thrills can delight with their lunacy and inspiration."
Meanwhile, mainstream critics seem bored and bewildered, uttering many a "yo-ho-humbug!" But it sure doesn't look like moviegoers are paying them any heed.
More reviews of recent releases
Forgiving Dr. Mengele:This documentary about the life and work of Eva Moses Kor, an Auschwitz survivor, asks the question: Is forgiveness an appropriate response to the cruelty of the Nazis when no apology has been offered? Ken Morefield (Looking Closer) examines Kor's controversial message, and concludes, "Forgiveness does not end all conflicts nor does it prevent new ones from arising, but it can and does provide an example, one that—at the very least—contains a promise that freedom from the soul-destroying effects of anger and hate is a possibility."
Wordplay: Last week's Film Forum featured an earlier review of Wordplay. This week, Camerin Courtney (Christianity Today Movies) calls it "a cavalcade of quirky humanity." Describing the many and varied personalities we meet in the film, she says, "These folks, and the deft editing and pacing, make the film anything but boring. … I was entertained (our half-full theater laughed aloud many times) and moved to tears, plus I learned stuff and was inspired to try a new hobby."
An Inconvenient Truth: Ken Morefield (Looking Closer) writes, "The consequences of the film's thesis being true … would be worldwide, so the film's participants and defenders can't quite seem to fathom why the responses to that thesis are so polarized along ideological and party lines. I can't quite understand why either, but I have my suspicions." He spells out those suspicions in the review.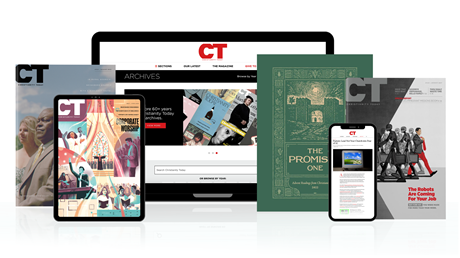 Annual & Monthly subscriptions available.
Print & Digital Issues of CT magazine
Complete access to every article on ChristianityToday.com
Unlimited access to 65+ years of CT's online archives
Member-only special issues
Subscribe
Yo-Ho-Hollywood! Pirates Tops Box Office!
Yo-Ho-Hollywood! Pirates Tops Box Office!