The following article is part of our ongoing effort to provide a variety of Christian perspectives on the Israel-Lebanon conflict.
How should I respond to my seven-year-old daughter when she is terrified by the news and images of destruction in my country? The bombing of bridges we recently traveled upon, the demolition of our only airport, where my daughter was happily running around just a few weeks ago. What should I say to her when a house was destroyed and 11 people in it killed in one air strike? What should I say to her when a two-year-old child was literally cut in half in a vicious air strike?
I was overwhelmingly silent! But I had to say something to my anxious daughter. I told her not to worry much, that the attacks will only last for a matter of days. As I talked to her, I was thinking of the upcoming meeting of U.N. Security Council. I was so optimistic that the council would put an end to this unequal and disproportionate conflict. I thought of the great nations that are members of the council, with their rich cultural heritages of human achievement and concern for humanity.
So I was completely shocked, greatly saddened, and disappointed when the Council took no stand! Not even a symbolic resolution to condemn the killing of innocents in Lebanon was contemplated. We were told that the council needed days to think the matter over! I wonder what kind of thinking is required when a power station is destroyed, when a civilian car is bombed on its way to a safe place, and when terrified infants and children cry all night as they listen to the bombing of the neighborhood. I wonder whether these members have experienced conflict in tragedies in the Balkans, Sudan, Rwanda, and elsewhere.
I am not much interested in politics, but I am perplexed by the silence of the human conscience. Yet I still hope that the human conscience will be awakened someday. I am encouraged by the ability of the worldwide Christian church to speak about peace and to run seminars on conflict resolution, but disappointed with its ineffectiveness to work for a real and just peace, particularly in the case of the Arab-Israeli conflict. At the same time, I am encouraged to know that many Christian sisters and brothers are concerned for our situation in Lebanon. They are praying and encouraging us, in spite of their helplessness to influence their governments.
We live in West Bekaa, Lebanon, and for the last 16 years we have been involved in peace and tolerance education as we work with hundreds of students and families who belong to various religious backgrounds. Now we experience again the meaning of hatred and war. As I write these words, I hear Israeli jet fighters bombing a nearby bridge and several roads, killing several civilians who happened to be nearby. We are nearly isolated, as roads to other cities and towns are destroyed. Our fear is that in just a few days, food, fuel, medicines, and other needed items will become scarce as the situation worsens and the sea, land, and air blockade continues.
What should I say to my daughter? "My daughter let us keep praying not just for peace, but for the awakening of the human conscience." Would you please join me in such a prayer?
Riad Kassis is executive director of the Johann Ludwig Schneller School in West Bekaa, Lebanon. He is also a scholar with Langham Partnership International (known as John Stott Ministries in the U.S.).
Related Elsewhere:
More articles on the fighting in Lebanon include:
We Risk Not Just Suffering, But Annihilation | An open letter to Dr. Martin Accad. (July 21, 2006)
Speaking Out
Prince of Peace's Hometown Bombarded | Missiles' booms sound the alarm to our forsaken responsibility of peace making. (July 21, 2006)
Another Point of View: Evangelical Blindness on Lebanon | The academic dean of the Arab Baptist Theological Seminary is angry at evangelical Christians, Israel, Hezbollah, the U.S., and the international community. (July 20, 2006)
Weblog: Secrets of the Lebanon-Israel War | Beyond the headlines in the Lebanon-Israel War (July 20, 2006)
When the Bombs Fell on Beirut | This week's fighting between Israel and Lebanon seems too familiar. (July 17, 2006)
Speaking Out
The Middle East's Death Wish—and Ours | We say "everyone wants peace," but we also want to see our enemies destroyed. (July 14, 2006)
See our past coverage of the Israel-Palestine fight, Iran, and Lebanon.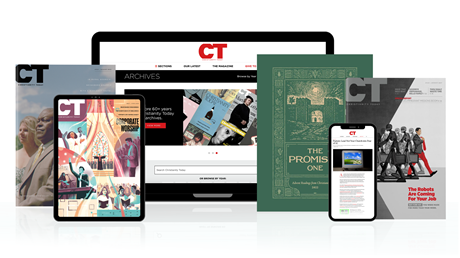 Subscribe to Christianity Today and get access to this article plus 65+ years of archives.
Home delivery of CT magazine
Complete access to articles on ChristianityToday.com
Over 120 years of magazine archives plus full access to all of CT's online archives
Subscribe Now
The Silent Human Conscience
The Silent Human Conscience