true
Sounds like … the works of Bob Dylan, Mark Heard, T Bone Burnett, Buddy Miller, Derek Webb, Neil Young, and Andrew Osenga, blending folksy pop/rock with some occasionally jazzy touches
At a glance … it's not one of Cockburn's more overtly spiritual efforts, and some will find the politicizing and profanity offensive, but this highly regarded folk songwriter's craft remains strong in quality and beauty
For more than 35 years, Bruce Cockburn has built respect as a songwriter with both Christian and secular audiences, and an influence on artists both veteran and rookie. But while two of his albums were recognized by CCM magazine among the 100 greatest albums in Christian music, he's never exactly been a central player to the genre. That's partly because Cockburn has always been more popular in his native Canada than in Nashville. Historically, he's also been subtler than most Christian artists in communicating faith through song, and his lyrics are typically more edgy in expression and social commentary.
All of that holds true for Life Short Call Now, his 29th album. Yes, he's still a hallmark among Canadian songwriters, but more importantly, Cockburn remains one of the present day's few relevant remnants of folk artists from the '60s. He's never been one to shy away from political topics, and with concerns over the wars in the Middle East, there's plenty of fuel for the fire.
The most blatant examples come in the album's second half. Cockburn angrily—and with one profanity—takes aim at President Bush in "Tell the Universe" for what he considers unjustified use of power and violence: "You've been projecting your sh-- at the world/Self-hatred tarted up as payback time … Tell the world where you've been with your bloodstained shoes and your dunce's grin." That tirade is followed by "This Is Baghdad," questioning the price of freedom by turning a city into a war zone, as well as the use of military force without an exit strategy. Rounding out this political suite is smooth jazz instrumental "Jerusalem Poker."
In addition to the one profanity noted above and the animosity directed at Bush, there are also some references to sexual desire in "Different When It Comes to You." The folksy ballad is sweetly romantic in feel, but includes these lines: "I don't want to go home tonight/I want to turn loose my lust/I want you to squeeze me tight/Do the things that we discussed." However, it's not entirely clear from the other lyrics whether Cockburn is giving in to those feelings (the literal interpretation), or resisting them by embracing a higher power (the poetic interpretation)—"I bring you my broken self with zero hidden from your view/I don't usually do that but it's different when it comes to you."
Those potential stumbling blocks aside, the remainder of Life Short Call Now offers a more generalized look at a fallen and broken world. The title track expresses loneliness born out of an overly commercialized culture, while "Beautiful Creatures" laments mankind's inability to live out their intended potential, embracing hatred over peace. Much like Billy Joel's "We Didn't Start the Fire" and R.E.M.'s "It's the End of the World as We Know It," the driving folk rocker "Slow Down Fast" lists the indicators of man's intent to self-destruct.
Yet despite the violence and despair, "See You Tomorrow" offers a hopeful perspective that can leave a sinful past behind through love. "Mystery" employs simple, old-fashioned folk stanzas to find beauty in the little things—"You can't tell me there is no mystery/It's everywhere I turn … Come all you stumblers who believe love rules/Stand up and let it shine." And in conclusion, Cockburn seems to find peace by using "To Fit in My Heart" to explain things beyond our understanding—"Spacetime strings bend/World without end/God's too big to fit in a book/Nothing's too big to fit in my heart."
It's all delivered with the exquisite blend of folk, pop, rock, and jazz that has characterized Cockburn's sound over his career. Sometimes it's raw ("Slow Down Fast"), sometimes it's more alternative and abstract ("To Fit in My Heart" and the instrumental "Nude Descending a Staircase"). Most of it firmly resides in folk-pop territory, aided by a broad variety of sounds (harmonium, flugelhorn, Maikotron) and guest talent (Ron Sexsmith, Ani DiFranco, Hawksley Workman). There's even a bit of lounge jazz sound in the percussion of "Tell the Universe" and "This Is Baghdad," but the clear highlight is "Beautiful Creatures," in which Cockburn takes his world-weary voice into a mournful falsetto, backed delicately by a lush 23-string orchestra.
This adds up to a powerful expression of fear, anger, and hope due to uncertain times, shared with first-rate songwriting and musicianship. Cockburn proves he's still got it, and exudes a great deal of passion, but does he go too far? That's something that can only be answered individually by listeners in deciding what is "true and noble" as applied to artful self-expression.
Browse All Music Reviews By: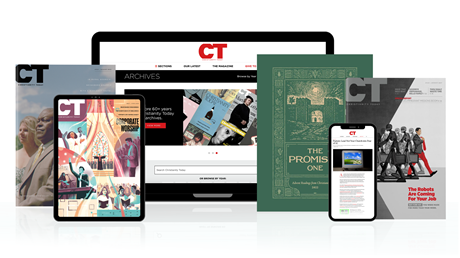 Annual & Monthly subscriptions available.
Print & Digital Issues of CT magazine
Complete access to every article on ChristianityToday.com
Unlimited access to 65+ years of CT's online archives
Member-only special issues
Subscribe
Life Short Call Now
Life Short Call Now