Today's Top Five
1. University of Wisconsin allows RAs to lead Bible studies
Last July, the University of Wisconsin-Eau Claire told resident assistant Lance Steiger that he would face disciplinary action if he continued to lead a Campus Crusade for Christ Bible study in his dorm basement. The argument was that RAs are state employees, and allowing them to promote a specific faith in such a position would unconstitutionally establish religion. The policy was suspended after Steiger sued the school, and a new policy would allow RAs to "participate in, organize, and lead any meetings or other activities" to the same extent as other students. "However," the policy states, "they may not use their positions to inappropriately influence, pressure, or coerce student residents to attend or participate." The policy now goes to the University of Wisconsin board of regents for approval.
2. 'In God We Trust' chair no longer has to trust in God
The University of Charleston (W.V.) is looking for a professor to fill its Herchiel and Elizabeth Sims "In God We Trust" Chair in Ethics. The school's original ad at the Chronicle of Higher Education listed the necessary qualifications: an earned doctorate and expertise in ethics, experience in faculty development, and "a belief in God and present moral and ethical values from a God-centered perspective." When critics objected that this requirement apparently violated the Civil Rights Act's bar on religious discrimination, the university changed the ad. It now says candidates "must have the ability to teach moral and ethical values from a God-centered perspective."
3. Evangelicals are keeping America international, some say
"Even as many in Washington trumpet the return of realism to US foreign policy and the decline of the neoconservative hawks, the staying power of the evangelicals is likely to blunt what might otherwise have been a steep decline in Wilsonian ideals," The Christian Science Monitor reports in a must-read article. The basic argument is that evangelicals' passion for global issues is preventing America from becoming isolationist. Are evangelicals, whom New York Times columnist Nicholas Kristof called the "new internationalists" now America's dominant internationalists? It's an interesting theory that deserves more discussion. Let's hope some academic journals and other news outlets investigate this idea further.
4. Fearing Hillsong's long shadow
Australia has been having a debate on religion and politics that in many ways mirrors and mimics the discussion in the U.S. But one part of the Australian debate is unique: the discussion is dominated by one church. You may not know Hillsong, but you've almost certainly sung the church's music. The latest wrinkle in the Hillsong-and-national-politics debate is the recent revocation of federal funds for the church's aid programs amid accusations of financial mismanagement. The church denies the accusations. And now some members of Australia's Labor party are worried that the church will use its influence to retaliate against its critics in Parliament.
5. Dobson reads Alito note on air
The biggest non-story of the day is the thank-you note that Supreme Court Justice Samuel Alito sent to Focus on the Family host James Dobson for his "help and support during the past few challenging months." Groups like Americans United for Separation of Church and State and Alliance for Justice are suggesting that the note proves Alito is a tool of the religious right. Dobson sees the letter as evidence of his listeners' influence. Alito's note, however, suggests he's mostly grateful for people praying for him. Sometimes a thank-you note is just a thank-you note.
Quote of the day:
"This commission believes that, beyond any reasonable doubt, the leadership of the USSR took the initiative to eliminate the pope."
—Italian Senator Senator Paolo Guzzanti, head of an parliamentary commission investigating the 1981 shooting of Pope John Paul II. The successor to the KGB called the report, which marks the first time the accusation has been made by an official government body, "completely absurd."
More articles
U. Wis. allows RA Bible study | Higher education | Education | Lent | Church life | Missions & ministry | Immigration | Abortion | Life ethics | Politics | Government prayers | Church and state | Religious freedom | Nigeria riots | Crime | Abuse | Sexual ethics | Spirituality | Books | Media and entertainment | Dobson reads Alito thank-you note | Pat Robertson | People
U. Wis. allows RA Bible study:
Policy allows dorms RA's Bible study | A student who supervises student housing in the University of Wisconsin System has the same rights as the students being supervised (Wisconsin State Journal)


UW closer to allowing RA-led Bible studies | Regents to vote on proposal springing from UW-Eau Claire debate (Milwaukee Journal-Sentinel)


Wisconsin's battle of the Bible | University moves to allow R.A.'s to hold religious meeting in dorm rooms. (Inside Higher Ed)


Charleston ends illegal job requirement | West Virginia institution says it erred in requiring applicants for endowed chair to believe in God (Inside Higher Ed)


Abortion rights group causes stir at Boston College | Officials balk at student event (The Boston Globe)


The right-wing debate champs | These guys often have to argue from the opposite ideological side, and in doing so, must master, for example, pro-choice arguments. This is, to say the least, pretty scary. The right is already better at resonating with the public in a visceral, emotional way; our advantage is that we're the logical ones (The Nation)


Lent:
Returning to the rituals | Some evangelical churches are exploring high liturgy (The Baltimore Sun)


Fasting practiced by many of the world's religions | Purposely scaling back meals and drinks often is done for mental, physical and spiritual reasons across religious traditions, from practitioners of earth-based spirituality to evangelical Christians (The Tennessean, Nashville)


For St. Patrick's new rector, an old rite: Making crosses of ash | The Rev. Robert T. Richie, who was just appointed rector of St. Patrick's Cathedral, began a busy season in the Catholic calendar with Ash Wednesday (The New York Times)


Religion Today: Katrina's diaspora | With many in his flock not planning to move back, Bishop Paul Morton decided to come to them. He's opened a permanent church in suburban Atlanta to serve the spiritual needs of those who have found a new life hundreds of miles from their once-flooded homes (Associated Press)


Mahony's Lenten message irritates some at service | Stepping up his campaign for humane immigration reform, Los Angeles Cardinal Roger M. Mahony urged his Roman Catholic flock at a packed Ash Wednesday service to "make room in our hearts" for immigrants, but his message drew mixed reviews (Los Angeles Times)


Cardinal vows to defy anti-immigrant bill | When asked if he would be willing to go to jail for the stance, Los Angeles Cardinal Roger M. Mahony said "yes" because "helping people in need were actions that are part of God's mercy (Associated Press)


Paralysed baby's life is in hands of judge | The High Court will be asked at a private hearing today to allow a paralysed 17-month-old baby to die (The Telegraph, London)


Korean cloning expert questioned | South Korean prosecutors have begun questioning disgraced cloning expert Hwang Woo-suk and three members of his research team in the capital, Seoul (BBC)


Evangelized foreign policy? | Even as many in Washington trumpet the return of realism to US foreign policy and the decline of the neoconservative hawks, the staying power of the evangelicals is likely to blunt what might otherwise have been a steep decline in Wilsonian ideals (The Christian Science Monitor)


Does God want you to protect the Earth? | Some evangelicals say caring for environment is a moral imperative (The Desert Sun, Palm Springs, Ca.)


Bid to lift prayer ban in House fails | A federal appeals panel on Wednesday rejected a bid to put on hold a judge's ban on sectarian prayer in the Indiana House of Representatives (The Indianapolis Star)


Indian River insists on expounding Christian faith in public forums | Keep religion in houses of worship and stop bringing it into public chambers (Editorial, The News Journal, Wilmington, Del.)


PM wants to retain parliamentary prayers | Prime Minister John Howard has dismissed as absurd a bid by minor parties to have prayers dropped from parliamentary proceedings (AAP, Australia)


Parishioners ask O'Malley to clear pastor | Participation in church drops (The Boston Globe)


Past can present a future | Amid all the negative, Randy "Duke" Cunningham still can take some positive, responsible steps (San Diego Union-Tribune)


Rebels with a cross | The new counterculture is a Christian movement with music, clothes, and alternative churches of its own (The New York Times)


Harvard-bound? Chin up | Read Reinhold Niebuhr. Religion is a crucial driving force of this century, and Niebuhr is the wisest guide (David Brooks, The New York Times, sub. req'd.)


Roots | Europe's salvation. Maximilian Pakaluk reviews Without Roots: The West, Relativism, Christianity, Islam, by Joseph Cardinal Ratzinger and Marcello Pera (National Review Online)


Dobson reads Alito thank-you note:
Dobson says Alito sent thank-you note | Alito wrote that "the prayers of so many people from around the country were a palpable and powerful force. As long as I serve on the Supreme Court, I will keep in mind the trust that has been placed in me," Dobson said on his radio broadcast (Associated Press)


Alito's note to Dobson debated | What Sen. Wayne Allard considers "nice manners" has prompted debate about the proper correspondence between a Supreme Court justice and a politically influential conservative Christian leader (The Gazette, Colorado Springs)


Pat Robertson: Raked over the coals while raking in the dough | Robertson's unique commentaries may be costing him the respect of longtime colleagues, but his Operation Blessing is receiving serious faith-based money from the Bush Administration (Bill Berkowitz, WorkingForChange)


Pat Robertson not re-elected to broadcasters' board | He's a pioneer and heavyweight in evangelical television, but Pat Robertson lost re-election to the National Religious Broadcasters' board of directors last month (The Virginian-Pilot)


Hagee, Falwell deny endorsing 'dual covenant' | Pastors John Hagee and Jerry Falwell have both denied a report in The Jerusalem Post earlier this week that they embrace the "dual covenant" theology, which holds that Jews are saved through a special relationship with God and so need not become Christians to get to heaven (The Jerusalem Post)


Henry M. Morris, 'father of modern creation science,' dies at 87 | Morris was a staunch "young Earth" creationist who believed with unbending certainty that the Earth was less than 10,000 years old and was made in six 24-hour days (The Plain Dealer, Cleveland)


Pastor addressed in King's jail letter dies | One of moderate white clergy who welcomed rights activists to church, suffered harassment (The Birmingham News, Ala.)


Related Elsewhere:
Suggest links and stories by sending e-mail to weblog@christianitytoday.com
See our past Weblog updates:
March 1
February 24 | 23 | 22 | 21
February 17 | 16 | 15 | 14 | 13
February 10 | 9 | 7
February 3 | 2 | 1
January 25 | 20 | 19 | 18 | 17
January 13b | 13a | 10
January 6 | 5 | 4
Weblog
Launched in 1999, Christianity Today's Weblog was not just one of the first religion-oriented weblogs, but one of the first published by a media organization. (Hence its rather bland title.) Mostly compiled by then-online editor Ted Olsen, Weblog rounded up religion news and opinion pieces from publications around the world. As Christianity Today's website grew, it launched other blogs. Olsen took on management responsibilities, and the Weblog feature as such was mothballed. But CT's efforts to round up important news and opinion from around the web continues, especially on our Gleanings feature.
Ted Olsen is Christianity Today's executive editor. He wrote the magazine's Weblog—a collection of news and opinion articles from mainstream news sources around the world—from 1999 to 2006. In 2004, the magazine launched Weblog in Print, which looks for unexpected connections and trends in articles appearing in the mainstream press. The column was later renamed "Tidings" and ran until 2007.
Previous Weblog Columns: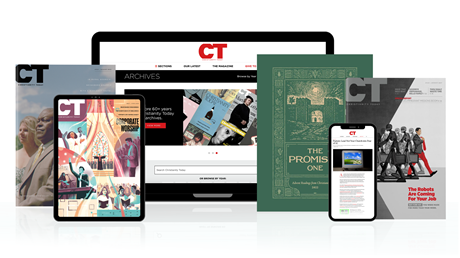 Annual & Monthly subscriptions available.
Print & Digital Issues of CT magazine
Complete access to every article on ChristianityToday.com
Unlimited access to 65+ years of CT's online archives
Member-only special issues
Subscribe
Read These Next
Trending

American Christians Should Stand with Israel under Attack

While we pray for peace, we need moral clarity about this war.

From the Magazine

I Studied Christianity with the Hope of Debunking It

A decade later, I became a Christian.

Editor's Pick

Don't Miss These African Christmas Hits

Jam out this season to highlife, Afrobeats, jazz, a cappella, R & B, rap, dance, and hip-hop artists from Nigeria, South Africa, and more.
U. Wisconsin Lifts RA Bible Study Ban
U. Wisconsin Lifts RA Bible Study Ban