Still contentious after consensus
Gideons International wanted to distribute Bibles in schools in Brunswick County, North Carolina.. It looks like it'll happen: but it almost didn't. The school board voted 3-2 to draft a policy allowing "passive distribution" of "religious and non-religious materials." The fear among some board members and the board's lawyer was that if the school allows the Gideons to distribute Bibles, they'll have to allow other groups to distribute non-Christian or even anti-Christian literature. Actually, no. The threshold isn't crossed when you allow one form of religious literature—it's when you allow one form of extra-curricular literature. If you let the Boy Scouts to distribute a promotional leaflet, you have to allow the Gideons to distribute Bibles. Admittedly, there is some legal debate on this, but the principle has been reiterated by courts, the Department of Education, and groups across the political spectrum.
Most of these fights seem to be a case of educators uneducated in the law. But other unnecessary fights seem driven by something else. Take a look at the fight over at Karns Elementary School in Knox County, Tennessee, which has been going for nearly a year. Fifth-grader Luke Whitson and his parents say Principal Cathy Summa prevented him from reading his Bible at recess. Summa says the incident never happened, and launched a $3 million countersuit for libel and slander. Tuesday, the parties finally agreed to a agreement stating that the school "has not and will not have a policy or practice of banning students from reading religious texts at recess," according to the Knoxville News Sentinel. The suits continue, however, and the judge in the case is disappointed.
"Counsel, I'm just really amazed. Something that apparently started as a misunderstanding has escalated into a lawsuit in federal court," he told the lawyers on both sides. If it goes forward, the case will tie "up hundreds of thousands of dollars in legal fees. That is plain senseless," he said.
(We're skipping the "Top Five" today, since it's a bit of a slow news day.)
More articles
Education | Soulforce Equality Ride | Homosexuality | Adoption | Church and state | Religious freedom | Politics | Immigration | Dutch immigration film | Franklin Graham on Islam | Violent Christianity | Crime | Alabama church fires | Abuse | Life ethics | Abortion | Missions & ministry | Church life | Uganda church collapse | Meat on St. Patrick's Day | Catholicism | Da Vinci Code | Books | Entertainment and media | Ford boycott | Templeton Prize | Other stories of interest
SoulforceEquality Ride:
Speaking of rights, a school that tried to accommodate visitors has some, too | Regent University officials aren't required to serve as stooges for publicity-hungry groups that come to town with political agendas (Kerry Dougherty, The Virginian-Pilot)


Mass. governor proposes gay-adoption bill | The Protecting Religious Freedom bill would exempt religious groups from a state anti-discrimination law that requires them to consider gay couples when placing children for adoption and foster care (Associated Press)


Across the country, church agencies eye adoption practices | Decision to withdraw by Catholic Charities of Boston spurs review (The Boston Globe)


Several states weigh ban on gay adoptions | Catholic Charities' move to stop adoption work focuses new attention on same-sex couples who adopt children (The Christian Science Monitor)


Parliament shuns talk of Church separation | The majority of MPs in Parliament yesterday avoided adopting a proposal which would effectively begin the separation of the Church from the state (Kathimerini, Athens, Greece)


Congress members push for fewer travel restrictions to Cuba | Members of Congress opposed to the U.S. embargo of Cuba are meeting with administration officials in Washington today to discuss what they say are new restrictions on religious travel to Cuba, said Matthew Specht, a spokesman for Rep. Jeff Flake, R-Ariz. (The Miami Herald)


Church joins fight against extortion | After campaigning against alcoholism and for HIV/AIDS prevention, the Church in Nagaland has decided to throw its weight behind consumer rights organisations that have launched a crusade against extortion in the name of "tax" (The Telegraph, Calcutta, India)


Blackwell courts votes of black ministers | Continuing his quest to court religious leaders, Republican gubernatorial candidate J. Kenneth Blackwell bought lunch for more than 70 black pastors in Cleveland yesterday, hoping to match his success with mostly white leaders of evangelical Christian churches (The Columbus Dispatch, Oh.)


A Dutch film warning: nudity and gay kisses ahead | For potential Dutch immigrants, an unusual homework assignment: watch an attractive woman sunbathing topless and try not to be shocked (The New York Times)


Dutch immigrants must watch racy film | The camera focuses on two gay men kissing in a park. Later, a topless woman emerges from the sea and walks onto a crowded beach. For would-be immigrants to the Netherlands, this film is a test of their readiness to participate in the liberal Dutch culture (Associated Press)


Franklin Graham's 'famous father' problem | Preacher finds controversy as he defines his own legacy (Nightline, ABC News)


Video: Graham on Islam | Leading Christian evangelist stands by his statement that Islam is "wicked." (Nightline, ABC News)


Franklin Graham reaffirms scorn for Islam (Associated Press)


No religion has a monopoly on violence | Slobodan Milosevic, the Butcher of the Balkans, was a Christian who oversaw the slaughter of tens of thousands of Muslims in Bosnia and Kosovo (Mary Ellen Schoonmaker, The Record, N.J.)


Christian history marked with violence, too | If those of us who come from the European and American Christian traditions are to be honest and consistent, we must acknowledge a history of pogroms against the Muslims during and after the Crusades, or of the Catholic Church purging sections of Europe of its Jews in the Middle Ages and into the Reformation (Lee Stagg, Pioneer Press, St. Paul, Minn.)


Judge sets $50,000 bond for Ala. suspects | Three college students accused of setting fire to a string of rural Alabama churches can be released from jail on $50,000 bond each, provided they stay away from alcohol, cars and home computers, a judge ruled Thursday (Associated Press)


Judge to rule on bond today | A judge will decide today whether three suspects in nine church fires will be released on bond with conditions after prosecutors argued Wednesday they are a danger to the community (The Birmingham News, Ala.)


Crowd keeps church member outside | Geraldine Sands traveled 70 miles from Boligee to learn if three suspects accused of burning her church would be released on bond. She left Birmingham disappointed (The Birmingham News, Ala.)


Born in defiance | A mother-to-be was advised by her doctor to "terminate that fetus". She refused and later gave birth to "a perfect little boy" (Herald Sun, Melbourne, Australia)


2,000 attend churchman's funeral | Oliver Lyseight founded one of the largest black Christian churches in the UK. (BBC)


Church is 'sorry' for Aids stigma | Kenya's Anglican Church has issued a public apology for previously shunning those with HIV/Aids (BBC)


Archbishop: Church will return all grabbed land | The Anglican Church of Kenya will surrender all land mentioned in the Ndung'u report if found to have been issued irregularly (The East African Standard, Kenya)


Pastor seeks new church plan | Pastor Godfrey Luwagga (right), the proprietor of the ill-fated City of the Lord Church, has contracted Kampala city councillor Ronald Balimwezo to draw a new plan for the building (New Vision, Uganda)


Takuba warns on rebuilding collapsed church | Kawempe division chairman–elect Nasser Takuba Kibirige has vowed to sue Pastor Godfrey Luwagga if he re-builds his church at Kalerwe without permission (New Vision, Uganda)


Pastors in fundraising drive to reconstruct collapsed church | Pastors of Pentecostal churches have started soliciting funds to reconstruct the church which collapsed last week (The Monitor, Uganda)


Christians, Jews, Muslims must seek dialogue: Pope | Christians, Jews and Muslims must work together to promote peace and teach respect for religions and their symbols, Pope Benedict said on Thursday (Reuters)


Book recounts John Paul II's final days | A new book by Pope John Paul II's longtime personal physician recounts the pontiff's final days and minutes, saying doctors realized on a few hours before his death that further medical intervention would have been fruitless (Associated Press)


Catholic church plays down reports of second papal visit to Britain | "It is too soon to say either in what that visit might consist, or whether it would be feasible, given the Pope's commitments and the many invitations he has already received from across the world," The Roman Catholic church in England and Wales said (The Guardian, London)


Religious broadcaster gets rich contract for next book | Joel Osteen has signed a deal with Free Press that could bring the author more than $10 million, according to insiders (The New York Times)


Still life in monastery: 'Little Hours' | The Carthusian monks are one of the most rigorous religious orders in the world, living silently solitary lives, almost unchanged since the eleventh century (Talk of the Nation, NPR)


Finding God in unexpected places | A journalist queries celebrities about God. The answers are sometimes surprising (The Christian Science Monitor)


Faith is only a mouse click away | Techvangelism '06, a daylong conference to be held Saturday at Menlo Park Presbyterian Church, intends to show Christians how to spread their message online (The Mercury News, San Jose, Ca.)


Also: 'God on the move' with prayer downloads | A "pray-as-you-go" service has been launched by the Roman Catholic Church to put people in touch with God via their iPods (The Telegraph, London)


Spiritual songs shine at CMT nominations | Three songs with spiritual themes received multiple nominations (Associated Press)


Still advertising to gays, Ford under boycott again | The American Family Association has reinstated a boycott trying to force Ford to stop advertising in publications aimed at gay readers (The New York Times)


Ford vs. the religious Right, round 2 | Once again, conservative groups are boycotting the carmaker because it advertises in gay-related media. Ford says it isn't budging (Business Week)


Math professor wins a coveted religion award | John D. Barrow, a British cosmologist whose work has explored the relationship between life and the laws of physics, was named the winner of the Templeton Prize (The New York Times)


Scientist John Barrow wins religion prize | John D. Barrow, a British scientist and writer whose work explores fundamental questions about the universe and humanity's place in it, has won a religion award billed as the world's richest annual prize (Associated Press)


British scientist wins religion prize | $1.4-million Templeton award goes to John Barrow, who has written on life and the universe (Los Angeles Times)


Hamstrung churches urge Monday marathon | With the Los Angeles Marathon just days away, area church leaders on Tuesday urged race organizers to hold next year's event on a day that does not conflict with any religious group's Sabbath (Los Angeles Times)


Tribute to a saint | Downpatrick is the cradle of Irish Christianity and gave birth to the idea of St. Patrick's Day Tomorrow sees the annual parade from the site of his first church to his grave (The Toronto Star)


Satellite may have found Noah's ark | Image may solve biblical mystery (Good Morning America, ABC News)


Related Elsewhere:
Suggest links and stories by sending e-mail to weblog@christianitytoday.com
See our past Weblog updates:
March 15
March 10b | 10a | 8
March 3 | 2 | 1
February 24 | 23 | 22 | 21
February 17 | 16 | 15 | 14 | 13
February 10 | 9 | 7
February 3 | 2 | 1
January 25 | 20 | 19 | 18 | 17
Weblog
Launched in 1999, Christianity Today's Weblog was not just one of the first religion-oriented weblogs, but one of the first published by a media organization. (Hence its rather bland title.) Mostly compiled by then-online editor Ted Olsen, Weblog rounded up religion news and opinion pieces from publications around the world. As Christianity Today's website grew, it launched other blogs. Olsen took on management responsibilities, and the Weblog feature as such was mothballed. But CT's efforts to round up important news and opinion from around the web continues, especially on our Gleanings feature.
Ted Olsen is Christianity Today's executive editor. He wrote the magazine's Weblog—a collection of news and opinion articles from mainstream news sources around the world—from 1999 to 2006. In 2004, the magazine launched Weblog in Print, which looks for unexpected connections and trends in articles appearing in the mainstream press. The column was later renamed "Tidings" and ran until 2007.
Previous Weblog Columns: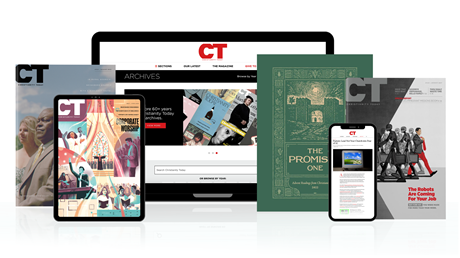 Subscribe to Christianity Today and get access to this article plus 65+ years of archives.
Home delivery of CT magazine
Complete access to articles on ChristianityToday.com
Over 120 years of magazine archives plus full access to all of CT's online archives
Subscribe Now
Do Kids Have to Fight for Bibles?
Do Kids Have to Fight for Bibles?