Today's Top Five
1. FDA issues new warning on abortion pill
The death toll for U.S. mothers who have taken Mifeprex (RU486) is at least seven now. The total death toll for Mifeprex is unknown. It's a big abortion news day: Utah just moved from a parental notification state to a parental consent state, New Hampshire dropped a parental consent clause from a bill on the morning-after pill, and the 6th U.S. Circuit Court of Appeals approved "Choose Life" license plates.
2. Orthodox Church in America fires chancellor, hires outside auditors
It looks like the investigation, which comes after the church's former treasurer's dramatic accusations about misappropriated funds, is about to get a lot more serious.
3. Seminaries: Not just for pastors anymore
"Across the country, enrollment is up at Protestant seminaries, but a shrinking portion of the graduates will ascend the pulpit," The New York Times notes. "These seminarians, particularly the young ones, are less interested in making a career of religion than in taking their religion into other careers."
4. Churchgoing and war
So which is more revealing: That the Americans most supportive of the Iraq war are also the Americans who most frequently go to church? Or that the Americans least supportive of the Iraq war are also the Americans who never go to church? Does churchgoing make you more of a warmonger? Or does it just make you more likely to support any policy of a Republican president? Do Quakers and Mennonites need to start more mid-week services?
5. WSJ column: Morality isn't just about sex
CT managing editor Mark Galli recently used the Barry Bonds steroid scandal to illuminate his own need for humility and repentance and the universality of human depravity. Today's Wall Street Journal carries an op-ed by Daniel Henninger on a similar note: Sin isn't limited to one kind of moral failure. But he has a bit of a different take. "Politics killed ethical formation," he writes. "What's right and wrong has become as red and blue as our politics." The real problem, he says, is that we've all started meaning "sexual ethics" when we way "ethics." Politics has limited the meaning of "morality" to sexual morality. "Our political culture's preoccupation with sexual boundaries has smothered the more important ability of religious or ethical formation to function in the U.S.," Henninger writes. "Currently the most rigorous whole-person moral system resides among evangelical right—at least in terms of keeping one's earthly life in perspective. But because the religious right has 'positions' on abortion and homosexuality, politics seeks to undermine its entire function in the life of the nation." The "unending sex wars," he argues, have "obliterated the ability to talk rationally in public about anything that smacks of 'religion.' … Maybe it's time for the sex obsessives on the left and right to take their fights over abortion and gay rights into a corner somewhere and give the rest of society space to restore some ethical rootedness in an endlessly variable world."
Quote of the day:
"You've got to like puzzles. That's for sure."
—Anthony Fontana, a craftsman who is restoring the stained glass windows of New Orleans churches.
By the way
If all the talk about St. Patrick has made you happy today, you might want to consider picking up Christianity and the Celts, a heavily illustrated, approachable book on Patrick and other highlights of Celtic Christian history.
More articles
Abortion | Crime | Alabama church fires | Abuse | Church life | Catholicism | Parking in D.C. | Politics | Education | Books | Film | Entertainment and media | Missions & ministry | St. Patrick | People | Other stories of interest:
The unborn deserve basic 'human rights' | With 28 percent of all pregnancies in America ending in abortion, we can safely say it is used primarily as a means of birth control. It is a failure of our culture to use any self-control regarding our "reproductive freedom" (Terri Herring, The Clarion-Ledger, Jackson, Miss.)


A woman's right to choose is paramount | I am ashamed that the Mississippi Legislature wants to deny women the right to control their own lives by taking away their right to choose to have an abortion (The Clarion-Ledger, Jackson, Miss.)


Archbishop urges to keep calm | Expressing deep anguish over the "disturbing trend" of vandalism on places and symbols of Christian faith, Archbishop-Patriarch Filipe Neri Ferrao on Thursday berated authorities for their "indifference" in tackling the maintain matter and nabbing the culprits (Herald, Goa, India)


Theft victims to get some of their money back | But funds won't go out until church case settled (Modesto Bee, Ca.)


City council to take legal action against Pastor Luwagga | Pastor of collapsed church defied rules, says mayor (The Monitor, Uganda)


Ala. holds fires suspects on new charges | Three college students accused of setting fire to a string of rural churches were granted release on bail by a federal judge Thursday, but they will remain in custody because of new arrest warrants issued by the state (Associated Press)


Judge grants bond for suspects | Three men suspected of burning nine churches were granted bond by a federal magistrate judge Thursday and face additional arrest on state arson charges should they be released from jail (The Birmingham News, Ala.)


Suspects' parents, others attend grief service at BSC | The parents of all three college students accused of burning nine rural Baptist churches attended a grief service Thursday afternoon organized by Birmingham-Southern College officials (The Birmingham News, Ala.)


Sex abuse at Bible study is reported | Tustin police say church teacher volunteered to authorities that he had molested a male student (Los Angeles Times)


Diocese settles abuse lawsuits | Individuals jointly to receive more than $5.1M for alleged sexual abuse (The Clarion-Ledger, Jackson, Miss.)


Orthodox Church in America fires chancellor, brings in new auditor | Faced with a former employee's allegations of financial mismanagement, the Orthodox Church in America said Thursday that it had fired the church's chancellor and hired outside firms to audit church finances (The Wall Street Journal)


Ticketing near churches to begin | Residents' protests prompt parking crackdown in Logan Circle (The Washington Post)


Some residents object to church double-parking plan | D.C. residents and community leaders are criticizing a District Department of Transportation plan that might allow churchgoers to double-park on Sundays, saying the agency is favoring non-tax-paying institutions over tax-paying residents (The Washington Times)


Tying religion and politics to an impending U.S. decline | Kevin Phillips is concerned about the interpenetration of religion and politics in America, as well as financial and military overreach. Michiko Kakutani reviews American Theocracy (The New York Times)


Dan Brown court papers fascinate | In Dan Brown's latest piece of writing, you can read about his fascination with secrets and codes, his years as a struggling songwriter and novelist and his reaction to the explosive success of The Da Vinci Code. (Associated Press)


Film:
Graham's visit helps renewal | Graham's visit reminds us that the recovery of New Orleans will need more than rebuilding houses. It will require spiritual renewal, too. We thank Graham for helping to advance that renewal (Editorial, The Advocate, Baton Rouge, La.)


Honoring St. Patrick | Revelers disregard religious aspects of Irish celebration (Pittsburgh Post-Gazette)


Luck of the Irish | Why we celebrate St. Patrick's Day (Joseph Lindsley, The Weekly Standard)


Kirk Cameron, from sitcom star to evangelist | Child actor finds second career trying to bring people to Christianity (Nightline, ABC News)


Richard Dawkins, look away now | What is award-winner John Barrow's work all about? His abiding point, it seems, is that science and religion need not clash in quite the manner that the likes of Richard Dawkins would suggest (John Harris, The Guardian, London)


Barry Bonds, meet Andrew Fastow | There's more to morality than the politics of sex (Daniel Henninger, The Wall Street Journal)


Prescription for religion | Religion and spirituality may be the cure for depressed young doctors at the mercy of long hours and trying schedules, according to research funded by the National Institutes of Health and released yesterday by the University of Cincinnati (The Washington Times)


Pandora and polygamy | I can understand why gays do not want to be in the same room as polygamists. But I'm not the one who put them there (Charles Krauthammer, The Washington Post)


Related Elsewhere:
Suggest links and stories by sending e-mail to weblog@christianitytoday.com
See our past Weblog updates:
March 16 | 15
March 10b | 10a | 8
March 3 | 2 | 1
February 24 | 23 | 22 | 21
February 17 | 16 | 15 | 14 | 13
February 10 | 9 | 7
February 3 | 2 | 1
January 25 | 20 | 19 | 18 | 17
Weblog
Launched in 1999, Christianity Today's Weblog was not just one of the first religion-oriented weblogs, but one of the first published by a media organization. (Hence its rather bland title.) Mostly compiled by then-online editor Ted Olsen, Weblog rounded up religion news and opinion pieces from publications around the world. As Christianity Today's website grew, it launched other blogs. Olsen took on management responsibilities, and the Weblog feature as such was mothballed. But CT's efforts to round up important news and opinion from around the web continues, especially on our Gleanings feature.
Ted Olsen is Christianity Today's executive editor. He wrote the magazine's Weblog—a collection of news and opinion articles from mainstream news sources around the world—from 1999 to 2006. In 2004, the magazine launched Weblog in Print, which looks for unexpected connections and trends in articles appearing in the mainstream press. The column was later renamed "Tidings" and ran until 2007.
Previous Weblog Columns: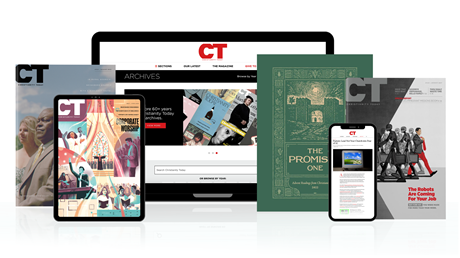 Subscribe to Christianity Today and get access to this article plus 65+ years of archives.
Home delivery of CT magazine
Complete access to articles on ChristianityToday.com
Over 120 years of magazine archives plus full access to all of CT's online archives
Subscribe Now
Two More RU486 Mother Deaths
Two More RU486 Mother Deaths