Today's Top Five
1. 'Is this the fruit of democracy?'
It doesn't look good for Abdul Rahman. The judge in his case says the 41 year old clearly violated Islamic law by converting to Christianity. "If he doesn't regret his conversion, the punishment will be enforced on him," the judge said. "And the punishment is death."
The Chicago Tribune has changed its headline from "Afghan man faces death for being a Christian" to "Afghan man faces death for abandoning Islam." But both the judge and prosecutor (Rahman doesn't have a defense attorney) have said his crime isn't just conversion.
"It is illegal to be a Christian and it should be punished," the judge was quoted as saying in the Toronto Globe and Mail. Prosecutor Abdul Wasi told The Times of London, "We are Muslims and becoming a Christian is against our laws. He must get the death penalty."
A human rights expert in Kabul lays out the problem in The Times: "The constitution says Islam is the religion of Afghanistan, yet it also mentions the Universal Declaration of Human Rights and article 18 specifically forbids this kind of recourse. It really highlights the problem the judiciary system faces."
The judiciary seems not to have a problem. It's just disregarding what it considers Western law. It's all a matter of perspective, the judge explained to The Times: "In your country two women can marry. I think that is very strange. In this country we have the perfect constitution. It is Islamic law."
The Chicago Tribune notes that "Islamic rules are violated in Afghanistan every day—whether by alcohol being sold openly on the streets, or by prostitutes who cater to both foreigners and Afghans, or by the booming opium trade." But religion is still a hot button, the paper says: "One Afghan liberal scholar, Ali Mohaqeq Nasab, spent almost three months in jail last fall after publishing a magazine challenging many traditional views on Islamic law, including the belief that Muslims who convert to other religions deserve to die."
Charles Colson is mad. "Is this the fruit of democracy?" he asks on today's Breakpoint radio commentary. He continues:
Is this why we have shed American blood and invested American treasure to set a people free? What have we accomplished for overthrowing the Taliban? … I have supported the Bush administration's foreign policy because I came to believe that the best way to stop Islamo-fascism was by promoting democracy. But if we can't guarantee fundamental religious freedoms in the countries where we establish democratic reforms, then the whole credibility of our foreign policy is thrown into serious question.
Others, including Al Mohler and Family Research Council's Tony Perkins are raising similar questions. It may be that nothing would turn evangelicals against military action abroad quicker than Rahman's execution would.
2. Contributions to Robertson have almost doubled in less than a decade
While evangelical political leaders are set for a disillusionment on foreign policy, Weblog is having a disillusionment of his own. For years, I have been arguing that Pat Robertson has no real constituency. That he may have a few viewers left, but he doesn't need them anymore due to some savvy and questionable business deals. It may be true that he doesn't need viewer donations, but he apparently still has them. "Donors gave $160 million to Robertson's Christian Broadcasting Network, according to tax statements for the year ending in March 2005, an increase of 21 percent from the previous year," The Virginian-Pilot reports today. "Contributions to CBN have increased steadily since 1997, when it received $84 million." Who are these people, and why are they giving to Robertson? Is Robertson saying crazy things so that he'll get media attention, which he can spin as media persecution, which then brings in more donations? Is that the game? Or do people say, "Boy, he may call for the assassination of elected world leaders, support and enrich some of the world's worst dictators, proclaim faulty theology about God's wrath, support China's one-child policy, break his promise on selling his race horses, and use his humanitarian ministry's planes for his own personal diamond mining operation, but I can't think of a better ministry leader to write a check to?" Weblog is having a hard time believing these people really exist. If you've given money to Pat Robertson lately, please e-mail me. I'd love to know why, and I promise to be nice.
3. Is Paulk trying to move assets?
Mona Brewer, the former church employee who is suing pastor Earl Paulk for sexual misconduct, says Paulk and his megachurch are trying to transfer property to protect it from the suit. "We wanted to make sure we had funds available for legal fees," Chapel Hill Harvester Church treasurer Dan Rhodes told The Atlanta Journal-Constitution.
4. Amazon.com changes coding after abortion activists complain
As you probably know, Amazon.com has various automated suggestions to correct spelling errors and display related items. These are based on computer algorithms of other users' activity. Type in plaque, and Amazon asks, "Did you mean: plague?"
But the Religious Coalition for Reproductive Choice suspected bias at work, and complained to the company that when you typed in abortion, Amazon asked, "Did you mean: adoption?"
"I thought it was offensive," retired Episcopalian minister James Lewis told The New York Times. Actually, Amazon spokeswoman Patty Smith explained, "Adoption and abortion are the same except for two keystrokes." But to avoid offense, the company went in and changed the coding so that the question is no longer asked. "Amazon's sensitivity and willingness to act are rare," the RCRC responded in a press release. "Anti-choice bias is so deeply ingrained in American culture that even fair-minded people fail to notice it."
Hmm. Think Amazon would have been so amenable if Christians had complained that the first search that comes up when you type Jesus is a book that denies all the central tenets of Christianity? (Don't complain about it. I'm just saying … )
5. Turkmenistan President's messianic complex
There's a new holy book on the market: It's Rukhnama (Book of the Soul), written by Turkmenistan President Saparmurat Niyazov. "A person that reads Rukhnama becomes smart … and after it, he will go straight to heaven," Niyazov said Monday. "I asked Allah that for a person who reads it three times — at home, at sunset, and at dawn — to go straight to heaven." The book "has been deemed a sacred text by the government," reports the Associated Press. "It is required reading for every child in school." Niyazov has long been one weird dude.
Quote of the day
"The answer is — I haven't really thought of it that way. … The first I've heard of that, by the way. I guess I'm more of a practical fellow."
—President Bush, asked if he believes "that the war in Iraq and the rise of terrorism are signs of the apocalypse."
More articles
Afghan Christian's capital case | Christianity and Islam | War and terrorism | India | Church and state | Politics | Pastor tapes politician in Minn. | Immigration | Life ethics | Abortion | Michigan ultrasound bill | Plan B in Conn. | Family | Gay adoptions and Catholic Charities (news) | Gay adoptions and Catholic Charities (opinion) | Soulforce Equality Ride | Education | Tex. suit on Bible study ad | Evolution | Astronomy | Rowan Williams on creationism and other subjects | Church life | Missions & ministry | After Katrina | Catholicism | The new cardinals | Catholic-Orthodox relations | Orthodox finance probe | Alabama church fires | Abuse | Crime | Courts | Da Vinci Code | Books | Art, entertainment, and media | Money & business | People | Theology | Other stories of interest
Afghan Christian's capital case:
Faith and respect | Why religious intolerance must not be tolerated (Editorial, The Times, London)


Bush on the "apocalyptic" war | "I haven't really thought of it that way" (Associated Press, second item)


Many faithful speak in 1 voice | Hundreds protest Iraq war at interreligious peace march (San Diego Union-Tribune)


Clergy silent about opposing war | Pastors stress prayers for families (The Argus, Fremont, Ca.)


State high court to rule on loss of view of church | The Colorado Supreme Court will review a Court of Appeals ruling that Marilyn Hickey Ministries' Orchard Road Christian Center, a non-denominational evangelical Christian church, can collect damages from the state because a T-Rex retaining wall on Interstate 25 blocks motorists' view of the church's property (Rocky Mountain News)


Also: Church may be paid because T-REX obstructs its highway views | Supreme Court to review settlement ruling (Associated Press)


Pastor tapes politician in Minn.:
Gospel of dealing with illegal immigrants | While ministering to least of these among us, Cardinal Mahoney could spare some prominent words for good citizenship -- which doesn't have a prayer of a chance without actual citizenship (Kathryn Lopez, Albany Times-Union, N.Y.)


After 2 more deaths, Planned Parenthood alters method for abortion pill | The change partly resolves a dispute between the group and the F.D.A. over the safest way to provide pill-based abortions (The New York Times)


Also: FDA says 2 more women have died after taking abortion pill | Agency is investigating; 7 fatalities now tied to RU-486 (The Washington Post)


State to offer 'Choose Life' anti-abortion license plates | Anti-abortion license plates bearing the message "Choose Life" will be available in Kentucky within a few months, a state official said yesterday (The Courier-Journal, Louisville, Ky.)


The holy war over abortion | American politics is often plagued by the same self-righteous rigidity that is damaging democracy in Baghdad (Cokie Roberts and Steven V. Roberts, Newspaper Enterprise Assn)


Granholm agrees to abortion regulation | Bill to add ultrasounds to the rules (Detroit Free Press)


Mich. governor to sign ultrasound bill | Gov. Jennifer Granholm will sign a bill requiring abortion providers to give pregnant women the option to see ultrasound images of their fetuses, a spokeswoman says (Associated Press)


Nothing worth headlines in ultrasound bill | Doing the ultrasound is solely up to the doctor, viewing it and taking home a picture is completely optional—no different from current law (Maxine Berman, Detroit Free Press)


What wives want | Girls may "just wanna have fun," as Cyndi Lauper once sang. But when girls become wives, they want love and support like what country heartthrob Randy Travis says: "forever and ever, amen." So says research published this month in the journal Social Forces by University of Virginia sociologists W. Bradford Wilcox and Steven L. Nock (The Washington Times)


Unwed fathers fight for babies placed for adoption by mothers | At a time when one in three American babies is born to unwed parents, birth fathers' rights remain an unsettled area (The New York Times)


The entrapments of unwanted pregnancies | One can hardly castigate men for treating an unwanted child as a burden to be avoided unless one recognizes that prochoice feminism has fostered such a mentality (Cathy Young, The Boston Globe)


Millions a year for marriage | For the first time, the federal government will invest $100 million a year to strengthen marriage over the next five years. Local religious leaders need to demand a voice in the allocation. That will not be easy (Michael J. McManus, The Washington Times)


Gay adoptions and Catholic Charities (news):
Are gay adoptions shaping up as nation's next culture clash? | Move to place children only with heterosexual couples gains some ground, but many doubt it will succeed (Chicago Tribune)


Divide deep between Catholics, state | Legislature battles in Mass. have pitted church vs. state (Berkshire Eagle, Mass.)


Archdiocese halts same-sex adoptions at Catholic Charities | Spokesman points to stance taken by new archbishop (San Francisco Chronicle)


Gay adoptions and Catholic Charities (opinion):
Gay protesters arrested at ORU campus | More than 30 protesters called "Soulforce Equality Riders" stood in the cold across the street from Oral Roberts University. On the other side, a cluster of Tulsa Police waited for them to make their move (KOTV, Tulsa, Ok.)


Gay rights group visits Union | A gay rights group made about an hour-long stop Saturday at Union University, calling on straight and gay students to help them to put an end to religion-based discrimination (Jackson Sun, Tenn.)


Erasing a message of hate | Lee University students scrub Equality Ride bus (WTVC, Chattanooga, Tenn.)


Ga. poised to okay Bible studies bill | Under the measure, which passed the House on Monday by a vote of 151-7, high school students could take state-funded elective courses on the history and literature of the Scriptures. Other states offer similar classes, but none is believed to have a law specifically authorizing classes on the Bible (The Atlanta Journal-Constitution)


Holier Than U. | Pensacola Christian College controls student life with strict rules. That doesn't bother some students as much as the realization, later on, that the college's lack of accreditation can harm them (The Chronicle of Higher Education)


Ministers of debate | Why is the debate team at Jerry Falwell's Liberty University the best in the country? Resolved: It's all about Brett O'Donnell (The New York Times)


Plano district is sued again | Firm alleges violation of Bible study group's 1st Amendment rights (The Dallas Morning News)


Student group sues Plano district | Students Witnessing Absolute Truth, a Bible-study group, was prohibited from posting an organizational description in the "Campus Programs" section of the Plano school district Web site (Ft. Worth Star-Telegram, Tex.)


Student group sues Texas school district | A student organization sued a school district Monday, alleging officials prohibited them from posting information about their Bible study group on the district's Web site (Associated Press)


Scopes trial featured on religious trail | Project looks to detail area's diversity of beliefs (Associated Press)


"Religious belief itself is an adaptation" | Sociobiology founder Edward O. Wilson explains why we're hard-wired to form tribalistic religions, denies that "evolutionism" is a faith, and says that heaven, if it existed, would be hell (Salon.com)


S.C. standards don't require teaching Darwin's origin theory | Why are we really having this argument — to counter teaching that conflicts with some Christians' faith, or simply to fan the flames of the culture wars? (Cindi Ross Scoppe, The State, Columbia, S.C.)


Astronomy illuminates the glory of God | Astronomy has transformed the simple-minded, life-averse, meaningless Universe of the sceptical philosophers (John D Barrow, The Telegraph, London)


The gods of cosmology | Questions about why we and the universe exist are worth asking even if there are no answers (Tim Radford, The Guardian, London)


Rowan Williams on creationism and other subjects:
Archbishop: stop teaching creationism | Williams backs science over Bible (The Guardian, London)


'I am comic vicar to the nation' | Gay priests … faith schools … a church at war with itself. Rowan Williams's first three years as Archbishop of Canterbury have been fraught with difficulties, and his critics have begged him to provide moral leadership. But, he tells Alan Rusbridger in a rare interview, that's just not his style (The Guardian, London)


Transcript: Interview: Rowan Williams | This is the transcript of an interview between the Archbishop of Canterbury, Dr Rowan Williams, and the Guardian's editor Alan Rusbridger (The Guardian, London)


Prison ministry spreads to 3 states | What started as one Bible study at the Lafayette Parish Correctional Center has grown to an effort that has included thousands of volunteers lending support during the last quarter century (The Advocate, Baton Rouge, La.)


eBay atheist | Emerging markets: Souls, for sale and/or saving (The Village Voice)


Why are the God botherers back? | Round comes the spring again, late, but with the usual goings-on: huge, bobbing clusters of frogs in the pond, snow, freezing winds, end-of-financial-year multiple roadworks and one new, rather worrying feature - a blossoming of religious groups (Michele Hanson, The Guardian, London)


In the dark about gays | Her church stumbles when it draws the line (Beverly Beckham, The Boston Globe)


Russian patriarch communicates with pope | The leader of the Russian Orthodox Church has told Pope Benedict XVI he hopes for a "rapid resolution" of ongoing problems that divide the Catholic and Orthodox churches, according to a letter released Friday by the Vatican (Associated Press)


Pope Benedict greets Armenian patriarch | Pope Benedict XVI recalled the "terrible persecution" Armenians suffered under Turkish rule 90 years ago during an audience Monday with an Armenian Catholic patriarch (Associated Press)


Orthodox Church fires chancellor, orders probe | Facing allegations of financial mismanagement, the Orthodox Church in America has fired its longtime chancellor and brought in an independent law firm to conduct a full investigation, church officials said yesterday (The Washington Post)


Church looks to clean house | The Orthodox Church in America, facing an escalating financial scandal, has ousted its longtime chancellor and launched an investigation into how church officials spent millions of dollars in charitable donations (The Bergen Record, N.J.)


Top Orthodox Church official dismissed in controversy over finances | A prominent critic of the church's financial practices praised the moves, while an attorney for the Rev. Robert Kondratick, the ousted chancellor, said his client is a scapegoat (Pittsburgh Post-Gazette)


Audit says archdiocese botched abuse inquiry | Outside study says monitoring of priests was deeply flawed (Chicago Tribune)


Lakeport priest sues law firm for bad advice | A Lakeport priest ordered to pay more than $1.6 million for allegedly allowing the estate of a monsignor to lose its value has filed a lawsuit against the law firm he hired to assist him (The Citizen, Laconia, N.H.)


Scalia loosens up | It is one thing when politicians and pundits deplore activist judges who claim to discover rights in the Constitution that had lain undiscovered for 200 years. It is something different when a jurist of undoubted brilliance declares flatly that ''judges are unqualified to give the people's answer to moral questions" (Jeff Jacoby, The Boston Globe)


`Da Vinci' galvanizes Christians | But best-seller flourishes, despite critics and suits (The Hartford Courant, Ct.)


Art, entertainment, and media:
Catholic weekly 'The Tablet' re-launches | As Catholic weekly 'The Tablet' seeks to build on its recent successes with a re-launch, Ciar Byrne talks to its editor, and assesses the impact of the Christian press (The Independent)


Civil rights pioneer delivers last sermon | The Rev. Fred Shuttlesworth, who worked with the Rev. Martin Luther King Jr. in the fight against segregation, retired from the ministry Sunday, delivering his final sermon as pastor of the church he founded 40 years ago (Associated Press)


The cost of courage | Pastor suffered for attempts to make peace between two historic forces (The Ledger, Lakeland, Fla.)


Most evangelicals are seeing the error of 'replacement theology' | So says John Hagee (David Horovitz, The Jerusalem Post)


Wanted: Gap-spanning theologians | As Reinhold Niebuhr once did, who can speak credibly to church and world? (William McKenzie, The Dallas Morning News)


Rabbi says wrath of God behind Israel bird flu | "The Bible says that God punishes depravity first through plagues against animals and then in people," Rabbi David Basri said in a religious edict quoted by his son (Reuters)


Faith debate familiar to Franklin | What would Ben do? Same as us, one philosopher posits—wonder (The Philadelphia Inquirer)


Church members see God in sanctuary's drywall | Members of a Saraland church say a buckling of drywall in the sanctuary resembles a crucifixion and works miracles (Mobile Register, Ala.)


Related Elsewhere:
Suggest links and stories by sending e-mail to weblog@christianitytoday.com
See our past Weblog updates:
March 17 | 16 | 15
March 10b | 10a | 8
March 3 | 2 | 1
February 24 | 23 | 22 | 21
February 17 | 16 | 15 | 14 | 13
February 10 | 9 | 7
February 3 | 2 | 1
January 25 | 20 | 19 | 18 | 17
Weblog
Launched in 1999, Christianity Today's Weblog was not just one of the first religion-oriented weblogs, but one of the first published by a media organization. (Hence its rather bland title.) Mostly compiled by then-online editor Ted Olsen, Weblog rounded up religion news and opinion pieces from publications around the world. As Christianity Today's website grew, it launched other blogs. Olsen took on management responsibilities, and the Weblog feature as such was mothballed. But CT's efforts to round up important news and opinion from around the web continues, especially on our Gleanings feature.
Ted Olsen is Christianity Today's executive editor. He wrote the magazine's Weblog—a collection of news and opinion articles from mainstream news sources around the world—from 1999 to 2006. In 2004, the magazine launched Weblog in Print, which looks for unexpected connections and trends in articles appearing in the mainstream press. The column was later renamed "Tidings" and ran until 2007.
Previous Weblog Columns: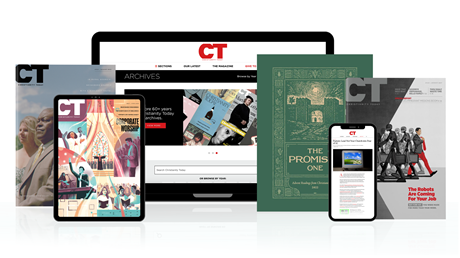 Annual & Monthly subscriptions available.
Print & Digital Issues of CT magazine
Complete access to every article on ChristianityToday.com
Unlimited access to 65+ years of CT's online archives
Member-only special issues
Subscribe
Judge Says Afghan Convert 'Must Get the Death Penalty'
Judge Says Afghan Convert 'Must Get the Death Penalty'