Today's Top Five
1. Haggard story is moving on
The election is over, with no sign of a "Haggard Effect." And with Haggard himself staying away from the cameras, even the Colorado media has stopped running daily updates about the scandal. There are, however, some interesting updates on the story.
First comes news that not all members of New Life Church will be able to vote on Haggard's successor at the church. "Only those who can prove they have contributed money to the church during the tax year 2005 will be able to vote in the selection process to choose Haggard's successor in the pulpit," Pueblo Chieftain columnist Chuck Green reports. A church spokesman tells him that a tax statement or church receipt are, "in a sense, your admission ticket."
Green is upset, since many church donors don't ask for receipts and don't seek tax deductions. "Poll taxes have been outlawed in elections in the United States, but not in Pastor Ted Haggard's New Life Church," he complains. "Money—combined with moral conduct—now becomes a qualifier for membership in God's house."
Green doesn't note that this rule is extremely common. Some Episcopal Churches, for example, also have the requirement, for example. At a church like New Life, which literally gets tourists in its pews every week, you'd think that demonstrating some kind of commitment to the church would be an important prerequisite in choosing a leader.
Another interesting note comes from Lou Sheldon of the Traditional Values Coalition, in an interview with The Jewish Week:
Sheldon disclosed that he and "a lot" of others knew about Haggard's homosexuality "for a while … but we weren't sure just how to deal with it."
Months before a male prostitute publicly revealed Haggard's secret relationship with him, and the reverend's drug use as well, "Ted and I had a discussion," explained Sheldon, who said Haggard gave him a telltale signal then: "He said homosexuality is genetic. I said, no it isn't. But I just knew he was covering up. They need to say that."
The Jewish Week journalist e-mailed the full text of the comments to Lexington Herald-Leader religion reporter Frank Lockwood. It turns out that Sheldon didn't say "a lot," but he did say he knew about Haggard's problem. Here's the full quote:
We're all sinners. Some of us hide our sins better than others. Ted, who I've talked to on this issue—some of us have known for a while he had this problem. We weren't sure just how to deal with it. Finally the escort blew it out of the water.
He and I had a discussion. He said homosexuality is genetic. I said no it isn't. Never have amer acad of sciences or other scientific bodies found such a consensus. I just knw he was covering up. They NEED to say that.
So Sheldon knew that Haggard "was covering up" and had "known for a while that he had this problem" and did nothing? Sheldon is a pariah among religious conservative groups, but surely someone at New Life Church or the National Association of Evangelicals would have taken his call on this. Here's the phrase of the day, friends: culpable negligence.
But maybe Sheldon thinks that everyone who believes in a biological basis for homosexual attraction is gay. Or maybe he's lying about having known.
Oh, and by the way, we've received several messages demanding that we condemn Mark Driscoll for saying that a factor in many Christian leaders' sexual failure is that it "is not uncommon to meet pastors' wives who really let themselves go; they sometimes feel that because their husband is a pastor, he is therefore trapped into fidelity, which gives them cause for laziness." Driscoll has an update: "Contrary to some who misrepresented my prior blog, Gayle is in no way responsible for the sin of her husband and by all accounts seems to have been a lovely and devoted wife." Driscoll could do better; his earlier comment sends an incorrect message to any woman whose husband has cheated on her. Our wives should not be made to feel that they have to "compete" for their husband's affections against a potential adulteress—or a male prostitute.
2. Did religion matter in the '06 election?
"As the results of the midterm elections sank in this week, religious leaders across the ideological spectrum found something they could agree on: The 'God gap' in American politics has narrowed substantially," Alan Cooperman writes in The Washington Post. Actually, it might be more accurate to say that religious leaders at the ends of the ideological spectrum are talking about the God gap shrinking. Religious liberals say they're attracting people of faith; religious conservatives argue that people of faith are staying home, upset with Republican leaders for not giving them more. It really doesn't serve either side to tout the stats that suggest, for example, that evangelicals went to the polls in the same percentage that they have for years, and voted essentially the same way that they have for years.
As John Green of the Pew Forum on Religion and Public Life told the San Francisco Chronicle, "A great deal had been written about the discouragement of white evangelicals and how they might not turn out. This important element of the Republican electoral base held firm. They showed up in large numbers and voted Republican."
Now, there are changes, and the Post is right to note them: "Democrats recaptured the Catholic vote they had lost two years ago. They sliced the GOP's advantage among weekly churchgoers to 12 percentage points, down from 18 points in 2004 congressional races and 22 points in the 2004 presidential contest." And in several races, Democrats really did do better than usual with white evangelical Protestants. Nationally, however, as we've noted before, the picture looks pretty much as it did in 2002.
Are there angry evangelicals who are "fed up" with the Republican party? You bet. But that's bound to happen when one out of three evangelicals usually votes Democrat. If you consistently voted Democrat and yet were constantly referred to as "Bush's base," you'd be mad, too.
One of the more interesting election analysis pieces has little to do with how pew-sitters voted and more on how Christian political groups behaved. Guess who wrote this:
It is clear that Christian conservative leaders contributed to the Republican defeat, and in the process they've lost credibility. When Tom DeLay's excesses were exposed, Christian political groups closed ranks to support him. When congressional Republicans put on their phony legislative parade, Christian political leaders were willing accomplices. When the Mark Foley scandal hit, Christian groups faulted everyone but Republican leaders. Why have prominent Christian organizations and leaders behaved in this way? The sad reality is that many have been seduced by the Washington, D.C., political culture. They have identified themselves so closely with persons and parties that they have lost sight of principle. By excusing the behavior of the Republican Party, Christian conservatives set the party up for the 2006 defeat.
Time's up. The answer is Ken Connor, former president of the Family Research Council, CareNet board chairman, vice chairman of Americans United for Life, Jeb Bush's lawyer in the Terri Schiavo case, and now chairman of a group called Center for a Just Society. Haven't heard much from him lately? Something tells me you will.
3. Will the Democratic Congress protect tithing?
If the Democrats really want to reach out to religious voters, a New York Times article suggests one place to start: fixing the 2005 bankruptcy bill provision that makes it illegal for many debtors to tithe. Noam Cohen notes that a bill to allow tithing passed unanimously in the Senate, but didn't make it to the House by the recess. Cohen writes:
[Republican Sen. Orrin] Hatch's plan was to get the legislation done during a lame-duck session, but with the election and change in leadership, the Democrats may want to revisit bankruptcy legislation comprehensively. Mr. Hatch and other Republican senators late last month wrote to Attorney General Alberto R. Gonzales to instruct trustees to allow tithing and other charitable giving. But a senior official at the Justice Department, who spoke on the condition of anonymity because litigation could continue, said last week that the department was not giving such instruction, noting that trustees had a fiduciary responsibility to "look under every rock, even the church's rock." But he added that the department wanted tithing protected, and that it had even helped Mr. Hatch draft the corrective legislation.
4. Evidence of American empire?
Seoul's Yoido Full Gospel Church is widely considered the world's largest church. Now its founder, Cho Yong-gi (David Cho), is retiring, and the church chose his successor on Sunday. Winning 435 of the 933 votes cast was Lee Young-hoon, who currently pastors the church's daughter congregation in Los Angeles. It will be interesting to see whether Lee's appointment will mean greater prominence for Yoido Full Gospel Church in the U.S.—both among supporters and critics.
5. Unclean Essene latrine scene
You have to be a certain kind of person to be interested in the archaeological news about Qumran latrines. The, um, "bottom" line: Scholars have found what appear to be toilets for the community that wrote the Dead Sea Scrolls. The evidence seems to support the view that Qumran really was occupied by the Essenes, and that this Jewish sect wrote the scrolls. Evidence also suggests that the group's rituals, including ritual cleansings, made them less healthy rather than more so.
Quote of the day:
"Ever since Jerry Falwell and his Moral Majority began making headlines in the 1980s, it has served the purposes of certain conservative activists and their ideological foes to exaggerate the influence they wield among evangelical Christians. In fact, it is both a strength and a weakness of evangelicalism that the 'movement' lacks a center. Yes, a significant majority of evangelicals voted for George W. Bush. Big deal. At the moment, it appears unlikely that a Republican of any stripe will win the White House in 2008, though the Democrats may yet find a way to squander their advantage. So much for theocracy."
—John Wilson, editor of the Christianity Today sister publication Books & Culture, writing in The New York Times Book Review.
Miss us?
Yes, this was the last "top five" in nearly a month, though we have had some link-only Weblog postings recently. You may need to update your Weblog bookmarks to link here. And do make sure that if you're looking for Christianity Today magazine articles, you're going to the actual magazine home page and not to the Christianity Today International corporate home page.
More articles
Ted Haggard | Homosexuality | Making babies | Catholic bishops meeting | Bishops on Iraq | War and violence | War over Christmas | Religious freedom | Church and state | IRS investigations | Election analysis | David Kuo's Tempting Faith | Abortion | More politics | Politics (non-U.S.) | Israel | Islam | Pope and Islam | Catholicism | First Anglican-Catholic meeting in U.K. | Anglicans and Episcopalians | John Sentamu comments | Church life | Crime | Jamaican priest murdered | Topeka church arsons | Abuse | Misused church planting funds | Giving | Missions & ministry | Belief | Atheism | Prospect's cover package on religion in Europe | History | Books | Education | Art & museums | Music | Media & entertainment | People | Other stories of interest
First Anglican-Catholic meeting in U.K.:
Misused church planting funds:
Prospect's cover package on religion in Europe:
Related Elsewhere:
Suggest links and stories by sending e-mail to weblog@christianitytoday.com
See our past Weblog updates:
November 13 | 6 | 3 | 2
October 11 | 6 | 5 | 4
September 21 | 15b | 15a | 14
September 6 | 1 | August 29
August 25 | 24 | 23
August 15 | 11 | 10
Weblog
Launched in 1999, Christianity Today's Weblog was not just one of the first religion-oriented weblogs, but one of the first published by a media organization. (Hence its rather bland title.) Mostly compiled by then-online editor Ted Olsen, Weblog rounded up religion news and opinion pieces from publications around the world. As Christianity Today's website grew, it launched other blogs. Olsen took on management responsibilities, and the Weblog feature as such was mothballed. But CT's efforts to round up important news and opinion from around the web continues, especially on our Gleanings feature.
Ted Olsen is Christianity Today's executive editor. He wrote the magazine's Weblog—a collection of news and opinion articles from mainstream news sources around the world—from 1999 to 2006. In 2004, the magazine launched Weblog in Print, which looks for unexpected connections and trends in articles appearing in the mainstream press. The column was later renamed "Tidings" and ran until 2007.
Previous Weblog Columns: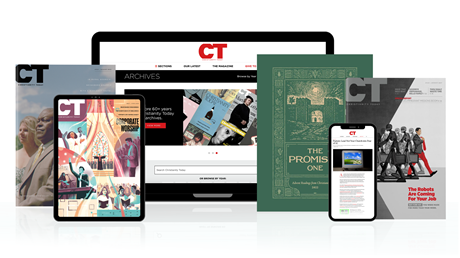 Annual & Monthly subscriptions available.
Print & Digital Issues of CT magazine
Complete access to every article on ChristianityToday.com
Unlimited access to 65+ years of CT's online archives
Member-only special issues
Subscribe
'Poll Tax' in Haggard Replacement Vote; Sheldon Says, 'I Knew'
'Poll Tax' in Haggard Replacement Vote; Sheldon Says, 'I Knew'