true
When civil war broke out in Sudan in the 1980s, some 25,000 boys ages three to thirteen fled the atrocities in their homeland on foot. They walked over 1,000 miles across barren desert to find refuge in Ethiopia and Kenya. Those who didn't die from starvation, wild animal attacks, and bombing raids eventually found shelter in a UN refugee camp in Kakuna, Kenya. Taking inspiration from Peter Pan's band of orphan boys who protected and provided for each other, a journalist of that day dubbed these children the Lost Boys.
In recent years, the U.S. has resettled nearly 4,000 of these young men. God Grew Tired of Us follows three of the Lost Boys—John Bul Dau, Daniel Abol Pach, and Panther Blor, chosen for relocation by the International Rescue Committee—to their new homes in Syracuse and Pittsburgh. This sounds like leaving hell for heaven, until you realize these men have never seen electricity, flushing toilets, or running water. And they're anguished to leave behind the friends who have been closer than family for 15 years. Still, with wide-eyed and wary hope, they come.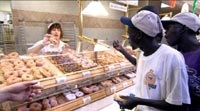 The first hints of what a different world they're entering occur on the airplane ride. The boys are fascinated by the overhead reading lights, the announcements from the captain that seem to come from nowhere, the oddly packaged food. They eat pats of butter and mustard packets as if they're part of the main course, wobble their way onto escalators in the airports, and marvel at Hasidic Jews and punk rockers in New York. The orientation to their new apartment includes the instruction that here we don't throw our trash out the window, as well as demonstrations on how to use a shower, refrigerator, toilet, and lamp. They boys watch with rapt attention and we watch them with awe and amusement.
The rest of God Grew Tired of Us is a checking back in with these three men at regular intervals over the next four years. The film never introduces us to anyone in the U.S. who is helping them make the transition, so it's hard to know how much the men are being shown the ropes—or how much they've just been left on their own to figure things out.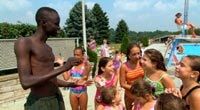 We watch them get jobs and discover television, marvel at shopping malls and wonder about Santa, miss their brothers back in Kenya and look for their missing family members. All the while they grapple with the ongoing grief of all they've endured, as well as a sort of survivor's guilt for being some of the chosen ones to get a fresh start when they know all too well the hunger and purposelessness their brothers are suffering back in the refugee camp. As John, the most pensive of the trio, says, "If I get a good place, why not them?" The question weighs heavy, as does the sense of responsibility to make something good of this opportunity—for themselves and especially for their friends and family back home.
God Grew Tired of Us doesn't shy away from the complexities these three lives represent, including the countless ripple effects of world conflict and the messy realities of resettlement—how it's a way forward but not always an easy "solution." One of the strengths of this documentary—besides the obvious and important awareness-raising—is its ability to help us see our culture from a fresh perspective. It's fascinating (and at times shaming) to watch the men's gratitude for factory jobs most of us would consider menial at best, as well as their languishing loneliness as they learn that talking to strangers in America draws suspicion instead of fellowship. That said, the film isn't heavy-handed or manipulative. The men simply observe and process the huge change in their lives, grappling with the grand canyon between what has been and what now is.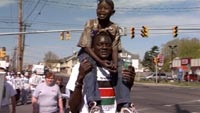 These men's life stories are told mostly in their own words. At times it feels like we're sitting in on their individual counseling sessions. Their words are well chosen and edited, keeping the film moving and providing just enough levity when tough realities loom large. We also visit the men's first home in the refugee camp, and travel along to their first grocery store visit, their job sites, and even to a Lost Boys reunion in Michigan. Throughout these four documented years we watch these three men change and grow, expanding our paradigm in the process. This is the kind of movie every American should see, and also the kind of movie that makes you feel richer for seeing it.
Of the three men, John is the most overtly spiritual. He offers sobering insights about fulfilling our God-given purpose, honoring our responsibilities to others, and celebrating Christmas with simplicity. The title of the film comes from comments John makes about why God allowed such atrocities in Sudan. Perhaps, he reasons, these are the last days spoken of in the Bible. Maybe God is tired of the bad things we do and wants to finish us.
In the end, it is the good things these men accomplish—despite unthinkable odds—that offers hope for the future. It isn't a starry-eyed Hollywood hope, but more realistic redemption—the kind that comes in fits and starts, in victories big and small. God may be tired of us, but if these men's lives are any indication, he certainly isn't finished with us.
Talk About It
Discussion starters
What strikes you most about the John, Daniel, and Panther's reactions to America? Do any of their surprises surprise you?
What is your reaction to the title—and John's comments that inspire the title? Do you think God ever grows tired of us? If so, as John suggests, do you think that ever leads him to allow certain difficulties and horrors?
John marvels at the many ways Americans celebrate Christmas, with decorations, trees, Santa, and presents. He contrasts that with the simpler realities in Sudan, where they only have themselves celebrating the coming of Christ in their hearts. What do you think of his observations? Do they inspire you to do anything differently with your holiday celebrations?
When and where do we see the most effective community in the movie? Where is it lacking? How can you foster community for people such as John, Daniel, and Panther? (For ways to get involved, go to www.godgrewtiredofus.com or www.worldrelief.org.)
The Family Corner
For parents to consider
Most of the violence in this PG-rated movie occurs in brief montages and blurry flashbacks. What's most disturbing are the verbal descriptions of the war in Sudan, especially when it's being relayed by people who experienced it firsthand, and when they were so young. Boys talk about watching their parents be murdered, of witnessing rapes and savage violence, of having to drink mud or urine to avoid dehydration. While not appropriate for younger children, God Grew Tired of Us could provide needed global perspective to mature teens.
Copyright © 2007 Christianity Today. Click for reprint information.
What Other Critics Are Saying
compiled by Jeffrey Overstreet
from Film Forum, 01/25/07
Nicole Kidman narrates God Grew Tired of Us, a new, inspiring documentary about three young men—John Bul Dau, Daniel Abol Pach, and Panther Blor—who have escaped the Sudanese civil war to find new homes in Syracuse and Pittsburgh. The film won prestigious awards at the Sundance Film Festival last year, and now audiences around the U.S. are getting their chance to check it out.
from Film Forum, 02/08/07
Jenn Wright (Past the Popcorn) wishes this documentary, which concerns refugees from the Sudanese civil war who come to America, had been a lot longer. She writes: "God Grew Tired—which takes its title from John's impression that the Lost Boys' suffering was the result of God's frustration with humanity in general—is not only educational; it's also cause for reflection about the things we take for granted. … I would recommend this film for nearly everyone, though the descriptions of some of the atrocities may be disturbing to certain sensibilities. But the information is well presented and crucial to our understanding of the Lost Boys and their struggles—it's definitely a plight about which the majority of us could be more educated."
Article continues below
Mainstream critics are praising the film as "an affecting and engaging film."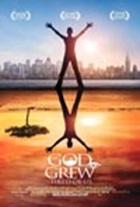 Browse All Movie Reviews By: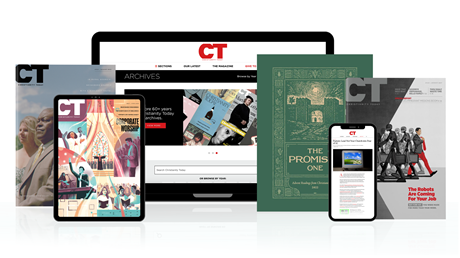 Annual & Monthly subscriptions available.
Print & Digital Issues of CT magazine
Complete access to every article on ChristianityToday.com
Unlimited access to 65+ years of CT's online archives
Member-only special issues
Subscribe
God Grew Tired of Us
God Grew Tired of Us