true
"I will not lose my faith / It's an inside job today / Holding on, the light of the night / On my knees to rise and fix my broken soul"—from "Inside Job"
Pearl Jam should've been done a long time ago, alongside Nirvana, Soundgarden, Stone Temple Pilots, and other spawns of the '90s grunge-rock movement.
They're the last survivors of the Seattle-sound renaissance—they've weathered critically-panned albums, dwindling record sales, and the end of a 12-year partnership with Epic Records. But the group hung on for dear life. Heavy touring and a committed fan base kept them afloat, long after the general public stop caring about them.
Most of their audience jumped ship right around the time they released No Code (1996), their fourth album and first official foray into weirdness. They were already known for a few eccentricities—they had minimal interaction with the media, refused to make music videos, and boycotted Ticketmaster-endorsed venues.
But No Code was the group's biggest deviation from normality, as Pearl Jam's essence—namely, stadium-sized grunge anthems—was gone, and so was the rock, which became harder and harder to define as the band kept moving forward. There were elements of garage rock, experimentalism, Middle Eastern influences, and folk in their method, but the grunge became scarcer by the day.
Given this track record, no one expected a comeback like Pearl Jam, the band's eighth studio album and easily the most rocking thing they've done since 1994's Vitalogy. When Pearl Jam released last May, the mainstream press sang its praises, but not just for its brazen, unbridled display of rock 'n' roll bravado; they also hailed its thematic urgency, one that pays homage to a post-9/11 climate marked by civic unrest, political uncertainty, and existential insecurity.
More than a commentary on the state of the union, Pearl Jam is also an album of hope. Like 2002's Riot Act, the disc contains a number of poignant, reflective references to spirituality that transcend the group's own partisan jadedness. None of these is necessarily a faith manifesto, but they're otherwise inspirational—in their own messy kind of way.
Frenetic opener "Life Wasted" could very well be autobiographical, indicative of the past the group has left behind: "I have faced it, a life wasted / I'm never going back again / I escaped it, a life wasted / I'm never going back again." But Pearl Jam also wants us to get past our misgivings: "You're always saying you're too weak to be strong / You're harder on yourself than just about anyone / Why swim the channel just to get this far? / Halfway there, why would you turn around?"
Later, the one-two punch of "Big Wave" and "Gone" contemplate leaving complacency behind in search of greener pastures. The former declares at the top of its lungs, "I scream in affirmation / Of connecting dislocations / And exceeding limitations / By achieving levitation / Got me a big wave, ride me a big wave."
The pensive "Gone" complements this thought when it states, "In the far off distance, as my taillights fade / No one to witness but they will someday / Feel like a question is forming and the answer's far / I will be what I could be once I get out of this town / The lights of this city, they've lost all of their feeling / I wanna leave 'em all behind me because this time I'm gone."
But not all the songs have this same sense of resolve. "Unemployable" paints a vivid picture of the plight of the working class—the uninsured, the underpaid, and the unlucky, all people who sacrifice their lives "to a stranger's bottom line": "He's got a big gold ring which says 'Jesus Saves' / And it's dented from the punch thrown at work that day / When he smashed the metal locker where he kept his things / After the big boss say 'You best be on your way.'"
Then there's the brooding "Inside Job" (excerpted above), where frontman Eddie Vedder sings of committing sin, amending his broken soul, searching for hope, and, ultimately, not losing his faith—all things that happen at the heart level: "I will not lose my faith / It's an inside job today … Let me run into the rain / To shine a human light today."
Only one track addresses God directly, and that's "Marker in the Sand," perhaps an underhanded reference to Jesus and the woman caught in adultery. The song isn't about the popular Bible story, but it does paint God as someone who elicits more questions than answers, especially in turbulent times as these: "There is a sickness, a sickness coming over me / Like watching freedom being sucked straight out to sea / And the solution? Well, from me far would it be / But the delusion is feeling dangerous to me."
Then it goes on: "Those undecided needn't have faith to be free / And those misguided, there was a plan for them to be / Now you got both sides claiming killing in God's name / But God is nowhere to be found conveniently / God, what do you say?"
The song ends with the line, "Calling out … I'm calling you out."
Is this an indictment of God, or simply a band tired of his misrepresentation by political pundits? Whatever the case, it's thought-provoking, not to mention an accurate reflection of humanity's loss of faith in itself and the system, and their desire for something greater.
Some believe the Roskilde tragedy of 2000 changed Pearl Jam for the better, motivating them to think beyond their rock-star antics and ponder life's bigger questions. Pearl Jam does this and more, but don't think of it as a faith-affirming trip. If anything, look at it as a band that's finally found a good cause for its rebelliousness.
Unless specified clearly, we are not implying whether this artist is or is not a Christian. The views expressed are simply the author's. For a more complete description of our Glimpses of God articles, click here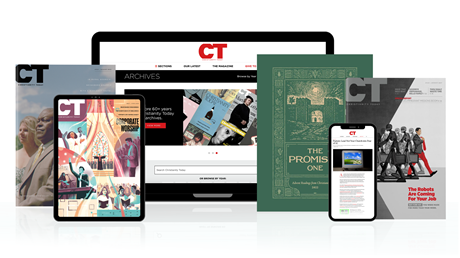 Annual & Monthly subscriptions available.
Print & Digital Issues of CT magazine
Complete access to every article on ChristianityToday.com
Unlimited access to 65+ years of CT's online archives
Member-only special issues
Subscribe
Pearl Jam
Pearl Jam